42nd Street: Big Dance Opens in front of New Live Audience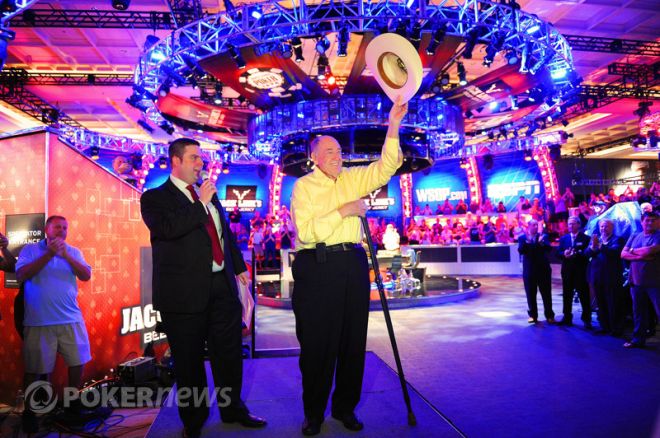 The 42nd annual World Series of Poker was already a big success, but let's face it, a show is only as good as its closing number. You know, the one you'll hum, or not, as you shuffle out of the theater. The final reviews aren't in yet, but it's going to be pretty tough for critics not to applaud this year's closing act. With a huge turnout, some made-for-TV stories, and a whole new way of reaching poker fans, this Main Event is a Tony shoe-in. Maybe even an ESPY.
Over Crushing
Two months ago, you could find smart people willing to take the under on 5,000 entrants in the Main Event. A few days ago, you could find smart people willing to take the over on 7,000 entrants. Between Black Friday and a questionable economy, the poker world was worried about WSOP turnout. What about all those people who used to win seats online? What about those who couldn't play because their entire bankrolls were locked up on FullTilt? Turns out poker players were dying to play some cards, with or without access to online funds or the hope of extra sponsorship money. Main Event turnout started slowly, with 897 players on Day 1a and 985 in Day 1b. But then buzz started about the massive fields expected on 1c and 1d. With 2,181 and 2,802 players on the last two start days, the Main Event gathered a stunning 6,865 entrants. That's not far behind 2010's Main Event, which had 7,319 pre-Black Friday entrants. The 2011 Main Event, the third largest in WSOP history, produced a total prize pool is $64,531,000. The world champ gets $8,711,956 in November. That's at least a middle finger in the direction of the DoJ and plenty large enough to keep viewers interested through the fall, and players interested again next summer.
Godfather Cameo
Doyle Brunson caused quite a stir when he busted out of the $50k Player's Championship and tweeted that he was done for the summer and wasn't going to play in the Main Event. Brunson, who only played six prelims, said that he'd lost interest in poker since Black Friday. Many of his friends and fans were upset and did their best to convince the Godfather of Poker to reconsider. Erick Lindgren tweeted in response, "If you don't play then the DoJ really wins." Eventually Brunson decided to play and even gave the "shuffle up and deal" announcement on Day 1a. He didn't make it through the day with chips, but at least he made an appearance. The poker world isn't ready for a Main Event without either Doyle or Phil Ivey. New players need old-school legends to show them that the show must go on, even without synchronized breaks and double guarantees!
Lamb's Chops
It's Benba's world, and we're all just living in it. Ben "Benba" Lamb finished 14th in the 2009 Main Event, earning $633,022, but he was still fairly unknown until this summer when he decided to crush the World Series of Poker. Lamb started his run with a second-place finish in the $3k PLO event, then went one better and won the $10k PLO Championship. Still not done proving his dominance, Lamb made the final two tables of the $10k Six-Max No-Limit Championship and then the final table of the $50k Player's Championship. Benba has racked up $1,331,832 since the curtain rose on the WSOP. He sits in second place in the Player of the Year race with 659.05 points to Phil Hellmuth's 710.25. Benba continued tearing up the Series at the Main Event, ending both Day 1b and Day 2b as chip leader. ESPN is salivating over a POY race situation. A deep Lamb run would mean they get to work Hellmuth's name into way more teasers. Lamb probably wouldn't mind it either. He ran over his table at the beginning of Day 3, then dropped some to end the night below his starting stack. He brings 354,500 into Day 4 to continue his quest for final table number four.
Post-Bust'em Depression
Players have been known to say that the saddest day of the year is the day they bust out of the Main Event. For some, it's even harder to take this year because it means the end of their poker careers or a temporary curtain on their time as American residents. Some tournament grinders were counting on this summer to save them from post–Black Friday disaster, and they're not giving up without taking advantage of every possible lifeline. During the first week of the Main Event, a steady stream of dejected players headed straight from the Rio to Caesars, the Venetian, and the Bellagio to play in the main events of the city's other summer tournament series. Caesars' $1k rebuy main event was so popular that registration was clsoed before outraged players demanded it be reopened and waited hours for alternate seating. Seems like this edition of the WSOP musical could have quite a few encores because people are just not ready to give up.
Chip and a Cherick
Erick Lindgren hasn't had a particularly successful Series, but he and new wife Erica Schoenberg have been all smiles all summer anyway, especially after Escho announced that they were expecting a little blonde poker prodigy. Schoenberg was eliminated on Day 1, and Lindgren easily could have considered himself out, as well, and moved on to the next thing. But with 3,700 left to bag and tag at the end of the night, he never gave up. Instead he returned on Day 2b to run his seven big blinds ups to an above-average stack. By the end of Day 3, his bag had gotten a little bigger – 356,000 to be exact. No matter how far Edog carries this momentum, it's a charming lesson for the little one.
Live Bait
There's nothing better for poker right now than the pageant being put on in style at the Rio. Or are we fish for buying that? Looking at the registration numbers and the new ESPN live coverage, you can almost convince yourself that things are going to be OK. How can poker be in such dire straights in the U.S. when it's finally come far enough for live-streaming coverage on ESPN2? Or is the new coverage actually a sign that things are worse than we thought? Is it good or bad that the WSOP is so desperate for ESPN coverage, and ESPN is so desperate for viewers, that the most important event of the year is willing to allow a network to air hole cards with only a 30-minute delay? The WSOP has always bent its schedule to the will of ESPN, but this year it's gone even further: 15-minute breaks, a two-hour dinner at 5:30, and, oh yeah, a completely different dynamic at two tables in the field. Without the hope of the patch money that used to be a virtual lock for any player at a feature table, is it worth it? A disaster in the next week could answer everyone's questions, but most likely, they're going to be a chorus we keep singing until next year, when turnout numbers are anyone's guess.
The drama continues with Day 5 with the players firmly in the money and looking to add to their stacks and continue on. The next week promises to be fascinating, so tune in to PokerNews for live coverage of all the action.
Follow us on Twitter for up-to-the-minute news.