PokerNews Op-Ed: It's a Celebration!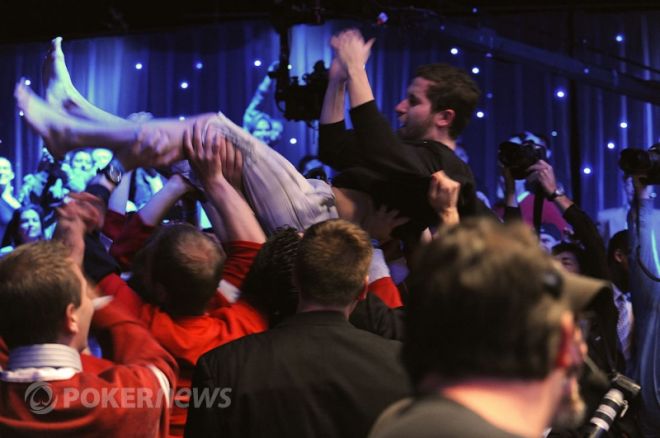 There is no denying that televised poker has had an effect on how people conduct themselves at the table. Some players try to milk every ounce out of their 15 minutes of fame while others remain normal or even try to avoid the all-seeing lenses and intrusive boom microphones. The former make for entertaining television and thus celebrations occur more frequently even in the quietest, most unseen poker rooms across the world.
With this drastic increase of shenanigans, we find it appropriate to rank the most popular celebrations from least to most intense. So the next time that guy wearing sunglasses at your $1/$2 table opens his mouth, you'll know where to properly place him.
10. The Professional
When was the last time Doyle Brunson leapt out of his seat and did a lap around the table after hitting a one-outer? The professional celebration is quiet and unnoticed because, well, it's nothing. Maybe it's an inaudible exhale or a mental scream, but it cannot be heard. The champions of The Professional are Phil Ivey and Tom "durrrr" Dwan who opt to catch flies in their mouths rather than make a noise. Older players also prefer The Professional because had they cheered back in the day, they would've ended up like Wild Bill – dead.
9. The Cheese
When you suck out in the worst way and you really want to celebrate but know it is totally inappropriate, just put on a $#!* eating grin. Jonathan Duhamel chose this celebration after spiking a miracle straight against Matt Affleck on Day 8 of the 2010 WSOP Main Event. He knew that Affleck's heart had just but ripped from his chest and that anything audible would have been rude, but at the same time he was experiencing so much pent up emotion that he had to do something. Alas, Duhamel hid behind his black hoodie and grinned silently from ear to ear, executing The Cheese flawlessly.
8. The Fist Pump
You don't need to be obsessed with the gym, tanning or laundry to punch the air with enthusiasm, and often it is a silent but deadly celebration. The Fist Pump satisfies the winner's urge to roar without interrupting play or annoying every other player in the area, but it is the first step toward audible cheers. Those who execute The Fist Pump like champions are prone to graduate to our next celebration.
7. The Shout!
Generally uncontrollable, The Shout occurs when no proper words or sentences can match the elevated noise spilling out of your vocal chords so you just yell "yes" or "yeah." Players at adjacent tables are forced to turn their heads at the spike in volume but otherwise it does not radically interrupt play. Some would even deem The Shout appropriate because most of the time it is an unstoppable knee-jerk reaction. This celebration is often executed prematurely (on flops and turns) and can potentially set up The Counter.
6. The Counter
"That's what you get!!!"
Here's where it starts to get personal. The Counter pops up the most during suck and re-suck situations and is often fueled by a previous celebration. It is somewhat malicious, even if it is a temporary flare, and in the world of televised poker it can create false feuds or even bad character. A prime example of this occurred during the 2006 World Series Of Poker when Joe Hachem and Dutch Boyd played heads up during a $2,500 Six Handed No-Limit event. Hachem became so irritated with Boyd that he exploded after winning one pot and yelled, "Here! Here! Put the money here!" The celebration came off as personal, even abrasive, yet Hachem is one of the nicer players on the circuit and was instigated by Boyd's shouts.
5. The Dance
Chad Ochocinco hasn't graced us with his presence at the poker table yet, but his spirit lingers with those who prefer two-stepping after hitting a two-outer. Unfortunately, most poker dancers lack Ochocinco's grace and coordination, and in many cases, they look more like pre-teens failing to look cool at a middle-school dance. The most epic poker dance fail came from Bryan "The Icon" Micon during the 2006 Main Event where he single-handedly ruined Michael Jackson's Thriller. Fortunately, Micon is a renowned jokester and his intentions were to entertain the at-home viewers rather than annoy his competitors. He succeeded in doing both, however.
4. The Speech
Much like The Counter, The Speech is a verbal assault, but its intentions are much nastier. Where The Counter is a quick rebuttal, The Speech is a scripted, planned and deliberate attack unleashed only when the victim is at his weakest. Phil Hellmuth is the king of this celebration and uses it to covertly undermine more amateur opponents. Hellmuth also uses The Speech after lost pots to continuously batter his opponents verbally. This persistent abuse can climax, as it did with Cristian Dragomir during the 2008 WSOP, and Hellmuth takes a lot of flack for advocating The Speech. Only those who are both cunning and blessed with the gift of gab can perform this celebration.
3. The Holy $#!* I Won That Hand
Reserved only for situations in which the eventual winner was less than 15 percent to win, this celebration is a total and utter explosion. Filippo Candio's epileptic spasm after doubling through Joseph Cheong during this year's Main Event is a perfect example because he played the part perfectly. The Italian's imitation of a fish out of water might win him an Oscar, at worst an Emmy, but it wasn't enough to propel him to a Main Event championship. Candio successfully amassed the attention of everybody in the room and most likely blew out the sound operator's eardrums.
2. The Bulldozer
Is a description even necessary? Hevad Khan shook the world during the 2007 Main Event becoming one of the most polarizing figures in poker and the poster boy for new rules outlawing excessive celebration at the WSOP. Khan's Red Bull-driven outbursts included memorable sayings such as "Bulldozer," "That's how we do it," "I suck," and of course "I play this game to win, I don't play to lose." Although memorable, Khan realized how ridiculous his actions were and has since become a very silent, very polite player at the table. Still, thanks to ESPN, his goofy dances, shouts and screams will always rerun and will never be forgotten.
1. The Team
Nothing tops dozens of friends, family members, acquaintances and lost drunks piling upon a player in celebration after they've won a big hand or tournament. Casino employees can do little to stop the sure manpower while the chants, cheers and even vuvuzelas create a frenzied atmosphere foreign to most poker rooms. Hachem pioneered this celebration when he won the Main Event in 2005, draping himself with the Australian flag as his mates chanted "Aussie! Aussie! Aussie!" Since then, the establishment of the November Nine has increased team celebrations exponentially because the delay allows more people to travel to Las Vegas and pack inside the Penn & Teller Theater. Much like Hachem, Duhamel was consumed by the team celebration on Monday as he crowd-surfed through dozens of supporters wearing Montreal Canadien jerseys before finally donning The Maple Leaf himself.
Like us on Facebook, and follow us on Twitter for up-to-the-minute news.
We have a $750 AND a $1,000 freeroll running simultaneously on Lock Poker this Sunday at 18:35 GMT. The best thing about them is they are sign up only so you don't even have to deposit to play in them, just download Lock Poker via our links and you are in.