The WSOP on ESPN: $50,000 Poker Player's Championship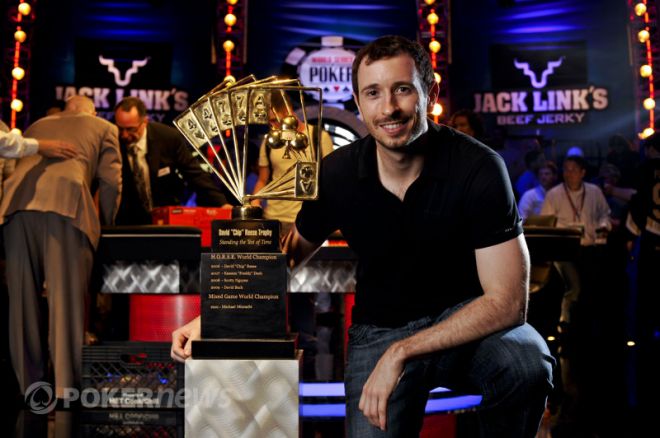 Aside from the Main Event, the most highly anticipated tournament of the World Series of Poker is the $50,000 Poker Player's Championship. As part of ESPN's Tuesday-night lineup, new episodes of the WSOP aired this week featuring two hours of the aforementioned event. The tournament drew 128 players, creating a prize pool of $6,144,000, with more than $1.72 million of that reserved for first place.
Like in 2010, the event was an 8-game mix until the final table, at which point the game was switched to no-limit hold'em. Last year's champ, Michael "The Grinder" Mizrachi, returned to defend his title, but fell well short of making the final table. As expected, that table ended up being a star-studded affair, with just one amateur (bracelet winner, Owais Ahmed), making the top eight.
$50,000 Poker Player's Championship Final Table
| Seat | Player | Chips |
| --- | --- | --- |
| 1 | Brian Rast | 3,860,000 |
| 2 | George Lind | 2,840,000 |
| 3 | Phil Hellmuth | 2,345,000 |
| 4 | Owais Ahmed | 1,225,000 |
| 5 | Scott Seiver | 1,100,000 |
| 6 | Minh Ly | 4,490,000 |
| 7 | Ben Lamb | 655,000 |
| 8 | Matt Glantz | 2,685,000 |
Let's Get It On: With the blinds at 25,000/50,000 with a 15,000 ante, Brian Rast raised to 125,000 from middle position holding
. Phil Hellmuth responded by three-betting to 250,000 from the cutoff with
, which cleared the field back to Rast. After a call, the flop came down
, hitting both players.
Rast was first to act and led out with a massive bet of 2 million. "Wow, I hope he's not drawing live," Hellmuth responded as he slid his entire stack of 2.03 million into the pot. Indeed, Rast was drawing live to diamonds and called the additional 30,000. The Poker Brat was out of his chair, seeking comfort from his wife, as the
turn changed nothing. The
river improved Rast to sevens full, but it was no good against Hellmuth's jacks full, which made Hellmuth the new chip leader with 4.755 million.
Ben Lamb Eliminate in Eighth Place: As the program returned from a commercial break, Ben Lamb was all-in for his last 295,000 and called by Scott Seiver.
Showdown
Seiver:

Lamb:
Lamb, who sat atop the WSOP Player-of-the-Year Leaderboard, could not find help. The board ran out an uneventful
. While he was the first casualty, Lamb earned $201,338 for his eighth-place finish, which was his third final table of the 2011 WSOP to that point.
Leading Up to the Final Table: Here's a look at the payouts and eliminations leading up to the $50,000 Poker Players Championship final table:
$50,000 Heads-Up Championship Payouts
| Place | Player | Winnings |
| --- | --- | --- |
| 9th | Jason Lester | $168,529 |
| 10th | Vladimir Shchemelev | $168,529 |
| 11th | Jeffrey Lisandro | $143,400 |
| 12th | Yan Chen | $143,400 |
| 13th | Josh Arieh | $124,723 |
| 14th | Michael Binger | $124,723 |
| 15th | Barry Greenstein | $108,503 |
| 16th | Sebastian Ruthenberg | $108,503 |
Scott Seiver Eliminated in Seventh Place: A short-stacked Scott Seiver open-shipped for 1.315 million from middle position with
only to run into Brian Rast's
in the small blind. He moved all-in over the top and isolated Seiver, who only had a 19 percent chance of winning the hand. The
flop wasn't much help to Seiver, and the
turn left him looking for a eight on the river. Unfortunately, the
blanked, and Seiver took home $243,978 for his seventh-place finish.
George Lind Eliminated in Sixth Place: George Lind raised to 125,000 from middle position holding
and received a call from Minh Ly on the button, holding
. It was heads-up to the
flop, which saw Lind check-call a bet of 150,000. The
turn was gin for Ly, who hit his flush; on the other hand, it proved disastrous for Lind, who hit an inferior two pair. After the latter checked, Ly fired out 380,000, Lind moved all-in for 1.025 million, and Ly snap-called. Lind needed either a queen or ten on the river, but instead the
reared its ugly head. Lind hit the rail in sixth place, earning $300,441 in the process.
Premature Fold: After Minh Ly raised to 125,000 from early position, Matt Glantz looked down at
and moved all-in for 1.24 million. Action folded to Owais Ahmed in the big blind and he asked for a count, which prompted Ly to fold out of turn. The premature fold didn't sit too well with Glantz, who gently scolded Ly.
Ahmed eventually made the call with
and Glantz, who finished fourth in this event in 2008, was at risk. Ahmed admitted Ly's fold influenced his call, which upset Glantz even though he was in a good spot to double. The
flop changed nothing, nor did the
turn. Glantz needed to dodge an ace on the river to take down the 2.71 million pot, which is exactly what he did as the
peeled off.
Matt Glantz Eliminated in Fifth Place: Minh Ly opened under the gun for 130,000 with
and received a call from Matt Glantz who was holding
. Phil Hellmuth called from the small blind holding
, while Owais Ahmed came along from the big. The
flop was a precursor to fireworks, and Hellmuth fired out 250,000 with his two pair. Ahmed quickly folded while Ly made the call. Glantz, who held both straight and flush draws, moved all-in for 2.415 million, which put the pressure back on the Poker Brat.
Hellmuth eventually mucked his two pair, while Ly ended up making the call. Glantz was behind with a 41 percent chance of winning the hand, but it was not meant to be. The
turn and
river sent him home in fifth place ($376,750).
Wild Card Hand: In the second hour of the broadcast, Brian Rast was dealt the Jack Link's Beef Jerky Wild Card hand and raised to 200,000. To make things more exciting, viewers were given four possible hands to choose from: A.)
; B.)
; C.)
; D.)
.
Phil Hellmuth then raised to 450,000 with
, and Rast called the additional 250,000. Co-host Norman Chad guessed that Rast held C.)
, but admitted he was essentially playing Pin the Tail on the Donkey - and he was the donkey!
Rast proceeded to fire out 400,000 on the
flop, Hellmuth called, and the dealer burned and turned the
. Again Rast bet, this time 650,000, Hellmuth called, and the
spiked on the river. It went check-check and Hellmuth showed his pair of sixes. Can you guess what Rast had? Hint: It was the only hand Hellmuth could beat.
Owais Ahmed Eliminated in Fourth Place: As the broadcast returned from a commercial break, Owais Ahmed was all-in for 1.725 million and called by Phil Hellmuth.
Showdown
Hellmuth:

Ahmed:
While Hellmuth was ahead preflop, the
flop delivered a king and the lead for Ahmed. The
turn left Hellmuth looking for an ace on the river, and wouldn't you know it, the
spiked! Hellmuth celebrated with his rail and Ahmed made his way to the payout desk to pick up $482,085 for his fourth-place finish.
Minh Ly Eliminated in Third Place: Phil Hellmuth opened on the button to 280,000 only to have Minh Ly move all-in for 1.925 million. Brian Rast quickly got out of the way while Hellmuth tanked. After deliberating for a few moments, he made the call and discovered he was a 62 percent favorite.
Showdown
Hellmuth:

Ly:
The
flop gave Hellmuth a pair of sixes, and Ly a gut-shot straight draw. The
turn gave Ly an inferior pair, leaving him in need of help on the river. Alas, the
was not what he was looking for, and just like that, Ly was busted in third place ($665,763).
Heads-Up Play: Phil Hellmuth began heads-up play with 10,765,000 chips to Brian Rast's 8,435,000. It didn't take long for Hellmuth to jump out to a big lead. He hit hand after hand, to give him 16.57 million to Rast's 2.63 million.
With the blinds at 60,000/120,000 and a 30,000 ante, Hellmuth limped with
and then called a raise to 400,000 by Rast who was holding
. The
flop gave Hellmuth a flush draw, and he moved all-in after Rast bet 345,000. Rast called, putting himself at risk, and it was a coin flip; however, neither the
turn nor
river helped the Poker Brat. Rast doubled to 5.26 million.
In the next hand of the broadcast, Hellmuth limped with
only to have Rast, who peeked down at
, raise to 405,000. Hellmuth made the call and watched the
bring him another flush draw. Rast bet 375,000 with his pair of kings, Hellmuth quickly raised to 1.275 million, and Rast responded by moving all-in for 4.19 million total. Hellmuth called, and once again the title was on the line. Hellmuth was looking to complete his flush, but he couldn't do it. The
turn and
river assured Rast the double.
With Rast now in the chip lead, Hellmuth raised to 400,000 with
. Rast called the additional 280,000 with
, and was no doubt pleased to hit the nuts when the flop came down
; however, Hellmuth had picked up yet another flush draw. Rast led out for 500,000, Hellmuth moved all-in for 8.495 million, and Rast simply responded, "I'm sorry, Phil. I have the nuts. I call."
Hellmuth wasn't done, he had a 36 percent chance of hitting a flush. "I need a diamond or he wins," Hellmuth said as he made his way to his rail. The
turn was no help to Hellmuth, and neither was the
river. Three missed flush draws devastated Hellmuth and left him with his third runner-up finish of the 2011 WSOP ($1,063,034).
"Buddy, if I was you, I'd tip that dealer a million," Hellmuth said as he congratulated Rast on the victory. Uncharacteristically, Hellmuth was upbeat and gracious in his post-elimination interview.
"It was certainly something to fade the three flush draws," Rast said in his post-victory interview with Kara Scott. Rast, who became the only double-bracelet winner of the 2011 WSOP, went on to add: "It's really special, I don't know, I feel good."
Be sure to follow us on Twitter and like us on Facebook.