The Weekly Turbo: PokerStars Files To Dismiss Civil Charges, Ivey Interview, and More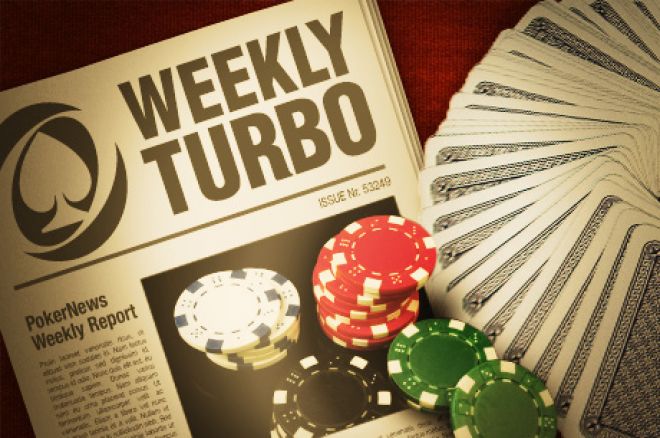 Did you miss any of the top poker news stories this week? Well you've come to the right place to get caught up. We're covering the motions to dismiss filed by PokerStars and Full Tilt Poker execs, an exclusive interview with Phil Ivey, and more.
Poker Players
A Chat With Phil Ivey
Phil Ivey isn't the easiest guy to sit down for an interview. Trust us — we've tried many times this summer.
However, World Series of Poker Media Director Nolan Dalla was fortunate enough to have a one-on-one chat with the world's greatest poker player last week. The interview was posted at WSOP.com on Tuesday. It was the first interview conducted with Ivey in three years.
Ivey spoke willingly with Dalla about his success — or lack thereof — during the 2012 WSOP. The 36-year-old made an astounding five final tables in 13 days last month, but fell short of a bracelet each time. What made it worse for Ivey was hearing about Phil Hellmuth winning bracelet No. 12, leaving Ivey four behind the "Poker Brat" for the all-time mark.
"I congratulated him," Ivey said about Hellmuth's 12th bracelet. "I was really impressed. He's been playing very well this year. ... Now, I have four more bracelets to go to catch him."
Did Ivey's runner-up finish on the same night give him any enjoyment? Not a chance.
"It's all about winning," Ivey said. "I don't get any satisfaction from second place at all."
Dalla's interview with Ivey is a must-read for any poker fan. Check it out at WSOP.com.
Ivey and the Supreme Court
There was more Phil Ivey news this week as the eight-time WSOP bracelet winner's ugly divorce case was heard in front of the Nevada Supreme Court. Ivey, who was in Las Vegas for the WSOP Main Event on Tuesday, was represented by attorney David Chesnoff, who made arguments for his client regarding the $5,000 campaign donation Ivey made to the judge who granted his divorce in 2009.
Last September, Luciaetta Ivey filed a petition with the higher court claiming that Phil Ivey made a $5,000 contribution to Family Court Judge Bill Gonzalez three months after the couple's divorce was granted, alleging that she was treated unfairly. Luciaetta also declared in the petition that her ex-husband ceased paying spousal support in April 2011, around the same time the Full Tilt Poker domain name was seized by the U.S. Department of Justice.
According to the Las Vegas Review-Journal, Chesnoff argued Tuesday that the case was already dead and that Luciaetta "made millions" from the uncontested divorce. According to documents presented to the court, Luciaetta collected about $180,000 a month as taxable alimony from her husband's Tiltware payment.
Luciaetta's lawyer, Bruce Shapiro, noted Tuesday that Phil Ivey's donation to Gonzalez was one of only a few $5,000 donations made in Nevada in 2010. According to the LVRJ, Chief Justice Michael Cherry responded by saying that there might be "free speech" problems if the Supreme Court tried to pass laws blocking people from contributing to judicial campaigns.
The Nevada Supreme Court now must decide whether judges should avoid cases involving their contributors.
Read the full story at the Las Vegas Review-Journal.
Laak's Record Broken
Phil Laak's world record for the longest continuous poker session was broken last week by Barry Denson, an ex-Territorial Army soldier from the U.K. Denson played for 120 hours and 20 minutes at the G Casino in Manchester, besting Laak's record by more than five hours.
"I prepared for the feat by gradually shortening my sleep over the period of a few weeks until I was running on less than three hours sleep a night and this did help tremendously," Denson told PokerNews on Monday. "I expected to experience side effects. Phil Laak spoke after his record of experiencing visual hallucinations but my experience was slightly different in that I experienced aural hallucination. At one stage I was sure that I could hear small children laughing and playing around the slots which were quite close to the table."
Denson's record hasn't been verified by the Guinness World Records, but he is in the process of sending the video footage and paperwork for confirmation. Denson told PokerNews that he's tried to reach out to Laak before and after he finished the challenge, but Laak hasn't responded.
During the marathon session, Denson raised £850 for Help For Heroes, a charity aimed at helping Britain's soldiers that have been wounded since September 11, 2001. Denson says he still hopes to increase that total and reach his target of £1,000.
Laak also played for a charity — campsunshine.org — when he set the record in 2010. PokerNews was there when Laak played in a $10/$20 cash game at the Bellagio in Las Vegas for 115 consecutive hours. He donated all of his $6,766 in winnings.
Kristy Arnett spoke with Laak about the new record for this week's edition of The Straddle.
Four years ago, former WSOP Main Event finalist Lee Watkinson and his partner Timmi Derosa rescued two chimpanzees, which had been test subjects in scientific and medical research. Watkinson had since been caring for the chimps, CJ and Buddy, from his home in Las Vegas.
On Thursday, though, the two chimpanzees escaped their cage and rampaged through the neighborhood, forcing police to kill one of the chimps and tranquilize the other.
Derosa explained to ABC News that the chimpanzees kicked door of the cage until it broke free from the hinge, allowing them to escape. The chimps then ran wild in the streets, pounding on vehicles and jumping onto a police car. No people were harmed during the incident, but the male chimp, Buddy, was shot to prevent anyone from getting hurt.
CJ was returned to her cage at Watkinson's home, but members of the humane society are asking for the Nevada Legislature and U.S. Congress to prevent caregivers from keeping chimps as pets.
Watkinson used his winnings from the 2007 WSOP Main Event to rescue the chimpanzees with the help of the Cortland Brandenburg Foundation. He talked to PokerNews in 2008 about rescuing the chimps in Washington state.
Follow PokerNews on Twitter for up-to-the-minute news.
Poker Business
PokerStars, Full Tilt Poker Execs File Motions to Dismiss Civil Case
On Tuesday, PokerStars filed a motion to dismiss civil charges filed against a number of the company's subsidiaries last September.
PokerStars argues that the amended civil complaint invokes "shady dealings and far-reaching conspiracies" regarding PokerStars' prior operations in the U.S. PokerStars says the complaint suffers from three major flaws:
First, it does not provide adequate detail to satisfy the heightened pleading requirements applicable to civil forfeiture and fraud actions. This vagueness fails to do what pleading rules require: Let PokerStars know what it is alleged to have done wrong so that it can marshal its defense.

Second, the Complaint fails to state a legally viable theory of how PokerStars violated the Illegal Gambling Business Act, the wire- and bank-fraud statutes, and the money-laundering statutes.

Third, although the Government admits that PokerStars operated legally throughout the world – and has implicitly conceded that it has lawfully provided services in much of the United States – it seeks to seize all of PokerStars' assets without showing that this Court has in rem jurisdiction over those assets and without attempting to separate PokerStars' lawful income from the income that the Government alleges PokerStars earned through illegal activities.
eGaming Review suggests that the filing could pose a threat to the pending discussions with the Department of Justice over the purchase of Full Tilt Poker. However, if the motion is approved by a federal judge, it could open the door for PokerStars to complete the takeover of its former competitor.
Meanwhile, as Ray Bitar's attorneys were working out a bail package with federal prosecutors on Tuesday, three other members of the Full Tilt Poker board of directors filed motions to dismiss the civil charges brought against them by the Department of Justice.
Howard Lederer, Chris Ferguson and Rafe Furst each filed motions to dismiss the amended civil charges claiming they defrauded players out of more than $300 million and operated "global Ponzi scheme." The motions are based on two arguments. First, that the allegations that the men participated in a scheme to defraud FTP's customers are nowhere to be found. And second, that Full Tilt Poker did not fall under the Illegal Gambling Business Act.
"The Government has not proven that the alleged 'gambling business' conducted by Full Tilt Poker is illegal in the place where that business is conducted," states the filing.
Here's an excerpt from Lederer's motion to dismiss:
How, exactly, did he mislead players regarding their deposits and accounts? What did he say to them, and when did he say it? Was any information Lederer allegedly provided false when given, and if so, did Lederer know it? The government doesn't say. The only specific factual allegations against Lederer are that he co-founded FTP and helped build it into a successful business, and that he received distributions as part-owner of the company. These allegations fail to state a fraud claim—or any claim—against Lederer.
Similar filings were submitted by Ferguson and Furst on Monday. A motion was also filed on behalf of Telamonian Ajax Trust, a bank account in Switzerland that was tied to Furst. The bank account was seized last September when the DOJ filed an amended civil complaint against the FTP board members.
For a closer look at the filings, check out dockets.justia.com.
Cyprus Eliminates Online Poker
The small island country of Cyprus has passed a bill that prohibits online poker and most forms of gambling. The controversial decision was made because of concerns the nation was losing billions of pounds in tax revenues each year to offshore betting sites.
The bill was approved by the House of Representatives Legal Affairs Committee last week before advancing through a full parliamentary vote on Friday. The bill prevents betting companies from offering all forms of gambling other than sports betting, which has been regulated with a 10 percent tax levy on operators.
Online betting company Betfair is considering legal action against Cyprus, arguing that the new bill is in violation of European Union law. Betfair claims that it generated approximately 4 percent of its revenue from Cyprus last year, accounting for approximately £9 million in revenues before allocation of central costs.
"Betfair is working with advisors to understand the potential implications on its business and will be taking all necessary steps to reduce the impact on profitability through both legal action and cost management," the company said in a statement.
OPAP, the national lottery operator in Cyprus, will be exempt from all of the new laws. The organization will continue to operate games of chance because of a bilateral agreement between Greece and Cyprus.
Read more at iGaming Business.
More Good News in Nevada
On Wednesday, gaming supplier Shuffle Master was recommended by the Gaming Control Board to be a licensed manufacturer and provider of interactive gaming systems in Nevada.
Shuffle Master will next meet with the Nevada Gaming Commission for final license approval. If accepted, the company will be the third to receive an interactive gaming license in the state. Slot machine suppliers IGT and Bally Technologies were granted licenses last month.
In June, Shuffle Master positioned itself for legalized poker in Nevada by purchasing the Ongame Network from bwin.party for $28.5 million. However, after looking deeper into the current industry conditions, Shuffle Master pulled out of the deal. The company still intends to compete for a share of the gaming space in the U.S., but says it remains wary of the circumstances looming over the industry.
"Although we believe in its eventuality, there is uncertainty surrounding the timing of legalization and the rollout of online poker in the U.S. at both the state and federal levels," Shuffle Master CEO Gavin Isaacs said last month.
The Las Vegas Review-Journal has more.
Who Wants Ongame?
Last week, we brought you a story involving social gaming giant Zynga and its interest in purchasing the Ongame Network from bwin.party. On Tuesday, bwin.party announced in a statement that there are six potential purchasers of Ongame, and that further updates will be provided in due course.
The announcement follows the collapse of the deal between Shuffle Master and bwin.party last month. In February, Shuffle Master signed a definitive agreement to buy Ongame for €19.5 million ($24.5 million). But due to what Shuffle Master called "worsening industry conditions" in Europe, the deal fell apart. Bwin.party is shopping Ongame again, saying that it is "re-engaging with other third parties that have expressed an interest in acquiring Ongame."
Bwin.party also stated that it plans to transfer Bwin's poker liquidity over to PartyGaming's PartyPoker platform by the end of the year. "The sale of Ongame represents a further significant step in our process of integrating bwin and PartyGaming and moving to a single technology platform," said bwin.party co-CEOs Jim Ryan and Norbert Teufelberger.
Bwin and PartyGaming joined forces in 2011, creating the largest publicly traded online gaming company in the industry.
The full statement can be found at bwinparty.com.
Poker Processor Settles for $6 Million
A Texas payment processing company has agreed to forfeit $6.27 million to the U.S. government for its involvement in illegal online poker transactions.
LST Financial, located in San Antonio, is alleged to have processed transactions for PokerStars, Full Tilt Poker and Absolute Poker before the three online poker sites were seized by the Department of Justice in April 2011. The company was 50 percent owned by Ryan Lang, one of the 11 men indicted by the DOJ on Black Friday. Lang, 36, pleaded guilty to conspiracy back in March.
Lang was accused of facilitating the illegal transfer of funds from online poker sites to players in the U.S. Lang operated as a payment processor out of Canada from 2007 to 2010, assisting financial brokers who made false statements to the banks to trick them into processing payments for the aforementioned poker sites.
According to the New York Post, LST has admitted no wrongdoing and claims it was duped into processing the illegal transactions.
Read more at the New York Post.