The Weekly Turbo: Dwan, Laak and Cates Added to Premier League, WSOPE Schedule, and More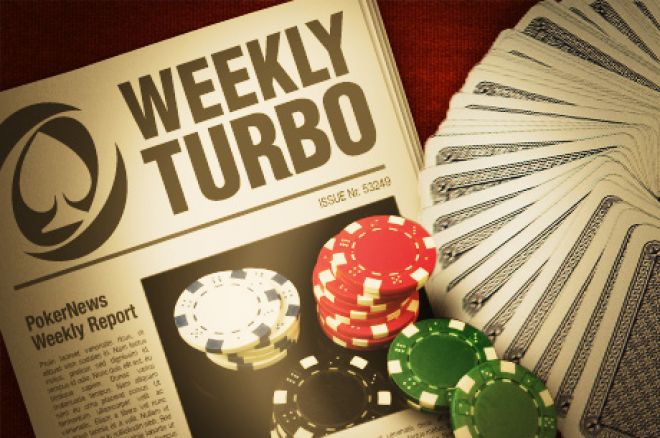 Did you miss any of the top poker news stories this week? Well you've come to the right place to get caught up. We're covering the latest additions to the loaded PartyPoker Premier League lineup, the schedule for the 2012 World Series of Poker Europe, and more.
Poker Tournaments
Truly a Premier League
As if Erik Seidel, Patrik Antonius, Vanessa Selbst, Luke "Full Flush" Schwartz and Tony G didn't already provide enough star power, PartyPoker announced on Wednesday that Tom Dwan, Phil Laak and Dan "Jungleman" Cates have been added to the $125,000 buy-in PartyPoker.com Premier League Poker V Main Event from April 4 through 10 in Vienna, Austria.
The 16-player event is part of the World Poker Tour Vienna festivities and will award the winner with a massive top prize plus entry into the $25,000 WPT World Championship at Bellagio. The event will showcase the customary Premier League format, with the top three point earners from each eight-player group advancing to the final table, and the fourth and fifth seeds in each group squaring off in a series of heads-up matches for seats at the eight-handed finale.
"The Big Game, Premier League, and a WPT event all in one place and all at one time? Vienna here we come," Laak told the PartyPoker Blog. "The Big Game is a 48-hour cash game you say? Well then, I had better stay up for two days before we get started — otherwise it just wouldn't be fair."
Read more on the story at PokerNews.com.
WSOP Going Back to Cannes
On Thursday, the World Series of Poker released the schedule for the 6th Annual World Series of Poker Europe in Cannes, France. The event will be held at the Casino Barrière de Cannes Croisette and the Hôtel Majestic Barrière from Sept. 21 through Oct. 4, 2012.
WSOP Europe will be offering seven bracelet events in 2012, kicking off with a €2,700 buy-in six-handed no-limit hold'em event starting on Friday, Sept. 21. As usual, the series will be headlined by the flagship €10,450 buy-in Main Event, won last year by New York poker pro Elio Fox for $1,927,660.
"We can't wait to return to the Cote D'Azur in 2012," said WSOP Vice President Ty Stewart. "We have moved up the schedule a couple of weeks to take better advantage of the great weather and all Cannes has to offer. Ask anyone who attended last year. This tournament is now a certified major championship and the experience is second to none. The media is already speculating on 1,000 players for the Main Event and we will be ready for them."
For a look at the full schedule, check out the story at PokerNews.com.
WSOP National Championship Added to ESPN Coverage
Before the start of the 2011-2012 World Series of Poker Circuit tour, the WSOP announced a big change to the format of the WSOP National Championship. The top 100 performers from WSOP and WSOP Europe events during the past two calendar years would be allowed to buy into the event for $10,000 to compete against the top 100 performers from the 2011-12 WSOP Circuit season.
On Monday, the WSOP announced the 100 players eligible to take part in the event. Michael Mizrachi, Ben Lamb, Jason Mercier, and many more of poker's top talents will have a chance to buy into the event for a chance at a gold bracelet and more than $1 million in prizes.
"This marks the first time we will take the best of the best from all our events to compete against one another to determine a true WSOP National Champion," said WSOP Executive Director Ty Stewart.
The three-day event will be filmed by ESPN and aired as part of the WSOP coverage later this year. For more information, read the story at PokerNews.com.
Poker Business
Ray Bitar Speaks
Nearly 11 months after being indicted by the U.S. Department of Justice on Black Friday, Tiltware CEO and Full Tilt Poker board member Ray Bitar finally broke his silence in an interview with PokerStrategy on Tuesday.
Bitar requested that the interview be focused on his apology to all those affected by the events of Black Friday, but he also touched on the repayment of players and his dealings with the Department of Justice.
"I have been fully dedicated to this cause and am doing everything possible for a beneficial outcome," he told PokerStrategy.
"As a manager of Tiltware, I have been cooperating fully with the DOJ so they can complete their investigation," Bitar continued. "Beyond that, I spend a good deal of my time making sure that FTP survives and that the players get repaid. I know that these events have hurt a lot of innocent people and it's my main job to make things right. I continue to work on these issues, day and night until we resolve them."
For a closer look at the interview, plus comments from Groupe Bernard Tapie lawyer Behnam Dayanim about the pending FTP/GBT deal, check out the story at PokerNews.com.
Bwin.Party Applies for Nevada Gaming License
Bwin.party's return to the U.S. gaming market had been rumored for a while, but it seems the company has officially submitted an application to return to its old stomping ground. On Wednesday, Cardplayer reported that world's largest publicly traded online gambling company officially applied for a Nevada internet gaming license with the Nevada Gaming Control Board.
Last October, bwin.party joined forces with MGM Resorts International and Boyd Gaming in an "anticipatory" move for legalized online gambling in the U.S. Under the arrangement, PartyPoker will provide and maintain online poker software for both gaming companies, and bwin.party will own 65 percent of the new company. MGM will hold 25 percent ownership and Boyd will own 10 percent.
PokerNews reached out to bwin.party on Thursday but a spokesperson declined to comment. Read the story at PokerNews.com.
ShuffleMaster Acquires Ongame Network
On Monday, gaming provider Shuffle Master announced it would be entering a €19.5 million agreement to purchase the Ongame Network from bwin.party services.
Shuffle Master is best known for providing automatic card shufflers and roulette chip sorters to casinos throughout the world, but the company said this new acquisition will help its strategic expansion into the online poker market in areas with regulated online gaming. The company will remain a business-to-business company and won't provide gaming content directly to players.
"Our acquisition of Ongame will allow Shuffle Master to offer a scalable, proven and secure solution for online poker," Gavin Isaacs, CEO of Shuffle Master, told the Las Vegas Review-Journal. "I am confident that Ongame will fit seamlessly into our ongoing interactive initiatives of delivering our renowned brands to online gaming operators, partner web sites, social networks and mobile platforms."
Read more at PokerNews.com.
Bally, Aristocrat Prepare for U.S. Online Poker Market
On Tuesday, gaming companies Bally Technologies and Aristocrat Technologies announced a partnership designed to offer their poker networks as part of a business-to-business online gaming solution for operators in the U.S.
Under the alliance, Bally and Aristocrat will secure arrangements with leading poker providers, who will then be integrated into Bally's and Aristocrat's iGaming platforms — Bally through its recent acquisition of Chiligaming's iGaming platform, and Aristocrat through its exclusive collaboration with GameAccount Network.
"By teaming up, Bally and Aristocrat can source and integrate with the strongest online poker product, specifically tailored for this market, which can help our customers maintain their leadership position in both land-based and on-line gaming," said Bally Technologies CEO Richard Haddrill.
Read more at PokerNews.com.
Everleaf Sanctioned by LGA
According to a brief statement on its website, the Lotteries and Gaming Authority of Malta (LGA) has issued sanctions against Everleaf Gaming after discovering a number of irregularities in the gaming company's operation. The LGA did not signify why sanctions have been placed on Everleaf, but the announcement comes one month after Everleaf Gaming was forced to cease operations in the U.S.
"Everleaf Gaming is being monitored closely to ensure its operation respects Maltese law," the LGA said in the statement.
Everleaf, which has more than 100 skins on its poker network, made a hasty exit from the U.S. on Feb. 9 after receiving a cease and desist order from the U.S. Department of Homeland Security. The company has since released an official statement confirming that U.S. player funds were seized by U.S. authorities.
Everleaf stated that U.S. customer funds would be refunded in full and players would be contacted about how and when that process would begin. As of Friday, there's been no word of any Everleaf players being refunded.
Read the LGA's statement at lga.org.
Operators Pre-approved for Spanish Online Gaming Licenses
According to a report by eGamingReview, 80 percent of operators that applied for a Spanish online gaming license have been told by regulators that they should expect license approvals in coming weeks.
More than 60 operators submitted applications for Spanish gaming licenses before the Dec. 14, 2011, deadline, according to reports. The official list of applicants wasn't revealed, but PokerStars, bwin.party, 888, Ladbrokes, and even Groupe Bernard Tapie were among the companies to have shown interest in the space.
The Spanish National Gambling Commission is expected to issue its first rounds of licenses by June, allowing operators to offer games to residents of Spain while paying a 25 percent tax on net income. The online poker player pool will initially be segregated, but changes could be made beginning next year to allow players to compete against other EU nations.
eGamingReview has more (paywall warning).
Poker Players
PokerStars SuperStar Showdown Rematch
In December 2010, before he was even revealed to be Isildur1, PokerStars Pro Viktor Blom faced off against Isaac "philivey2694" Haxton in the very first Superstar Showdown on PokerStars. Railbirds of all nationalities and bankroll sizes flocked to the tables and watched as Haxton took Blom for $41,701 over the course of their 2,500-hand match across four $50/100 no-limit hold'em tables.
On Sunday, March 11, Blom will get a change to avenge his loss. Blom and Haxton are set to play another 2,500-hand match, but this time the stakes have been raised to $100/200. And now, Blom goes in gleaming with confidence having won eight of his last 10 SuperStar Showdowns.
SuperStar Showdown Breakdown
| Date | Opponent | Profit/Loss | Record |
| --- | --- | --- | --- |
| Dec. 19, 2010 | Isaac "philivey2694" Haxton | -$41,701 | 0-1 |
| Jan. 2, 2011 | Antanas "Tony G" Guoga | +$44,280 | 1-1 |
| Jan. 30, 2011 | Daniel "w00ki3z" Cates | +$51,196 | 2-1 |
| Feb. 13, 2011 | Eugene "MyRabbiFoo" Katchalov | +$111,750 | 3-1 |
| Feb. 27, 2011 | Attila "DodgyFish72" Gulcsik | +$10 | 4-1 |
| March 20, 2011 | Daniel "KidPoker" Negreanu | +$150,000 | 5-1 |
| March 27, 2011 | Daniel "KidPoker" Negreanu | -$26,500 | 5-2 |
| April 3, 2011 | Scott "urnotindangr" Palmer | -$5,425 | 5-3 |
| April 10, 2011 | Scott "urnotindangr" Palmer | +$66,607 | 6-3 |
| April 24, 2011 | "Mastermixus" | +$1,279 | 7-3 |
| June 19, 2011 | Rui "PepperoniF" Cao | +$150,000 | 8-3 |
Total SuperStar Showdown Profit: $501,496
Can Haxton cool the Swede's heater? You can watch on PokerStars starting at 1200 ET (1700 GMT) on Sunday. For more information, visit the PokerStars Blog.
Daniel's Weekly Rant
Daniel Negreanu was back with another video blog on Wednesday, and with a new HD camera to boot! This week, Daniel talks about Epic Poker, Jean Robert Bellande, Phil Ivey, and his new reality TV crush.
Get all the latest PokerNews updates on your social media outlets. Follow us on Twitter and like us on Facebook today!