The Nightly Turbo: Doyle Calls for Poker Clock, Reid/Kyl Bill Losing Momentum, and More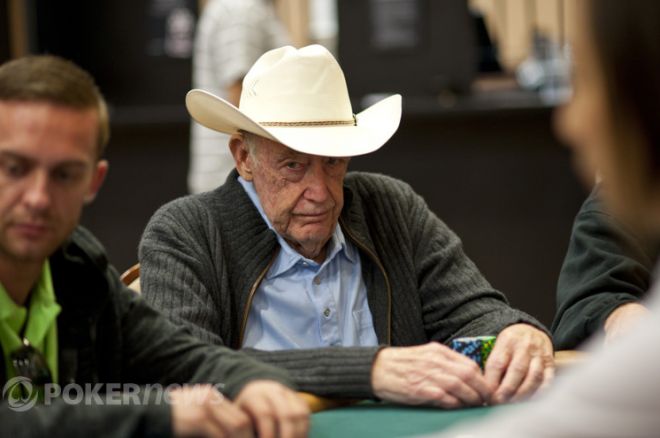 Is the Reid/Kyl federal online poker bill coming to a halt during the lame duck session? We're covering that story, plus Doyle Brunson's thoughts on a poker shot clock, in this edition of the Nightly Turbo.
In Case You Missed It
Jonathan Roy won the inaugural World Poker Tour Montreal Main Event on Tuesday. Read about Roy's road to victory in our WPT Montreal recap.
Many of poker's best online players never get a chance to shine in the spotlight. We're here to change that. In the latest edition of Online Chat, Jamie "AndTheLawWon" Kerstetter discusses grinding the WSOP Circuit, her move to Mexico and more.
Season XI of the World Poker Tour continued on Tuesday with WPT Mazagan. Well-known French poker pro Guillaume Darcourtled the way after Day 1a.
Greg Raymer has been crushing the Heartland Poker Tour in 2012. This week, Raymer joined the PokerNews Podcast to discuss his recent rush, online poker legislation, and more.
Jeff Gross came up short at the WPT Montreal final table on Tuesday, but he had a special visitor cheering him on the whole way. Read about it in The Muck.
SkillBet.com is offering legal real-money poker in 28 U.S. states! Find out how to get in on the action here at PokerNews.com.
Reid/Kyl Bill Faces Long Odds
The outlook for a federal online poker bill moving through Congress during the lame-duck session is becoming less likely by the day, and the finger pointing between Nevada Sens. Harry Reid and Dean Heller — two of the men working on passing the legislation — grew more hostile on Tuesday.
Reid, who drafted the bill with Sen. Jon Kyl, blamed Republicans Tuesday when asked what was holding up the web poker measure. Reid told the Las Vegas Sun that the bill would need 15 to 17 Republican votes to come to the floor. "At this stage, we've gotten none," he said Tuesday.
Heller reportedly snickered when told of Reid's comments, replying, "That's his answer to everything — blame Republicans."
Heller told the Las Vegas Sun Tuesday that the bill is still on the "frontburner" for Reid, Kyl and himself, but he added that the "fiscal cliff" and other issues are higher on the priority list for others in Washington. "It's just hard getting it to the forefront so that we can make it an issue and get it moving," Heller said.
Heller says he has been "working hard" in trying to coax Republican leaders and GOP senators into clearing the way for Internet poker legalization, but he admitted Tuesday that it's "going to be tough" to deliver the required number of votes.
The lame-duck legislative session has been deemed the last-ditch effort for a federal bill to move through Congress in 2012. Poker Players Alliance Executive Director John Pappas told PokerNews last week that there's still a lot of work to be done. "As Congress returned, we've spent a lot of time trying to get back in touch with staff and others to see what they are going to be working on," Pappas said. "The key for us is to find a legislative vehicle to be part of. It's still unclear what they intend to accomplish between now and Christmas."
As the Washington Times reiterated Wednesday, the lack of a federal bill would be a "jackpot" of sorts for states looking to capitalize on the emerging market.
For more, read the story at the Las Vegas Sun.
Brunson Calls Clock
It isn't often that we see Doyle Brunson or Daniel Negreanu agree on anything. The two poker icons are constantly debating subjects on Twitter, whether it be about poker, politics, or sports. But in Brunson's latest blog post, he supported Negreanu's argument that live poker is becoming too slow and tedious.
Negreanu has long argued that live poker needs a shot clock, especially after ESPN aired the 11-hour three-handed marathon at the World Series of Poker Main Event final table.
If there was any doubt about the need for a clock in poker this is exhibit A. This is painstakingly tilting for casual viewers....

— Daniel Negreanu (@RealKidPoker)
Brunson echoed those sentiments in his blog Tuesday: "At least we agree that something has to be done about the slow play in the poker tournaments. It makes almost unwatchable TV and is very boring. A shot clock is the answer and the only question is how long can a player wait before he acts? I think one minute is plenty of time. We had a tourney in Lake Tahoe that had a 20 second clock and it was the most fun I've ever had in a tournament."
Brunson also discussed his recent cancer scare, the war in the Middle East, and the basketball player who scored 138 points in a single game. Check out his full blog at DoyleBrunson.com.
Dan Smith Leading GPI Player of the Year
We're less than five weeks away from crowning the inaugural Global Poker Index Player of the Year, and Dan Smith is still in commanding position as we enter the homestretch.
Smith occupied the top spot for the 14th straight week when the standings were released Wednesday. Entering last week, Smith hadn't cashed in a live tournament in more than a month, but he recently finished 42nd in the World Poker Tour Montreal Main Event for $12,605. He's sitting comfortably with 1,098.79 GPI POY points, well out in front of his closest competitors Marvin Rettenmaier (966.63 points), Kyle Julius (906.02), Joseph Cheong (848.90), and Phil Hellmuth (846.83).
There were no changes in the top 10 this week, but Brock Parker made a big jump following his victory at the $2,500 buy-in Borgata Fall Poker Open. Parker collected $372,568 for the victory and climbed 25 spots to No. 25 in the GPI POY rankings. Scott Baumstein, who finished runner-up in that event, vaulted 23 spots to No. 28.
Here's a look at the top 10 of the Global Poker Index Player of the Year race:
| Place | Player | Total Score | Change in Rank |
| --- | --- | --- | --- |
| 1 | Dan Smith | 1098.79 | -- |
| 2 | Marvin Rettenmaier | 966.63 | -- |
| 3 | Kyle Julius | 906.02 | -- |
| 4 | Joseph Cheong | 848.90 | -- |
| 5 | Phil Hellmuth | 846.83 | -- |
| 6 | Andrew Lichtenberger | 819.75 | -- |
| 7 | Justin Bonomo | 798.33 | -- |
| 8 | David Baker | 790.71 | -- |
| 9 | Daniel Negreanu | 768.40 | -- |
| 10 | Jason Mercier | 766.71 | -- |
The Global Poker Index Player of the Year, presented by PokerNews, honors the player who has the strongest performance in live tournaments during the calendar year, according to the USA Today Global Poker Index point system.
For the full GPI Player of the Year standings, head on over to GlobalPokerIndex.com.
Online Poker Traffic Rankings
PokerScout.com released its weekly traffic rankings on Monday. The online poker tracking site reported an overall drop of 1.8 percent, with nine of the top 10 sites seeing traffic declines worldwide.
PokerStars was the only top 10 site to see a traffic increase. The world's leading real-money online poker room climbed 5 percent because of its 90 Billionth Hand promotion, which kicked off Friday. PokerStars is giving away up to $1 million as part of the promotion. When the 85 billionth hand was dealt, more than 100,000 real-money players were sitting at cash game tables in attempt to get a piece of the Mega Milestone prize. The site regularly averages around 24,000 real-money cash-game players.
Full Tilt Poker was among the biggest decliners last week. PokerScout reports that traffic has fallen by more than 40 percent since the relaunch on Nov. 6, and is still trending downward after losing 19 percent last week. However, the site is still ranked well ahead of the iPoker Network and PartyPoker for No. 2 in popularity.
Here is a look at the online poker traffic rankings as of Tuesday:
| Rank | Site | 7-Day Average (Real-money ring players) |
| --- | --- | --- |
| 1 | PokerStars | 25,200 |
| 2 | Full Tilt Poker | 5,500 |
| 3 | iPoker | 2,750 |
| 4 | PartyPoker | 2,350 |
| 5 | 888Poker | 1,940 |
| 6 | PokerStars.it | 1,900 |
| 7 | PokerStars.es | 1,700 |
| 8 | Winamax.fr | 1,500 |
| 9 | Ongame | 1,440 |
| 10 | PokerStars.fr | 1,280 |
Check out the full report at PokerScout.com.
Michael Phelps Rails His "PBF"
In case you missed it yesterday, world champion swimmer Michael Phelps flew into Montreal to support his best friend Jeff Gross at the final table of the inaugural WPT Montreal Main Event. It was a rail for the ages as Phelps, the all-time medal winner in the history of the Olympic Games, sat beside Antonio Esfandiari, poker's all-time tournament money winner. WPT.com's Jeanine Deeb caught up with both before the final table began.
For more on Phelps' trip to Montreal, check out the piece in The Muck by Donnie Peters.
Follow PokerNews on Twitter for up-to-the-minute news.