The Nightly Turbo: Tom Dwan Talks Full Tilt Poker, Maratik's Road to $1 Million, More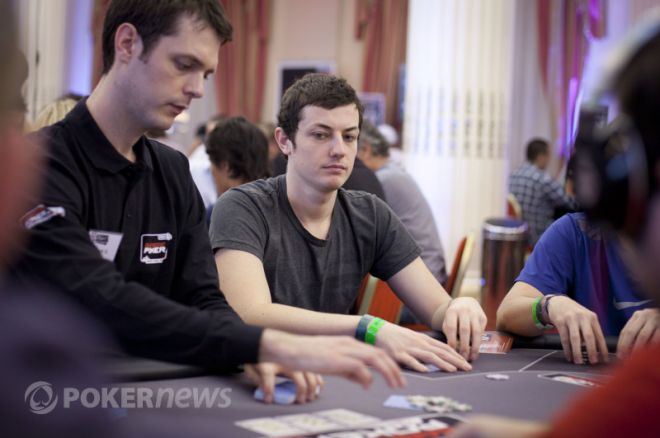 Who's the latest high-profile pro to speak out about Howard Lederer and Full Tilt Poker? We're bringing you that story, plus more on the unbelievable run by a micro-stakes grinder in the WCOOP Main Event, in this edition of the Nightly Turbo.
In Case You Missed It
Didn't have time to watch every episode of The Lederer Files? Check out the recap written by Chad Holloway.
Antonio Esfandiari won his third WSOP bracelet on Tuesday. Read about his incredible story and more in the WSOP Europe Day 5 recap.
Did you miss ESPN's coverage of the World Series of Poker on Tuesday night? Get caught up in our weekly recap.
Former Survivor contestant Amanda Kimmel has made the transition to poker. Chad Holloway caught up with Kimmel to learn a little more about her venture into the poker world.
Shootout tournaments offer a different style of poker to the World Series of Poker schedule every year. Sarah Grant caught up with 2012 Aussie Millions Main Event winner Oliver Speidel to get some shootout strategy.
Tennis icon Rafael Nadal has been picking up plenty of poker pointers since joining Team PokerStars in July. Check out The Muck to see Nadal's latest lesson about bluffing.
Tom Dwan on The Lederer Files
When PokerStars completed the deal to purchase the assets of Full Tilt Poker in July, former FTP Team Pro Tom Dwan seemed ready to discuss his thoughts on the demise of his former employer. In fact, Dwan promised his Twitter followers that he would write a blog or do an interview to talk about the issue. Neither happened.
On Tuesday, though, Dwan discussed his views on Full Tilt Poker after watching The Lederer Files here at PokerNews.com and reading the recent Andy Bloch interview at DiamondFlushPoker.com. Surprising to many, Dwan said he believes most of what the two former FTP owners said, and that their comments lined up with independent information that he knew.
Still, Dwan admits that he made a mistake by not speaking up when he should have.
Just watched the last of the lederer files and then read andybloch's interview. I'm pretty confident the majority of what they said is true

— Tom Dwan (@TomDwan)
I knew a bit of stuff independently and what they said mainly lined up with that (although I thought howard emphasized wrong a few times)

— Tom Dwan (@TomDwan)
However the big gripe I have is both of them not realising how big of a mistake it was for ftp to accept deposits after april 15th

— Tom Dwan (@TomDwan)
Also I think I have some obligation as a person/known poker player to when possible help people avoid being taken advantage of- and I messed

— Tom Dwan (@TomDwan)
Up some by not trying to make more sure that ftp had the players $$. I think the owners owed this to the players more than I did obviously

— Tom Dwan (@TomDwan)
Which makes it a bit extra ridiculous (although still understandable to me and definitely possible I wouldve made the same mistake) that so

— Tom Dwan (@TomDwan)
Few owners were willing to step up and take board seats to provide oversight..... Sorry for all the tweets- this seemed the right place

— Tom Dwan (@TomDwan)
As we reported in Tuesday's Nightly Turbo, Howard Lederer will be joining the TwoPlusTwo PokerCast Wednesday for a follow-up interview to The Lederer Files. He'll also be speaking with Diamond Flush later this week.
Read all of Dwan's comments at his Twitter page.
Maratik's $1 Million Freeroll
On Tuesday, we brought you the incredible story of "maratik," the Russian microstakes grinder who qualified for a free seat to the $5,200 buy-in PokerStars World Championship of Online Poker (WCOOP) and turned it into a $1 million payday. If you want to see how "maratik" emerged as the improbable champ, the final table highlight show provided by PokerStars.tv can be found below. Commentary is provided by Nick Wealthall and special guest Rupert Elder.
Read the inclusive recap of maratik's victory at the PokerStars Blog.
Global Poker Index Player of the Year Update
The Global Poker Index Player of the Year standings were released on Wednesday with Dan Smith again on top of the standings.
Smith maintained his lead for the sixth consecutive week thanks to his five major victories on the circuit this year. With 1,010 points, Smith leads his next closest competitor, Andrew Lichtenberger, by nearly 200 points. Lichtenberger, Marvin Rettenmaier and Kyle Julius round out the top four, respectively.
The only movement in the Top 10 this week came from David Baker and Jonathan Duhamel, who swapped places in the rankings. Baker jumped one spot to No. 5 after his 14th place finish in World Series of Poker Europe Event #1. Duhamel, who spent the first 13 weeks atop the GPI Player of the Year rankings, dropped to No. 6.
Others making moves outside of the top 10 were Roberto Romanello (up 13 spots to No. 17), Phil Hellmuth (up 16 spots to No. 29), Kyle Bowker (up 39 spots to No. 88), Govert Metaal (up 52 spots to No. 55), Vyacheslav Igin (up 30 spots to No. 63), and Micah Raskin (up 45 spots to No. 72).
Here's a look at the Top 10 of the Global Poker Index Player of the Year standings:
| Place | Player | Total Score | Change in Rank |
| --- | --- | --- | --- |
| 1 | Dan Smith | 1010.74 | -- |
| 2 | Andrew Lichtenberger | 819.75 | +- |
| 3 | Marvin Rettenmaier | 802.42 | -- |
| 4 | Kyle Julius | 796.94 | -- |
| 5 | David Baker | 767.55 | +1 |
| 6 | Jonathan Duhamel | 741.23 | -1 |
| 7 | Phil Ivey | 713.43 | -- |
| 8 | Mohsin Charania | 669.91 | -- |
| 9 | Daniel Negreanu | 661.97 | -- |
| 10 | Justin Bonomo | 650.79 | -- |
The Global Poker Index Player of the Year, presented by PokerNews, honors the player who has the strongest performance in live tournaments during the calendar year, according to the USA Today Global Poker Index point system.
For the full GPI Player of the Year standings, head on over to GlobalPokerIndex.com.
LAPT Panama
This week, the Latin American Poker Tour (LAPT) breaks new ground with its first visit ever to Panama. LAPT Panama kicks off on Thursday with the $2,300 Main Event, with the final table taking place on Sunday, Sept. 30.
The Main Event will have two Day 1 flights, with the fields combining for Day 2 on Friday. On Saturday, the remaining players will work their way down to a final table of eighth, and the first-ever LAPT Panama winner will be crowned on Sunday.
In addition to the Main Event, LAPT Panama will host a series of side events, including a two-day $4,700 buy-in High Roller starting on Saturday, Sept. 29. The full schedule of events can be found at LAPT.com.
To follow along with live updates from the Main Event, be sure to visit the PokerStars Blog all week long. We'll also provide daily recaps right here in the Nightly Turbo.
Who Would You Rather: Daniel Negreanu
On Wednesday, Daniel Negreanu found himself at a very talkative table at the World Series of Poker Europe €3,250 No-Limit Hold'em Shootout. Sarah Grant asked Negreanu several questions about his tablemates for the latest edition of Who Would You Rather.
Follow PokerNews on Twitter for up-to-the-minute news.