The WSOP on ESPN: Selbst Struggles, Merson Surges on Day 6 of the Main Event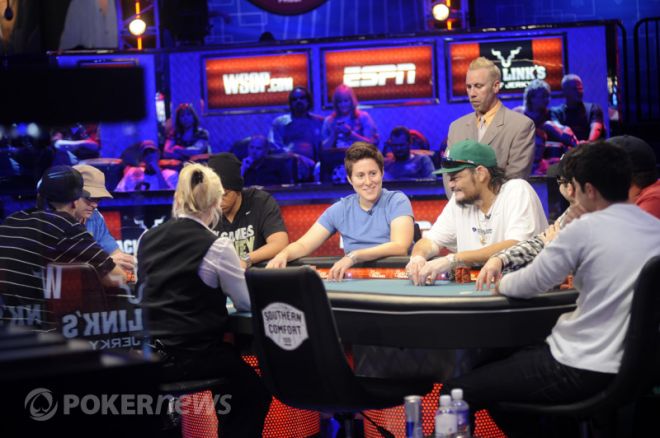 ESPN's coverage of the 2012 World Series of Poker continued Tuesday night with two new episodes of the Main Event. Last week, Day 5 came to a close with only 97 players remaining, and the coveted final table getting closer.
This week, coverage of Day 6 kicked off with several notables still alive, including Vanessa Selbst, Gavin Smith, Amnon Filippi, Jason Somerville, Amit Makhija, Sam Holden, Yuval Bronshtein, Eric Buchman, and Chance Kornuth. They were all chasing Kyle Keranen, who entered the day as the chip leader with 6,935,000 chips.
Here's a look at the top stacks when play began:
Start of Day 6 Chip Counts
| Place | Player | Chip Count |
| --- | --- | --- |
| 1 | Kyle Keranen | 6,935,000 |
| 2 | Robert Salaburu | 6,195,000 |
| 3 | Taylor Paur | 5,820,000 |
| 4 | Erik Hellman | 4,715,000 |
| 5 | Wilfried Harig | 4,505,000 |
| 6 | Shahriar Assareh | 4,395,000 |
| 7 | Charles Coultas | 4,015,000 |
| 8 | Gaelle Baumann | 3,980,000 |
| 9 | Fabrizio Gonzalez | 3,935,000 |
| 10 | Nicco Maag | 3,895,000 |
The Feature Tables: Two-time bracelet winner Vanessa Selbst made her way to the feature table during the first hour of ESPN's coverage. Selbst entered Day 6 with 1,165,000, and told ESPN sideline reporter Kara Scott that she had her work cut out for her as one of the shorter stacks in the room.
On the ESPN secondary table, Amnon Filippi boasted a stack of 3,400,000 chips. He was joined by Yuval Bronstein, AJ Jejelowo, Jamie Robbins, and bracelet winner Gavin Smith, who was one of the short stacks coming in with 675,000.
Year of the Ladies: The biggest story deep in the 2012 WSOP Main Event was the performance of the five women remaining in the field. While Selbst was the biggest name still alive, Gaelle Bauman and Elisabeth Hille captured the attention of the poker world by accumulating big stacks early in the tournament and steadily building as the days went on. Would one of them become the first woman to reach the final table since Barbara Enright in 1995? A productive Day 6 would go a long way toward making that happen.
Shuffle Up and Deal: Selbst, known for her relentless aggressiveness at the table, wasted no time before mixing it up at the ESPN Thunderdome. After fellow PokerStars employee Dave Balkin raised to 85,000 in late position (blinds 20,000/40,000) with
, Selbst three-bet to 205,000 with
. Action folded back to Balkin, and he moved all in for 1,145,000. Selbst counted her colleague's chips and made the call for around 80 percent of her stack, creating a classic flip situation.
The dealer rolled out a
flop, giving Balkin top set and Selbst a lowly gutshot draw to the wheel. She was unable to improve when the
and
fell on the turn and river, respectively, leaving Selbst with only 335,000.
Pro Analysis: In the special ESPN strategy segment, Antonio Esfandiari and Phil Laak analyzed the play by Balkin and Selbst. Esfandiari says he wasn't surprised to see fireworks preflop, given the positions and stack sizes of the two players. Laak agreed, saying that Selbst was priced in to call Balkin's shove after she made the three-bet.
The Caveman Says Goodbye: On the outer table, Gavin Smith was all-in preflop for his last 13 big blinds with
against the
of Eric Le Goff, but the pocket pair held up to send Smith home short of his first Main Event final table. He did, though, managing to secure his fifth cash in the past nine years of the tournament.
One Lady Down: With Susie Zhao's exit in 90th place, only four women were left chasing history. The 25-year-old poker pro from Los Angeles waved to the ESPN cameras before making her way out of the Amazon Room.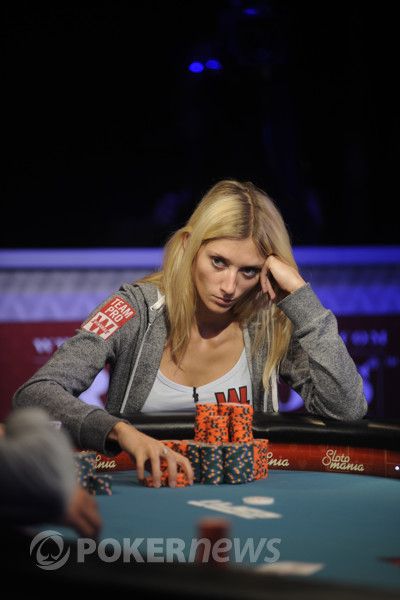 Baumann Under the Lights: After Gavin Smith's exit, Gaelle Baumann's table shifted over the ESPN secondary stage. The French pro was the headliner of the new group, but ESPN commentator Norman Chad was more fixated on the good looks of her tablemate, Marc-Andre Ladouceur. The two players immediately got involved in a pot, sending Chad into a state of euphoria: "If these two aren't dating by the end of the hand, there's something wrong with this world!"
Baumann minraised from under the gun to 80,000 with
and Ladouceur called with
in the big blind. The flop came
and Ladoucer led out for 95,000 with his gut-shot draw. Baumann called, and the
on the turn gave Ladoucer his straight. He fired again, this time for 215,000, and Baumann called. The
on the river secured the pot for Ladoucer, and he bet 470,000. Baumann, looking defeated, tried to get some information from her opponent. "You hit your gut shot," she said. Her read was dead on, but she couldn't bring herself to fold, and Ladoucer raked in a pot worth 1,780,000. Baumann was chopped down to 3,440,000, but still among the leaders at her table.
Merson Busts Selbst: Despite doubling up to a stack that allowed her to "three bet/fold" if she so desired, Selbst was whittled back down to 745,000 when she moved all in from the button with
. The small blind folded and Greg Merson peeked down at his cards in the big blind. He snap-called with
.
"My first light shove from the button," Selbst said as she rolled over her mediocre holding. She was still in decent shape to double up, and the odds improved when the flop came
. Selbst was out in front, but as she pointed out to her girlfriend, she was behind percentagewise because Merson held two overs and a flush draw. The
added more outs for Merson, who filled his straight with the
on the river. Selbst, the biggest name left in the tournament when Day 6 began, was out in 73rd place for $88,070.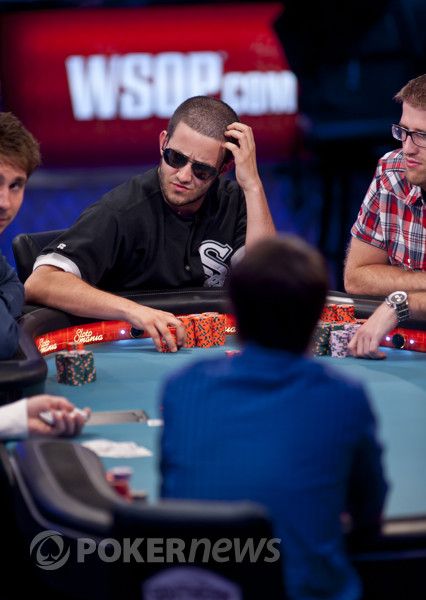 The Old Adage, "Chip and a Chair": Suddenly, Merson's rise from the gutter was one of the most discussed topics in the Amazon Room. Merson was crippled to just two big blinds on Day 5, but he climbed to 2,625,000 with the elimination of Selbst. He added more ammunition during an impressive hand against Jean-Yves Malherbe at the feature table. With the blinds at 25,000/50,000, Malherbe raised to 125,000 from early position with
, and Merson called from the hijack with
. Paul Siem called with
from the big blind, and the three players saw a flop of
.
Siem checked to Malherbe, who bet 225,000 with his ace high. Merson opted to float with jack high, and Siem folded. The turn brought the
, giving both players a flush draw, and Malherbe bet 520,000. Merson asked for a count of his opponent's stack (about 1.3 million behind) before moving all in. Malherbe let his hand go, and Merson's bold move resulted in his stack eclipsing the 3 million mark.
More Koronkai Controversy: As ESPN showed last week, Andras Koroknai was involved in a controversial hand against Gaelle Baumann in which he mucked his hand prematurely after moving all in. Fortunately for him, the WSOP floor staff decided that he would remain in the tournament in order to preserve the integrity of the tournament.
On Day 6, Koroknai was lectured again, this time after exposing his hand with action still pending. Koronkai was handed a one-round penalty and sent to the rail to watch his stack get anted off.
Somerville Sent Packing: After getting lucky twice on the ESPN feature table late in the Main Event, the tide finally turned for Jason Somerville on Day 6. The likable pro was all-in preflop with pocket queens against Jacob Balsiger's
. Somerville was in excellent shape to double up, but the poker gods had other ideas. A
flop gave Balsiger trip tens and a 10-to-1 lead in the hand. The
turn and
river provided no help for Somerville, and he made his way out of the tournament arena in 69th place to collect his six-figure payday.
"I've run good enough. Can't complain," Somerville said as he accepted his fate.
Tune in Next Week: Every week leading up to Oct. 30, ESPN will air two episodes of the 2012 WSOP Main Event. Next week's coverage will begin with 59 players remaining and Daniel Strelitz leading the way with 9,070,000 in chips. Be sure to either check your local listings or come back next week for our recap of the action.
Don't forget to follow us on Twitter and like us on Facebook.