The WSOP on ESPN: Pollak's Troubles, Some Controversy, and Poker's Most Overused Phrase
On Tuesday, ESPN's coverage of the 2012 World Series of Poker continued with two new episodes from Day 5 of the Main Event. At the top of the broadcast, only 141 players from the 6,598-player field remained including notables Kevin Pollak, Gaelle Baumann, Jason Somerville, Joseph Cheong, Paul Volpe, Vanessa Selbst and chip leader Elisabeth Hille.
Here's a look at the top stacks when play began:
Continuation of Day 5 Top 10 Chip Counts
| Place | Player | Chip Count |
| --- | --- | --- |
| 1 | Elisabeth Hille | 4,211,000 |
| 2 | Rob Salaburu | 3,996,000 |
| 3 | Erik Hellman | 3,948,000 |
| 4 | Paul Volpe | 3,881,000 |
| 5 | Gaelle Baumann | 3,462,000 |
| 6 | Eric Buchman | 3,423,000 |
| 7 | Jesse Sylvia | 2,998,000 |
| 8 | Fabrizio Gonzalez | 2,953,000 |
| 9 | Taylor Paur | 2,941,000 |
| 10 | Eric Pratt | 2,899,000 |
Looking for Another November Nine: Sam Holden, who made the final table last year and ultimately finished in ninth place, was the last 2011 November Niner left in the field, though he was at risk early when he found himself all in holding
and behind the
of David Peters. The
flop was no help for Holden, and neither was the
turn. He needed either an ace or king on the river to stay alive, and wouldn't you know it, his hopes of back-to-back final tables stayed alive when the
spiked on the river to give him a double to 1.282 million.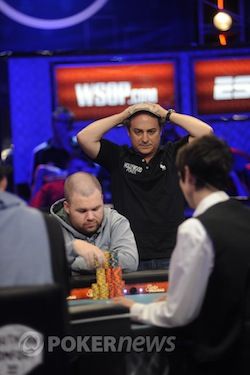 Not So Funny for Pollak: Kirill Rabtsov opened for 52,000 with
and was called by Omar Saeed, who held
on the button. Comedian Kevin Pollak then moved all in from the big blind for 369,000 with
, Rabtsov shoved, and Saeed got out of the way. Even though there was a 96 percent chance of a chop, Pollak was on his feet. The
flop meant Rabtsov was freerolling to runner-runner hearts, and when the
turned, a nervous Pollak put his hands on his head and asked the dealer, "Why you gotta kill me like that?"
The turn didn't kill Pollak, but the
river did. Pollak had a sharp reaction, but he quickly pulled it together, congratulated and hugged Rabtsov, and then exited in 134th place for $52,718. "Great fun everybody, good luck," Pollak said. "Give 'em hell."
The Most Overused Phrase in Poker: ESPN sat down with a few pros to get their take on the most overused phrase in poker. Here are what some of them had to say:

Daniel Negreanu: "One time"
Maria Ho: "That's poker"
Shaun Deeb: "It's so sick"
Jason Somerville: "So sick"
Vanessa Rousso: "One time"
Koroknai vs. Baumann: At one of the 11 remaining outer tables, Andras Koroknai opened for 60,000 with
only to have Gaelle Baumann three-bet to 130,000 with
. Koroknai responded by moving all in for 1.013 million and Baumann made a quick call. The board ran out
and Koroknai doubled to 2.11 million. It wasn't that great a hand, but it was the start of what would be a long and debated rivalry.

The Flying Dutchman: Remember Marcel Luske, the crazy Dutchman from the 2004 WSOP who wore upside down sunglasses and sang sweet melodies? He finished in 10th place. Luske, who has been a staple in the European poker community, was back and making a deep run in the 2012 Main Event. He was seated at the feature table, but his sunglasses were gone and he was uncharacteristically quiet from a cold and sore throat.
In one hand, chip leader Rob Salaburu raised to 65,000 under the gun with
and was called by the
of Luske right behind. Amit Makhija then called from the big blind with
and it was three-way action to the
. Makhija checked, Salaburu bet 30,000, Luske raised to 120,000, and only Salaburu made the call. The
turn saw both players check, and the
appeared on the river. Salaburu quickly fired out 250,000, and Luske released his hand. "Pick one," Salaburu said, and Luske promptly turned over the
.
Notable Bracelet Misses: ESPN flashed a quick graphic that showed a list of pros who came close to scoring gold at the 2012 WSOP:

Barry Greenstein — 2nd in $1,500 Seven-Card Stud
Phil Ivey — 2nd in $10,000 Pot Limit Hold'em
Antonio Esfandiari — 3rd in $3,000 No Limit Hold'em Shootout
Phil Hellmuth — 4th in $10,000 H.O.R.S.E.
Daniel Negreanu — 5th in $1,500 Pot Limit Hold'em
Luske Eliminated: Eric Pratt was under the gun and raised to 62,000 with
. Marcel Luske looked down at
and three-bet to 215,000, Pratt moved all in, and Luske committed for 880,000 total. "Time to get lucky," Luske said. "I don't mind, I've seen it happen before." Luske wasn't going to see it happen here as the board ran out an uneventful
and the Dutchman made his way to the payout desk in 102nd place to collect $52,718.
"The thrill gets bigger everyday you succeed," Luske told Kara Scott in his post-elimination interview about going deep in the Main Event. "It's like five days now and nearly over, but when you go that deep… it's disappointing."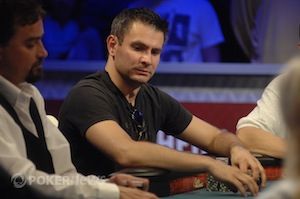 The Hand: In what was no doubt the most debated hand in the 2012 Main Event, Gaelle Baumann had opened to 60,000 and Andras Koroknai, thinking action had folded around to him in the small blind, moved all in. That forced the big blind out and Koroknai mucked his hand not realizing Baumann, who held
, was still in the hand. The floor ruled that the fairest ruling for the tournament was to make Koroknai pay the 60,000 and award the pot to Baumann, who wasn't pleased. She talked the floor into calling tournament director Jack Effel who confirmed the ruling.
Some believe Koroknai should have been eliminated from the tournament because it was his own mistake, but the ruling stood and the tournament moved on. It was a ruling that would come back to haunt Baumann days later.
Queen on the River: In what would be the last hand of the broadcast, Kirill Rabtsov bet 90,000 holding
on a
flop into Jeremy Ausmus, who held the inferior
. The latter made the call and then moved all in when Rabtsov bet 215,000 on the
turn. The Russian quickly made the call with his set for 989,000 and just needed to dodge a queen on the river to stay alive. Unfortunately for him, he couldn't do it as the
spiked. Rabtsov flinched in pain and then took his leave in 98th place for $62,021, leaving just 97 player remaining in the field headed to Day 6.
Day 6 Top 10 Chip Counts
| Place | Player | Chip Count |
| --- | --- | --- |
| 1 | Kyle Keranan | 6,935,000 |
| 2 | Rob Salaburu | 6,195,000 |
| 3 | Taylor Paur | 5,820,000 |
| 4 | Erik Hellman | 4,715,000 |
| 5 | Wilfried Harig | 4,505,000 |
| 6 | Shahriar Assareh | 4,395,000 |
| 7 | Charles Coultas | 4,015,000 |
| 8 | Gaelle Baumann | 3,980,000 |
| 9 | Fabrizio Gonzalez | 3,935,000 |
| 10 | Nicco Maag | 3,895,000 |
Tune in Next Week: Every week leading up to Oct. 30, ESPN will air two episodes of the 2012 WSOP Main Event. Be sure to either check your local listings or come back next week for our recap of the action.
Don't forget to follow us on Twitter and like us on Facebook.