Survivor's Amanda Kimmel Transitions Into the Poker World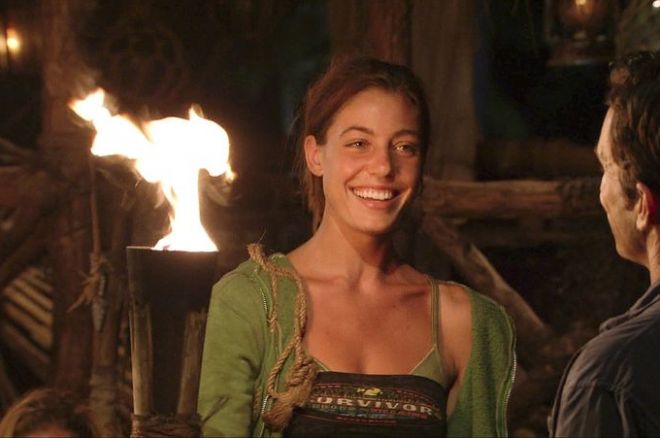 The 25th season of Survivor, which takes place in the Philippines, kicked off last week. Survivor has consistently been one of the most popular shows on television over the last decade. Interestingly, Survivor, largely credited with sparking the reality TV boom, and poker have intersected on more than one occasion — most notably the appearance of outspoken poker pro Jean-Robert Bellande on Survivor: China.
It was also in that season that the world was introduced to Amanda Kimmel, a 23-year-old former Miss USA contestant who would go on to be one of the show's greatest heroes and appear in three seasons. Not only was Kimmel on the Fei Long tribe alongside Bellande, she even played a part in voting him off the island on her way to a second runner-up finish.
Kimmel went on to appear on both Survivor: Micronesia Fans vs. Favorites and Survivor: Heroes vs. Villains, where she finished as runner-up and ninth place respectively. All told, Kimmel spent a remarkable 108 days playing the game of Survivor.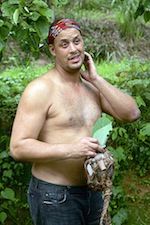 Now, along with reality TV star Trishelle Cannatella, who appeared on MTV's The Real World: Las Vegas, Kimmel is venturing into the poker world to film a new reality series called Living the Life. The series will document the two as they travel the world and live the glamorous life as they try and make a living as professional poker players.
The series, created by Josh Kimmel (no relation), has chosen the European Poker Tour Season 9 as its backdrop, and it was at the EPT Barcelona where the pilot episode was filmed. Both Cannatella and Kimmel were in attendance to try their luck on Day 1, though neither found much success.
It was there that PokerNews caught up with the Survivor alum to learn a little more about her venture into the poker world and to learn whether or not there are any parallels between Survivor and poker aside from trying to "Outwit, Outlast, Outplay" their opponents.
How did you learn to play poker?
My stepdad played poker. He kind of taught me online, basically how to play poker. I've been playing online, and then the show came along and I learned I'd be playing tournament poker on the EPT, so I started studying tournament poker, which everyone knows is very different than cash games.
How did the opportunity to appear on the show come about?
I had been talking to Josh for about two years, and we were going to work on a project together, a poker movie kind of thing that I would have been acting in. When this project came up, he asked me if I'd be willing to learn tournament poker. I thought about it for a while, and thought, 'You know what, it's something I've always wanted to do, and it's a great opportunity for me to just pour everything into it and really learn poker.' So it's what I decided to do. I had started playing in L.A., and then I started playing in Canada, and now I'm in Europe.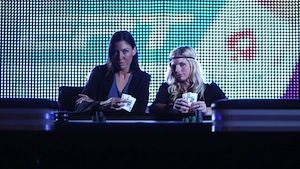 Can you tell us a little bit more about your new show, maybe what happens away from the poker table?
Living the Life is about Trishelle and I playing poker, but it's also about everything else that we do. Whatever city we go to, be it London or wherever we go to play an EPT, it's also about the stuff that happens there, the reality of living the life of a female poker player in each of these places.
Can we expect to see any reality-TV cameos along the way such as people you may have met on Survivor or Trishelle on MTV?
Oh for sure. I don't know about Trishelle, but I'm still friends with a lot of the people I played Survivor with, and I'm sure some will be making an appearance.
What are your goals in the poker world? Was the EPT Barcelona the first stop you've been to?
Yes, that was my first Main Event that I ever played, so it was really exciting for me. After playing my first tournament, I definitely have goals. I think it's important in tournaments to set goals. I've never played a tournament for as long as I did at EPT Barcelona. It's important to have small goals that will ultimately help you achieve your big goal for the tournament. I would love to win an EPT tournament, that's something I'm definitely working on.
Is there a friendly competition between you and Trishelle to outlast one another in the tournaments you play?
Of course, and we actually had a last longer bet at the EPT Barcelona. I lost that by an hour maybe. I think I'm going to have to wear something stupid out in public. As long as it's not streaking, I'm okay with it.
Are there any similarities you've discovered between the games of poker and Survivor?
It's interesting because a lot of the things used to play the game of Survivor, I now use in poker. Reading people, reading people at the table, kind of just picking up on little things, like being very aware of what cards people are playing, what they're not playing, how much they're betting, when they're betting it, there's just a lot to it. Also bluffing, the manipulation part of it, that's something I had to use in Survivor. Sometimes you have to make people believe what you want them to believe. It's funny how it corresponds, the games are similar in a lot of ways.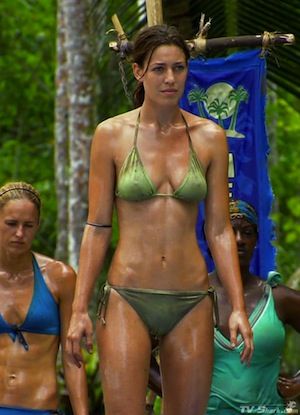 Speaking of Survivor, can you tell us a little bit about that experience? Did you apply or were you recruited for the show?
I was recruited actually by a girlfriend of mine from the Miss USA circuit. It was kind of one of those things where they asked me if I was interested and I went through a lot of the process. You still have to meet with Mark Burnett and Jeff Probst, do the interviews — they want to make sure you're a good character for the show.
What was the interview process like?
I remember in one of my interviews I was so nervous I had to have a shot before I went in because the interview right before they had reamed me about being a pageant girl and not being tough enough for the show. They pretty much almost made me cry, and I remember thinking in my next interview I need to step it up. I had a shot and I went up there and pretty much had a 'F**k you' attitude, and then they put me on the show. So who knows what they're looking for, I have no idea.
What's one hard thing about doing Survivor that people at home might not expect?
The things you miss, like ice. I wanted ice so badly, just something cold, because everything is warm and you're always somewhere hot. Just ice, a pillow, little things you take for granted day to day were a big deal out there.
Who is your favorite Survivor? Likewise, who is your favorite poker player?
By far James Clement. He's one of my favorite people. I haven't actually talked to him in a long time, but he's just real and has a great attitude about life and playing the game. I think it was awesome he was on my tribe all three seasons, he kind of chilled me out a little bit.
My favorite poker player is by far Andy Bloch. He's kind of been mentoring me a little bit. He's just the nicest guy, extremely intelligent, and amazing at poker. I can't give anything away, but he may very possibly be making an appearance on the show.
To learn more on Kimmel, check out the following Calling the Clock video from the EPT Barcelona when Krisztina Polgar pulled aside the reality TV star to find out what kind of guy the former Miss USA contestant is looking for.
Get all the latest PokerNews updates on your social media outlets. Follow us on Twitter and like us on Facebook now!