The Weekly Turbo: Judge Rules Poker a Skill Game, Juanda Talks Full Tilt Poker, & More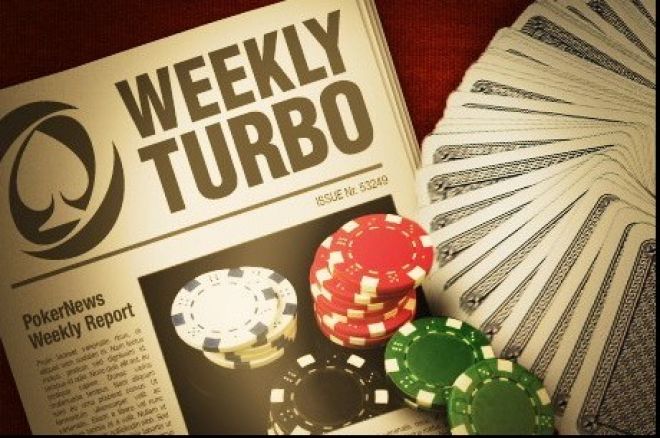 Did you miss any of the top poker news stories this week? Well you've come to the right place to get caught up. We're covering a U.S. federal judge ruling poker is a game of skill, John Juanda speaking out about Full Tilt Poker, and more.
Poker Legislation
Poker is a Skill Game
Poker players in the U.S. received some uplifting news on Tuesday after a federal judge in New York declared that poker is a game of skill and does not fall under the Illegal Gambling Business Act (IGBA).
In a 120-page opinion, Judge Jack Weinstein ruled that poker is not gambling under federal law because it is not a game of chance. Last month, Weinstein heard the testimony of defense expert Dr. Randal Heeb, a professor at Yale who analyzed poker hands from on Internet poker site to show that poker is a skill game. Heeb's defense testimony was meant to help dismiss the trial of Lawrence DiChristina, who was charged with helping run an illegal gambling ring on Staten Island.
Weinstein's ruling on Tuesday freed DiChristina from the charges.
Tuesday's ruling is a big win for poker advocates in the U.S. The following statement was issued by Executive Director John Pappas of the Poker Player's Alliance after Weinstein's decision was made public:
"As we worked for years defending players against vague gambling laws, we have patiently waited for the right opportunity to raise the issue in federal court. Today's federal court ruling is a major victory for the game of poker and the millions of Americans who enjoy playing it. Judge Weinstein's thoughtful decision recognizes what we have consistently argued for years: poker is not a crime, it is a game of skill. As the judge's opinion aptly notes, poker is an American pastime that is deeply embedded in the history and fabric of our nation and his decision sets aside the notion that the vague laws render the game criminal."
For more on Weinstein's ruling, check out Matthew Kredell's article here at PokerNews.com.
South Point Eyes Real-Money Poker
South Point Casino is poised to open the first legal real-money poker site in Nevada.
On Thursday, the Nevada Gaming Commission granted the South Point licensure as an operator, manufacturer and service provider of interactive gaming systems in Nevada. South Point says it plans launch the first real-money poker room in Nevada by October after the site's technology is approved by an independent testing lab and gaming regulators.
While the online gambling license isn't the first in Nevada, it does give South Point a head start over companies looking to compete in the market. South Point's poker operation will be run in-house, meaning it won't have to partner with a third-party operator to provide real-money games. South Point has been running a play money poker site at SouthPointPoker.com since last year, but the real-money site will have new software.
We have more on this huge story at PokerNews.com.
Poker Players
Juanda Opens Up
Now that Full Tilt Poker has been turned over to PokerStars, many of the players who were associated with FTP are speaking out about their former employer.
During the PokerStars European Poker Tour stop in Barcelona, PokerNews' Kristy Arnett caught up with John Juanda to ask him about the transfer of FTP's assets to PokerStars. Juanda was one of the elite members of Team Full Tilt and played a key part in the company's marketing campaign.
"I was very, very happy when I heard about the news," Juanda told Arnett on Saturday. "I was affiliated with Full Tilt Poker and a lot of people came up to me and asked, 'Hey John do you know anything about my money?' Obviously I was not involved in the management of the company, but truly I felt really bad for these people."
"Some people came to me and said, 'Hey I have 80 percent of my bankroll tied up in my Full Tilt account,'" Juanda continued. "Some people couldn't even play the Main Event. I was truly really sad about that because it reminded me of when I first started playing poker. In order to player the Main Event I had to play a super satellite. I couldn't put up $10,000 to play the Main Event. So I could really relate to these people."
Juanda had been mostly tight-lipped regarding the downfall of his former employer since Black Friday. He did, however, have a hostile run-in with British poker pro James Bord early during the 2011 World Series of Poker. On Day 1 of the $25,000 Heads-Up Championship, Bord fired several expletives at Juanda before tournament officials stepped in. Many speculated that the exchange was because of Juanda's ties to Full Tilt Poker.
You can watch Juanda's full interview with Kristy Arnett right here:
October Niner Gets a Deal
2012 World Series of Poker Main Event finalist Steven Gee has has been signed by PokerAce.com, joining the likes of Joe Hachem, JC Tran and Nam Le on the online poker room's pro team.
When the Main Event final table resumes in October, Gee will begin play fifth in chips with 16,860,000. The 56-year old will be looking to claim his second WSOP bracelet; in 2010, he won a $1,000 no-limit hold'em event for $472,479.
"I am super excited to join Joe Hachem, JC Tran and Nam Le representing PokerAce and am looking forward to playing more tournaments in Asia over the coming year," Gee said about his new sponsorship.
Added Hachem, "We would like to welcome Steve to PokerAce and we feel he will fit the team exceptionally well. We also wish him the best of luck in October at the World Series of Poker Main Event final table."
More on Gee can be found at PokerAce.com.
Poker Tournaments
High Stakes Action in Macau
Macau's high-stakes poker scene is about to grow. Next week, the city's StarWorld Hotel and Casino will play host to a massive HK$2,000,000 ($250,000) Super High Roller with an optional $250,000 rebuy. StarWorld's Poker King Club says it will go down as one of the world's largest prize pools ever.
The Macau High Stakes Challenge, hosted by the Neptune Group and PokerAce.tv, will take place Friday, Aug. 31 at the Poker King Club, home of the world's richest cash games in 2012. According to the poker room's Facebook page, poker pros Phil Ivey, Sam Trickett, John Juanda, Erik Seidel, Johnny Chan, Andrew Robl and Joe Hachem are already confirmed for the massive event.
Tom Hall, CEO of Asian Logic, posted on TwoPlusTwo Thursday that 26 players were already registered. In comparison, the $250,000 Aussie Millions Super High Roller in January had 16 entries, creating a prize pool of $4 million. Phil Ivey won that event for $2 million.
The Macau High Stakes Challenge isn't affiliated with a poker tour, but the size of the event alone will attract attention from poker fans all over the world. Stay tuned to PokerNews.com for results.
WSOPE High Roller
When the World Series of Poker Europe Presented by BarrièrePoker.fr returns to Cannes, France next month, there will be seven gold bracelet events plus an additional 69 side events and cash games for players to feast on during the two-week poker festival.
On Tuesday, the WSOP announced the addition of a €50,000 Re-entry No-Limit Hold'em High Rollers event to the schedule. While the High Rollers tournament won't award a bracelet to the winner, it is sure to attract many of the game's top players already in town for the festivities.
The event will begin on Oct. 2 and run for three days, with registration open until the second level of play on Day 2. Asian businessmen Richard Yong and Paul Phua are the first players confirmed for the event.
"We can't wait to get back to Cannes for WSOP Europe, where the stars of poker come to shine," said WSOP Executive Director Ty Stewart. "We truly believe 2012 is the year we accomplish our goal to make WSOPE the richest and most prestigious event on the European calendar."
The seven bracelet events up for grabs in Cannes include two six-handed events, a mixed-max event, a shootout event, two pot-limit Omaha events, and the €10,000 buy-in WSOP Europe Main Event beginning on Sept. 30. Last year, Elio Fox bested a talented final table to win the Main Event and €1,400,000.
For a look at the schedule of WSOPE events, check out WSOP.com.
New King of the GPI POY
Marvin Rettenmeier's reign over the Global Poker Index Player of the Year rankings lasted only one week. Dan Smith, who recently won the European Poker Tour Barcelona €50,000 Super High Roller, jumped three spots in the rankings to claim the top spot for the first time in 2012.
With his victory in Barcelona, Smith has five major wins this year, including three €5,000 side events at the PokerStars and Monte-Carlo® Casino European Poker Tour Grand Final. The man known as "King Dan" also had three deep runs at the World Series of Poker, including a third-place finish in the $5,000 No Limit Hold'em event for $368,943. In total, Smith has more than $3.3 million in live tournament winnings in 2012.
Smith's surge to No. 1 provided the only movement in the top 10 of the GPI Player of the Year rankings this week, but there are still plenty of events in Barcelona that could shake up the rankings. Top contenders Erik Cajelais, Jonathan Duhamel, Phil Ivey and Daniel Negreanu are all actively participating in the EPT festivities this month. Keep an eye on the PokerNews Live Reporting page for all of the updates.
Here's a look at the Top 10 of the Global Poker Index Player of the Year standings:
| Place | Player | Total Score | Change in Rank |
| --- | --- | --- | --- |
| 1 | Dan Smith | 815.29 | +3 |
| 2 | Marvin Rettenmaier | 802.42 | -1 |
| 3 | David Baker | 715.90 | -1 |
| 4 | Jonathan Duhamel | 668.79 | -1 |
| 5 | Erik Cajelais | 639.53 | +6 |
| 6 | Kyle Julius | 637.63 | -1 |
| 7 | Phil Ivey | 629.12 | -1 |
| 8 | Daniel Negreanu | 607.28 | -1 |
| 9 | Andrew Lichtenberger | 605.49 | -1 |
| 10 | Tommy Vedes | 598.40 | -1 |
The Global Poker Index Player of the Year, presented by PokerNews, honors the player who has the strongest performance in live tournaments during the calendar year, according to the USA Today Global Poker Index point system.
For the full GPI Player of the Year standings, head on over to GlobalPokerIndex.com.
ISPT Looks to Boost Profile
The International Stadiums Poker Tour (ISPT) has teamed up with the Amateur Poker Association and Tour (APAT) to begin a worldwide campaign to promote the tour's debut event at Wembley Stadium in London next May.
The partnership with APAT will start with this weekend's European Championship of Amateur Poker at Dusk Till Dawn Poker Club in Nottingham. ISPT will attempt to increase brand awareness across four APAT Championship series, including stops in Glasgow and Luton.
The Player of the Series at this weekend's European Championship of Amateur Poker will be awarded the first prized seat to the inaugural Wembley event. More details on APAT satellites to the ISPT event will be announced in the near future.
"All the poker fans are welcome, from amateurs to professionals. Therefore, partnering APAT was completely natural for us," said Prosper Masquelier, CEO of ISPT.
Earlier this year, the ISPT signed Michael Mizrachi as its official ambassador, adding more credibility to the highly debated tour. The ISPT is hoping to draw 30,000 to the Wembley event, which has a £20 million guaranteed prize pool. Earlier this month, ISPT was given the green light by local authorities to hold the event at Wembley Stadium.
Visit the ISPT's website for more information.
Online Poker
Another Milestone at PokerStars
PokerStars dealt its 85 billionth hand on Monday, giving the players at one lucky table more than $93,000 combined as part of the Mega Milestone celebration. PokerStars rewarded hundreds of winners leading up to the 85 billionth hand, but the big prize came at six-handed $.02/.05 no-limit hold'em table on Monday afternoon.
Railbirds flocked to table "Josephina" as six players were informed of their good fortune. It took a few seconds before they realized what happened, but the excitement escalated quickly.
volkmar1961: "ty"

s3x0r: "i <3 PS"

exxu: "i heart pokerstars"

Posonap: "TY POKERSTARS"

Kostas poker: "PS is the best"

Kostas poker: "thanks for promo"

Kostas poker: "lets try to win!"

exxu: "ONE TIME!"

Kostas poker: "one time baby!"
After a few minutes setting up the momentous hand, the cards were dealt and all six players moved all in preflop for a total of $50.23. The board slowly rolled out
, and the
of Russia's "som6873" was good enough to win the $36.35 main pot, plus another $26,300 for winning the promotion. His five opponents split the other $66,700, with each of them collecting at least $10,000. Not a bad day for micro grinders!
The next Mega Milestone at PokerStars will be hand No. 90 billion. For more on the 85 billionth hand, visit the PokerStars Blog.
Run It Twice!
PokerStars is always looking for innovate features to enhance its industry-leading software, and it appears the site is preparing to unveil a "run it twice" option for cash games.
The concept is a popular one among high-stakes pros as it reduces variance in a single hand (you've probably seen it done in television shows like the PokerStars Big Game). When two players agree to "run it twice" in a heads-up situation, the remaining community cards are dealt twice. This is can be agreed to pre-flop or post-flop. The winner of each board will win 50 percent of the pot.
PokerStars is beta testing the "run it twice" option, but a poker room manager for the site said at TwoPlusTwo that there is no timetable for the release date: "We actually expect a prototype on test PokerStars to be available later in August for player testing (subject to changes). Based on stability of the feature it might be released soon to main clients or might stay on Test PokerStars only for a longer period of time."
PokerFuse has more.
Follow PokerNews on Twitter for up-to-the-minute news.