The Nightly Turbo: Juanda Talks Full Tilt Poker, PokerStars' 85 Billionth Hand, & More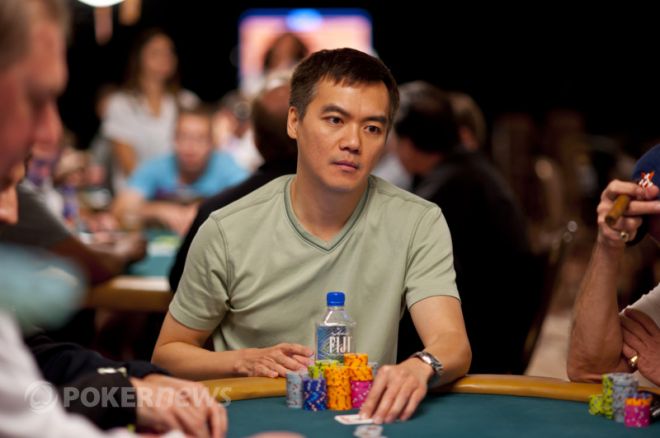 Can you imagine winning more than $26,000 at a $.02/.05 table? That's exactly what happened at PokerStars on Monday. We'll bring you that story, plus John Juanda giving his take on PokerStars' acquisition of Full Tilt Poker, in this edition of the Nightly Turbo.
In Case You Missed It
The 2012 PokerStars.com EPT Barcelona Main Event kicked off on Sunday. For a look at the highlights from Day 1a, read our EPT Barcelona recap.
How did the Sunday Majors play out on PokerStars? Who took down the biggest score? Find out in the Sunday Briefing.
Kyle Cartwright was seeking history at the 2012-13 World Series of Poker Circuit IP Biloxi Main Event on Monday. Find out what record he was chasing in our WSOPC recap.
Did you miss Sunday's World Poker Tour coverage on FSN? Read our WPT recap to get caught up.
How did Team PokerStars Pro Vicky Coren get her start in poker? Find out that and more in the latest Seat Open.
Juanda Opens Up
Now that Full Tilt Poker has been turned over to PokerStars, many of the players who were associated with FTP are speaking out about their former employer.
During the PokerStars European Poker Tour stop in Barcelona, PokerNews' Kristy Arnett caught up with John Juanda to ask him about the transfer of FTP's assets to PokerStars. Juanda was one of the elite members of Team Full Tilt and played a key part in the company's marketing campaign.
"I was very, very happy when I heard about the news," Juanda told Arnett on Saturday. "I was affiliated with Full Tilt Poker and a lot of people came up to me and asked, 'Hey John do you know anything about my money?' Obviously I was not involved in the management of the company, but truly I felt really bad for these people."
"Some people came to me and said, 'Hey I have 80 percent of my bankroll tied up in my Full Tilt account,'" Juanda continued. "Some people couldn't even play the Main Event. I was truly really sad about that because it reminded me of when I first started playing poker. In order to player the Main Event I had to play a super satellite. I couldn't put up $10,000 to play the Main Event. So I could really relate to these people."
Juanda had been mostly tight-lipped regarding the downfall of his former employer since Black Friday. He did, however, have a hostile run-in with British poker pro James Bord early during the 2011 World Series of Poker. On Day 1 of the $25,000 Heads-Up Championship, Bord fired several expletives at Juanda before tournament officials stepped in. Many speculated that the exchange was because of Juanda's ties to Full Tilt Poker.
You can watch Juanda's full interview with Kristy Arnett right here:
PokerStars Deals 85 Billionth Hand
PokerStars dealt its 85 billionth hand on Monday, giving the players at one lucky table more than $93,000 combined as part of the Mega Milestone celebration. PokerStars rewarded hundreds of winners leading up to the 85 billionth hand, but the big prize came at six-handed $.02/.05 no-limit hold'em table on Monday afternoon.
Railbirds flocked to table "Josephina" as six players were informed of their good fortune. It took a few seconds before they realized what happened, but the excitement escalated quickly.
volkmar1961: "ty"

s3x0r: "i <3 PS"

exxu: "i heart pokerstars"

Posonap: "TY POKERSTARS"

Kostas poker: "PS is the best"

Kostas poker: "thanks for promo"

Kostas poker: "lets try to win!"

exxu: "ONE TIME!"

Kostas poker: "one time baby!"
After a few minutes setting up the momentous hand, the cards were dealt and all six players moved all in preflop for a total of $50.23. The board slowly rolled out
, and the
of Russia's "som6873" was good enough to win the $36.35 main pot, plus another $26,300 for winning the promotion. His five opponents split the other $66,700, with each of them collecting at least $10,000. Not a bad day for micro grinders!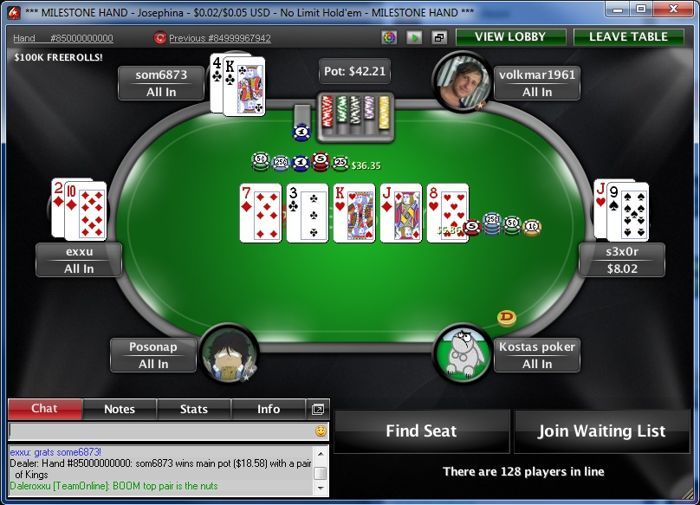 The next Mega Milestone at PokerStars will be hand No. 90 billion. For more on the 85 billionth hand, visit the PokerStars Blog.
PokerStars Reaffirms U.S. Plans
When PokerStars completed a deal with the Department of Justice to acquire the assets of Full Tilt Poker, the company opened the door for a return to the U.S. Under the $547 million forfeiture agreement with the DOJ, PokerStars admitted no wrong doing and is now permitted to apply for relevant licenses with U.S. gaming authorities.
PokerStars Head of Corporate Communications Eric Hollreiser reaffirmed those plans to Yogonet.com late last week. Hollreiser said that PokerStars "fully expects to participate in a future regulated U.S. market." However, the company isn't yet sure whether it will come in a state-by-state or federal market.
"We'll certainly watch the developments closely and make decisions based upon the circumstances," Hollreiser told Yogotnet. "We are the leading online poker site and licensed in more countries than anyone in the industry. We bring tremendous value, credibility and integrity to the marketplace. With our U.S. legal issues now resolved, we are a very qualified candidate for a license."
PokerStars is currently working on re-launching Full Tilt Poker and repaying its non-U.S. customers by Nov. 6, 2012. The newly branded site is set to open in a number of jurisdictions, but the U.S. will be forced to wait until PokerStars and Full Tilt receive operating licenses.
For more on PokerStars and Full Tilt Poker, read Hollreiser's interview at Yogonet.com.
Big Loss for the Poker Community
PokerNews was sad to learn over the weekend that World Series of Poker floorperson Casey Jones passed away after falling into a coma last week. Jones was 29 years old.
Casey was the son of Dennis Jones, another popular tournament supervisor at the WSOP. Casey was a devoted husband and father of twin girls and traveled the poker circuit to ensure that his family lived comfortably. He was held in high regard by his family, friends and the poker community.
A fund has been set up by Casey's family to help ease the burden of his health expenses because he didn't have the luxury of health or life insurance. Nearly $20,000 had been raised as of Monday evening, and the goal of $30,000 is still within reach.
To make a donation, please visit his page at GiveForward.com.
Another Runner in Nevada
NRT Technology Corporation, a Canadian company that provides innovative cash-handling solutions and financial services for gaming establishments, has applied for an online gaming license in Nevada as a service provider.
NRT is one of at least 30 companies to apply for a license in Nevada after the state approved regulations for online poker last December. If approved by gaming authorities, the company is expected to offer payment processing services for online gaming operators.
Later this week, South Point Poker will meet with the Nevada Gaming Commission in hopes of receiving the first operating license awarded by state gaming regulators. South Point intends to launch the first legal intrastate real-money online poker site in Nevada by October.
Other companies like Bally Technologies, IGT and ShuffleMaster were approved as online gaming suppliers, but they must first partner with a Nevada casino and have their technology approved by the board and the state before being given authorization to provide real-money games.
CalvinAyre.com has more.
Living the Life in Barcelona
In Friday's Nightly Turbo, we brought you the story about Trishelle Cannatella's new poker-themed reality show. Kristy Arnett caught up with Cannatella and co-star Amanda Kimmel in Barcelona to find out more about the project.
Get all the latest PokerNews updates on your social media outlets. Follow us on Twitter and like us on Facebook today!