The Nightly Turbo: Rafa Nadal's Dream Day, Howard Lederer's Follow-up Interview, & More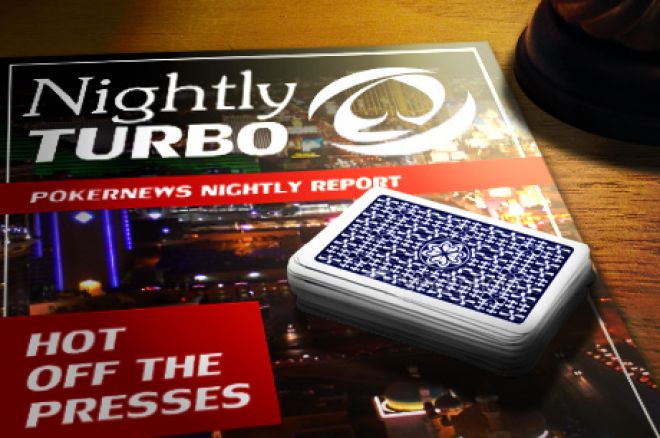 The poker world finally heard from Howard Lederer last week when PokerNews released The Lederer Files. But Lederer isn't done talking. We'll cover that story, plus the chance for PokerStars players to hang out with Rafael Nadal, in this edition of the Nightly Turbo.
In Case You Missed It
Antonio Esfandiari was eyeing his third career WSOP bracelet on Tuesday. Read about that and more in the WSOP Europe recap from Cannes, France.
A true rags-to-riches story took place in the PokerStars WCOOP Main Event on Monday. Read about it in the WCOOP Main Event recap.
The Players Poker Championship will return to Aruba in 2013, organized by the DeepStacks Poker Tour. PokerNews recently reached out to PPC Commissioners Sandy Swartzbaugh and Bryan Oulton to talk about the event.
Jeff Gibralter won the World Series of Poker Circuit Horseshoe Bossier City Main Event on Monday. Read about his path to victory in our WSOPC recap.
With the entire seven-part series being released last week, Rich Ryan took a look back at The Lederer Files. Read his take on the interview in the latest Five Thoughts piece.
Need a new book to read at the tables? Chad Holloway gave his review on Smashing Fewer Holes in Your Computer Desk by Jon "tannenj" Tannen.
Poker and Tennis with Rafael Nadal
On Tuesday, PokerStars announced an exciting new promotion that gives players the chance to play tennis and poker against Rafael Nadal.
From Sept. 24 through Oct. 21, PokerStars will run Rafa Dream Day freerolls five times per day, plus $1.10 qualifiers available on the hour, every two hours. The Rafa Dream Day Final takes place on Oct. 21 at 12:00 ET; the winner will meet Nadal in Spain, spend time with him on the tennis court, and receive poker lessons from his personal poker coach.
"It's always an amazing experience when I meet my fans, but I've never done anything like this before," said Nadal, who signed with PokerStars in June. "I've spent time with (fans) signing things and posing for photos but here they will actually be trying to beat me. This is something totally new for me."
"I'm a very competitive person, you know, so if I'm on court, playing computer games or playing poker, I just don't like losing and I always try to win. I'm still a beginner at this sport but I've got my poker coach so by the time I get to play against my fans I hope I'll be prepared. It's going to be a lot of fun but I'll be honest, I don't want to lose!"
The Rafa Dream Day experience will be held on the Dec. 1 and Dec. 2 in Majorca. The prize will include flights and accommodation for winners along with all meals and refreshments during the trip.
For more information, visit PokerStars.com.
More Questions for Lederer
After ending his 15-month silence in an exclusive interview with PokerNews this month, former Full Tilt Poker executive Howard Lederer has agreed to do a follow-up interview to answer questions from the poker community.
TwoPlusTwo Pokercast host Adam Schwartz has confirmed that Lederer will join the show Wednesday, taking questions from Schwartz and co-host Mike Johnson, as well as TwoPlusTwo members. Schwartz created a thread at the popular forum in which community members can post anything they'd like to ask or say to Lederer. The show will be made available at TwoPlusTwo and iTunes on Thursday.
"We have a unique opportunity to ask Howard what the community wants answered," Schwartz said. "Let's take advantage."
If you'd like to send a question to Lederer, visit the thread at TwoPlusTwo.com. And, if you happened to miss any of The Lederer Files episodes, be sure to check them out here at PokerNews.com.
New Poker Tour in Spain, Morocco
CIRSA Gaming Corporation, the leading Spanish and Latin-American casino group, has announced the creation of the CIRSA Poker Tour (CPT).
The tour will kick off in 2013 and consist of four tour stops across Spain and one in Morocco. Beginning in mid-January, the tour will open at the Casino Valencia, followed by stops in Marbella (April), La Toja (July), Agadir (September), before returning to Valencia for the Grand Final in November.
The Main Event buy-in for the opening Valencia event is €1,000 + €100; the Marbella Main Event buy-in is set at €1,500 + €150; and the La Toja and Agadir Main Event buy-ins will be €1,000 + €100. The Grand Final taking place in November has a Main Event buy-in of €3,000 + €300.
"Players are looking for better quality tournaments, more value and less travel," said Victorio de la Cruz, CIRSA's table game and poker manager.
"The CPT has been created to satisfy the needs of players, both domestically and internationally by keeping a consistent main event structure and property feel to the tour, whilst embracing other side events and tournaments. We have invested a large amount into the tour and have consulted with event experts, Living it Loving it Ltd. in order to create a format and schedule that will appeal to all levels of poker player."
For more information on the new CIRSA Poker Tour, visit www.cirsapokertour.com.
WSOP on ESPN
ESPN's coverage of the World Series of Poker continues Tuesday night with action from Day 6 of the Main Event. The broadcast begins at 8 p.m. ET and will focus on the remaining 97 players, including the two women who stole the show late in the tournament, Gaelle Baumann and Elisabeth Hille.
The coverage will also feature Vanessa Selbst, Jason Somerville, Eric Buchman, Amnon Filippi, and Sam Holden, who was looking to reach the Main Event final table for the second consecutive year.
If you happened to miss any of the action during our Day 6 coverage in July (spoiler), here's a teaser of tonight's broadcast:
Read more about tonight's broadcast at WSOP.com.
Karr Versus Esfandiari
McLean Karr and Antonio Esfandiari are very close friends, making for some interesting table banter late in Event #2 of the World Series of Poker Europe. Sarah Grant caught up with both of them for the latest edition of Versus.
Get all the latest PokerNews updates on your social media outlets. Follow us on Twitter and like us on Facebook today!