The Office's Brian Baumgartner Talks Kevin Malone, Nine Seasons & Plenty of Poker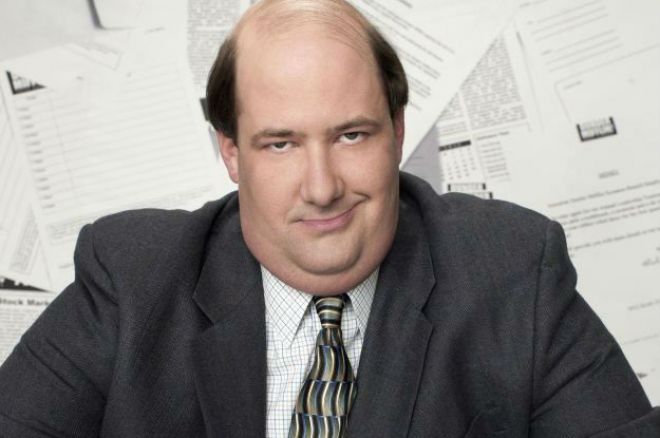 After nine highly successful seasons, NBC's The Office will end on May 16 with an hour-long series finale, which will also be the show's 200th episode. Brian Baumgartner, otherwise known as the lethargic yet affable Kevin Malone, has been there all along.
Accountant. Musician. Mentally Challenged. These are just a few of the words used to describe Kevin over the years, but for poker fans, perhaps the most applicable description is that of 2002 World Series of Poker $2,500 No-Limit 2-7 Draw champion*. That's right, according to The Office Season 2 finale, Casino Night, Kevin went to Vegas and walked away with jewelry that is the envy of every poker player.
*There was no $2,500 variant in 2002, but Event #18 $1,500 No-Limit 2-7 Draw was actually won by Thor Hansen for $62,600.
Although the character of Kevin is a poker champion, Baumgartner the actor is far from it, though he is an experienced player. Born on November 29, 1972, in Athens, Georgia, Baumgartner attended Westminster High School, the same school that fellow The Office cast member Ed Helms attended years later. Baumgartner went to on serve as artistic director at the Hidden Theatre in Minneapolis and has performed regionally at the Children's Theater Company, Guthrie Theater, Berkeley Repertory Theatre and Theatre de la Jeune Lune. In addition to appearing in The Office, Baumgartner has had roles in feature films such as License to Wed, Four Christmases and Into Temptation.
Baumgartner, who resides in L.A. with his wife, daughter and three dogs, recently spoke with PokerNews about his memorable character, the supposed WSOP win, and working on one of TV's most popular shows for the past nine years.
PokerNews: You're one of just a handful of people who've appeared in every episode of The Office dating back to 2005. After nearly a decade, the show is finally coming to an end. Are you proud of the legacy you and your cast mates are leaving behind?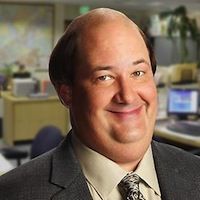 Baumgartner: I'm extremely proud of the legacy. Not to be too bold, but I feel as though it changed American television. Certainly there are examples that predate us of shows that were looking at things and were innovative like the Larry Sanders Show, or looking at issues like All in the Family, but in terms of our mockumentary style, sort of breaking the mold out of traditional laugh-track sitcoms. I feel like we've grew a high-quality show for as you said almost a decade, and I feel tremendously fortunate and proud of the show.
You come from a theater background whereas many of your cast mates have come from either an improv or stand-up background. How were you able to carve out a successful niche for yourself for nine seasons?
I feel like that is in some ways the recipe for our success—the various backgrounds that the ensemble had. As you say, there is a handful of people who came from improve, some comedy people, Rainn Wilson and myself really came from straight theater, if you will. I think the way that the show's set up and the way the camera's moving around all the time—we were in a lot of ways just locked in that room. There are no fake walls, you're just in a confined space with a ceiling. Often we were locked in there with a couple of cameramen and a director behind a desk, and we were sort of forced to be together and play off of each other, and I think the fact that we came from different backgrounds, we just all brought something different to the table.
As an actor, you had the opportunity to grow alongside John Krasinski, Steve Carell, Jenna Fischer and Rainn Wilson. Has this been both professionally and personally fulfilling?
We all started as nobodies, and that was sort of part of the idea. Steve Carell, at the time, had been on the Daily Show way before the Daily Show was as cool as it is now and essentially had one supporting role in a movie being Bruce Almighty, and that was kind of it. Rainn had done kind of a recurring drama in Six Feet Under, and that was really it.
So as the show grew, it made us into a strong-knit group. All of the experiences we had, we're all so fortunate to have them together. I remember in the entire almost ten years, the time we were all the happiest was a bunch of nobodies showing up at the Golden Globes and Steve Carell winning for Best Actor. We were all there in a back room, and when he won we had a huge celebration. His winning was sort of an endorsement of the show and sort of an endorsement of all of us. From that to us sitting around in somebody's living room every single week virtually for the first few years of the show, watching the show together because we enjoyed each other and enjoyed the show, I think it's brought us very close, and I think that their relationship with all of us will go on forever.
One of our favorite episodes was the Season 2 finale Casino Night when it was revealed that Kevin won the 2002 World Series of Poker $2,500 No-Limit 2-7 Draw tournament in Las Vegas. It was a surprise piece of Kevin's history that seemed counterintuitive to his unmotivated nature—almost as if that one accomplishment had given the character instant credibility. Does that make sense?
Totally. I'm going to address that, but first I'm going to tell you that coincidentally I am on the road right now to Vegas for a week [laughs], so probably a good time that we're talking. One of the things that the show wanted to do with the characters was to develop their backgrounds. [In the early days] it was sort of written really much more, in America it'd be a miniseries. As we kept going we wanted to be able to find out more about these characters that you saw in The Office. There were a few things about Kevin, the fact that he won a World Series of Poker bracelet was one.
Do you personally know how to play poker? If so, do you ever get the chance to play?
I do, I play quite a bit, actually. I do mostly charity stuff. I did one and won a seat at the World Series of Poker. Unfortunately, or fortunately I guess, because of work I had to give it up. So yeah, I play quite a bit and I'll play a little bit this weekend.
There were a couple of unique props in the scene where Kevin is playing poker. The first was a the gold World Series of Poker bracelet he was sporting, and the other a pair of eyeglasses we hadn't really seen before. Were those designed to make you look more like a "poker player"?
That's a really good question. It was my idea at the time, again that was still pretty early on, and my idea was that everybody has their thing or whatever. Poker guys have their sunglasses, and [the eyeglasses] were my idea as sort of a way for him to put his game face on, his poker game-face. I think ultimately it was a mistake that it never came out at any other time. It's funny because the last few episodes we were filming I honestly thought, "I wonder if there's a way to bring back those glasses?" Because of time or of whatever else nothing really happened, we never went back to poker after that, either. But that was sort of the idea. I asked for something that would differentiate and be his signature thing or whatever while playing poker.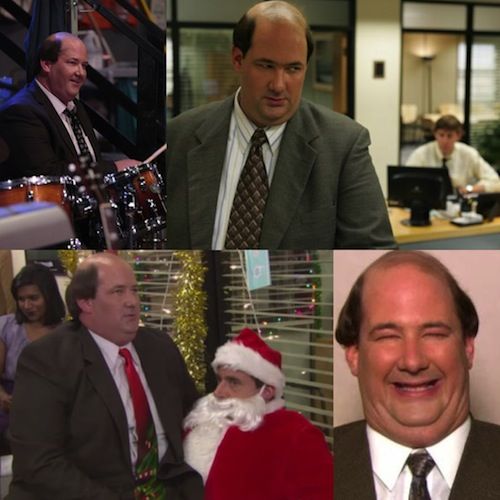 While there wasn't a $2,500 No-Limit 2-7 Draw tournament at the 2002 WSOP, there was a $1,500 buy-in event and the winner took home $62,600. Had that been Kevin's prize, what do you imagine he'd have spent it on?
He probably would have lost it immediately gambling on something else. That's probably what he would have done, but wait a minute, I love the fact that there wasn't a $2,500 event. There was a $1,500 event?
Yes. There was a $1,500 No-Limit 2-7 Draw event and a $5,000 buy-in event.
That's really funny that they screwed that up. I love that; that's very funny.
Not long ago you executive produced and starred in the NBC Sports special, "Training for Tahoe," which included lessons in physical, mental and emotional strength from iconic sports figures to prepare you for the American Century Classic golf tournament at Lake Tahoe. What was that experience like?
It was amazing. It was something that I put together with NBC Sports. What I'm really going to Vegas for right now is the Michael Jordan Celebrity Invitational. It's a charity event. I think this is my seventh year. In addition to the Michael Jordan Foundation, the Make-A-Wish Foundation is a huge benefactor from this event, and that's a charity that is not only near and dear to my heart, but to everyone from The Office. We've had a lot of kids come in and it's always been a special day.
We rarely get to see [sport stars'] personalities away from the ESPN cameras, and I thought why doesn't somebody let these guys' personalities come out? With the exception of Charles Barkley for sure, maybe Peyton Manning a little bit, there's not really an opportunity or a forum for these guys to show themselves. That was the idea. It was they sort of giving me lessons about golf or about sports, but it was really about getting to know these athletes a lot better.
I really wanted a poker player. I thought the lesson could be whatever, strategy or in terms of reading your opponent and being able to read a situation. I thought it'd be a cool thing but it never really developed. We had too many other people and it sort of didn't work out, but that was something that I was really interested. Those guys are allowed to show their personalities a little bit more with the cameras, so it's not exactly the same thing, but I thought it would've been interesting.
Outside of The Office you've had small roles in films, shorts and other television series. Now that The Office is coming to an end, where do you see yourself going from here?
I'm tremendously proud of the show and Kevin Malone. I've enjoyed playing that character for such a long time. At this point, as you said earlier, I came from theater and really quite frankly the work that I did was drama. I want to do something different. I feel like that's the important next step for me is to do something different, both for myself and to show the audience that other side of me. I'm working on a new show with ABC, we'll see what happens with that. I'm sad the show is over, but I'm excited [about the future].
Check out the poker scene with Kevin Malone in the YouTube video below:
Get all the latest PokerNews updates on your social media outlets. Follow us on Twitter and find us both Facebook and Google+!
Executive Editor US, PokerNews Podcast co-host & 2013 WSOP Bracelet Winner.