Blair Thein Looks for the Next Big Reality Show with Pool, Poker, & Pain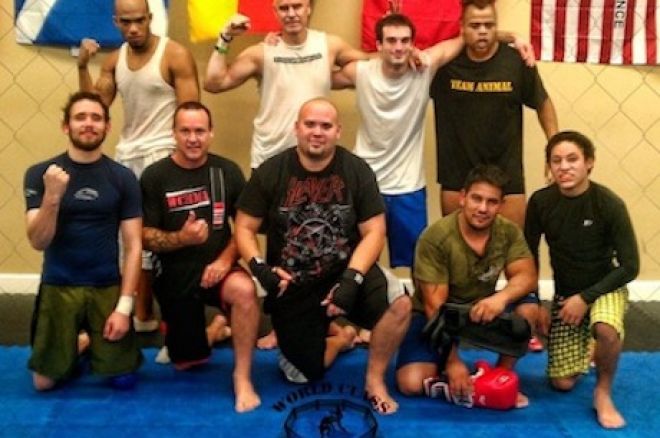 Poker on television took a hit in 2011 after numerous shows were cut after Black Friday. High Stakes Poker, Poker After Darks, PokerStars' Big Game and Million Dollar Challenge, and NBC's National Heads-Up Championship were among the shows that disappeared without warning. Now, a new poker-related show is in the works, though it is of a different kind.
Blair Thein, a veteran of the mixed martial arts world, has brought together three of the hottest sports around — pool, poker and MMA — and is developing a reality TV show around it called Pool, Poker & Pain (PPP). While Thein has been working for nearly a decade to make the show a reality, he recently made inroads within the various industries.
"I have been working on PPP for eight years, but officially partnered with two-time Emmy award winner Doug Stanley from Deadliest Catch just seven weeks ago," Thein told PokerNews. "PPP got created when I was talking about how the pool world is one of the most untapped sports on the planet, and me being a high stakes nine-ball player and fighter, and poker being on fire, it just made sense to combine all three sports."
The concept of PPP is simple: contestants will compete in all three sports, but to be crowned the winner they will have to thrive in each discipline. Sixteen contestants will travel from Florida to Las Vegas while competing in games of high-stakes poker and pool, and also duking it out in the MMA ring. Along the way, coaches from each discipline will tutor the contestants. Take a bad beat in a poker hand? No problem, just take them on in the "Circle of Truth" — a 32-foot fighting cage.
"PPP contestants will be trained by world-class pool, poker, and MMA coaches to bring credibility to the show," Thein explained. "The Hustle Bus will leave Melbourne, Florida, and go across the country exposing high stakes pool and poker gambling, while hitting famous MMA gyms along the way to Vegas, where contestants will live in an awesome mansion. There will daily competitions where we will bet on anything and everything."
PPP has been a goal of Thein's for many years but it was until quite recently that he made major inroads into the entertainment industry.
According to Thein, "Doug [Stanley] is working on some major shows like The Longest Swim which is making history and a surfer show Chasing Monster, and PPP is right behind these shows. We are going thru a process and the only thing that is missing for PPP to be completely packaged up for the networks and sponsors is a sizzle reel, which Doug and I plan on filming once we secure the capital and/or a sponsor. After that, we will give a 60-day countdown with a major press release stating a PPP casting call."
In a letter of intent, Stanley explained his intentions for PPP:
"It is our assessment that the program concept for "Pool, Poker and Pain" has tremendous potential, possibly even exceeding that of the many shows that are of enjoying enormous success in similar genres today. The addition of high-stakes pool playing to two other compelling subjects that have been proven through the television ratings process and also through the persistence of the programming through multiple broadcast seasons, is very likely a positive addition that will 'stretch' the demographic. We believe that pool will bring in additional viewers who might not have been interested in either poker or in mixed martial arts fighting programming. We at Ridgeline find the addition of pool to these other proven elements to be the very reason that has compelled us to join with Blair Thein and his partners at Team Believe Promotions. We will work hard to see this show come to life as a premium entertainment property.

"Ridgeline Entertainment is excited to be working with Blair Thein and Team Believe Promotions in development of this show. We intend to apply the experience that I have gained through two decades of primetime television production. Our primary strength is in character development, the reason that people 'tune in next week' I have had the opportunity to hone my character development skills through the last seven years of producing Discovery Channel's top show 'Deadliest Catch.' The 'Catch' characters are now known all over the world, as the show is broadcast in 180 countries and in more than 40 languages. It is our intention to develop 'Pool, Poker and Pain' in such a way that it too shares such an impressive fan base, and consistently high ratings. It is all about the characters!"
In addition to being attached to Stanley, Thein has partnered with high-profile agency Brand In Entertainment (BIE), which brings over 35 years of mainstream advertising experience. Rolfe Auerbach, CEO of BIE, said of the partnership: "Brand-in Entertainment believes that the opportunity to profoundly change the nature of three sports – Poker, Pool and Martial Arts – in one project – opens the door to a vast array of viewers and ultimately to new buyers for the clients who integrate their products and services into Pool, Poker and Pain. Once involved in this manner, these clients will become part of the series plotline – and cannot be TiVo'd out. Additional spot advertising they buy in the series will serve to enhance their efforts to reach their consumer."
It has been a long and arduous development process for PPP, and there is still a long way to go, but Thein knows he is getting close. "I am currently training with an awesome team of MMA guys like Mitch Miller and Marcos Garcia at the World Class MMA in Melbourne, Florida," Thein said. "We all see the market for an exciting, gambling reality show given TV has no real gambling shows except for poker. I do believe I am very close to having PPP in a media explosion and my goal is to drive a network, sponsors, and investors to this show."
For more on Pool, Poker & Pain, be sure to visit their website. You can also like them on Facebook.
Stay up to date on all the latest news by following us on Twitter and liking us on Facebook.