The WSOP Main Event on ESPN: Moon Over Las Vegas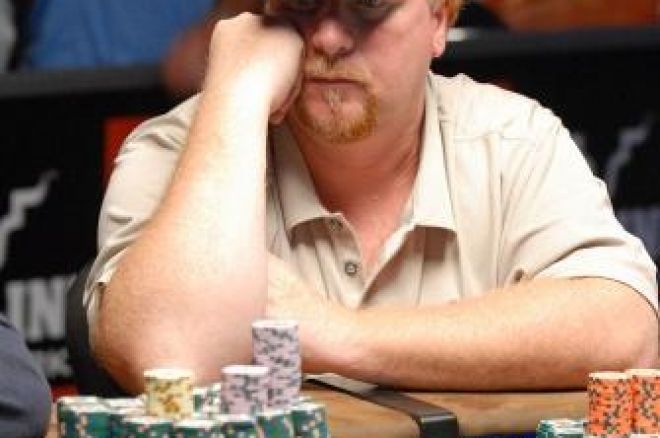 Only 18 players remained in contention for the 2009 World Series of Poker Main Event title in the penultimate episodes of ESPN's coverage, nine of them surviving to make the final table, which will play out in Las Vegas this coming weekend and air next Tuesday night. By now, most of you know the identities of the "November Nine," and this week's broadcast featured eliminations of the players who came closest to joining that elite club, including online superstar Andrew "Luckychewy" Lichtenberger, French phenom Ludovic Lacay, and final-table bubble boy Jordan Smith whose pocket aces were cracked by Darvin Moon who flopped top set with pocket eights.
Interesting Tidbits: If he wins, 21-year-old Joe Cada would break the record Peter Eastgate set last year as the youngest-ever Main Event champion. Cada is also close friends with 2008 November Nine bubble boy Dean Hamrick and 2008 ninth-place finisher Craig Marquis.
Norman Chad's Schtick: Chad continued razzing hedge fund manager Steve Begleiter this week. "The filthy rich get richer!" Chad declared as Begleiter dragged another pot. With the zingers Chad continues to throw Begleiter's way, we wonder about Chad's beef with Bear Stearns. Did Chad lose his entire 401(k) or something?
"The Nuts": What is it lately with poker-themed rapping? It wasn't a new ditty from Prahlad Friedman or Jeff Madsen that was offered to viewers, rather they were forced to sit through a hip-hop track called "All-In" set against a video montage of Main Event players doing what else, but going all-in.
MVP — Darvin Moon: Much has been said about how Darvin Moon was a total card rack during the later stages of the Main Event, but when he picked up those premium hands he played them well. Moon also pulled off a successful bluff in this broadcast, correctly reading weakness from Jordan Smith when he led out for 775,000 on a
flop holding A-7. Moon raised to 2 million straight with the lowly
unimproved and his tight image paid off when Smith mucked his hand.
So how did Moon get that massive stack? He was already near the top of the leaderboard when he took out Andrew "Luckychewy" Lichtenberger in 18th place, his pocket kings crushing Lichtenberger's two red jacks on a
flop. The hand put him second in chips with 23.8 million. Moon then picked up the vast majority of Ben Lamb's stack after turning top pair and rivering trips with
on a
board. Moon made a shrewd value bet on the river, Lamb calling off 3 million in chips holding only
, believing Moon was firing out with unimproved overcards or a small pocket pair. That took him past 28 million before he tangled with Billy Kopp in a hand that is certain to become legendary among poker fans.
Holding
, Kopp opened for 600,000 from early position and Moon called with
from the small blind. Both players hit flushes when the flop came down
, Moon check-called a 750,000 bet from Kopp. The
fell on the turn and Moon checked again to Kopp, who bet 2,000,000. Moon raised to 6 million, probably hoping to end the hand right there, but Kopp came back over the top and moved all-in for his entire 20 million chip stack. Despite holding a queen-high flush on a paired board, Moon found it within himself to make the call for most of his chips and was elated to discover that Kopp was drawing dead. After the irrelevant river card hit the felt, Kopp booked it out of the Amazon Room as fast as he could, looking like he wanted to fall through the floor, the garish casino carpet swallowing him whole. With that, Moon held 25 percent of the chips in play and will arrive at Saturday's final table with nearly 59,000,000 in his stack.
Worst Beat: Sometimes, that "one time" chip does work. After Joe Cada opened for 600,000 with pocket aces, Jamie Robbins shoved holding pocket tens and Cada happily called only to watch in horror as the
hit the river, the two-outer doubling up Robbins.
Ivey vs. Cada — what you didn't see on TV: We've been curious about this hand since watching it unfold four months ago — and now we know what they had. Holding pocket sevens, Joe Cada opened for 620,000 and Phil Ivey called from the hijack seat. Cada checked the
flop over to Ivey who led out for 800,000. Cada came in with a raise to 1.85 million and though the broadcast made it seem like Ivey mucked quickly, he tanked for about three minutes trying to pick something up on Cada before deciding to fold his
.
Hand of the Week: K-K, J-J, T-T, 9-9 and A-K suited all in the same hand? You'd better believe it. Ian Tavelli opened for 450,000 holding
, Steve Begleiter reraised to 1.35 million holding
, James Akenhead looked down at
and folded to the raise and reraise, and Eric Buchman picked up pocket tens and decided to fold as well. Then, Joe Cada peeked at his pocket jacks and looking absolutely agonized, tossed them into the muck. Despite Cada's look that said "OMG I just folded a HUGE hand," Tavelli elected to call. Tavelli checked his overpair when the flop came down
and after asking how much Tavelli had behind, Begleiter made a 3.5 million bet. Tavelli shoved for his remaining 4.2 million and "Begs" made the call, his kings far out in front. The turn was the
, the river was the
and Begleiter sent Tavelli to the rail in 17th place. Had Buchman played his pocket tens, he would have rivered a set.
Notable Eliminations: Andrew "Luckychewy" Lichtenberger (18th), Ludovic Lacay (16th), Nick Maimone (15th), Billy Kopp (12th), Jordan Smith (10th)
Quote of the Week: Steve Begleiter: "If you hit a nine I'm going to cry." Phil Ivey: "Real tears?"
The final table of the 2009 World Series of Poker Main Event airs Tuesday, November 10 on ESPN. Check your local listings. Make sure to check out our Live Reporting page this weekend for up-to-the-minute dispatches from the Rio as the "November Nine" hit the felt and a new world champion is crowned.