The WSOP Main Event on ESPN: The One in Which Ivey Mucks a Winner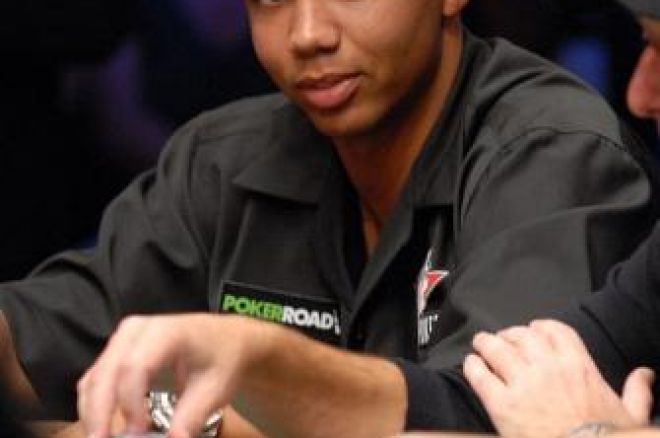 As we close our eyes and momentarily channel the writers of "Friends," we here at PokerNews would like to officially dub last night's episode of ESPN's World Series of Poker Main Event coverage "The One in Which Phil Ivey Mucks a Winner." For years to come, in rerun after rerun, clip reel after clip reel, that's what everyone will remember about this broadcast: Phil Ivey and the freakin' eight of spades. Ivey's blunder startled us in so many ways, rearranging our very brain matter as we pondered such questions as "Is this irrefutable proof that Phil Ivey is actually human?" and "Did he just realize as this was airing that he folded the winning hand in a 2.5 million chip pot with 26 players to go in the Main Event?"
Aside from the drama surrounding Ivey's sinking chip stack, Day 8 saw 27 players continue to chase their Main Event dreams and over the course of the two-hour broadcast, we saw nine more hopefuls eliminated including Leo Margets, the top female finisher in this year's Main Event, who ended her run in 27th place. Still hunting for a seat at the final table were Billy Kopp, Antonio Esfandiari, James Akenhead, Tommy Vedes, Eric Buchman and Andrew "Luckychewy" Lichtenberger, who found himself alongside Ivey, Jeff Shulman and Darvin Moon under the bright lights of the featured table.
Interesting Tidbit: Phil Ivey has four top 27 finishes in the Main Event. He finished 10th in 2003, 20th in 2005, 23rd in 2002, and will finish at least ninth or better this year.
You had a bad day: Phil Ivey could not catch a break on Day 8 and when he did, he mucked the winning hand. In the sure-to-be-legendary hand in question, Ivey opened pocket eights from under-the-gun for 320,000. The action folded around to Jordan Smith, who three-bet to 1,000,000 straight from the big blind. Ivey called and they saw a
flop. Both players checked and the
fell on the turn. Check-check again. The river was the
— check-check a third time. Smith opened up his
for aces up, but Ivey mucked his spade flush, clearly not realizing he held the
.
Play didn't go much better for Ivey from there. He called off a third of a stack and lost with
against
, then lost another chunk of chips when he called George Caragiogias' all-in holding A-T against pocket deuces. Ivey couldn't win the coin flip and saw another million evaporate. With 19 players remaining in the Main Event, Ivey was 15th in chips.
Adios, Antonio: Holding
against Steven Begleiter's
, Antonio Esfandiari led out for 550,000 on the
flop. Begleiter raised to 1.075 million, and, perhaps believing that he could get him to fold, Esfandiari moved all-in for just short of 3 million. Begleiter made the call and took Esfandiari out in 24th place when the
hit the turn and the
fell on the river, much to the rail's disappointment. With that, Esfandiari was free from his prop bet to refrain from drinking alcohol during the WSOP and likely headed for the nearest bar.
The Magnificent Maimone: Nick Maimone seemed to catch lightning in a bottle on every major hand he played on Day 8. Maimone's Q-T was dominated by Moon's Q-J until the board double-paired on the river and they chopped the pot. Maimone turned a queen when he was all-in with Q-5 against Ivey's pocket jacks, then turned a seven while all-in with pocket sevens against Smith's pocket tens on a queen-high flop. When Maimone did get his money in with the best hand, the poker gods were still in overdrive. Holding pocket kings against Caragiorgas'
, Maimone flopped top set and turned quads, sending his opponent home to Canada in 20th place.
The Financial Follies, starring Norman Chad: "He protects his big blind better than Bear Stearns protected its investors." – Norman Chad on ex-Wall Streeter Steve Begleiter
That explains a lot: Begleiter's Chappaqua, N.Y.-based poker league has 20% of his action. So that's why those cries of "Begs! Begs! Begs!" get more enthusiastic with every pay jump!
MVP – Eric Buchman: Day 8 belonged to Eric Buchman, who managed to break away from the pack and double his chip count as the field was pared from 27 players to 18. An ESPN featurette introduced the pro from New York, who confessed that his original poker bankroll came via a Caribbean stud jackpot at the Foxwoods Resort Casino. Solid play and keen value-betting were the main ingredients in Buchman's recipe for success, one of his key hands coming against fellow November Niner James Akenhead. The two saw a
flop, Buchman leading out for 525,000 and Akenhead making the call. Buchman fired another small bet when the
hit the turn, putting out 725,000. Again, Akenhead flat-called and they went to the river, which fell the
. Buchman bet small again, 1.2 million, and Akenhead called, only to see Buchman roll over
for the flopped straight. Adding even more fuel to his fire, Buchman busted 19th place finisher Vedes when his pocket sevens held up against Vedes' pocket threes, both players flopping sets. The hand took him up to 21,000,000 in chips, right behind chip leader Billy Kopp.
Quote of the Week: "I don't care about my appearance. Obviously." -The "grizzly" Jeff Shulman
The "November Nine" is less than two weeks away, and our Live Reporting Team will be bringing you wall-to-wall coverage of all the Main Event final table action. Be sure to follow us on Twitter as well for even more instant gratification.