Bullets Looks to Become Poker's Premier Web-Based TV Show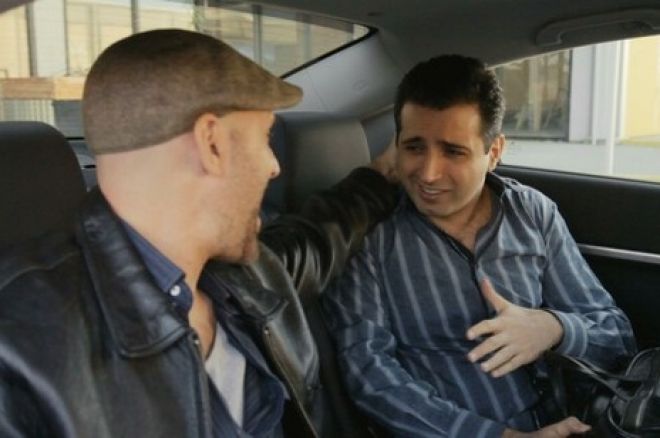 Whether it's The Micros or Game Theory, web-based poker TV shows have garnered a loyal following over the years. Now, Bullets, which releases a new episode every Monday night, hopes to become the latest hit. For those who haven't heard about this gritty crime thriller, here's how bulletstv.com describes the show:
"Bullets is about Hugo and Mark, two bank employees who hatch a plan to steal from a rich man's account to play in an underground poker tournament. Everything goes to hell when the man whose account was hacked realizes the money is gone, as the money was being laundered for the same mafia kingpin that is running the poker game. You have to ask: Is the buy-in worth it?"
Bullets, which is an "Official Selection" in both the 2013 LA Web Series Festival and 2013 Hollyweb Festival, was created by Ty Leisher, a self-taught filmmaker from Los Angeles who takes inspiration from Christopher Nolan, Guy Ritchie, Rian Johnson and Martin Scorsese.
"What attracts me the most about the story for Bullets is that it involves a lot of intertwining stories that all converge at the end," Leisher said in a Director's Statement. "This well-crafted story; (it) not only has many sub-plots that will keep our audience guessing, but twists and cliffhangers that will rattle them to the edge of their seats. For me, the climax is the point when all of the sub-plots weave together; that's the most fascinating part of all. Half of the fun in storytelling is watching all the puzzle pieces fall to create the bigger picture, which is exactly what I love about films."
Helping bring Bullets to life was Producer Alexis Edelman, a graduate of the University of New South Wales in Sydney, Australia, with a BFA in Time Based Art. Edelman's credits include companies such as Caviar Content, Bunim-Murray (Real World: San Diego; The Challenge: Battle of the Exes), Joe Digital Inc. (Road Raves; MSN's DV Guide) and World Race Productions (The Amazing Race).
Both Leisher and Edelman were kind enough to sit down with PokerNews to talk about Bullets.
PokerNews: How did the idea for this poker web-based poker TV show come about?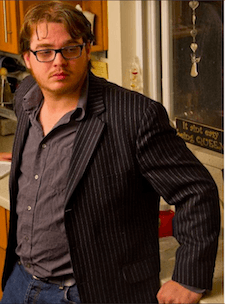 Leisher: The idea came around October 2011. I play in a home game every Saturday night with my family, and we started talking one night about what it'd be like to play in the World Series of Poker and how you would get there. Stuff like that. My writer mind started to take over and I put a twist on it.
It was originally supposed to be a comedy about two guys who steal money from the mafia to play in the WSOP, but after looking at the budget and what not, it became better to go with a more low-key, underground gritty drama. There was a lot of time spent writing and thinking in between poker hands.
Lex, what attracted you to the Bullets project?
Edelman: After wrapping up a number of spec commercials, my partner, Ty Leisher, sent me a list of a log lines for our next project and we picked in order of favorites which story we wanted to flesh out first. The story for Bullets was my number one choice, mostly because I've always loved Guy Ritchie, Tarantino, Coppola-type films involving crime and the mafia. In other words, I love jaw-dropping badass narratives, and Bullets was going to be just that.
With that being said, development is my favorite chapter when it comes to the creative beginning stages of the filmmaking process. I loved being so heavily involved in the development of the characters and plot for Bullets. Ty would go off and write a little and then we would meet. During those meetings we would delve deep into the motivations behind each character, or work out a scene, or discuss the dialogue staying true to each character. To see that creative work come to life, starting from the page to the talent who brings life to the words, to the platform the show is distributed on, makes the entire endeavor worth it.
In the first episode, there is a cameo by well-known poker pro Ali Eslami. How did you get him to appear in the show?
Leisher: When we first started doing the development of the series, we spoke to poker professional Chad Brown. He was originally going to play a role, but something came up and his schedule didn't work out with ours, so he recommended Ali to use. I chatted with him a bit and he was excited to do it.
I didn't think we were going to get a poker pro to do a cameo, so we didn't write a scene for it. It wasn't until after I talked to Ali that we wrote the scene and shot it within a 3-4 day timespan. It was designed as a one-episode cameo, so you won't see him for the rest of the season. I'd love to bring him back for Season 2 if he's interested in coming back. I think I have a cool storyline I could take with him.
How did you go about casting for Bullets?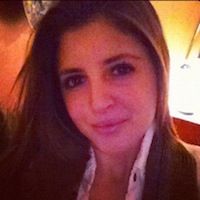 Edelman: I've grown to have a love/hate relationship with casting. Casting is certainly not an easy task, but there is this indescribable feeling when you watch and listen to someone do a cold read and the hairs on the back of your neck stick out because that person is the perfect match from what you've always envisioned for the character. I had that feeling a couple of times during the Bullets casting sessions. We didn't have the budget for a casting director, so I put the character descriptions up on various LA casting sites and weeded through the hundreds of submissions. We needed talent to shoot a trailer for our Kickstarter campaign, so we were a little more than halfway cast before any money was in the bank for this project. It was a pleasure to find passionate actors who not only believed in the script, but they believed in us to make this into something solid. Aside from a few poor choices I made with a few of the actors, there are several talented individuals whom I would love to work with on many more projects other than Bullets. I hope that through Bullets, their talent is discovered and utilized.
What sort of duties did you tackle as producer of Bullets?
Edelman: As the producer of Bullets, I did everything from story development, to casting to shoot a trailer, to raising just north of $18,000 on Kickstarter, to hiring all crew and cast, to working through the post-process, to producing bonus content for delivery, to maintaining a social status across the digital domain, to finding distribution, and more.
There is so much that goes into producing that nobody knows about. I feel like producers get the short end of the stick because I can't tell you how many times I'm asked "what does a producer do?" I just want to say, "what doesn't a producer do?!" Producing is all about the checks and balances. I want to make sure my team is happy, ensure that the vision for the project stays true to what the writer, director, and creative producers or executives or clients want and I always need to produce, 24 hours a day, seven days a week. I am blessed in that I have a fantastic partner who goes above and beyond the scope of his duties and is ever so passionate about each project we set out to do, so for that I am lucky. No project is a one person job, and although I was the only producer on Bullets, I had a team who made the project what it is today, nothing short of awesome, and something I am really proud of.
There are quite a few characters in Bullets. Was it hard coordinating so many schedules?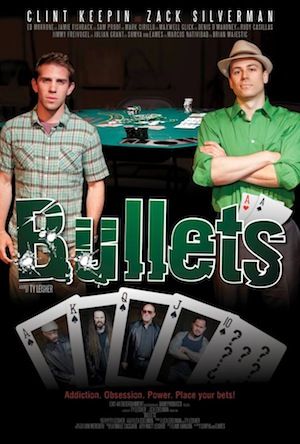 Edelman: I had a 27-person cast. Was it hard coordinating so many schedules? Hell yes. Ty and I not only had to figure out when everyone was available to shoot, but when our 20-plus-member crew were all available to work on the project for us. I don't think the scheduling would have been as difficult if we didn't need seven or eight of them in the same scene together for a good portion of the series. Then a few actors were going out of town or others were only available during a few hours one day in the afternoon and a few hours the next day in the evening only. There were only so many time blocks available where the needed actors' available times overlapped and we could shoot with them. I'm never too sure If I'm just too close to the project or if our audience notices things too, but there are a few scenes that were rushed because certain actors only had an hour or two to shoot the scene and it was our only day at that particular location, so the scene always feels rushed to me and the acting not the best that it could have been, but what can you do?
What's your favorite memory from Season 1? Not necessarily a scene, but perhaps something that happened during filming?
Edelman: I will have to say that one of the funniest things was the fact that our production designer, Maile Cassara, and director, Ty Leisher, at one point flipped out and said they hated poker and never ever wanted to shoot a poker scene, series, movie, again, but we were only two or three days into production! The continuity was really hard to keep. Like I mentioned before, we had seven to eight people at once during some of the poker room scenes, and to get every angle of that poker table, and close-ups, medium shots, and wides of the actors at the table, meant having the same amount of chips in the exact same place for every shot. It was no walk in the park, that's for sure.
Can we expect to see a Season 2 of Bullets?
Leisher: It all depends on the reaction to the first season. I have stories for about five seasons. If we get a ton of views we can find funding, but I've always wanted to treat Bullets like a regular TV show in that if the audience isn't big enough for it then we just won't keep producing in. If there's an audience out there that wants to see it, we'll keep making it.
Check out Episode #1 of Bullets below. Episodes #2 and #3 can be found on bulletstv.com, and you can check out new episodes on the site every Monday night at 6:00 p.m. PST.
Get all the latest PokerNews updates on your social media outlets. Follow us on Twitter and find us both Facebook and Google+!