The Nightly Turbo: Gus Hansen Wins Full Tilt Poker Million IX, a New Poker Reality Show, and More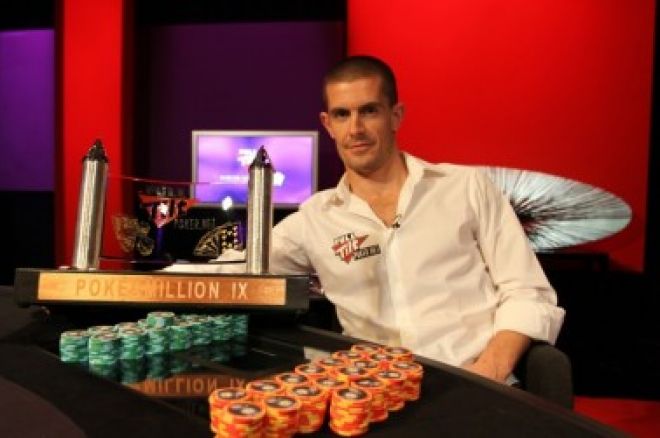 While some of you East Coasters were getting feet of snow dumped on you this weekend, the West Coasters spent their weekends outside in the sunshine, and Gus Hansen spent his winning the Full Tilt Poker Million IX. We've also found the trailer for a new poker reality show, but we'll let you pass your own judgements. And just a reminder Giants fans, you'll be able to catch your game tonight, but since we're not ESPN, you should probably check your local listings.
In Case You Missed It
The World Series of Poker Circuit Atlantic City Main Event kicked off Sunday with 352 players taking their seats in hopes of taking home that coveted gold ring. If you want to know how many players are still living the dream, check out the WSOP-C recap.
Speaking of living the dream, our very own Kristy Arnett padded her bankroll on Sunday by taking down Event #12 of the MiniFTOPS for just over $31,000. Congratulations!
Sometimes, when you're stuck in a hotel room for a week grinding a live tournament, you've got to kick back and relieve some stress. In the latest edition of the Sunday Grind, Lynn Gilmartin caught up with Jonathan Karamalikis and Daniel Neilson to see how they spend their time away from the felt.
The PokerStars.net Big Game continued last week with another Loose Cannon, Bill Given, taking on the seasoned veterans. Find out how how he did in the Big Game recap.
Though the big news around PokerNews HQ was Kristy Arnett grabbing a silver jersey, there were plenty of other tournaments doling out serious cash, it was Sunday after all. Check out the Sunday Briefing for the results.
Season 2 of the PokerStars.net Million Dollar Challenge came to an end Sunday night with the Challenge of Champions event. Four former contestants battled each other for $100,000 and the shot at playing Daniel Negreanu for $1 million. Did anyone walk away with a milly? You'll have to read the Million Dollar Challenge recap to find out.
Winner Winner
On Friday we told you about the final table of the Full Tilt Poker Million IX. It was being shown live for those of you in the U.K., and there were "live updates" for those of you who weren't. Patrik Antonius, Howard Lederer, and Gus Hansen were among the final eight players. Hansen was the one who took home a cool $1 million.
"I do have a very aggressive image and I got reraised a couple of times when I shouldn't have played, so I slowed down a bit and got my reward with some luck," Hansen said. "But I got put in some tough spots and I made the right decisions so I'm pleased with how I played.
Next year will mark the tenth installment of the Full Tilt Poker Million and organizers have promised to hold nothing back.
"Poker Million is one of the few remaining poker majors that has truly stood the test of time," said managing director of Matchroom Sport Eddie Hearn. "It has remained Europe's most prestigious title and 2011 will see the event reach its tenth year. We plan something very special for Poker Million X and want to give the poker playing public a real shot at the million."
If you want to find out more about the event, check out UK.PokerNews.com.
Young Guns
The trailer for a new poker reality show was leaked recently, featuring the lives of four 20-something poker players. Young Guns follows Chris "Sparks" Sparks, Chris "The Capitan" Jackson, Jarran "The Kid" Joshu, and Seth "Seth" Otterstad as they live their dreams in the Hollywood Hills. The four aren't the only stars of the show, though. Their overbearing landlord Chris "Murph" Murphy, makes his presence well known by crashing their pad the morning after a party.
There's no word yet on when and where the show will actually air. We're not going to make any assumptions about the show, we'll let you do it.
ESPN Inside Deal
ESPN's Bristol crew is back at it this week with a Monday edition of the Inside Deal. Laura Lane is joined by Bernard Lee and Andrew Feldman in the Politics and Poker edition of the show. The three discuss Harry Reid's Internet poker bill and what it could mean for online poker and they also recap their favorite moments of 2010.
Third Times a....
If we had just won $5.5 million for coming in second place at the 2010 World Series of Poker, we might hire a driver to drive us around in a Maybach, or pay one of our semi-friends to come pick us up from the bar, hop in a cab, or, well, you get the picture. John Racener, however, did neither of these on Saturday morning.
The 24-year-old was arrested for DUI by Tampa Police early Saturday. According to reports, he refused to consent to a blood alcohol test. This becomes Racener's third DUI since 2005.
ABCActionNews.com has more.
You Can Find Me...On Set
According to our Twitter feeds, Phil Laak and Antonio Esfandiari are on the set of the movie Setup to film scenes with 50 Cent. Pretty sweet gig if you ask us.
Live From Prague, It's PokerNews!
Team PokerNews is in Prague for the PokerStars.net European Poker Tour and they decided to bring you a new look to the video coverage for this stop. Check it out below.
Follow us on Twitter and like us on Facebook for up-to-the-minute news.
Right now not only can you get a free $50 bankroll from PartyPoker and PokerNews, you will also get a free month at PokerNews Strategy. Hurry as this is a limited offer, but the great thing is you do not even need to make a deposit at any stage, just go to our PartyPoker Free $50 Page and follow the walk-through.