Pigskin Diaries Presented by DraftKings Week 4: The Learning Curve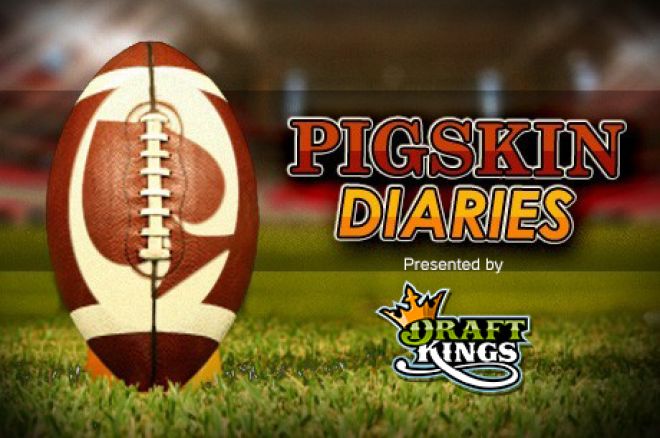 After the 1 p.m. games on Sunday, I was questioning how much I knew about the 2013-14 NFL.
The Dallas Cowboys not only covered the four-point spread at home (something they hadn't done since 2011 and something they had only done three times since 2009), they won by 24.
The New York Giants and Houston Texans lost by a combined 59 points.
The New Orleans Saints, who had the worst defense in NFL history last year, didn't give up a single point in the last three quarters of play against the Arizona Cardinals. The Saints currently rank fifth in defense DVOA.
Brian Hoyer.
Then the 4 p.m. games started, and the Indianapolis Colts inexplicably thrashed the San Francisco 49ers at Candlestick Park. After scoring a late touchdown in the first quarter, the Niners were held scoreless for nearly 50 minutes. The Colts ran for 179 yards.
Every year there is a learning curve in the NFL, and the quicker you adjust, the more profitable you will be. Last year we started off slow on the Pigskin Diaries, going 30-31-2 ATS in the first four weeks, but after that we were 107-84-25 ATS (56%). Four games is a better sample size than three — Football Outsiders begins to adjust their DVOA based upon opponents after week four — but there are a few observations that I think we can make after the first three games.
Houston isn't the dominant team they were in 2011 and 2012. With a staunch running game, the Texans were 8-4-1 ATS when favored by a touchdown or more. Two of those big covers came on the road, and as road favorites they were 5-4 ATS. In 2013, with Arian Foster breaking down and the team leaning on Matt Schaub, the Texans are 0-3 ATS. They play the best team (in my opinion) in football this week, the Seattle Seahawks.
Don't expect the "Slow Start Then Suddenly Surge Toward the Playoffs" New York Giants to appear this season. The Giants rank 31st in total DVOA after three weeks, and over the last five years, teams ranked in the bottom three in DVOA after three weeks have won an average of five games and finished the season with an average rank of 25 in total DVOA. No team has finished the season above .500 or ranked higher than 15th in total DVOA.
The Saints are going to get better. New Orleans currently ranks 15th in offense DVOA, while over the last five years, their average offense DVOA ranking is 5.6. The Saints defense, led by new coordinator Rob Ryan, is the real bright spot thus far. They rank fifth in defense DVOA, and have only given up 14 points in the second half of their first three games.
If they are getting a touchdown or less, no matter if they're at home or on the road, we are going to pick against the Jacksonville Jaguars. Over the past five years, teams that finished the season last in DVOA (the only real contender the Jags have is Oakland, maybe Cleveland) are a combined 9-29-1 ATS (24.4%) when getting a touchdown or less. The 2009 winless Lions were 1-1 ATS when getting a touchdown or less, and were 4-10-2 ATS overall. Really bad teams struggle to cover.
Prior to last week, there was only one other week since the merger where two teams favored by 14.5 or more points both covered. And, in some books, the Raiders covered or pushed thanks to the Denver's late turnover. Double-digit spreads are really hard to cover, even if you're a great team like the Broncos.
There will be more to learn as we go forward, but these bullet points can help us right here and now.
Before we get to the picks, I have to remind you to head over to DraftKings.com and jump into some same-day fantasy football. Personally, I'm a combined 0-6 in my two big money leagues (le sigh), but I've cashed in the DraftKings $250,000 Guarantee the past two weeks. If, like me, you drafted Stevan Ridley or David Wilson, or you've been plagued with injuries, do yourself a favor and get into the action on DraftKings. In the middle of this article I will offer my top 10 value plays, and you can put them to use this weekend to make some quick cash, maybe even earn a seat in the Football Millionaire Grand Final, where the winner will take home $1 million of the $3.1 million prize pool.
As always, my picks include the number and all advanced statistics are courtesy of the wizards over at Football Outsiders.
San Francisco @ St. Louis (+3)
That Niners stunk last week, and with Vernon Davis limited in practice on Wednesday, Patrick Willis missing practice altogether, and Aldon Smith scheduled to miss the game due to his strange "rehab" situation, San Francisco is reeling. Under Jeff Fisher, the Rams are 4-2 ATS as home dogs, winning all of the four games they covered, including an overtime thriller against the Niners in Week 13 of 2012.
Sam Bradford's dink-and-dunk offense is concerning, but I think their defense can keep them in this game and possibly even help them win it.
Fantasy: As a Colin Kaepernick owner, I'm not panicking, but he really misses Michael Crabtree (an absolute stud), and Mario Manningham (a nice, complimentary player). A healthy Davis would really help, but don't panic with Kap.
Seattle (-3) @ Houston
Like I said in the Houston bullet point, I think Seattle is the best team in football. The Chargers rank two spots higher than the Texans in total DVOA, and the Seahawks would be touchdown favorites against San Diego in Qualcomm Stadium. Houston's compressed offense is a terrible match up for the Hawks defense, and the Legion of Boom will be in full force on Sunday.
Fantasy: Don't let his Week 3 performance fool you — Sidney Rice is a WR3 at best. Fellow receiver Golden Tate is a better value going forward.
Cincinnati (-4) @ Cleveland
The Bengals won a very strange game against the Packers on Sunday, where Cincy's defense (13th in DVOA) intercepted Aaron Rodgers twice and forced a huge fumble from Jonathan Franklin in the fourth quarter. Terrence Newman scooped up said fumble, then rumbled 58 yards to score the game-winning touchdown.
Cincy's defense can keep them in any game, and stopping Brian Hoyer should be much easier than A-Rod. Hoyer performed well against the Vikings last week, but Minnesota lost two members of its secondary during the game and currently ranks 19th in total defense DVOA.
Despite Hoyer's crazy performance in the Metrodome, Cleveland still ranks 30th in offense DVOA and 31st in pass offense DVOA. The Browns are also 2-5-1 ATS at home when getting 3-4 points over the last five years.
Fantasy: Josh Gordon is a great talent, but if you can sell high on him, then go ahead. I don't expect him to get 19 targets every week.
Indianapolis (-7.5) @ Jacksonville
We are taking the Colts for all of the reasons mentioned above. I don't believe an Andrew Luck-led team is capable of falling victim to a "trap" game — the kid is as focused as his predecessor.
Fantasy: Cecil Shorts III really impressed me last week. Even though all but one of his receptions came in the second half of a blowout loss, he was able to work his way open against Byron Maxwell, who isn't Richard Sherman or Brandon Browner by any stretch, but is a quality nickel back who filled in nicely for Browner during his injury. Shorts III should continue to be productive, especially if Jacksonville continues to fall behind in games.
Chicago (+3) @ Detroit
After jumping out to a 24-3 lead against the Steelers on Sunday Night Football, the Bears found themselves up just 27-23 with 10 minutes remaining in the game. Jay Cutler then led a five-minute touchdown drive to put Chicago up 11, and on Pittsburgh's next possession, Lance Briggs sack-stripped Ben Roethlisberger and Julius Peppers recovered the fumble, taking it 42 yards for a touchdown.
Prior to this game, the Bears squeaked out wins against the Bengals (good) and the Vikings (less than stellar). They should have blown the doors off of the Steelers after jumping out to a three-touchdown lead, but their defense let them down until Briggs' play in the fourth quarter.
The 2-1 Lions played a nail-biter in D.C. last week, and were tied 17-17 heading into the fourth quarter against the Redskins. Thanks to a Calvin Johnson touchdown and an Aldrick Robinson touchdown drop, Detroit escaped with a 27-20 win.
Reggie Bush is set to return this week, and even though Joique Bell has played well in his stead, Detroit will welcome Bush back with open arms. They like using both backs (sometimes at the same time), and Bush has an extra burst that neither Bell nor most NFL running backs have.
This game is very close, and I am not very confident about my pick, but Detroit has already lost to a 1-2 team and played a very close game with winless team. Their decisive first-week win was also over the winless Vikings, who couldn't stop Brian Hoyer.
Fantasy: Bell will continue to have value, even with the return of Bush, and Nate Burleson's pizza woes open a door for Ryan Broyles to finally break out in the NFL. Broyles holds the record for most career receptions by any player in NCAA FBS history with 349.
Baltimore @ Buffalo (+3)
In a 21-point, blowout victory against the Texans last week, the Ravens had 236 total yards of offense. Joe Flacco threw for 171 yards and no touchdowns, while Daryl Smith intercepted Schaub for a touchdown and Tandon Doss returned a punt 82 yards for a touchdown. In their two previous games, they beat the Browns 14-6 at home (yawn) and were torched by Peyton Manning in Denver.
The Bills are already 2-0 ATS as home dogs, winning outright against Carolina in Week 2, and were a few more dumb Jets penalties away from winning their second game of the season in Week 3. EJ Manuel has been more than competent as Buffalo's signal caller, Robert Woods looks like an NFL receiver, and Kiko Alonso is simply a freak of nature.
The Bills also rank three spots higher than the Ravens in total DVOA.
Buffalo might not win more than six or seven games this season, but Manuel can keep them in every game, making them a very friendly play, especially as home dogs.
Fantasy: It looks like C.J. Spiller will play on Sunday, and of all the top-drafted running backs to stumble out of the gate, he's the one I have the most faith in. If you can buy low on the Clemson standout, then go for it.
Arizona (+2.5) @ Tampa Bay
Mike Glennon vs. the sixth-ranked rush defense DVOA. The rookie won't be able to lean on Doug Martin as much as he'd like to, which could spell trouble for the Bucs. Arizona has been less than impressive against the pass (24th DVOA), but Glennon is no Drew Brees or Matthew Stafford.
Fantasy: Vincent Jackson is nursing a rib injury which will most likely force him to wear a flak jacket or some kind of extra padding. It shouldn't slow him down too much, but it will prevent him from reaching or making any spectacular catches. At 6'5", he will certainly serve as a security blanket for Glennon, and could easily have double-digit targets.
Top 10 DraftKings Value Plays
It's time for some DraftKings value plays. As always, these players are listed by price from highest to lowest.
| Player | Position | Opponent | Price |
| --- | --- | --- | --- |
| Ahmad Bradshaw* | RB | Jacksonville | $5,200 |
| Terrelle Pryor | QB | Washington | $5,000 |
| EJ Manuel | QB | Baltimore | $5,000 |
| Joique Bell | RB | Chicago | $4,900 |
| Pierre Thomas | RB | Miami | $3,900 |
| Ryan Broyles | WR | Chicago | $3,600 |
| Jets | DST | Tennessee | $3,400 |
| Tyler Eifert | TE | Cleveland | $3,300 |
| Bills | DST | Baltimore | $3,100 |
| Dwayne Harris | WR | San Diego | $3,000 |
Ahmad Bradshaw: Trent Richardson will take another week or two to become fully assimilated to the offense, and Bradshaw looked great last week against an above average Niners defense.
*Editor's Note: Ahmad Bradshaw has been ruled of Sunday's game with a neck injury, making Trent Richardson ($7,100) a sneaky value.
Terrelle Pryor: Until the market adjusts, Pryor will continue to be a value play all star.
EJ Manuel: Another mobile quarterback who continues to have good fantasy numbers. Why spend money at quarterback when you can spend it at skill positions?
Joique Bell: Another value play all star. I'll keep riding him, even if Bush is back.
Pierre Thomas: The Dolphins rank 31st in rush defense DVOA. Mark Ingram is injured. Time for Thomas to eat.
Ryan Broyles: It's either now or never, Mr. Broyles.
Jets: Second-ranked defense DVOA. Enough said.
Tyler Eifert: Eifert has all of the athleticism and potential in the world, and this price is too good.
Bills: Baltimore has very few offensive threats, and this could be a low-scoring affair in Orchard Park.
Dwayne Harris: With Miles Austin hurt, Dwayne Harris will get work as the second wide receiver for the Cowboys. He caught a touchdown last week, and could be very productive against San Diego's 29th ranked pass defense DVOA.
New York Giants @ Kansas City (-4.5)
Andy Reid, who coached against Big Blue a few times in the past, has had 10 days to prepare for this overly underwhelming Giants team. In the bullet points above I explain why I don't believe this New York team will rumble back to make a deep playoff run, and I am very confident that by Monday morning they will be 0-4. The Chiefs offense (14th DVOA) may be constrained by Alex Smith, but the defense (3rd DVOA) is scary good. In fact, the Chiefs have the only defensive line with a higher adjusted sack rate (11.6%) than the Carolina Panthers (10.1%), who sacked Eli Manning seven times last week.
Fantasy: Dink-and-dunk is no good for Dwayne Bowe, and if he can't be productive against Philadelphia (27th in pass defense DVOA), then it will be hard for him to be productive against any team.
London Game: Pittsburgh (-2.5) over Minnesota
After three weeks, Manchester United has as many wins in the 2013-14 NFL season as the Pittsburgh Steelers and the Minnesota Vikings combined. You're welcome, London.
Fantasy: Antonio Brown scored not one, but two touchdowns on Sunday night! Why is this exciting news? In his first two seasons as a starter for the Steelers, Brown scored a total of seven touchdowns in 29 games played. As long as he finds the end zone at a reliable rate, he is one of the best WR2's in fantasy football.
New York Jets (+3.5) @ Tennessee
The Jets defense (2nd in DVOA) continues to impress thanks to some great play from rookie Sheldon Richardson and second-year undrafted free agent signing Damon "Big Snacks" Harrison. Rex Ryan's mouth might write checks that his lap-banded butt can't cash, but he's a defensive maestro, and in the blink of an eye he's replaced all-pro defensive linemen Sione Pouha and Mike DeVito. The return of Quinton Coples further strengthens Gang Green's front seven, and if teams want to have success against the Jets, they need to find a way to protect the quarterback and throw the ball.
Geno Smith is still a rookie and has made at least one costly error in every game thus far, but his ability to throw the ball vertically is refreshing. The rookie had four completions of 40 yards or more on Sunday, while the Jets had a total of nine completions of 40 yards or more in 2011 and 2012 combined. In 2011, the team only completed three passes of 40 yards or more.
The Titans are a middle-of-the-road offense (15th in both rush and pass offense DVOA), a slightly above average defense (14th DVOA) as well. Jake Locker made several plays with his feet on Sunday against the Chargers, and rookie Justin Hunter made an awesome play to catch his first NFL pass and the game-winning touchdown.
Locker's performance is certainly repeatable, but I don't think he can have the same success against the Jets defense. If Smith limits his mistakes, Gang Green should advance to 3-1.
Fantasy: Chris Ivory has a history of hamstring injuries, and this one appears to be bad. Ivory could miss extended time, making Bilal Powell a solid RB2 and giving Mike Goodson, who's set to return from suspension after Week 4[/b], some sneaky value.
Dallas (-2) @ San Diego
Rope me in, Tony Romo. Rope me in, Dez Bryant. Rope me in, DeMarco Murray. No wonder why Las Vegas makes so much money, because dopes like me take the Cowboys as road favorites a week after they obliterate an average team at home.
It's like taking candy from a baby, right, Sin City?
The Chargers rank 18th in total DVOA, third in offense DVOA, and 31st in defense DVOA. If the rankings aren't strange enough, look at their three crazy games thus far: a blown lead at home in Week 1, an insane shootout win in Week 2, and a loss to a Locker long ball in Week 3.
Dallas should be able to take advantage of this weak San Diego defense, and Philip Rivers should come back to planet Earth soon enough.
Fantasy: Eddie Royal nearly had another touchdown, but ended up just having another Eddie Royal-type game. I hope you didn't blow too much FAAB money on him.
Washington @ Oakland (+3)
I tried searching Pro Football Reference for games where the road team is favored with an immobile mobile quarterback, a lobster for a coach, and a receiver who can't shut his mouth regarding the aforementioned immobile mobile quarterback. Surprisingly, the database found nothing.
Oakland ranks 29th in total DVOA, but right behind them at 30, with the worse defense DVOA in the NFL, is the Washington Redskins. Please don't lay the wood with the Skins this week, I beg you.
Fantasy: Through three weeks, Terrelle Pryor has scored more fantasy points in ESPN standard leagues than Tom Brady, Eli Manning, and Colin Kaepernick. Let that sink it a little bit.
Philadelphia @ Denver (-10.5)
With Manning at quarterback, the Broncos are 2-1 ATS at home when giving double-digits, and if you don't use Monday night's closing line of 16.5 against the Raiders, that number improves to 2-0-1 or even 3-0.
Philadelphia has had no answer to opposing passing attacks, giving up over 1,000 yards in three weeks, and their high-octane offense is going to meet their toughest opponent of the 2013-14 season on Sunday: Denver's altitude.
It feels like the Broncos could score however many points they feel like in this game, and don't think that Manning doesn't know he's on pace to best Brady's 2007 touchdown record. This could be a very nice spot to pad his stats, allowing him to sit out during Week 17.
Fantasy: This ones pretty easy. Start every Bronco except the running backs (unless you're in a deep league or desperate, then I'd go with Knowshon Moreno), and start Michael Vick, DeSean Jackson, and LeSean McCoy. Jason Avant, Brent Celek, and Riley Cooper are interesting in deep PPR leagues.
New England (+2) @ Atlanta
Miami @ New Orleans (-6.5)
My dislike for the Atlanta Falcons is well documented, and I can't wait for the Monday morning quarterbacks to throw their hands in the air after the Falcons drop to 1-3 and scream to the sky for answers. This is a below average team that will have to scrap and claw to get to .500 by season's end, while New England's 23rd-ranked offense DVOA is only going to get better. Brady is too good for it to stall.
The New Orleans offense is going to improve as well, and could take a big step forward on Monday Night Football. Miami's defense ranks 18th in DVOA and all-world defensive end Cameron Wake could miss the game with a knee injury. On the other side of the ball, Ryan Tannehill has enjoyed success against the 22nd, 21st. and ninth-best defenses according to DVOA, but will now face the fifth-best and the third-best against the pass. The Dolphins have certainly impressed during the first three weeks, but the Saints are a different animal.
Fantasy: Even though Kenbrell Thompkins scored twice against the Bucs, I still favor fellow rookie Aaron Dobson over him. Dobson was targeted three more times, catching four more balls, and should've scored a touchdown had Brady thrown him a better ball on the goal line.
All spreads are courtesy of Covers.com, and are accurate as of 6:00 a.m. EDT on Thursday Sep. 26.
Season: 19-26-3
Last Week: 6-9-1