Pigskin Diaries Presented by DraftKings Week 6: Quick Reads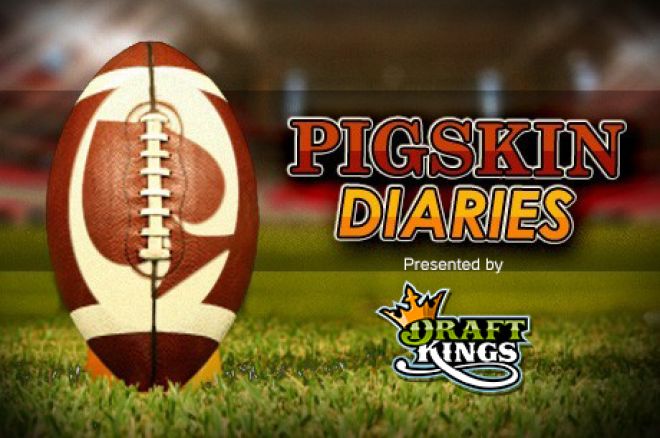 After five weeks of the 2013 NFL season, the Oakland Raiders have more wins than the New York Giants, Atlanta Falcons, and the Pittsburgh Steelers combined. My hate for the Falcons is well documented, but even I'm surprised by that stat.
After his masterful naked boot on Sunday, Peyton Manning has as many rushing touchdowns as Colin Kaepernick, Russell Wilson, and Cam Newton have combined.
According to Football Outsiders, the San Diego Chargers rank third in offense DVOA, higher than New Orleans and Philadelphia.
Michael Vick is hurt and will be sidelined for Week 6.
OK, that last one isn't a strange occurrence, but you understand what I'm getting at here. There are weird things happening in the NFL, but the more we sift through the information, the better we are going to get.
This week I am feeling more confident than I have in a long time, and because I have roughly 100,000 words being published this Thursday on PokerNews, there's little time to waste. So let me first tell you that satellites for the DraftKings.com[/b] Football Millionaire Grand Final are still running. The winner of this incredible event will take home $1 million of the $3.1 million prize pool, and you can qualify for as little as $2. Most of the regularly scheduled events, like the weekly $250,000 guarantee, also give away tickets to the Grand Final to the top finishers. If you're like me and are struggling with injuries in season-long leagues, or you're just looking for another sweat on Sunday, DraftKings is definitely the place to be.
As always, my picks include the number and all advanced statistics are courtesy of Football Outsiders.
New York Giants @ Chicago (-7)
The Giants lost at home last week to the 21st-ranked team in total DVOA, and look absolutely hopeless. New York ranks 31st in total DVOA, 31st in offense DVOA, and 21st in defense DVOA. The biggest weakness on the Giants is their offensive line, which FO ranks 31st in run blocking using adjusted line yards and 23rd in pass blocking using adjusted sack rate.
Chicago's defense has been average according to FO, ranking 15th in DVOA, but its defensive line ranks eighth against the run using adjusted line yards. The Bears do their best to mask their flaws on defense by causing turnovers, and no team has turned the ball over more than the Giants (20). Eli Manning (13 interceptions) is on pace to tie the single-season record of 42, set by George Blanda in 1962.
Blanda's Oilers still found a way to win 11 games, eventually losing in the Conference Championship.
Fantasy: Well hello, Alshon Jeffery. While we can't expect 200 yards every week, Jeffrey's increase in production shouldn't be too eye opening. He is a big, strong target for Jay Cutler, and made dozens of big plays at South Carolina.
St. Louis (+7) @ Houston
Cincinnati @ Buffalo (+7)
Oakland (+9.5) @ Kansas City
The Chiefs, Bengals, and Texans rank 14th, 21st, and 24th in offense DVOA respectively, yet each team is expected to beat their opponents by a touchdown. Hmmm.
Out of the favorites, Kansas City is the strongest with an unblemished 5-0 record and a total DVOA of 29.4% (third), and they've won their games by an average of two touchdowns. However, two of those games came against the worst (Jaguars) and the second-worst (Giants) teams in the league. Another came against the Eagles, who rank 29th in defense DVOA.
Oakland might not be much better at No. 24, but the 4.7% difference between those two teams on defense is bigger than the gap between No. 5 Buffalo and No. 12 Arizona. I don't trust Alex Smith to score enough points to cover a near double-digit spread.
As for the other touchdown underdogs, the Bills are 3-0 ATS at home (they were underdogs all three times) and are 2-1 outright. With EJ Manuel's knee injury Buffalo is forced to start Thad Lewis at quarterback, but I don't think he'll have to move mountains to keep his team within a touchdown of Andy Dalton and company.
The Rams showed signs of life last week against Jacksonville, scoring 34 points on 351 yards of total offense. I'm picking against Houston rather than for St. Louis though – the Texans offense (24th in DVOA) has been putrid, and Matt Schaub has thrown a pick-six in an NFL record-setting four consecutive games.
Fantasy: The C.J. Spiller we saw in the second half of the Thursday Night Football game is the C.J. Spiller we all came to love. I expect we will see more of the good Spiller going forward, and if you can still buy low, I would do so.
Detroit @ Cleveland (+2.5)
Green Bay @ Baltimore (+3)
The Ravens were home dogs against the Texans a few weeks ago, winning by three touchdowns. Since 2010, Baltimore is 23-3 at home (88.4%), and 7-2 (77.8%) against teams that went on to make the playoffs.
Green Bay is No. 6 in total DVOA (15.6%), but their defense (14.8%, ranked 28th) leaves a lot to be desired. Pigskin Diaries fans know that I'm not the biggest Joe Flacco supporter, but even he can move the ball against this Packers defense.
Cleveland getting 2.5 points at home is nice, but this line was a lot friendlier when it opened at 3. Matthew Stafford struggled last week without Calvin Johnson, who hasn't practiced yet this week, and Cleveland's defense has held their own, ranking 13th in DVOA.
I don't have supreme confidence in this pick, but a home dog is a home dog.
Fantasy: The Packers have given up the seventh-most points to opposing wide receivers in ESPN standard scoring. Torrey Smith is a must start.
Philadelphia (-1) @ Tampa Bay
Keeping Greg Schiano was a huge mistake for the 0-4 Buccaneers. One player told Michael Silver that if the losing continues, Schiano is at risk of losing his team. With a rookie project like Mike Glennon at quarterback, I don't see why Tampa Bay doesn't go for a complete break.
If the Bucs fall to 0-5 and then they decide to let go of Schiano, they would've wasted a week to assimilate with an interim head coach.
For Philly, it's the same old same old. Chip Kelly's offense continues to put up points (5th in DVOA), but the defense can't stop a nosebleed (29th in DVOA). The Eagles are a tiny bit better against the run than they are against the pass, and I'm not afraid of Glennon airing it out. In his first start for Tampa, he was the sole reason they lost, throwing a critical interception to Patrick Peterson late in the fourth quarter.
Fantasy: If Glennon is to have a good game, Vincent Jackson will play a big role. The bye week helped Jackson get healthy, and against Philly's secondary he could have a field day.
Carolina (+2.5) @ Minnesota
Speaking of Freeman, any team that needs to bring him in for $3 million shouldn't be favored by nearly a field goal, especially against the 10th ranked team in total DVOA. I still believe in Cam Newton, and I really believe in Carolina's front seven (ranked 3rd in adjusted line yards and sixth in adjusted sack rate).
Fantasy: Still holding on to Kyle Rudolph? In four games he only has 12 catches for 103 yards and a single touchdown. Welcome to dumpsville.
DraftKings Top 10 Value Plays
It's time to look at some of this week's best value plays on DraftKings. As always, these players are ranked by price.
| Position | Player | Opponent | Salary |
| --- | --- | --- | --- |
| QB | Andrew Luck | SD | $8,300 |
| QB | Geno Smith | PIT | $5,300 |
| WR | Terrence Williams | WAS | $5,500 |
| WR | Cecil Shorts III | DEN | $5,000 |
| RB | Zac Stacy | HOU | $4,100 |
| DST | Carolina | MIN | $4,000 |
| RB | Joique Bell | CLE | $3,700 |
| WR | Vincent Brown | IND | $3,700 |
| TE | Jeff Cumberland | PIT | $3,200 |
| TE | Garrett Graham | STL | $3,100 |
Andrew Luck: The Chargers are last in defense DVOA and last in pass defense DVOA.
Geno Smith: It's nearly impossible to get an effective starting quarterback at this price. Take advantage of it.
Terrence Williams: Apologies for the Dwayne Harris love last week, Williams is the real Miles Austin replacement.
Cecil Shorts III: The Jaguars will be behind in this game, and Justin Blackmon is valued $1,800 higher than Shorts.
Zac Stacy: Stacy will start once again for the Rams this week, and in Week 5 he jumped off of the film.
Carolina: I love Carolina's front seven, and I am very skeptical about Minnesota's quarterback situation. That seems like a nice scenario for some points.
Joique Bell: We'll give Bell one more week to regain his status on the Value Plays All-Star team. Megatron's injury definitely affected the entire offense in a negative way.
Vincent Brown: The Chargers will most likely be behind, and Brown stepped up last week with seven catches for 117 yards.
Jeff Cumberland: In the preseason, Cumberland was both Mark Sanchez and Geno Smith's favorite target. He suffered a nasty concussion in Week 1 against Tampa Bay, but it looks like he's back on track now.
Garrett Graham: With Owen Daniels injured, the Texans will lean on Graham to pick up the load in their play-action pass offense.
Pittsburgh @ New York Jets (-2.5)
This line opened at Steelers -1, and if you grabbed the Jets as home dogs then congratulations. Gang Green still has value giving less than a field goal in this spot. Perhaps the bye week has helped football fans forget about how poor Pittsburgh has performed, but they rank 26th in total DVOA and are 0-4. Without Maurkice Pouncey, the Steelers offensive line ranks 29th in adjusted line yards and 25th in adjusted sack rate.
Conversely, the Jets rank No. 1 in adjusted line yards and No. 10 in adjusted sack rate. Pittsburgh is going to really struggle moving the ball, and if Geno Smith plays half as well as he did on Monday Night Football, the Jets should be able to put up enough points to win this game and cover the small spread.
Fantasy: Jeremy Kerley isn't a stud, but he's certainly a strong FLEX consideration. Since returning from his concussion, Kerley is averaging 4.5 catches for 66.5 yards and .5 touchdowns, and the offense should only expand as Smith gets more comfortable.
Jacksonville (+26.5) @ Denver
Tennessee (+13.5) @ Seattle
Arizona (+11) @ San Francisco
Two of these three dogs will cover, and I have listed them in confidence order. The line in the Jacksonville/Denver game opened up at 28 in some places, making it the largest line in NFL history, but it has since fallen to 26.5. In the NFL, I will always take the team getting three or more touchdowns.
Out in the Pacific Northwest, the Seahawks are giving nearly two touchdowns to the Titans. Seattle is the best home team in the league – and could possibly be the best team in the league (2nd in total DVOA) – but Tennessee is too good a team to be getting this many points, even with Ryan Fitzpatrick at quarterback. The Titans rank 11th in defense DVOA, and 17th in offense DVOA. Fitzpatrick has enough talent around him to be competent and keep his team within 13.5 points.
The Seahawks are 2-1 ATS as double-digit favorites at home over the past two seasons, including their 20-point cover this year against the Jaguars. I love the Legion of Boom as much as the next guy, but I believe that record will go to 2-2.
Arizona isn't the worst team among this group, but the line in their game at Candlestick Park is the most appropriate. In the past three seasons, the Niners have defeated the Cardinals at home by 14, 16, and 29 points. Arizona can't be pleased with Carson Palmer's play to start the season, but Andre Ellington is coming into his own in the backfield and the defense is still above average, ranking 12th in DVOA.
If this line was below 10.5, I would start to lean towards San Francisco, and if it was below 10 I would definitely be on the Niners, but as is I have to take the points.
Fantasy: Ellington is a nice littler player that could have a big impact going forward. Another player with high upside is Seahawks receiver Percy Harvin. He returned to Seattle this week and is training with the team once again.
New Orleans (+2.5) @ New England
While the New England offense completely stalled last week in Cincinnati, New Orleans is starting to round into form. After starting the season in the middle of the pack, the offense now ranks sixth in DVOA. The Saints defense is starting to regress back to the mean, and now ranks 16th in DVOA. The entire team ranks 5th in total DVOA.
There is still a part of me who wants to give Tom Brady and Bill Belichick the benefit of the doubt in situations like this when they're giving less than a field goal at home, but they haven't put together a single good game in five weeks. Conversely, New Orleans played great outdoors in Chicago last week, beating the Bears 26-18.
Oh yeah, and Jimmy Graham is still impossible to cover.
Fantasy: Mark Ingram remains a non-factor in New Orleans, while Pierre Thomas and Darren Sproles are splitting the role in the backfield. Sproles may be a little more reliable, especially in PPR leagues, but Thomas is still a solid FLEX option.
Washington @ Dallas (-5.5)
Indianapolis (-1.5) @ San Diego
I have no idea how the Washington secondary is going to stop Tony Romo and company. Romo's 500-yard, five-touchdown performance last week probably isn't repeatable, but the Redskins secondary is equally as week as Denver's, ranking 25th in pass defense DVOA.
There is part of me that thinks the Washington offense can get back on track, and they have had two weeks to prepare for this game, but until I see Robert Griffin III perform like he did in 2012, I will remain reserved. The team currently ranks 13th in offense DVOA.
On Monday Night Football, Andrew Luck will try to lead the Colts to a 5-1 start and perhaps extend their lead in the AFC South. DVOA was unfavorable to Indy last year, but now they love them, ranking them as the fourth best team in the NFL.
The defense still has a few holes, ranking 17th in DVOA, but Luck has been able to mask the team's flaws. San Diego's offense is due to regress back to the mean – Danny Woodhead can only be so effective – and against the Chargers' 32nd ranked defense DVOA, Luck could have an absolute field day.
Fantasy: I will be the first to say I was wrong about Dwayne Harris. Terrence Williams is twice the player Harris is, and Romo has targeted him 12 times over the last two games.
All spreads are courtesy of Covers.com, and are accurate as of 6:00 a.m. EDT on Thursday Sep. 26.
Last Week: 6-7-1
Season: 32-40-5
Bye: Atlanta, Miami
Get all the latest PokerNews updates on your social media outlets. Follow us on Twitter and find us on both Facebook and Google+!