Pigskin Diaries Presented by DraftKings Week 9: Gaining Momentum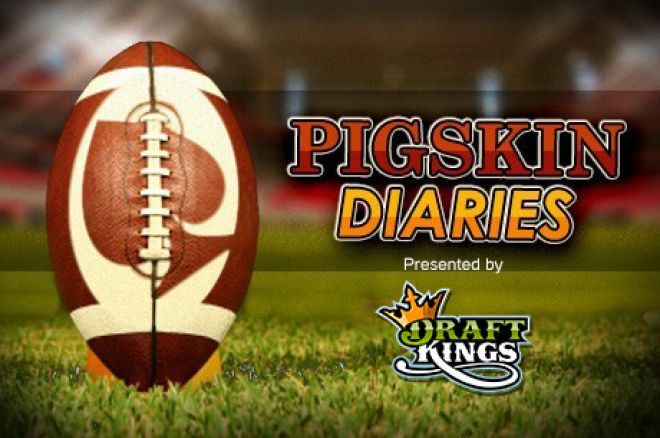 Momentum is a dirty word in the world of advanced metrics. Grantland creator Bill Simmons and Bill Barnwell, one of his NFL writers, argue about the idea of momentum all of the time, and I tend to agree with Barnwell — it doesn't exist, or at least it can't be proven.
However, there are certain plays or drives that, when they occur, clearly change the course of the game. This past Sunday, the Dolphins were seven-point underdogs in Foxborough, and at the start of the third quarter, Caleb Sturgis lined up to kick a 46-yard field goal. He had already converted from 52 with ease, and a field goal in this spot would've given Miami a 20-3 lead over New England.
Sturgis hit the ball clean, but it went spiraling towards the right upright, dinging off the post. At that exact moment, after narrowly escaping a three-possession deficit, I was very certain that the Patriots were going to win the game.
I even texted a good friend of mine, who's a Dolphins fan, saying, "Here comes the meltdown."
Less than four minutes later, the game was tied 17-17. The Patriots went on to score 10 more points in the game, covering the touchdown spread, and all of the squares in Las Vegas cashed in their winning tickets.
If this strange elixir named "momentum" is real, then let me tell you that I had the same feeling looking at the game lines prior to my first winning week this season. The league looks a lot clearer now, and despite posting a losing record in Week 7, in Week 8 we booked another winner. I'm confident that Week 9 will bring more of the same.
DraftKings.com is introducing NFL Beginner Games that offer smaller player pools, lower entry fees (as low as $1), and are only eligible for players with less than 50 games under their belts. There are also five-player tournaments available, which are the equivalent of a fantasy sit-n-go. If you're sick of getting beat by daily fantasy grinders that have a big enough bankroll to enter tournaments dozens of times, or you're just trying to get your feet wet, these new variants on DraftKings are definitely for you.
As always, my picks include the number and all advanced statistics are courtesy of Football Outsiders.
Cincinnati (-3) @ Miami
The loss of Leon Hall will have negative implications on Cincy's chances to make a deep run in the playoffs, but against a team like Miami (22nd in pass offense DVOA) that struggles to move the ball vertically down the field, they will be just fine. The Bengals tout the fourth-ranked defense DVOA (-11.0 percent), and although Geno Atkins is on pace to have fewer sacks than he did last season, he's still a legitimate Defensive Player of the Year candidate. There are only two other defensive linemen in the league that can defend the run and rush the passer as well as he can — J.J. Watt and Mohammed Wilkerson.
The most interesting player in this game is Andy Dalton. In his last three games (two of which were against teams ranked in the top eight in defense DVOA), the Red Rocket has thrown for 1,034 yards, 11 touchdowns, and only two interceptions. Dalton still missed a few easy throws against the Jets in Week 8 and the Lions in Week 7, but if these numbers are any indication of what's to come, the Bengals could be the second best team in the AFC.
Football Outsiders has Cincy ranked fifth in total DVOA (22.4 percent), while Indianapolis (third, 26.1 percent) and Denver (first, 42.9 percent) are the only AFC teams that rank higher.
Fantasy: Marvin Jones had what will most likely be the best game of his NFL career last week. In ESPN standard leagues, he scored as many points as Calvin Johnson, and Megatron had arguably the greatest game of all time. Don't get your hopes up for Jones, who only played on 32 percent of Cincinnati's offense snaps against the Jets. He's still the third receiver behind Mo Sanu.
Kansas City @ Buffalo (+3)
Tennessee (-3) @ St. Louis
San Diego (-1) @ Washington
One of these home dogs is not like the others.
The Buffalo Bills have been home dogs four times already in 2013. They won two of those games outright, and are undefeated against the spread. Despite turning the ball over twice in their own territory on the road against the Saints last week, the Bills played tough, and New Orleans didn't separate from Buffalo until the end of the first half. The Bills defense (seventh in DVOA, -6.0 percent) continues to look good, and Thad Lewis is a very competent quarterback.
The Kansas City Chiefs have looked very average the past two weeks, especially on offense where they rank 16th in DVOA (-1.6 percent). In two of KC's three road games they handled Philadelphia and Jacksonville, two of the worst teams in the league, and in the third they defeated a Jake Locker-less Titans team.
This game has "trap" written all over it.
As for the Titans and Chargers, one of those two teams is going to secure the six seed in the AFC. Both of these teams are coming off of a bye week, and both of these teams are playing teams who blew their chances at a meaningful upset win in Week 8. The Redskins squandered a 14-point lead in Denver and Robert Griffin III was dinged up at the end of the game, while the Rams blew several opportunities against the Seahawks on Monday Night Football, including a last-second play on the one-yard line.
Three points isn't enough for me to back Kellen Clemens, and, as crazy as this sounds, I believe in Philip Rivers and the Chargers offense.
Fantasy: Rookie Keenan Allen is slowly creeping into the limelight, but against a team like Washington (19th in pass defense DVOA), he could become a household name.
Atlanta @ Carolina (-7.5)
Since being drafted, Cam Newton is 1-3 against the Atlanta Falcons. Since 2010, the Panthers are 1-5 against the Falcons. This is an opportunity for Carolina to lay the smack down against a division opponent who has tortured them for the last three years.
While the Panthers offense (ninth in DVOA, 12.8 percent) continues to improve, the Falcons defense (30th in DVOA, 15.6 percent) is spiraling. Injuries and lack of depth have caught up with the team. Atlanta can't make up for their defensive woes on offense either, because Julio Jones is out for the season and both Roddy White and Steven Jackson are older players battling injuries.
Meanwhile, Carolina ranks fourth in total DVOA (23.5 percent), and would be a dangerous team if they reached the playoffs. No one wants to face that front seven on defense, and no one wants to try and game plan for Killa Cam.
Fantasy: The return of Jonathan Stewart is annoying. Stewart isn't fantasy relevant, but he could eat into DeAngelo Williams and Mike Tolbert's touches. With six teams on bye, DAW and Tolbert are probably mandatory starts in your league, but let's monitor Stewart's workload going forward.
Minnesota (+10.5) @ Dallas
Tampa Bay (+15.5) @ Seattle
Since Detroit is on bye, let's make Cowboys fans cringe one last time with the Lions Gif of the Week: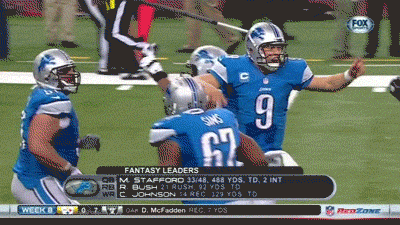 Matthew Stafford, you are a legend.
Dallas ranks 11th in total DVOA (11.9 percent), but they are 21st on defense (7.3 percent). Remember, DVOA is an adjusted statistic, so Detroit's eighth-ranked offense DVOA (13.3 percent) didn't drop Dallas out of the top 10 or anything.
Since Tony Romo became the starting quarterback in 2006, Dallas is 1-6 ATS at home when favored by 10-11 points. When favored by 11.5 or more, they're 6-2 ATS. Weird, right?
I'm not smart enough to know whether or not this is relevant, but I'm assuming it has to do with the quality of their opponents. Dallas always gets a bump at home because they're a public team and people bet on them, so perhaps the real double-digit dogs get moved up to two touchdowns while touchdown dogs get pushed to double-digits. Again, this is simply conjecture.
I don't hate Christian Ponder. I don't think he's a great quarterback, or even the quarterback of the future in Minnesota, but he's a somewhat useful player who can take what you give him. The Cowboys defense tends to be giving up a lot lately, and I think the Vikings can score enough to keep this one close.
As for the Seahawks, I can't lay more than two touchdowns with a team that ranks 31st in the NFL in pass protection (11.5 percent adjusted sack rate). Tampa Bay is a very bad football team, but they rank third in rush defense DVOA (-18.7 percent) and if they can slow down Marshawn Lynch, then they can stay within two touchdowns.
That being said, I am in a very deep, two-quarterback fantasy league where Colin Kaepernick is on a bye. I don't have another starting QB on my bench, so I picked up Hawks backup Tarvaris Jackson for possible junk time points.
Fantasy: If Terrence Williams isn't owned in your league. Run, don't walk to the nearest computer or smart device and pick him up. The kid is a legitimate WR2 in all formats.
DraftKings Value Plays
Each week in the Pigskin Diaries, I bring you 10 players who I think are undervalued in DraftKings. These players may not be the best at their position on a week-to-week basis, but because of their match up and their price this week, I think they're solid selections. Picking these value plays will save you money for other positions if you wish to purchase a few stud players.
As always, these players are ranked by price.
| Position | Player | Opponent | Salary |
| --- | --- | --- | --- |
| QB | Aaron Rodgers | Chicago | $8,100 |
| QB | Terrelle Pryor | Philadelphia | $6,700 |
| RB | Danny Woodhead | Washington | $5,600 |
| RB | Stevan Ridley | Pittsburgh | $5,200 |
| WR | Jarrett Boykin | Chicago | $5,000 |
| WR | Keenan Allen | Washington | $4,600 |
| TE | Coby Fleener | Houston | $4,000 |
| WR | Lance Moore | New York Jets | $3,500 |
| DST | Buffalo | Kansas City | $3,400 |
| TE | Zach Sudfeld | New Orleans | $3,000 |
Aaron Rodgers: Despite the high price tag, Rodgers is only the sixth-most expensive quarterback this week. Whenever five players are valued higher than A-Rod, he's probably a value play.
Terrell Pryor: A Value Play All-Star against the 29th-ranked defense DVOA.
Danny Woodhead: Ryan Mathews looks better and better, but Woodhead is still the preferred back on passing downs. DraftKings awards points for every reception, and against Washington (27th in defense DVOA), Woodhead could rack up some points.
Stevan Ridley: Ridley is the best back on New England, a team that needs to focus more on running the football. He's scored four touchdowns the last three weeks, and is too good to pass up at this price.
Jarrett Boykin: James Jones is questionable, meaning Boykin will remain relevant for now. Chicago's defense ranks 25th in pass defense DVOA.
Keenan Allen: The most skilled receiver on a team playing a very poor defense.
Coby Fleener: In the absence of Reggie Wayne, someone will have to pick up some more targets. I don't think it will be DHB.
Lance Moore: I'm all in on Moore, who you can read about below.
Buffalo: The seventh-ranked defense DVOA at home against Alex Smith.
Zach Sudfeld: This is your weekly Hail Mary. Jeff Cumberland has been ruled out for Sunday's contest, and with Kellen Winslow suspended for PED use, Sudfeld will be the starting tight end.
New Orleans (-6) @ New York Jets
Since adding Drew Brees in 2006, the Saints are 6-4 ATS when favored by six or more points playing outdoors on the road. The Bengals discovered the blueprint for beating the Jets (ranked 21st in pass defense DVOA) last week – throw the ball. Early and often.
This may or may not be an anti-jinx.
It probably is.
Fantasy: I'm all in on Lance Moore. From 2010-2012, he averaged 810 receiving yards and just over seven touchdowns a season. Brees really trusts him, and now that he's fully healthy after suffering a hand injury earlier in the year, he will be a legitimate WR3 with WR2 upside.
Philadelphia @ Oakland (-2.5)
Can you hear that? Listen closely. It's getting louder.
Yes, that the sound is the slow resurgence of the Oakland Raiders. After beating the Eagles on Sunday, they will be .500. Their next three games are against the Giants, Texans, and Titans – all winnable games.
Look, I've already said that either Tennessee or San Diego will capture the six seed, but is there an alternative universe where Terrelle Pryor leads Oakland to the second wildcard? I'd like to think there is.
Fantasy: It's not pretty, but Darren McFadden has established himself as one of the most reliable RB2's in football. The read option is alive and well in Oakland, and with Pryor taking away at least one linebacker, McFadden is flourishing.
Pittsburgh (+7) @ New England
The Steelers are who we thought they were, and they laid a real stinker in Oakland last week, but this line is still too high. New England's offense (20th in DVOA, -6.4 percent) continues to look very meager, and most of it is on Tom Brady, who ranks 17th in QBR (behind Nick Foles, among others).
The Pats have had success running the ball (12th in DVOA, -0.9 percent), and if they can get Stevan Ridley and Brandon Bolden going, then they can dominate this game along with the time of possession. Keeping the ball away from Ben Roethlisberger as much as possible will be paramount — Ryan Tannehill may have struggled to exploit New England's injured defense, but Big Ben can make plays, even with a non-existent offensive line.
Fantasy: Antonio Brown is on pace to record 128 catches on 166 targets for 1,440 yards. He still struggles to reach the end zone, scoring only two touchdowns through seven games, but he is extremely productive and trustworthy in PPR formats.
Baltimore @ Cleveland (+2.5)
Indianapolis @ Houston (+2.5)
Baltimore ranks 19th in total DVOA (-8.6 percent) and 25th in offense DVOA (-14.5 percent). The Ravens are also 1-3 ATS on the road this season.
The Browns are 2-2 ATS at home, winning both of the games they covered in, and Jason Campbell looked just fine on the road against the Chiefs, who rank third in defense DVOA (-12.7 percent) and third in pass defense DVOA (-21.2 percent).
I mentioned before that the Colts rank third in total DVOA, but I want to see this offense operate without Reggie Wayne. I don't think Darrius Heyward-Bey is ready to step up and take the lion's share of the targets, and T.Y. Hilton isn't built to be a possession receiver. I also still have concerns for Indy's defense, which currently ranks ninth in DVOA (-4.4 percent). Maybe their defensive front was able to flip the script entirely after the 2012-13 campaign, but I still fear that they are two small up front.
The Texans desperately needed a bye week and a boost of energy. I think they could receive the latter from Case Keenum, who looked very impressive in his first outing two weeks ago in Kansas City.
Fantasy: If Keenum plays as well as he did at Arrowhead two weeks ago, then Andre Johnson and DeAndre Hopkins will become very interesting plays going forward.
Chicago @ Green Bay (-10.5)
ESPN finally schedules a good Monday Night game, and Jay Cutler goes and gets himself hurt. Way to go, Jay.
The Bears haven't ruled Cutler out yet, but he is very doubtful. Without him, the Bears will struggle to keep this game competitive, because they rank 25th in pass defense DVOA (13.8 percent).
Fantasy: Jarrett Boykin has been very useful in the absence of James Jones and Randall Cobb, but it's hard to tell what his role will be going forward. I really like Boykin this week against Chicago's poor secondary, but if he has a very big game, I might look to sell high.
All spreads are courtesy of Covers.com, and are accurate as of 12:00 p.m. EDT on Thursday Oct. 31
Last Week: 7-6
Season: 53-63-4
Teams on Bye: New York Giants, San Francisco, Jacksonville, Detroit, Arizona, Denver
Get all the latest PokerNews updates on your social media outlets. Follow us on Twitter and find us on both Facebook and Google+!