Pigskin Diaries Presented by DraftKings Week 8: Bouncing Back Again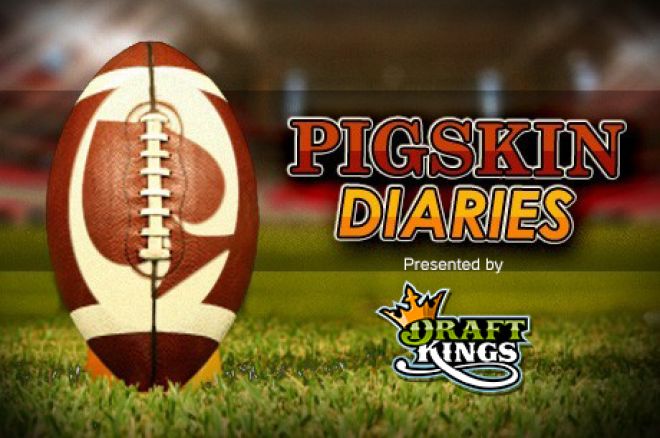 Just when I thought we were going to make a comeback, we take punch right on the chin. There are a few picks that I wish I could take back — Denver (-6.5) and Tennessee (+4) top the list — but there are others where I still think we were on the right side.
Indianapolis and San Francisco were very impressive, particularly the Niners. The Colts' defensive line played terrifically, especially Robert Mathis (who already has 11.5 sacks on the season), but Indy benefitted from a Trindon Holliday fumble on a punt return. Denver rarely makes a mistake on special teams, where they rank third in DVOA.
The Niners dismantled the Titans. In the first three quarters of the game, San Fran outscored Tennessee 24-0, and in garbage time the Titans scored 17 points. Frank Gore and Colin Kaepernick got the run game going again, rushing for a combined 138 yards and three touchdowns.
In their last four games, San Francisco has defeated their opponents by a combined score of 132-51. They've covered in all four of those games as well.
We need to give the Colts a little more respect — although I still have reservations about their defense and the offensive play calling — and we certainly need to start recognizing the Niners as a legitimate title contender that can cover big spreads.
DraftKings.com[/b] is introducing NFL Beginner Games that offer smaller player pools, lower entry fees (as low as $1), and are only eligible for players with less than 50 games under their belts. There are also five-player tournaments available, which are the equivalent of a fantasy sit-n-go. If you're sick of getting beat by daily fantasy grinders that have a big enough bankroll to enter tournaments dozens of times, or you're just trying to get your feet wet, these new variants on DraftKings are definitely for you.
As always, my picks include the number and all advanced statistics are courtesy of Football Outsiders.
Carolina (-6) @ Tampa Bay
The winless Buccaneers rank 31st in offense DVOA and are 1-5 ATS. Without Doug Martin, they'll need to find a way to score points against Carolina's defense, which ranks third in DVOA. Since losing their first two games, the Panthers are both 3-1 straight up and ATS. They laid one stinker in their Week 4 game in Arizona, but ever since Ron Rivera committed to being more aggressive on offense, the team has turned into a playoff contender.
I trust Carolina's defense to shut down Mike Glennon, and Cam Newton should be capable of putting up a few points against the 18th-ranked pass defense DVOA.
Fantasy: In the last two weeks, Vincent Jackson has 19 receptions on 36 (!!!) targets for 252 yards and four touchdowns. I'm quite certain Glennon has found his favorite receiver.
Dallas @ Detroit (-3)
If someone from the future told me that the Cowboys were going to win this game by 30, I wouldn't be surprised. If someone from the future told me that the Lions were going to win this game by 30, I wouldn't be surprised.
Flip a coin. That's what I did. Not literally, but in my mind. This is a stay-away game, but we pick 'em all here at the Pigskin Diaries, so our eggs are in Calvin Johnson's basket.
My apologies for writing those two useless paragraphs, now here is a gif of Megatron catching a 50-yard touchdown against triple coverage:
Fantasy: Terrance Williams has scored a touchdown in each of the last three games. According to Cowboys head coach Jason Garrett, Miles Austin is still "not himself," so Williams will continue to be viable WR3 with WR2 upside.
Buffalo (+11.5) @ New Orleans
Washington (+13) @ Denver
San Francisco (-16.5) vs. Jacksonville (London)
One of these things is not like the other.
I've stuck by the Jacksonville Jaguars for weeks, but if they can't stay within 10 points at home against San Diego or on the road against St. Louis, then that's all she wrote. The Jags are so pitiful (-63.4 percent DVOA), and rank last in offense DVOA (-44.9 percent) and 31st in defense DVOA (17.9 percent).
The only team worse than them on defense is San Diego (21.6 percent), and Jacksonville was unable to score more than six points against them at home.
It's over between us, Jacksonville — unless you cover this weekend, in which case I'll come running back.
As for Buffalo and Washington, I think both teams are frisky enough on offense to sneak in a backdoor cover. Since Drew Brees became the quarterback of the Saints in 2006, New Orleans is just 3-6 ATS when favored by double-digits at home. Only one Bills game has been decided by more than a touchdown this season, and that game occurred during Tuel Time.
Last season, Denver was 2-0 ATS at home as double-digit favorites, but this season they are 1-2 ATS. The Broncos defense is also very weak, ranking 26th in DVOA (7.9 percent).
Fantasy: This may sound crazy, especially to his owners, but I think it's time to buy low on Alfred Morris. We're always told not to chase points in fantasy (shout out to all of the people who blew their entire FAAB budget on Eddie Royal), but we shouldn't worried about lost points in the past either. Roy Helu Jr.'s three-touchdown performance last week was an aberration, and Morris remains the most talented and trusted runner on the roster. He's without a doubt a top-15 fantasy back going forward.
DraftKings Top 10 Value Plays
DraftKings Value Plays
Each week in the Pigskin Diaries, I bring you 10 players who I think are undervalued in DraftKings. These players may not be the best at their position on a week-to-week basis, but because of their match up and their price this week, I think they're solid selections. Picking these value plays will save you money for other positions if you wish to purchase a few stud players.
As always, these players are ranked by price.
| Position | Player | Opponent | Salary |
| --- | --- | --- | --- |
| WR | Larry Fitzgerald | Atlanta | $6,200 |
| QB | Terrelle Pryor | Pittsburgh | $6,000 |
| RB | Knowshon Moreno | Washington | $6,000 |
| RB | Alfred Morris | Denver | $5,600 |
| QB | Carson Palmer | Atlanta | $5,500 |
| TE | Jordan Cameron | Kansas City | $5,300 |
| WR | Jeremy Kerley | Cincinnati | $3,800 |
| TE | Tyler Eifert | New York Jets | $3,300 |
| RB | Kendall Hunter | Jacksonville | $3,000 |
| DST | Miami | New England | $2,600 |
Larry Fitzgerald: Atlanta ranks last in pass defense DVOA and has given up the fourth most points per game to opposing receivers in ESPN standard scoring.
Terrelle Pryor: You think a bye week would make us forget about our No. 1 value plays all star?
Knowshon Moreno: Washington ranks 29th in rush defense DVOA and has given up the most points per game to opposing running backs in ESPN standard scoring.
Alfred Morris: Denver has given up the ninth-most points to opposing running backs in ESPN standard scoring, and the Redskins offense is getting back on track.
Carson Palmer: For all of the reasons I love Fitzgerald this week.
Jordan Cameron: The Chiefs have dominated tight ends thus far, but the only top tight end they've faced thus far (Jason Witten) caught eight passes for 41 yards. Cameron is the Browns' best option, and will get his on Sunday.
Jeremy Kerley: No Leon Hall for the Bengals, and without Holmes, Kerley is the No. 1 option.
Tyler Eifert: Gang Green's biggest weakness on defense is defending the seam. Gronk exploited them last week, and I think we will see a lot of two tight-end sets from Cincy on Sunday. Eifert is the more athletic of the two, and has a lot of upside for this price.
Kendall Hunter: Gore missed practice on Wednesday. If you're looking for a grand slam, Hunter could deliver in garbage time against the Jags.
Miami: Opposing defenses have score double-digit points against the Patriots in three games thus far. The Atlanta game is an outlier.
New York Giants (+5.5) @ Philadelphia
After laying the points with the Eagles in this column last week, I may or may not have wagered real money on the Cowboys to win the game outright. Talk about waffling.
The return of Michael Vick is very meaningful for Philadelphia's offense, but their defense (29th in DVOA, 12.1 percent) is still among the worst in the league. The Giants are a very bad team — they are still 31st in total DVOA (-34,9 percent) and needed Josh Freeman to have one of the worst quarterback performances in the history of the NFL in order to secure their first win of the season — but Eli Manning is still capable of putting up points.
If this line was a field goal or less, I'd be on Philly, but 5.5 is far too high for this Eagles defense.
Fantasy: Hakeem Nicks is struggling and might be shown the door if Big Blue receives a decent trade offer for him. Conversely, Rueben Randle has grown into a viable fantasy option, scoring four touchdowns in the last three weeks.
Cleveland (+7.5) @ Kansas City
Miami (+6.5) @ New England
New York Jets (+6.5) @ Cincinnati
In 2013, teams getting between 6.5-7.5 points on the road are 10-7 ATS (58.8%). Since the merger, teams getting between 6.5-7.5 points on the road are 540-487-18 ATS (52.5%). This evidence isn't enough to blindly bet every underdog that falls into this category, but the Chiefs, Patriots, and Bengals all have enough flaws to make me want to take the points.
We all know that the Browns tote a terrible offense thanks to Brandon Weeden, but he will be replaced this week by veteran Jason Campbell, and the undefeated Chiefs are very average on offense, ranking 18th in DVOA. Kansas City's underwhelming performance last week against Houston is a perfect example of why they are a bad play when laying a touchdown or more — Alex Smith is never going to light the world on fire.
Tom Brady and Andy Dalton haven't been as useless as Smith, but they've certainly struggled as well. Brady currently ranks 29th in completion percentage, below guys like Glennon and Christian Ponder, while Dalton looks very mediocre when he's targeting players not named A.J. Green.
Barring defensive or special teams scores, I don't think any of these favorites will blow out their opponents.
Fantasy: As long as Santonio Holmes is sidelined, Jeremy Kerley is a solid WR3 option. He is the only reliable receiver on the team (sorry Stephen Hill) that actually knows the playbook, and Geno Smith trusts him.
Pittsburgh @ Oakland (+2.5)
Atlanta @ Arizona (-2.5)
I have far too much love for Terrelle Pryor and far too much hate for the Atlanta Falcons. I also don't believe in the resurgence of the 2013-14 Pittsburgh Steelers (18th in total DVOA, -3.7 percent), while I still believe in Arizona's defense (fifth in DVOA, -10 percent).
Fantasy: I have a very good feeling that Larry Fitzgerald is going to have a strong performance this week against the 32nd-ranked pass defense DVOA. After he does, sell high.
Green Bay (-9) @ Minnesota
Seattle (-10.5) @ St. Louis
Laying this many points is gross, but the Vikings and Rams are in quarterback hell. Brett Favre? Really, St. Louis? YOU'RE BETTER THAN THAT!
Last Week: 6-9
Season: 46-57-4
Bye: Chicago, Tennessee, Indianapolis, San Diego, Baltimore, Houstin