DraftKings Asks: How Will You Spend $100,000?
DraftKings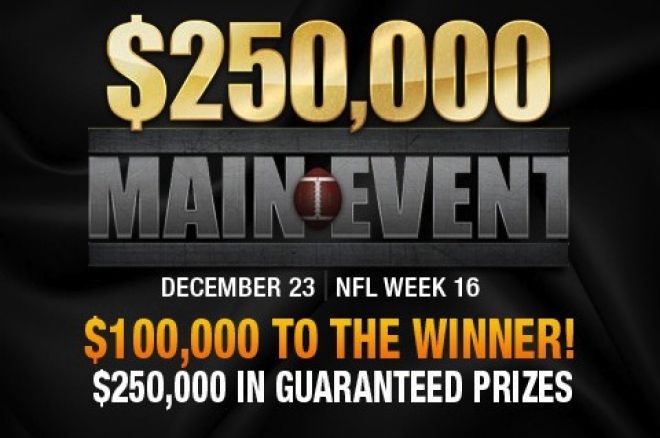 DraftKings has been brazenly making their presence felt for months, giving out well over $2,000,000 in prizes since the site's launch in April. The daily fantasy juggernaut wants to end this NFL season with a bang, and that's just what they're doing with the biggest one-week NFL contest ever offered. You can qualify into this event for just $1.
The DraftKings Main Event is on December 23rd. There will be $250,000 in total prizes, with a life-altering $100,000 going to the overall winner. Your chance to qualify for this event for only $1 is right now.
With this kind of cash on the line, DraftKings dares you to dream of life with an extra $100,000.
DraftKings is 100% legal. In 2006 the United States Federal Government specifically defined fantasy sports as a game of skill and therefore made it 100% legal to play. The earning potential is both unlimited and straightforward, and the payouts are instantaneous. DraftKings is venture capital backed and based in the USA. These guys have deep pockets and are absolutely committed to providing users the best gaming experience on the web. The legality, venture funds and segregation of user accounts from operating budgets ensure that under no circumstances will your money be at risk.
For high dollar guaranteed cash tournaments, DraftKings is the clear leader. Users can play for free (and still earn real money) or enter high stakes games for huge cash prizes. What's more, DraftKings is set up on a daily cycle, raising the level of excitement while reducing the player's risk.
Simply visit DraftKings, select members of your team, and register to play. College and pro football, along with pro basketball, are currently live on the site. Each player has a cost value, and your goal is to draft the best fantasy team possible while staying under the universal $50,000 cap. Once the games start, DraftKings has easy-to-follow live scoring so you can easily follow your players, watch your team accrue points, and see where you land by contest's end. If you win, you're paid out—it's that simple. DraftKings is proud of its industry-leading payout process.
DRAFTKINGS HAS:
• The best-in-industry 100% First-time Deposit Bonus on deposits up to $600
• The granddaddy contest of them all, just a $1 entry: Qualify NOW for the $250,000 Main Event with the top winner earning $100,000 in cold hard cash
• Every week there's also a $12,000 NFL contest
• The largest weekly NFL Freeroll which pays out $1,000
• And for those who love hoops, DraftKings' Steps Tournaments fit the bill. Where else can you easily turn $2 into $1,000?
No need to worry about commitments—DraftKings understands you already have enough of those in life that you need to honor. With DraftKings, all options are at your fingertips. You can play once, you can play once a week, or you can play every day.
So, if you love sports and earning cash, why not put your skills to work? What do you have to lose?
Click here to build your team. $100,000 is within your reach!
*Advertorial