Sports Trivia: Win New $2,000 Computer & Poker Lessons from Jonathan Little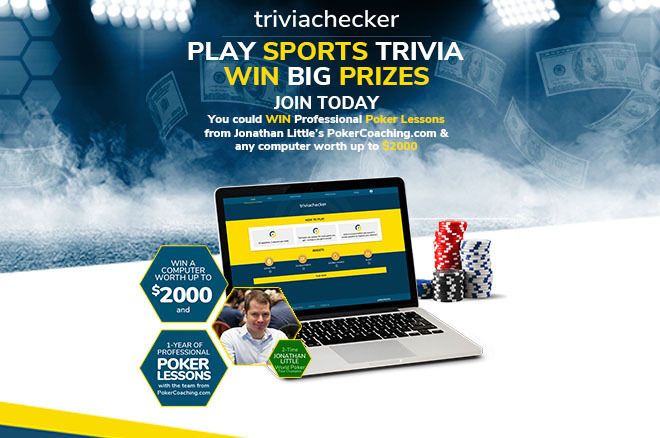 Table Of Contents
Are you a sports nut that wants to win professional poker lessons from Jonathan Little's PokerCoaching.com as well as a new computer worth up to $2,000? If so, Oddschecker is giving you the opportunity just by answering sports trivia!
Test your sports knowledge in our free-to-play game, which is opened to US residents age 21 and over, for a chance to win a year's worth of poker lessons from Global Poker Award winner Jonathan Little, who was recently deemed "Poker Personality of the Year." That's right, the winner of the competition will be granted access to PokerCoaching.com's Premium Membership for a full year.
In addition, whoever tops the leaderboard at the end of May will win an incredible prize package – a computer of your choice worth up to $2,000.
The trivia game is available now through May 31. The individual with the highest score on the free-to-play "Triviachecker" game will be deemed the winner. Click here for full terms and conditions.
Click here to play the trivia game today!
How to Play
Once you're logged in you will be presented 10 multiple-choice questions regarding the NBA, NFL, NHL, and MLB. You'll have three chances per week to play the trivia game. The faster your answer the more points you get, provided you get the correct answer, and you can also increase points by clicking on a "Boost" before you answer a certain question.
Boosts are like "Lifelines" that you might see on Who Wants to Be a Millionaire. Each offers unique advantages and can only be used once:
Extra Time – click on this and receive an extra 10 seconds to think about your answer.
Double Points – Confident you know the right answer? If so, use this boost to get double points when you answer correctly.
Double Chance – Not sure of an answer? Use this boost to get to chances at it instead of one.
Blast – This is essentially a freebie. When you're stumped, use this boost to automatically be given the correct answer.
Take Your Poker Game to the Next Level
Two-time World Poker Tour champ Jonathan Little has established himself as one of the most successful poker coaches in the world. He's written numerous books and has established PokerCoaching.com, an industry-leading online training portal.
He offers a "Free Membership" perfect for those looking to get their feet wet, and also a "Standard Membership" at $39/month for those looking to take their game to the next level. However, for those who want to fully immerse themselves, we highly recommend the tier above that.
Here's a look at what you can expect from the Premium Membership on PokerCoaching.com, which has a $99/month value:
650+ Hand Quizzes
45+ Challenge Webinars
65+ Poker Training Courses
130+ Video Classes
Preflop Charts for 100BB, 25BB & 15BB
15+ NEW Hand Quizzes every month
A LIVE Challenge Webinar every month
15+ Coaching Webinars
2 LIVE Coaching Webinars every month
2 NEW Video Classes every month
BONUS: Cash Game Masterclass
In addition to Little, PokerCoaching.com is home to coaches Jonathan Jaffe, Faraz Jaka, Matt Affleck, Tristan Wade, Michael Acevedo, Lexy Gavin, Alex Fitzgerald, and Evan Jarvis.
"In my first week of studying at PokerCoaching.com, I became aware of 3-5 very impactful leaks in my game," student Rick Fleshman said. "My opening ranges were far too wide, I was firing too many barrels against calling stations and a few more … I am amazed at how my game has changed after just 5 weeks."
He added: "This entire body of work put together by Jonathan Little and his team is perfect for recreational players like me who are excited to put in a $100 buy in and cash with $230!"
Sign up and log in to play here.
Click here to play the trivia game today!