[REVIEW] Charlie Carrel's Poker Masterclass
While plenty of poker training courses feature a way to build from knowing very little about the game to becoming a winning player, few training programs can boast that their teacher is a millionaire poker superstar who at 25 years old has already had a lasting impact on the game of poker in general. But then, Charlie Carrel is no ordinary teacher.
Charlie Carrel's Resume
One of the most phenomenal young talents in the game, Carrel is the perfect example of the honest, open and progressive poker player who turned high-end mathematical knowledge and a desire to improve every aspect of his game into an extremely profitable way of playing poker at the highest level. To date, Carrel has booked $7 million in live tournament winnings alone. His online profitability is a legend among his fellow players, too. In short, Carrel has crushed the game very early into his adult life, and he's now passing on some of the secrets behind his rapid rise up the ranks.
While he's begun to offer a large range of training to his many fans, Carrel still crushes at any limits, having conquered high stakes in Monte Carlo and he developed a Twitch following built around his recent online success, too.
What and How You'll Learn
Carrel's masterclass lasts 10 hours, which we found to be the perfect length of time to take in information in bitesize chunks (each hour or so had us making notes and inspired to keep playing to develop some of the tricks of Carrel's trade). At $249, the package is cheaper than a lot of training programs on the market, but offers a lot more than most, with a huge range of skills defined and explained with passion and mastery from someone who is as gifted at passing on information as they clearly have been at gathering it.
Carrel doesn't simply lecture you on the nuances of how he was able to parlay two original $15 buy-ins on PokerStars up into the tens of thousands of dollars in his first year, or how he's developed that since. He does a Q&A session, he covers meditation, live play, and walks you through sessions he played himself, and sessions by students which he reviews live on call with them, ranging from 2nl through 25nl sessions with some special guests along the way.
Here are just some of the skills you'll be able to pick up by following Carrel's step-by-step instructions at moving from a micro player to a major danger, from 2NL right up to 25NL. These aren't just strategically explained theories, but genuine practical tips that you can apply while learning, which we really enjoyed doing.
The subjects below are just some of the many training topics for the beginning poker player that really help.
How to Beat 2NL, 5NL and 10NL-25NL
Opening range selection
How to raise blind vs. blind
When to call raises in or out of position
Bet sizing
When to build big pots and when to keep them small
As you progress through the levels of Carrel's class, you'll learn some of the nuances that have made him his name, and can do the same for you. He breaks down how to bet smarter at 5NL in a way that makes complete sense, and it's his way of striking the similarities between the limits as well as the differences that we really thought showed how this advanced knowledge is worth the price.
At the higher limits, Carrel talks about betting lines and sizing in more detail and the best preparation you can make both physically and mentally. Some of it is geared towards becoming a professional poker player, but even if you're a recreational player who wants to win more often, this class is a great way of giving yourself the best chance of doing so in the shortest time.
Charlie Carrel's Masterclass really does have some great ways of speeding through the levels and working on your game in a way that you can quantify along the way, not just by the results, which will improve over time, but how you feel about your game. Carrel's open nature and honesty about both the mistakes he made and ones he can stop you making is infectious - you find yourself accessing your leaks quickly and having a desire to stop them that cuts through that repression we all felt the first time someone else pointed them out. Carrel pulls you towards a positive way of thinking really well throughout this masterclass.
As well as the course, Carrel also shares a lot of different videos via YouTube and of course, you can follow him on Twitch where he often plays online.
Testimonials
"Charlie Carrel's Masterclass is probably the most effective way to turn a losing into a winning player. The strategies are easy to understand and are proven to be effective. It gives you all the knowledge to start crushing the low and mid stakes because it's focused on the most important topic of poker: playing deepstacked.
In a time where the amount of available information is often overwhelming and misleading for beginners as well as low/midstakes grinders, Charlie's Masterclass not only gives you insights of one the worlds best Poker Pros, but shows you how to develop the right thought process and mindset to start crushing right away."
RyderRock
---
"Having been coached by Charlie for over a year, being involved in the Masterclass was immensely fun and rewarding. I've rewatched it numerous times and always find new nuggets of information to apply to my game through Charlie's dynamic coaching style."
Bunnytrickz7
---
Verdict
Much of what Charlie Carrel teaches is a little like a really good movie - you learn a lot along the way, then as the answers are revealed throughout the action that you're watching, you say - often out loud - "Of course!"
Carrel's ability to control his poker destiny is perhaps the best lesson of all to come out of the masterclass and the practical ways he helps you adopt some of those winning patterns is really what sets him apart from the competition. Plenty of training programs can help you adapt your game, but Charlie Carrel has always aspired for the highest level, both in poker and in life. His teaching methods help you to change your mentality, strategy, and poker patterns so that you look at your game in a new light. Consider it a reboot for any player who has gone astray into bad habits and a full reprogramming for anyone looking for a teacher who will keep you on a positive and profitable path.
Available for $249.99, Charlie Carrel's masterclass might be the best value buy-in you'll make this year.
Teaser
Rumor has it, there's more on the way...
"Charlie is planning on doing a new masterclass for low stake SnGs and MTTs, and recently I got to get a taster of this with 3 days of coaching from him. A few days later I came 3rd in the Mini Million for $7.8k. This just shows how incredible his coaching style and input can be; I went from having hardly ever played MTTs, to feeling really confident and energized in having an edge on those fields. Beyond anything that deep run and seeing how much I had taken on of what Charlie taught me was just the most fun ever."
Bunnytrickz7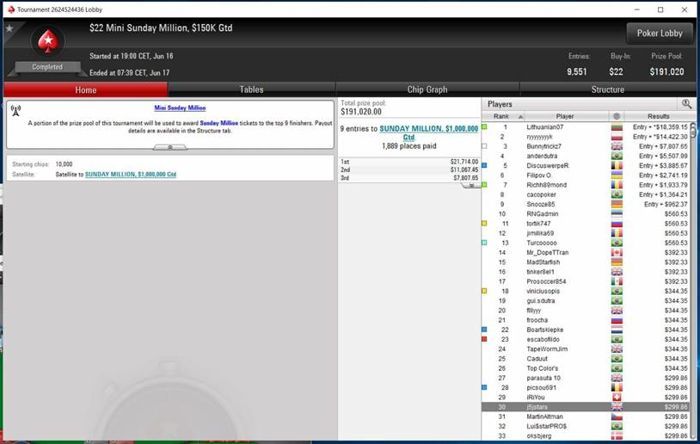 * Sponsored content by Gripsed Poker