Stay Stacked: Sophisticated Travel with the Biaggi Contempo Carry-On Bag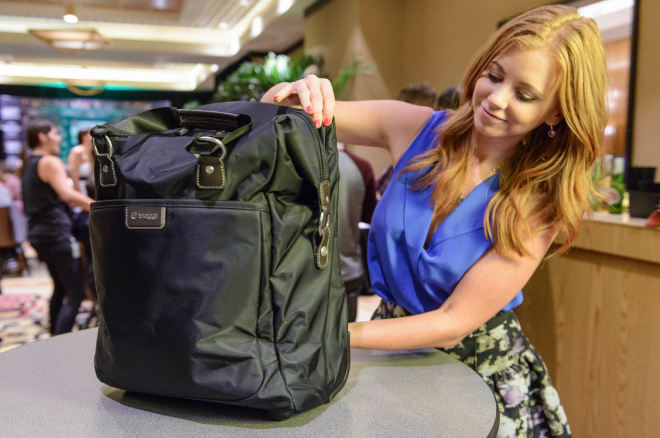 As a company that has its employees travel a lot, we at the PokerNews offices have had our fair share of trial and error with a lot of luggage on the market. From duffel bags to back packs, and carry-ons to large upright rollers, we've seen it all. One of the things that has always come up in water-cooler conversations is the bothersome nature surrounding the lack of flexibility of these bags and finding something that fits functionality and the style we'm looking for. Most are big, bulky, and don't adequately fit in the places you need them to, like those overhead bins on an airplane. Others have too much going on — too many pockets, attachments, straps, and the like.
Enter the Biaggi Contempo carry-on bag, as see on the hit TV show Shark Tank. When we saw it, we wanted one, if not for anything more than to try it out. The bag looked very, very cool, yet it was simple and seemed to have a lot of perfect parts. When we had a chance to check the product out at the World Poker Tour Tournament of Champions, we only fell in love with it more.
The first thing that sticks out is the quality and appearance from the outside. The Biaggi Contempo carry-on comes in at about $150, and it's worth it. It's sleek, fashionable, and doesn't have a lot of bells and whistles that make it look a bit too jazzy. Plus, it's extremely lightweight, but not in the sense that it doesn't feel it would be durable. It's got what I call "good product weight" to it — it's light enough to make it easy to travel with, but doesn't feel like durability would be jeopardized.
When you look inside, the Biaggi Contempo is very spacious for a carry-on bag. There's a big main compartment to hold the bulk of your goods and easy fit things like a laptop, some clothes, and maybe a pair of shoes. Then there's a few smaller compartments for storing various items like a laptop charger, some headphones, your makeup, a few pens and some paper, or even a book or two.
Like all Biaggi bags, the Contempo carry-on has the ability to be collapsed down to 50 percent the size. This is great for storage and it'll tuck away nicely in a space that a normal piece of luggage wouldn't fit. The bag has rollers, an extendable handle for easy transport that is able to be hidden when not in use, and hand straps in case you'd like to carry it places.
All in all, I was very happy with the short test run I had of the Biaggi Contempto carry-on. I look forward to purchasing one for my own travels.
For those looking to do the same, head to www.Biaggi.com and use the promo code WPT30 for a 30-percent site-wide discount.
Want to stay atop all the latest in the poker world? If so, make sure to get PokerNews updates on your social media outlets. Follow us on Twitter and find us on both Facebook and Google+!