Review: Poker Notes Live App Gives Players Information Edge at the Tables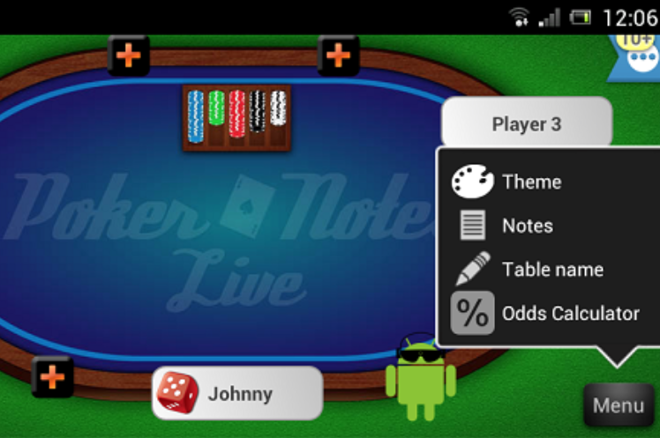 Poker is — the saying goes — not just a game of cards played by people, but also a game of people played with cards. Successful players well understand this truth, having learned that being able to accumulate and apply information about opponents' playing styles often means the difference between winning and losing.
Having a photographic memory can help in this effort, as might pen and paper, but most of us can't remember every opponent against whom we play, nor do many care that much to try to chronicle their thoughts via eye-catching scribbles while at the table. Enter the Poker Notes Live app for iOS and Android, an extremely handy — and inconspicuous — method for taking notes on opponents while at the table.
First introduced a year-and-a-half ago, the Poker Notes Live app features a user-friendly interface and design for keeping a record of opponents' playing styles and patterns, giving users an edge at the tables that more than pays for its inexpensive price.
Using Poker Notes Live
As the app's name suggests, Poker Notes Live provides poker players a relatively simple method for taking notes on opponents during live sessions. The design and functionality both recall tools commonly available to online players for note-taking and categorizing players, and thanks to a relatively intuitive interface it doesn't take very long to figure out how to start recording your thoughts and impressions.
Upon opening the app the user is greeted with an overhead image of a poker table surrounded by empty seats, with options available to make the table six-, eight-, nine-, or 10-handed. The user first taps his or her own seat, then can start tapping other seats where opponents are located to begin the note-taking process.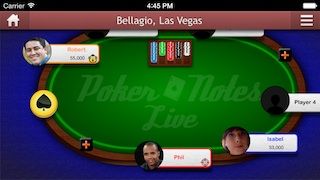 Once you've set a player down in a seat, tap again to begin entering further information about your opponent. You can note the player's stack size and when ready can tag the player's overall style according to common labels ("ABC player," "Fish," "Loose-aggressive," "Maniac," "Rock," etc.). You can also create your own labels, if you like. You can enter a name or nickname for the player, and with the iOS version there's even a way to add a picture or image as an avatar, just like online.
From there you can additionally type notes on separate pages designated preflop, postflop, and general, jotting down quick hand histories or other significant comments. The preflop and postflop pages suggest the app is primarily aimed at hold'em and Omaha players, although those who play stud or other games could ignore the page titles and take notes however they wish. There's also a "profile" page where you can use a slider to rate players' overall skills, percentage of hands played, preflop aggression, and postflop aggression.
When players come and go from the table, you can easily remove them and add new ones, and if anyone changes seats, you can quickly move them the app with a couple of taps. You can additionally take notes on the entire table, as well as keep track of your buy-ins, how much you cash out for, and even tips.
All of the information that you enter is automatically saved by the app and can be accessed again later, with every player for whom you've taken a note organized into an alphabetical list. Find yourself at a table with the same player you played with a week ago? It's easy to set that player right back down at a newly created table and start adding to your previous notes.
Getting the Most Out of Poker Notes Live
One immediately obvious positive of Poker Notes Live is its uncluttered design. Users aren't forced to negotiate several steps to enter new players and start tagging and taking notes about them — it literally only takes a couple of taps to begin recording your thoughts.
The design also allows for different varieties of note-taking to suit the many different ways players record information about opponents. You can stick with simple tags and categories, or jot down as many notes about players as you like. Players who prefer to do more than simply tally wins and losses but record further thoughts about their own play can do so using the table notes option, then later can scroll back through their session history to read what would then amount to an ongoing poker diary.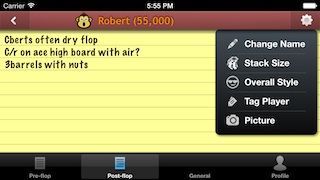 Indeed, while providing a hassle-free way to record and organize notes about opponents is the app's primary purpose, Poker Notes Live efficiently doubles as a record-keeping app and would forgo the need to keep track of such information separately (or to shop around for a separate stand-alone app for doing so).
Poker Notes Live would likely be of greatest value to players who frequent certain poker rooms on a regular basis and repeatedly encounter the same opponents. Anyone can benefit from it, however, given the way the app helpfully encourages users to concentrate more intently on what their opponents are doing. Even within a single session, the act of taking a note on a player helps commit that information more firmly to memory, thus giving players that much more knowledge when deciding how to play against that player in a subsequent hand.
Poker Notes Live is optimized for smart phones and tablets and as mentioned runs on both iOS and Android. It's 100-percent ad-free (very nice), and available in nine different languages. The free version introduces users to the app's functionality though isn't really suitable for much more than a preview. Meanwhile, the premium version enables all of the app's best features, including saving notes and being able to import/export databases as well as email notes to yourself. You can try out the free version to get a sense for the app's look and feel, but we recommend the premium version, especially with an inexpensive price of just $4.99.
Conclusion
Anyone familiar with live poker well knows how much attention players tend to pay to their mobile devices while at the tables. The Poker Notes Live app takes advantage of this trend by giving players a discreet way to record information about their opponents while appearing as though they are simply texting someone or checking Facebook. Not only that, the app helps users gain a further edge over opponents who aren't paying so much attention to other players at the table — that is, those who really are texting or tweeting their friends!
Poker Notes Live (Free) and PokerNotes Live (Premium) are both available for download in the iOS App Store. Meanwhile Android users can visit Google Play to download either the Android Free or Android Premium versions.
Want to stay atop all the latest in the poker world? If so, make sure to get PokerNews updates on your social media outlets. Follow us on Twitter and find us on both Facebook and Google+!