Hold'em with Holloway, Vol. 126: Importance of Home Games in the Poker Ecosystem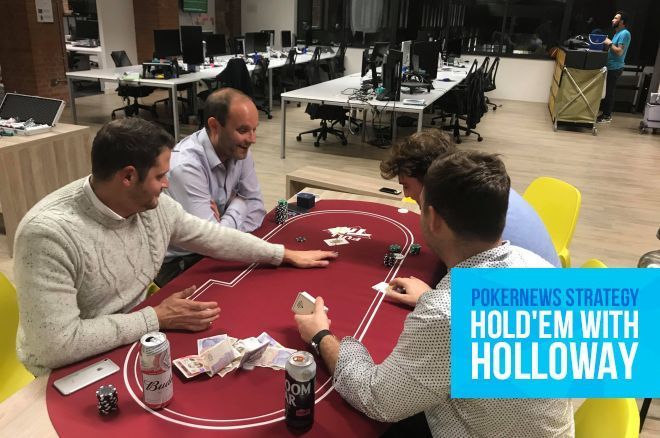 Table Of Contents
When it comes to poker, I tend to spend most of my time in casinos. Either I'm live reporting a tournament for PokerNews or I'm grinding a cash game or tournament. As a result, I've been missing out on competing on another front — home games.
Last week I was reminded not only how fun home games can be, but also how important they are to the poker ecosystem. You see, I had to travel to London for two days of work meetings at the Oddschecker office. (PokerNews was put under their umbrella when iBus Media merged with them to form Oddchecker Global Media.) While there, a home game was organized and took place in the office.
It was just a £20 buy-in and we had nine of us. With some rebuys — including three by yours truly — we wound up with 16 total entries for a £320 prize pool. Of that, the winner would receive £230, the runner-up £70, and third place a £20 buy-in back.
Getting Schooled by the Boss
Fresh off having won the inaugural Poker Industry Championship, taking down the Oddschecker Office Championship seemed like the next logical step. I wanted that notch in my belt, but it became pretty apparent that wasn't going happen.
I was three bullets deep and never really managed to build a stack. Meanwhile, my colleagues were raking in pot after pot. Still, I hung around and made it to four-handed play as the short stack. That is when Oddschecker Global Media CEO Toby Bentall and PokerNews Head of Live Reporting Europe Yori Epskamp played a big pot that saw the former eliminate the latter.
Just like that I was in the money, though I needed take at least second to turn a profit. I stole a few blinds before getting my short stack in with king-jack against ace-six. I failed to find paint and had to settle for third place. Meanwhile, Bentall went on to win it and show us all why he's the boss!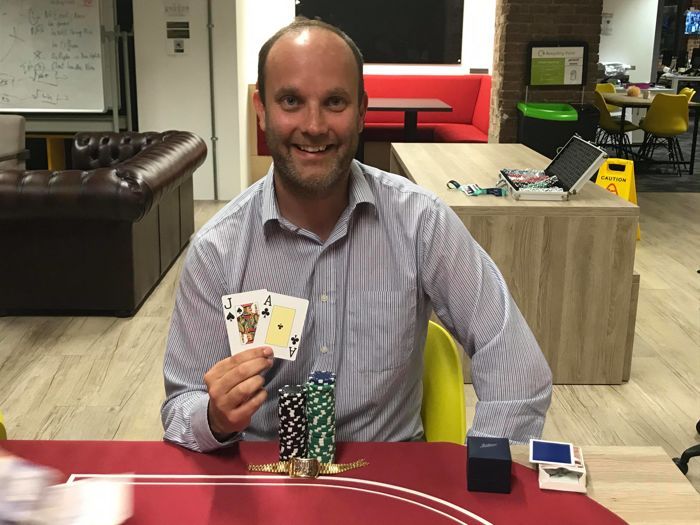 The Importance of Poker Home Games
While I didn't win, I was reminded just how fun a home game can be. There were the traditional pizza and beer, but beyond that, it was the camaraderie I really enjoyed. It's a much more intimate and enjoyable experience to play the game against friends and colleagues for more or less meaningless stakes than against strangers in some faraway casino.
"For many of us, home games ultimately led us to playing at a casino, becoming the first step in our poker journeys."
Not only that, I recognized the importance of games like the one we played. That's because out of the entire final table only a third of us were really familiar with the ins and outs of poker. The rest were Oddschecker staff more aligned with the sports betting side of the business, so the office game was their chance to learn poker.
For many of us, home games ultimately led us to playing at a casino, becoming the first step in our poker journeys. While many of the guys I was playing with might not ever play outside the office, there is the chance some of them might be inspired to continue their poker experience by firing up an online client, paying a visit to a local cardroom like The Vic, or maybe one day even making it out to the World Series of Poker!
It's easy to take playing poker for granted. I've done it for so long that I lost sight of just how important home games are to the entire poker ecosystem. It was great having that reminder. Not only that, it inspired me to return to the United States and organize a home game of my own. Just this past weekend three of my friends and I ordered some pizza, cracked a beer, and I taught them how to play Taiwanese for $0.25 a point. They already want to play again!
In my next Hold'em with Holloway column, I plan to highlight some hands from the aforementioned Poker Industry Championship.
Executive Editor US, PokerNews Podcast co-host & 2013 WSOP Bracelet Winner.