Hold'em with Holloway, Vol. 131: How New Players Frustrated Me on WPT at Sea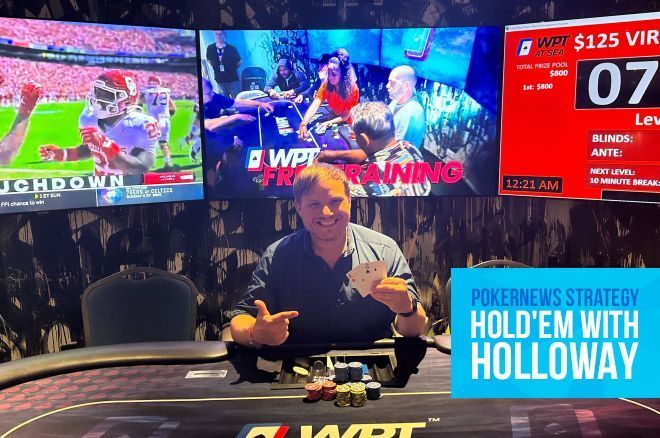 It's been nearly three years since I last penned a Hold'em with Holloway "strategy" article, but I am back thanks to some recent poker action I played on the high seas and felt compelled to write about.
Back in October, I had the opportunity to take a cruise on the Virgin Voyages ship Scarlet Lady, which departs out of Miami and sails about the Caribbean. As if taking a leisurely cruise wasn't reason enough, I was keen to check out WPT at Sea, the first permanent poker room on the high seas, one that happens to be sponsored by the renowned World Poker Tour (WPT).
WPT Voyage vs. WPT at Sea – What's the Difference? Here's Everything You Need to Know
The room features eight poker tables and is manned by an experienced crew of industry professionals and dealers. There are tournaments every day, as well as cash games and other special events.
One of my favorite things that the room does is cater to new players by welcoming them into the room, explain what's going on, and even offering free training. As a result, the cruise I was on had a large number of players who've never played poker before.
With decades of experience under my belt, and a World Series of Poker (WSOP) gold bracelet around my wrist, you'd think I'd run over my opponents. Unfortunately, that wasn't the case. In fact, I found myself frustrated time and again, mainly because I was left conflicted. Let me explain why.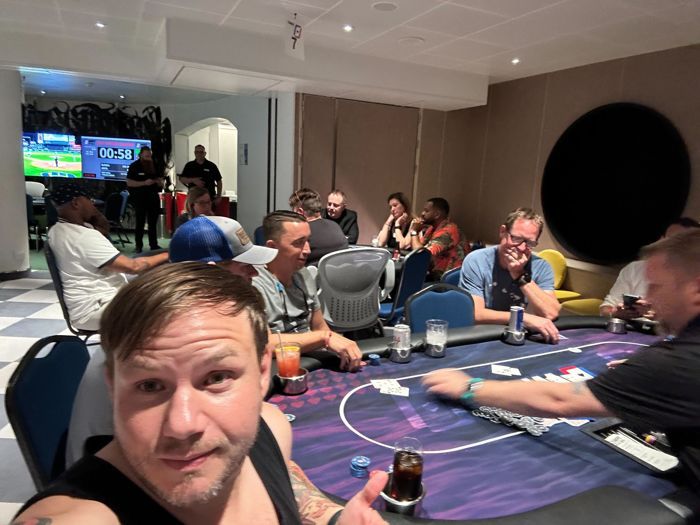 In one hand at a $1/$2 no-limit hold'em table, a bunch of players limped so I did the same from the button holding the 8♣7♦. The flop fell 7♠4♥7♥ to give me trip sevens, and action checked to me. I bet $5 and only the player in the cutoff, who was a new, inexperienced player, made the call to see the 10♥ turn.
He led out for $5 and I opted just to call. I figured there was a good chance he called my flop bet with a flush draw, and if so, the turn card gave it to him. My concern over a flush was alleviated though when the 4♣ paired the board on the river to improve me to a full house, sevens full of fours.
My opponent bet $10 and I wanted to make some money. If he had a flush, I didn't think he would fold, so I raised to $50. He just called and I tabled my hand. Much to my surprise, he rolled over the 10♦7♣ for a bigger full house, sevens full of tens.
There were only three hands that could beat me, and that was one of them (the other two were either pocket fours or tens). I was left a bit shell shocked as I thought for sure I had a winner hand. So, why was I conflicted? Well, it stung not to win the hand, but I guess I was also lucky that my inexperienced opponent didn't reraise me, as I surely would've lost more.
You can never tell what an inexperienced player is going to do, so if you can't beat them, sometimes you've just got to count your blessings that you didn't lose more! The above hand was just one of many similar ones that literally left me shaking my head. I just couldn't beat the cash game on board.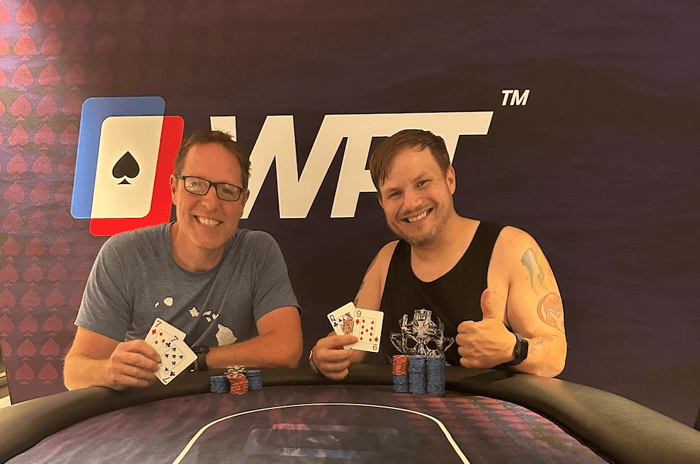 Luckily for me, while I lost money playing cash – about $600 by my count – I was fortunate enough to win even more playing onboard tournaments. On the first night, I did a heads-up chop in the $60 Nightly for a few hundred bucks, and then on the final night I won the $125 Bounty tournament, which only had nine players but was winner-take-all (aside from the bounties). I was able to win that for close to $1,000 thanks to a bunch of bounties, so all in all in proved to be a profitable trip.
I'll definitely be taking another Virgin Voyages cruise and have every intention of returning to the WPT at Sea Poker Room, I just need to go in with a better game plan on how to contend with those cash game players!
Check out the WPT at Sea Poker Room review here on PokerNews!
What is WPT at Sea?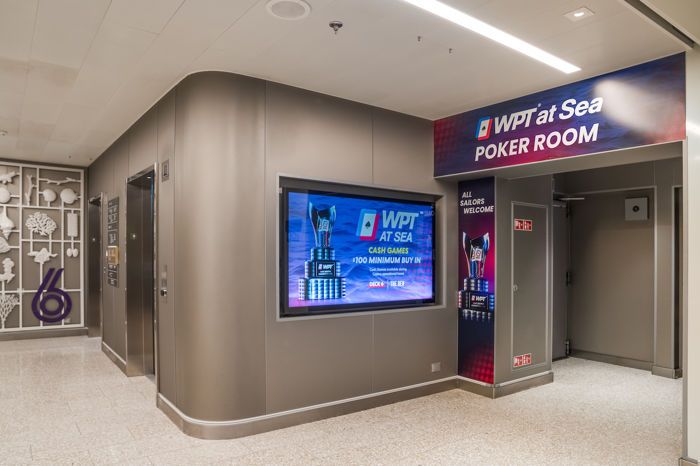 Not to be confused with WPT Voyage, WPT at Sea is an actual poker room on the Scarlet Lady ship (and soon-to-be other Virgin Voyages). That poker room is operating on the high seas right now as you read this.
"After witnessing the magic of cruise-line poker with Virgin Voyages last season, we instantly sought to establish a permanent fixture," said WPT CEO Adam Pliska. "Scarlet Lady provides the perfect residence for WPT at Sea, which will bring the WPT poker experience to the high seas."
The room features eight custom poker tables staffed with professional dealers. For cash games, the rake is a reasonable 10% up to $10, which is much lower than other cruises. As for tournaments, buy-ins on a typical sailing range from $80-$320.
Recently, WPT at Sea has held a $240 buy-in Main Event, which awards a WPT prize package to a future sailing.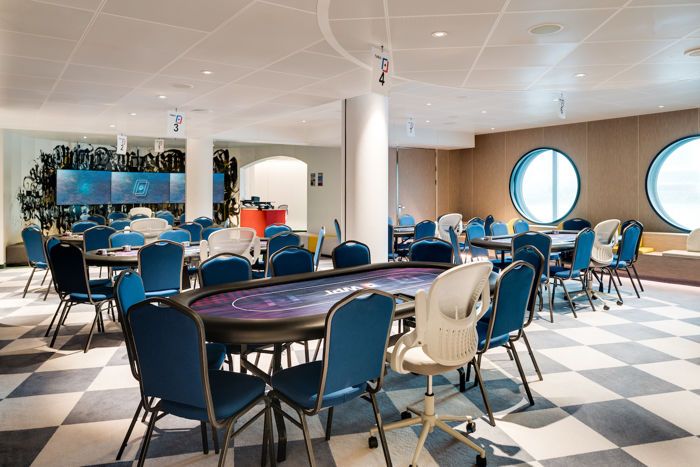 The room caters to players of all experience levels, from absolute beginner to seasoned pro. For the former, the staff holds beginner training courses on each sailing, and dealers also offer their services if 1:1 instruction is desired.
WPT at Sea goes wherever the ship does, meaning those who go for the poker will also get to experience new and exciting destinations. The room is closed when the ship is docked so sailors are incentivized to get off the ship and check things out. But fear not, when everyone is back on board it doesn't take long for cards to get back in the air.
Here are some other things to know about WPT at Sea:
The WPT at Sea poker room doesn't accept cash. Sailors handle all transactions via their wearable devices (all sailors have a bracelet they wear that allows them to be scanned at various outlets across the ship), meaning buy-ins can simply be charged to your account. Likewise, tournament winnings are credited to the account as well (you can cash out either at the casino cage or at the end of the cruise).
Private and meet-up games are allowed at WPT at Sea.
There is a casino area next door that features a wide variety of slot machines, roulette, craps, Blackjack, and other table games.
The WPT at Sea poker room has windows, so you can get a view of the ocean outside.
The poker room has its own set of private bathrooms.
Not only is there a bar located in the casino just outside the poker room, but drink serves are quick to serve the poker-playing sailors.
WPT at Sea offers up to 25% off and up to $600 in free drinks depending on the cruise, so be sure to inquire when you book.
WPT at Sea is very active on Instagram, which you can follow by clicking here.
WPT at Sea is taking reservations through the end of 2024. To learn more or book your cruise,visit wptatsea.com.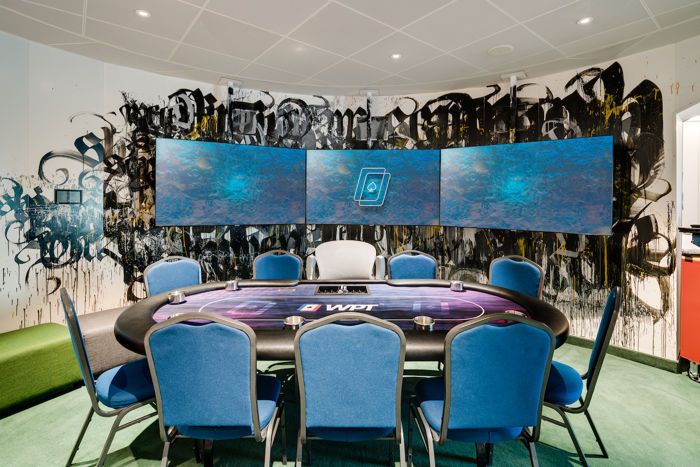 Executive Editor US, PokerNews Podcast co-host & 2013 WSOP Bracelet Winner.