Hold'em with Holloway, Vol. 122: Keith Heine Explains Why He Was Losing Either Way w/ Flopped Boat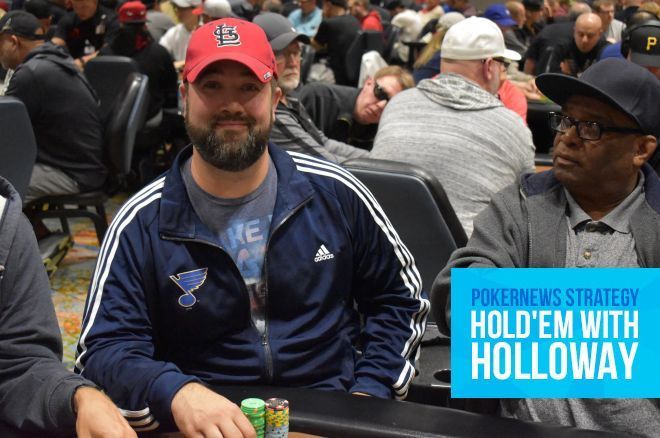 Earlier this month, the 2019 MSPT Michigan State Poker Championship at FireKeepers Casino proved to be a record-setting affair by attracting 1,615 entries over three flights. That made it the largest poker tournament in Michigan state history, as was the $1,565,066 prize pool it created.
It was also the first MSPT tournament PokerNews has live reported in several years. Having worked as the MSPT Media Director for three years, I was excited to be back and join the MSPT and PokerNews houses, so to speak. I got to see a lot of old friends over that weekend, and two of them actually clashed in an interesting hand.
"Honestly, I thought that would look weaker for me to lead out."
On Day 1b of the tournament, it was Level 10 (600/1,200/1,200) when Cody Brinn raised to 2,500 from the hijack and called after MSPT Meskwaki champ Keith Heine three-bet to 6,500 out of the small blind.
When the flop came down
, Heine down bet to 3,000.
"I bet out because I thought he had an ace," Heine told me later. "Honestly, I thought that would look weaker for me to lead out. I thought he'd raise when I bet out on the flop, but he didn't."
Brinn wound up just calling to see the
turn, which both players checked.
The
completed the board on the river and Heine checked once more. Brinn then put him to the test by moving all in and Heine called off the 6,000 he had behind.
Keith Heine:

Cody Brinn:
Heine had flopped queens full but Brinn had turned quads. A shell-shocked Heine wished the table good luck and then headed for the exit.
"The ace on the turn, I think I could've folded," Heine claimed. "I knew he had an ace but I also know he's a good enough player to just plow. It was such a cooler. I put him on exactly what he had, maybe a little better. I put him on a good ace. The problem in this hand, either way I'm losing."
"He checked behind the turn, which doesn't mean anything," Heine continued. "It makes it even more likely he had an ace. That's what made it so sick that I ended up having to call the river because I didn't have enough left. That's a great bet. I would've done the same thing. If he didn't have an ace it would've made sense. I know it sounds stupid, but he either has quads of garbage. It is what it is."
I felt Heine's pain in that he went from licking his chops thinking he was going to win a monster with a flopped full house to seeing the worst card in the deck peel off on the turn. His excitement then turned into gut-wrenching nausea when Brinn jammed the river.
Given the circumstance — namely Heine's lack of chips and Brinn's ability to bluff with air in a spot like this — calling off was the right move. However, as Heine pointed out, if he had more chips he probably would've found the fold button to live and fight another hand.
For more on Keith Heine be sure to follow him on Twitter at @keith_heine.
Executive Editor US, PokerNews Podcast co-host & 2013 WSOP Bracelet Winner.