Hold'em with Holloway, Vol. 124: Cracked Aces, Bad Play & Tilting on the High Seas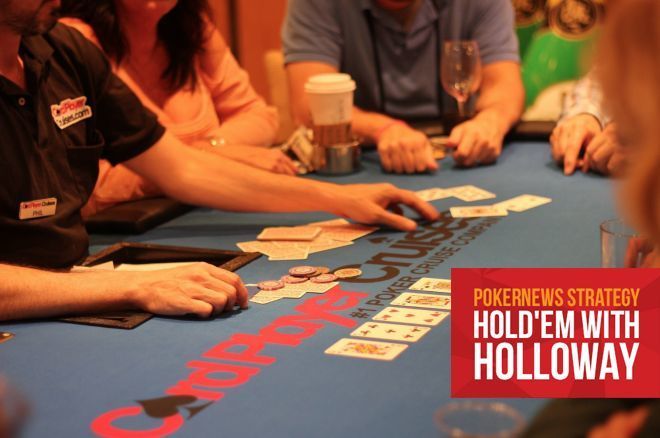 It's been a long time since I've had a vacation, and longer still since I went on a poker cruise. It was way back in 2012 when I last hit the high seas, which is why I was excited to join the RunGood Poker Series crew for a CardPlayer Cruise on Royal Caribbean. It's hard to go wrong with seven nights sailing through the Caribbean.
Making it all the better was the full slate of tournaments and a wide array of cash games. I'm happy to say I won a bit playing the latter in both $2/$5 no-limit hold'em and pot-limit Omaha, and for the former I had some success as well, cashing in all three tournaments I played.
"The hospitality was excellent and I really enjoyed the experience. I'll definitely be looking into future cruises."
In the $170 Pro Bounty, I took eighth for $450, and followed that with an 11th-place finish in the $200 Deepstack for $614. Finally, I min-cashed the $360 Main Event, placing 26th for $669. No life-changing scores — Blair Hinkle, Nick Burris, Papa Karn, and Jack Matsurra were the big winners — but it was still exciting to go deep and make the money, even though I probably shouldn't have in the Main (more on that below).
During my time on the Allure of the Seas, I played some hands that stuck with me. I thought it'd be worthwhile to share a few of them in this week's edition of Hold'em with Holloway.
Before I do, quick shout out to both the RGPS and CardPlayer Cruises teams. The hospitality was excellent and I really enjoyed the experience. I'll definitely be looking into future cruises — especially the next RGPS one scheduled for March 2021 — and highly recommend it to any players looking to mix poker with a vacation.
Hand #1 – Busting With Aces
My trip got off to a rough start when I busted a bullet in the $200 DeepStack after having my aces cracked. It happened in Level 4 (200/300/300) when I was in the big blind with around 7,000, or about half the starting stack. A player in middle position raised big to 1,100 and I looked down at
.
I feared by three-bet jamming I'd scare off my opponent, so instead I opted just to call with the plan of checking the flop, hoping my opponent would continue and I could check-raise all in. That's just how it played out on the
flop — I checked, he bet 1,500, and I moved in — and he wasted little time in calling with
for the nut-flush draw.
He hit it, too, after the dealer burned and turned the
to leave me drawing dead. Despite losing that hand, I was happy with how I played it given the stack sizes and positioning. I was able to get him to put in another bet on the flop, whereas if I shoved preflop and he folded, I'd have missed out on that value.
Hand #2 – What Was He Thinking?
This hand didn't involve me but rather occurred at my table between two other players. Nonetheless, it left a lasting impression. It was deep in the $170 Pro Bounty when a player got lucky to double-up after going all in preflop holding
against a player's
when a king spiked on the turn.
Not long after, the player who doubled to 25,500 raised under the gun to 10,500 in Level 12 (1,500/2,500/2,500). The player on the button then moved all in with what turned out to be
and the original raiser opted to call off with
-offsuit.
"WTF was he thinking?" I thought to myself. Seriously, he just got a lucky double to give himself new life and here he is calling off with ace-ten when he knows he's behind. His best hope it to be in a coinflip situation against a small pocket pair, but it's more likely his opponent has him crushed with either a big pocket pair or superior ace.
If you're going to play ace-ten in this spot, why not raise to 5,000 or 6,000? If an opponent jams, you can easily fold and lose the minimum. It boggled my mind and showed me there are still plenty of soft spots in tournament poker.
For those wondering, the board ran out
and that player dusted off his stack.
Hand #3 – Never Been So Tilted
The closest I came to a big payday on the ship was in the $200 Deepstack. Just 11 of 206 runners remained in Level 18 (6,000/12,000/12,000) and I was extremely short in the big blind with around 70,000. Papa Karn, who would go on to win the tournament, raised to 25,000 from early position and an older lady called from middle position.
It folded around to me, and after looking down at
I had a decision to make. There was 74,000 in the pot and I needed to call an additional 13,000 (barely a min-raise) to see a flop. However, that 13K represented a good portion of my stack.
I ultimately decided to see a flop with a stop-and-go plan, which is to shove any flop that I hit. I was delighted to see the flop fall
to give me the spade flush draw, so of course I moved in my last 45,000. Papa Karn quickly folded and the older lady, who didn't have many more chips than me, said: "I'm tired, I'm going to call."
She then called and showed
. Wait, what? I'd have preferred to just take down the pot given I was on a draw, but then again against her hand I had a ton of outs — any spade, queen or three. It was another hand that didn't make any sense to me, and maybe that's why it was so painful after both the turn and river bricked.
Just like that, I was out of the tournament one spot shy of the final table. I was shell-shocked she put her chips in on that flop, and the knife was twisted as I walked away and heard her tell her neighbor, "beginner's luck."
Hand #4 – Squeaking Into the Money
The $360 Main Event was slated to pay out the top 27 players, and with 30 remaining I thought my goose was cooked. The blinds were 2,500/5,000/5,000 when a player opened for 15,000 from middle position. I was in late position and three-bet jammed for 77,000 holding
.
Action folded back around to the original raiser and he hemmed and hawed before calling off for 71,000 total with
. The fishhooks held and I was left with a single big blind. It looked as if I was destined to fall short of the money, but the poker gods had other ideas.
I managed to quadruple up shortly thereafter with king-queen on a queen-high board, and another double gave me 10 bigs with which to work. A rather generous lady in the small blind then gave me a couple of walks in the big, and that allowed me to sneak into the money.
It wasn't the chip-and-a-chair winner story I'd hoped for, but it sure felt good pocketing that $669 payday knowing I fought hard to survive.
For a look at upcoming poker cruises, check out the schedule on cardplayercruises.com.
Check Out Oddschecker US today!