Pigskin Diaries Presented by DraftKings Week 14: The Power of the 12th Man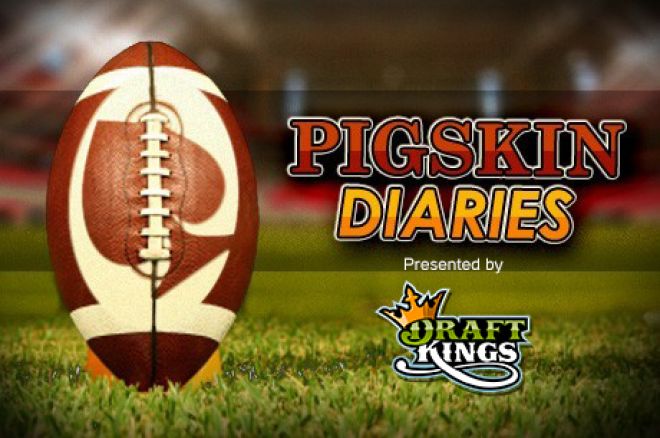 After the Seattle Seahawks dominated the New Orleans Saints on Monday Night Football, cementing the best record in football (11-1) and giving them a three-game lead for the No. 1 seed in the NFC (they beat both the Saints and Panthers head-to-head), the national debate this week focused on who can travel to the Pacific Northwest and slay the 12th Man.
In two seasons as the Seahawks starting quarterback, Russell Wilson is a perfect 14-0. Since the construction of CenturyLink Field in 2002, the Hawks are 65-29 (69.15 percent) in the regular season – 54-36-4 ATS (59.57 percent).
Seattle has played in six home playoff games at CenturyLink, and is 5-1 (4-2 ATS). In 2010 they defeated the aforementioned Saints 41-36 despite being 10-point underdogs, and in 2006 they defeated the Dallas Cowboys in the infamous "Tony Romo Dropped the Snap so He'll Forever be Known as a Choke Artist" game.
The following is a table includes Seattle's 17-week DVOA the five seasons they hosted home playoff games and their current DVOA in the 2013 NFL season, courtesy of Football Outsiders:
| Year | Record | Total DVOA | Rank |
| --- | --- | --- | --- |
| 2010 | 7-9 | -22.9% | 30th |
| 2007 | 10-6 | 14.7% | 9th |
| 2006 | 9-7 | -13.0% | 24th |
| 2005 | 13-3 | 28.4% | 3rd |
| 2004 | 9-7 | -2.9% | 15th |
| 2013 | 11-1 | 40.7% | 1st |
Yes, the Seahawks won the NFC West with a 7-9 record and the 30th ranked DVOA in the NFL. Insane.
In 2005, the Seahawks were the No. 1 seed in the NFC. In the Divisional Round of the playoffs, they hosted the Washington Redskins (ranked 7th in total DVOA, 21.4 percent) and won 20-10. In the NFC Championship game they played the Panthers (10th in total DVOA, 17.7 percent) and won 34-14.
In 2004, the only season they lost a playoff game, the St. Louis Rams defeated the Seahawks, despite ranking 31st in DVOA (-23.3 percent). The Rams, who were only four-point underdogs, were down 20-17 in the fourth quarter before Jeff Wilkins kicked a 27-yard field goal, and Marc Bulger and Cam Cleeland connected on a 17-yard touchdown pass with 2:16 remaining in the game. On the ensuing possession, Matt Hasselbeck marched Seattle down to the Rams five-yard line, but was unable to punch the ball into the end zone.
Since 2002, only four teams have more home wins that Seattle — New England (79), Baltimore (72), Indianapolis (70), and Denver (66). Green Bay has an equal amount of home wins at 65. Four of those teams have been led by some of the greatest quarterbacks of all time, while the Ravens have sustained home-field dominance with excellent defense.
In the playoffs, these five teams are only 23-14 (62.16 percent) at home, however. In a much smaller sample, Seattle is, again, 5-1 (83.33 percent).
The Seahawks have a home field advantage, and this is the best team they've had in 11 years. By the end of the season, it may be better than any other team from the last decade, with exception to the undefeated* 2007 New England Patriots.
*18-1
Right now, the betting odds for the Seahawks to reach the Super Bowl are 1-1. This isn't a good price, and I don't think you should bet on it, but if it moved to 2-1 or higher, then I would be all over it. I don't think any team in the NFL, much less the NFC that can travel to the Pacific Northwest and consistently outperform this Seahawks team.
Satellites for the Dec. 22 DraftKings.com Football Millionaire Grand Final are still running. The winner of this incredible event will take home $1 million of the $3.1 million prize pool, and you can qualify for as little as $2. Most of the regularly scheduled events, like the weekly $250,000 guarantee, also give away tickets to the Grand Final to the top finishers. If you're like me and are struggling with injuries in season-long leagues, or you're just looking for another sweat on Sunday, DraftKings is definitely the place to be.
As always, my picks include the number and all advanced statistics are courtesy of Football Outsiders.
Houston (-3) @ Jacksonville
If the NFL season ended today – sorry, this is the most annoying hypothetical phrase ever, and the NFL season does not end today – the Texans would have the first overall selection in the NFL draft. That means Jadeveon Clowney could potentially play alongside J.J. Watt on the same defensive line.
Somewhere in Indianapolis, Andrew Luck just tinkled in his pants.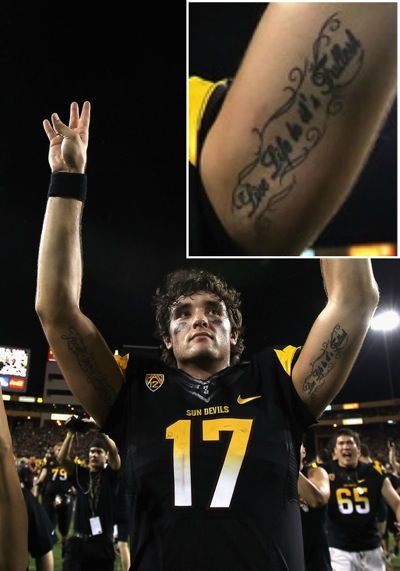 The good thing for Luck, and every other team in the AFC with pass protection issues, the Texans play the Jaguars on Thursday night, and their Week 16 tilt against the Denver Broncos could feature Brock Osweiler.
Quick aside, Osweiler (pictured left) has a tattoo on his left arm that reads "Live Life to it's Fullest." That's right, the sociology and political science major from Arizona State loves to live life to it is fullest! Here's my suggestion: don't get rid of the apostrophe, add a green squiggly line under it. That would be pretty #hip, right?
The Texans are on a 10-game losing streak, so it only seems right that we should lay points with them on the road. In all seriousness, despite winning back-to-back games on the road, including a game in Houston, the Jaguars are still dead last in total DVOA (-47.7 percent). Jacksonville is 2-9 ATS at home in their last 11 games, and the average spread in those games has been 7.36 points.
Houston ranks 30th in total DVOA, but they're still 24 percentage points better than Jacksonville. For a bit of perspective, 24 percentage points separate teams like Carolina and St. Louis, Dallas and Washington, and San Francisco and Tennessee.
Fantasy: Dennis Johnson doesn't appear to be "NFL ready," making Ben Tate a very strong RB2 candidate. Tate found the end zone three times last week, and the Jags give up the ninth-most points to opposing running backs in ESPN standard scoring leagues.
Cleveland (+10) @ New England
Tennessee (+12) @ Denver
In 2013, teams getting double-digit points are 12-8 ATS (60 percent). This includes the terrible Jaguars, who are an even 3-3 ATS.
The Patriots are 0-1 ATS as double-digit favorites at home, nearly losing to the New York Jets in September, and are 0-1 ATS as double-digit favorites on the road.
The Broncos are 2-2 ATS as double-digit favorites at home, and have not been favored by double-digits on the road this season.
We'll take the points.
Fantasy: I know it's the fantasy playoffs, and it might feel like you can't trust Wes Welker, but he's a very talented player on a very good team. Don't get cute. Start your studs.
Oakland @ New York Jets (-2.5)
Sharp bettors seem to favor the Jets in this game. I personally have no clue. I do know that Matt McGloin could be a better NFL quarterback that Geno Smith, but the Jets defense (still ranked ninth in DVOA at -7.4 percent) tends to give rookie quarterbacks nightmares.
If you're very degenerate, or have some kind of weird feel for this game, then go ahead and fire off a bet. Again, I have no clue.
Fantasy: The Jets remain the No. 1 ranked rush defense DVOA (-32.2 percent). Unless they're a stud, starting an opposing fantasy running back against them, especially during the fantasy playoffs, is a very bad idea.
DraftKings Value Plays
Each week in the Pigskin Diaries, I bring you 10 players who I think are undervalued in DraftKings. These players may not be the best at their position on a week-to-week basis, but because of their match up and their price this week, I think they're solid selections. Picking these value plays will save you money for other positions if you wish to purchase a few stud players.
As always, these players are ranked by price.
| Position | Player | Opponent | Salary |
| --- | --- | --- | --- |
| TE | Jimmy Graham | New Orleans | $7,700 |
| QB | Josh McCown | Dallas | $7,400 |
| QB | Joe Flacco | Minnesota | $7,000 |
| WR | Keenan Allen | New York Giants | $6,800 |
| WR | Wes Welker | Tennessee | $6,300 |
| RB | Steven Jackson | Green Bay | $6,200 |
| DST | Pittsburgh | Miami | $3,400 |
| WR | Justin Hunter | Denver | $3,200 |
| K | Mason Crosby | Atlanta | $3,100 |
| RB | Mike Tolbert | New Orleans | $3,000 |
Jimmy Graham: This selection is purely based upon principle. No tight end should ever be ranked higher than Graham, not even Gronk.
Josh McCown: McCown will start again for the Bears, and has the best weapons in all of football.
Joe Flacco: An "elite" quarterback against the league's 28th ranked pass defense DVOA (21.4 percent)? What more can you ask for?
Keenan Allen:
Wes Welker: There tends to be value in the cheapest of the three Denver receivers. This week, that's Welker.
Steven Jackson: Jackson looked like a serviceable running back last week, and this week he gets Green Bay's 30th-ranked defense DVOA (15.3 percent).
Pittsburgh: If you remove Geno's debacle last week, Miami gives up the sixth-most points to opposing fantasy defense in ESPN standard scoring leagus.
Justin Hunter: This week's Hail Mary is Hunter. If he had enough receptions to qualify, the rookie burner would be sixth in the NFL in yards per reception. He's a big play guy in a game where the Titans will need big plays.
Mason Crosby: Crosby is the only kicker averaging 10 points per game available at this price.
Mike Tolbert: DeAngelo Williams has been ruled out for the Saints game, and New Orleans ranks 22nd in run defense DVOA (-1.6 percent).
Indianapolis @ Cincinnati (-6)
Minnesota @ Baltimore (-7)
In 2013, home teams favored by at least six points but by no more than nine points are 18-13 ATS (58.06 percent). The reason I stopped this sample at nine isn't because I wanted to yield better results, but because nine is a key number like three, seven, and ten.
The Bengals have been ravaged with injuries, especially on defense, but thanks to great depth and even better coaching they've been able to climb to a record of 8-4 (7-4-1 ATS). They are a perfect 5-0 ATS at home.
The Colts are 3-2-1 ATS on the road, and two of their covers are against Jacksonville and Houston. This line should be a touchdown.
The Ravens are nearly perfect at home with a 5-1 record ATS. They failed to cover on Thanksgiving by a half point. The Vikings are an even 3-3 ATS on the road this season, but haven't won a single game away from the Hubert H. Humphrey Metrodome.
Can you say two-team tease?
Fantasy: Torrey Smith has scored a touchdown in three of the last four games, and the Vikings give up the fifth-most points to opposing wide receivers in ESPN standard scoring.
Atlanta @ Green Bay (-7)
This is assuming Aaron Rodgers plays. Rodgers practiced on Thursday, but it's still a big assumption. Most sites don't even have a spread posted for this game yet. Proceed with caution and do your research.
Fantasy: If Rodgers plays, all of the Packers skill position players will receive a significant bump. Jordy Nelson has remained a solid start throughout the Tolzien/Flynn experience, but even he should perform better with No. 12 back under center.
Kansas City (-3) @ Washington
This line stinks. In smells like year-old sardines glazed in pure gasoline. Why are the Chiefs only giving a field goal? Alex Smith has arguably played his three best games of the season, and Robert Griffin III doesn't exactly have a No. 3 receiver like Eric Decker to torment Marcus Cooper with.
In these spots I'm generally wary of picking the "obvious" team, but Washington (28th in total DVOA, -22.3 percent) is horrible.
Fantasy: RG3 has only thrown seven touchdowns in the last six weeks. If you're starting him in the fantasy playoffs, especially against the Chiefs, then you're in trouble.
Buffalo @ Tampa Bay (-2.5)
Detroit @ Philadelphia (-2.5)
It feels as if we're getting a half-point of value with these two home teams, so let's take it. Tampa Bay and Philadelphia have both improved as the season has progressed – the Eagles may even win the NFC East after starting out so poorly – while Detroit and Buffalo have both been consistently mediocre.
The Lions rank 13th in total DVOA at 3.5 percent, and have never been able to stay above double-digits. On Thanksgiving, against the Rodgers-less Packers, they looked like the Super Bowl contender they are on paper, but they just never seem to be able to string together multiple solid performances.
I stumbled upon a few film sessions that Philly head coach Chip Kelly does with Eagles TV. They are very interesting and show some of his schemes and coaching techniques. This one about "creating a sidewalk" on screen plays is particularly awesome, and the execution was flawless.
Fantasy: C.J. Spiller is a top-15 running back with top-five upside. The Bucs have a tough run defense (ninth, -14.2 percent), but who are you going to start over Spiller? Ray Rice? Frank Gore against Seattle?
Seattle @ San Francisco (-2.5)
Before I explain the Niners pick, here is some more love for the Hawks: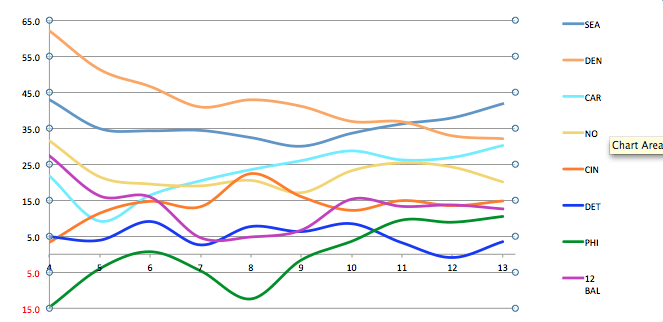 That's a graph of total DVOA from Week 4-13 (Week 4 is the first week where rankings are adjusted for opponents). I included the top four teams in DVOA – I believe this is the cutoff for "great" teams, and you can even make an argument for omitting New Orleans – three teams who I think could be "sneaky" in the playoffs, and the 2012 Baltimore Ravens.
I don't think you can really get anything out of including the defending Super Bowl champions, but it's interesting to see how similar they are to the Saints.
The Seahawks have been consistently great, while the Broncos, due to their historically awesome start and the regression of some of their opponents, have consistently trended down.
As for this game, laying less than a field goal is huge. Seattle is on a short week and a loss doesn't hurt them at all because San Francisco is 8-4, but the Niners desperately need a win. That isn't to say that the Seahawks aren't going to try, or are going to "give up" if they get behind, but rather the "do-or-die" mentality the Niners have is somewhat of an advantage. This line won't go higher than three, but I'm not sure it will dip below 2.5 either.
Fantasy: Vernon Davis is the only player that you can really trust on San Francisco, and even he is a liability. Still, at a starts-and-scrubs position like tight end, there are very few players you can bench Davis for.
Miami @ Pittsburgh (-3)
Carolina (+3) @ New Orleans
New York Giants @ San Diego (-3)
If the Steelers won in Baltimore and the Dolphins lost in New York last week, which are two very realistic possibilities no matter how much you want to bury Gang Green, what would this line be? My guess is that it would be 4 or 4.5, so I see this as a bit of value. Miami didn't change my perception in their blowout win last week, if anything the game reaffirmed my perception of Ryan Tannehill, who is now five of 24 (20.83 percent) on passes 20 yards or more. Of those 24 passes, Pro Football Focus believes only seven of them were "catchable."
Tannehill can't extend the field vertically, which is a big liability in the 2013 NFL.
Carolina and New Orleans is a classic matchup of two great teams. In the last decade, when two playoff teams meet in the regular season and the spread is exactly three points, the underdogs are 41-28-6 (58.67 percent). In games where the line is 2.5-3.5, that record improves to 65-41-6 (60.71 percent).
The Giants and Chargers are both 5-7. One team has the No. 2 ranked offense DVOA (22 percent), and the other tam has the No. 7 ranked defense DVOA (-7.9 percent). I am going to favor a great offense over a pretty good defense, and lay the three points with San Diego.
Fantasy: Andre Brown only had 35 yards rushing against the Redskins, but he found the end zone twice. In four starts he's averaging over 100 total yards per game, and this is a great matchup for him.
St. Louis @ Arizona (-6.5)
After going 7-1 ATS on the road in 2012, the Rams are now 2-5 ATS in 2013. Even the potential for Carson Palmer to do Carson Palmer things isn't enough for me to trust St. Louis.
Fantasy: Michael Floyd is a definite WR3 with WR2 upside, depending on Palmer's performance. He's learned a lot from Larry Fitzgerald, and like Fitz he is an athletic freak.
Dallas @ Chicago (-1)
I don't love the Bears, especially their putrid, 28th-ranked rush defense DVOA (-2.8 percent), but this line is simply wrong. Dallas and Chicago are two very comparable teams, and in Soldier Field the Bears should be favored by exactly three points – unless you want to evenly distribute betting tickets and assume that the public will love Dallas getting less than a field goal.
This one's a pretty easy decision for us.
Fantasy: With Jay Cutler remaining on the sideline, Josh McCown is a very interesting start this week. If you don't want to play Colin Kaepernick against Seattle, or Luck against the Bengals, go ahead and insert McCown into your lineup. He has some of the best weapons in the league, and has performed very well in Cutler's absence.
Last Week: 5-10-1
Season: 83-102-7
Get all the latest PokerNews updates on your social media outlets. Follow us on Twitter and like us on Facebook today!