Pigskin Diaries Presented by DraftKings Week 12: Fighting the Good Fight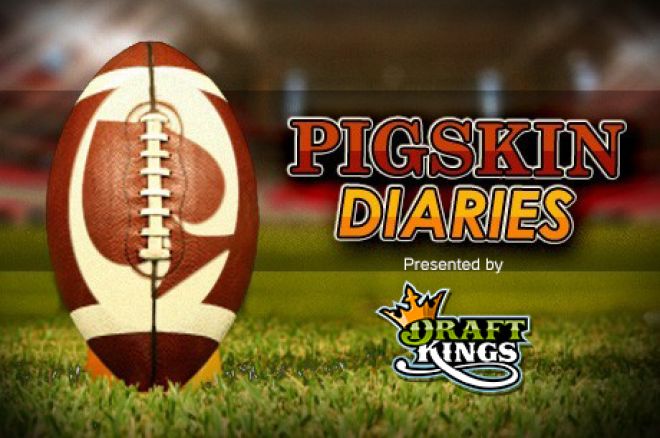 If the 2013-14 Pigskin Diaries Presented by DraftKings was a boxing match, your boy would be laying on the canvas right now, struggling to get up. During the first five weeks of the NFL season we took some body shots, floating a few games under .500, but we were able to remain upright. We knew that if we sparred for just a little longer things would turn around, and, right on cue, we started to rally back. In Week 10 we landed a big blow to the head, which nearly knocked our opponent down and got us right back into the match, but then they got right back up and landed a vicious uppercut in Week 11.
DOWN GOES RYAN! DOWN GOES RYAN!
We are now 16 games under .500, which means we need to go 55-39 (58.5 percent) just to finish the season 125-125-6. In order to climb up to a 52 percent win-rate – the standard threshold for profit in sports betting due to the vig – we need to go 63-31 (67 percent). The latter is very unlikely, unless I find an '81 DeLorean, so my focus is on climbing back to "even." After all, betting on every NFL game is financial suicide – reaching a 52 percent win-rate with your "best bets" is hard enough.
Losing sucks. Losing after spending hours upon hours researching and consuming content sucks even more, but I still think I can work a bit harder. I've finally updated our Google Doc with this season's results, and as you can see I've removed the columns below each week. I am now using Pro-Football-Reference for my yearly statistics – PFR is an incredible tool that can help you uncover helpful data for sports betting and fantasy alike.
Here are a few trends thus far, listed in order of winning percentage:
| Event | Record (ATS) | Winning % |
| --- | --- | --- |
| Getting 10+ Points* | 9-5 | 64.29 |
| Home Dog** | 33-27-1 | 54.92 |
| Home Team | 85-71-6 | 54.32 |
| Getting 7+ Points* | 22-19-1 | 53.57 |
| Underdog | 82-74-6 | 52.47 |
*Excludes games with the Jacksonville Jaguars.
**These numbers differ from PFR's because this article is published on Thursday. In Week 11, our line in the TEN/IND game was 2.5 points, but it moved to 3 by kickoff. In Week 4, our line in the HOU/SEA game was 3, but it moved to 4 by kickoff.
The reason I excluded the Jaguars from the underdog statistics is because, in my opinion, they dilute the sample. According to Football Outsiders, they rank 32nd in total DVOA at a putrid -57.1 percent. The next closest team, the Oakland Raiders, is rated at -32.4 percent. I don't know FO's standard deviation, nor do I know their mean rating, but it seems like Jacksonville is an outlier. Even Denver, as dominant as they've been, are only .6 percentage points ahead of the No. 2 ranked Seattle Seahawks and 10 percentage points ahead of the No. 3 ranked Carolina Panthers.
Removing Jacksonville from both samples changes the results drastically – the Jags are 2-6 ATS when getting seven or more points and 2-3 ATS when getting 10 or more points.
Of all the winning trends, "Home Teams" has the largest winning percentage with the largest sample. This shouldn't be a surprise because there are five teams still undefeated at home – New Orleans, Seattle, New England, Cincinnati, and Denver.
Here are some home/away splits courtesy of FO:
| Team | Home Offense DVOA | Away Offense DVOA | Home Defense DVOA | Away Defense DVOA |
| --- | --- | --- | --- | --- |
| New Orleans | 32.7% | -1.2% | -17.8% | 8.3% |
| Seattle | 23.9% | 0.8% | -20.8% | -14.7% |
| New England | 14.8% | 2.7% | -7.7% | 3.5% |
| Cincinnati | -2.1% | -6.9% | -35.6% | 1.1% |
| Denver | 38.3% | 30.0% | -4.2% | 11.0% |
Remember, negative numbers are better on defense.
The Broncos and the Bengals are the most consistent teams on offense – Denver crushes everywhere while Cincy plays mediocre everywhere – and for of the five defenses show a decent bit of variance. To no surprise, the Legion of Boom is tough from week-to-week.
The New York Jets, a team that's 4-1 at home (4-1 ATS) and 1-4 on the road (2-3 ATS), have very crazy home/road splits.
| Team | Home Offense DVOA | Away Offense DVOA | Home Defense DVOA | Away Defense DVOA |
| --- | --- | --- | --- | --- |
| J-E-T-S | -10.5% | -42.8% | -24.5% | 3.7% |
Blindly betting home teams would be a disaster, but I think there is some relevance to the results thus far in the 2013-14 campaign.
Finally, before we get to the picks, I'd like to give you one more table that will make me feel much better. Here are the ATS records for FO, Bill Simmons, the consensus picks in the Las Vegas Hilton Super Contest, and yours truly.
*Billy had the Titans (+3) last week because he makes his picks on Friday.
**These are the top 5 consensus picks from the first 11 weeks of the season. In 2012 (56.96 percent) and 2011 (55.67 percent) they were both well above the magic number. The increase in contests, which tends to lead to an increase in losing sports bettors, is likely a major factor in the decrease this year.
Phew. That makes me feel a tiny bit better about this crazy season thus far.
DraftKings partnered with the World Poker Tour last week, and will serve as the WPT's exclusive daily fantasy sports site, running live promotions and contests at WPT stops in the U.S. for the remainder of Season XII. The company will also host parties for all WPT players at the WPT bestbet Jacksonville Fall Poker Scramble and WPT Five Diamond World Poker Classic in Las Vegas. DraftKings players can also qualify for the $10,000 buy-in WPT Five Diamond in a $55 buy-in NFL satellite that will run on Nov. 24 (Week 12). You can qualify for the satellite for as little as $2 right now by playing in either NBA or NFL games. The winner of the satellite will not only earn a seat into one of the most prestigious events on the WPT, but also airfare and hotel accommodations in Las Vegas as well.
As always, my picks include the number and all advanced statistics are courtesy of Football Outsiders.
New Orleans (-9.5) @ Atlanta
After all of those numbers and (hopefully) intelligent thoughts, I make the squarest pick in the world. No wonder why I am 16 games below .500.
Let's throw out New Orleans' home/road splits, because this game is in a dome. In their first and only dome game away from home this season, they set an NFL record for first downs in a game with 40 and obliterated the Dallas Cowboys on Sunday Night Football. The Saints were built to play inside and are a better team on turf.
The Falcons rank 31st in defense DVOA (22.5 percent) at home.
If you bet the Saints when this line opened a six, good on you, but for us, let's go squares!
Fantasy: While they give up points in bunches, the Falcons struggle more against opposing wide receivers (25.1 points per game) than tight ends (6.8 points per game). Jimmy Graham isn't your prototypical tight end, but I still like Marques Colston in this matchup. Colston is finally healthy, catching 12 passes in the last two games on 15 targets for 187 yards and a touchdown.
San Diego @ Kansas City (-4.5)
According to FO, the Chargers are the second most consistent team in the NFL with a 4.7 percent variance from week to week. The Vikings, 4.3 percent, are the most consistent. You know what you're going to get from San Diego: great offense (second in DVOA), horrific defense (32nd in DVOA), and average special teams (18th in DVOA). They are (somehow) in the hunt for the second wild card spot in the AFC, but they've played the easiest schedule (-10.3 percent DVOA) thus far.
In the next six weeks, they play the Chiefs twice, the Bengals, and the Broncos.
Thanks to their first game against Denver, KC's schedule is now ranked as the ninth toughest (three percent DVOA), and they remain ninth in total DVOA (11.3 percent). We know the Chiefs offense will struggle (18th in DVOA), but even Alex Smith can put up a competent performance against San Diego's Swiss cheese defense.
This game comes at a good time for us. Prior to the Broncos game, the line may have been as high as a touchdown.
Fantasy: Dwayne Bowe racked up 14 targets on Sunday, but only caught four of them for 57 yards. Luckily for those who started him, one of those catches was a back-shoulder throw for a touchdown, but I'm not buying it. It was only his third touchdown catch of the season and his first in six weeks.
Pittsburgh (+1) @ Cleveland
Chicago (+1) @ St. Louis
I'm not going to force myself to root for Jason Campbell any longer. Last week he ripped the Captain Check-down Crown off of Alex Smith's head, proudly wore it during the "Battle for Ohio." Campbell had just 4.4 yards per attempt, and 13 of his 27 completions were to running backs. Willis McGahee, who is 100 years old, had four targets.
The only thing that scares me about picking against the Browns this week is they had a "near death experience" on their trip back to Cleveland on Sunday.
I'm surprised the #BrownStrong hashtag hasn't popped up yet.
Jay Cutler has been ruled out for Sunday's game against St. Louis, so Josh McCown remains the starting quarterback for Chicago. In his four appearances for the Bears, McCown is 61/101 for 754 yards, five touchdowns, and no interceptions. In his two starts, the team is 2-0.
McCown is playing well, but I'd rather credit Marc Trestman's system and the team's dynamic playmakers. Brandon Marshall, Alshon Jeffrey, Matt Forte, and Martellus Bennett would make any quarterback's life easier. The biggest issue for Chicago is their defense (13th in DVOA).
Stopping Kellen Clemens won't be much of an issue, but Zac Stacy has been very impressive thus far. Stopping the run is paramount for Chicago.
Fantasy: Antonio Brown scored not once, but twice on Sunday! It's a miracle! Things may get a little dicey this week with all-world corner Joe Haden on him, but Brown is still a must start. Haden's presence makes Jerricho Cotchery, whose scored five touchdowns over the last three weeks, an interesting consideration this week though.
New York Jets @ Baltimore (-4)
The Jets are the worst road team in the league, and the Ravens traditionally play better at home. I'm not extremely confident about this pick because these two teams lead the league in variance (Gang Green is 32nd at 30.3 percent, Baltimore is 31st at 28.2 percent), and, above anything, the Jets lost last week.
New York is the first team in the history of the NFL to alternate wins and losses for the first 10 games of the season. Does this mean anything? Does bigfoot exist?
Fantasy: Torrey Smith is the most reliable fantasy player in this game. Antonio Cromartie is still a top cornerback, but he's lost a step or two and struggles against burners. Smith loves to go deep, the only problem is Joe Flacco's yards per attempt has plummeted to 6.5 this season, putting him (28th) below guys like Christian Ponder (6.8, 24th) and Matt Schaub (6.6, 27th).
Carolina (-4.5) @ Miami
The Panthers are officially my second favorite team in the NFL. There are several reasons why, including:
1.
2.
3.
4.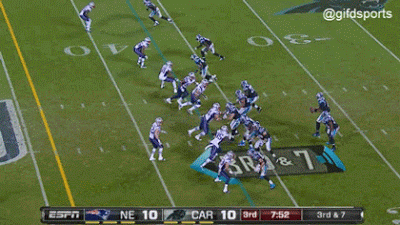 All jokes aside, they're an awesome football team (third in DVOA, 26.2 percent) with an incredibly talented defensive front (fourth in DVOA, -14.5 percent), and Cam Newton is too fun to watch. His success also spawns a lot of haters because Killa Cam "isn't a leader" and doesn't "play the game with respect."
Hi, haters. You mad?
The Chargers laid an absolute stinker in Miami last week, and the Dolphins (21st in total DVOA, -5.2 percent) barely snuck away with a four-point victory. This is a nightmare matchup for a team with a terrible offensive line and a mediocre quarterback.
Fantasy: Greg Olsen continues to be a steady receiver for Newton, catching another touchdown pass on Monday Night. Olsen is tied with Brandon LaFell for the most touchdowns (four) on the team and is second in receptions (40). He is the clear leader in receptions per target at a rate of 69 percent.
DraftKings Value Plays
Each week in the Pigskin Diaries, I bring you 10 players who I think are undervalued in DraftKings. These players may not be the best at their position on a week-to-week basis, but because of their match up and their price this week, I think they're solid selections. Picking these value plays will save you money for other positions if you wish to purchase a few stud players.
As always, these players are ranked by price.
| Position | Player | Opponent | Salary |
| --- | --- | --- | --- |
| RB | Jamaal Charles | San Diego | $8,500 |
| QB | Tony Romo | New York Giants | $8,200 |
| WR | Josh Gordon | Pittsburgh | $6,400 |
| QB | Mike Glennon | Detroit | $6,300 |
| RB | Zac Stacy | Chicago | $6,200 |
| RB | Shane Vereen | Denver | $5,000 |
| TE | Coby Fleener | Arizona | $5,000 |
| WR | Terrence Williams | New York Giants | $4,700 |
| K | Ryan Succop | San Diego | $3,100 |
| DST | Oakland | Tennessee | $3,000 |
Jamaal Charles: He's the most expensive running back, but his matchup is amazing. The Chargers rank last in rush defense DVOA by eight percentage points.
Tony Romo: With two weeks to prepare and a lot of solid weapons, Romo is prime to continue crushing at the quarterback position.
Josh Gordon: For no real reason, I've refused to believe in Gordon's talent for a long time. It's time to buck the trend. The kid makes plays, and the Steelers give up 18.1 points per game to opposing receivers.
Mike Glennon: If you want to take the risk, you can save a pretty penny with Glennon and hope for a shootout in the dome against Detroit.
Zac Stacy: Chicago ranks 15th in defense DVOA. Ray Rice looked like an NFL running back against them. At this price, Stacy is a great value.
Shane Vereen: Vereen is a PPR monster. He will continue to be heavily involved in this offense.
Coby Fleener: Arizona gives up the most fantasy points per game to opposing tight ends.
Terrence Williams:
Ryan Succop: The Chargers defense is poor, and the Chiefs could struggle at finishing in the red zone.
Oakland: If I'm picking the Raiders to win, backing their defense makes sense, right?
Tampa Bay (+9) @ Detroit
Jacksonville (+10) @ Houston
The Lions are just 4-4 ATS as favorites this season, and they have never given more than 4.5 points in a game. If my math is right, 9 is double 4.5, which makes this line too high. The Bucs have shown signs of life over the past two weeks, and despite only have two wins their total DVOA (-0.7 percent, 17th) is higher than Pittsburgh, Buffalo, St. Louis, Miami, Baltimore, and Tennessee.
Oh yeah, and Detroit is only ranked two spots ahead of Tampa Bay.
There are only two, maybe three teams in this league that I would take Jacksonville (+10) against on the road right now. Oakland and Houston are the two locks, and Washington is on the bubble. The Texans rank 30th in total DVOA (-23.9 percent), and for some insane reason they benched Case Keenum (who isn't great) for Matt Schaub.
The fans reacted so negatively, re
Schaub also got into this tiff with Andre Johnson: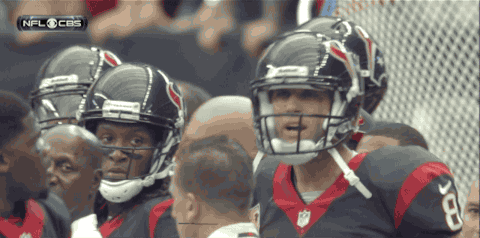 You want to lay 10 points with those guys? Go ahead.
Fantasy: Nick Foles, Andy Dalton, and Russell Wilson are on bye this week. Dalton may not be a starter in most league, but chances are the other two quarterbacks are. Mike Glennon is a sneaky play this week in a game where he might have to throw the ball a little bit more than average. It doesn't hurt that he gets to toss the pigskin to Vincent Jackson either.
Minnesota (+4.5) @ Green Bay
There's evidently "reason to believe in Scott Tolzien," but if there was an NFL Bettor's Bible, there would be a passage about laying more than a field goal with a third-string quarterback. It would likely only have one word.
"Don't."
Fantasy: Despite Tolzien's underwhelming ability to try and be Aaron Rodgers, Jordy Nelson still has 14 catches for 173 yards the past two games. He hasn't reached the end zone, but Nelson is still a must-start WR1. Don't get cute.
Tennessee @ Oakland (PK)
Betting on this game feels like betting on two kids in a bouncy ball race at halftime of a professional sporting event. Neither team really has an edge (Tennessee is ranked eight spots higher in DVOA, but is awful on the road and has Ryan Fitzpatrick at quarterback), the results don't really matter (the Titans blew their playoff chances last Thursday night), yet you need a reason to watch and scream at people you don't even know or care about.
The Raiders are 3-2 ATS the spread at home, while the Titans are 3-1 ATS on the road. Don't let Tennessee's record fool you though – they've never covered a spread less than six points, and in the three games they covered they were outscored 59-53.
There's also the Matt McGloin factor. McGloin looked surprisingly good against the Texans, whose defense ranks one spot ahead of the Titans in DVOA.
Fantasy: If McGloin continues to be competent, Denarius Moore remains a solid WR2. If not, then he should find a comfortable spot on your bench.
Indianapolis @ Arizona (-2.5)
Dallas (+2.5) @ New York Giants
The Indy/Arizona line is perfect. If I gave my picks a confidence rating like Football Outsiders does, this would be No. 14 for me this week. The Cardinals are one spot and .3 percentage points lower than the Colts in total DVOA, but they tend to play much better at home.
The Cards offense gets a three-percent boost at home, while the defense gets a 14-point(!) boost. In overall defensive DVOA, Arizona ranks No. 1 (-17.6 percent).
Against the spread, 3-1-1 at home and 3-2 on the road. The only team that covered against them in Arizona is the Seattle Seahawks (second in total DVOA).
My question is, if Andrew Luck was replaced by [bPhilip Rivers[/b] in this game, a quarterback having a slightly better statistical season, what would the spread be? It would certainly be more than a field goal, and for that small bit of value, we'll take the Cards.
In the second game, I think our hypothetical confidence ratings would have the Cowboys high up on the list. Despite winning four straight games (against bad teams like the Vikings, Eagles, Raiders, and Packers without Rodgers), the Giants still rank 27th in total DVOA (-15.5 percent). All of the bogus "it's finally time to see if they're for real" statements that people were making about Carolina last week are much more applicable to this matchup.
Dallas is above average, ranking 11th in total DVOA (seven percent), and this is a game they need to win in order to make a playoff run.
That's right, I'm taking Tony Romo in a must-win, divisional game. Sue me.
Fantasy: Dallas has one gaping hole on their team – rush defense (29th in DVOA, two percent). This makes Andre Brown a nice start at RB2 or FLEX.
Denver (-2.5) @ New England
It's the first time in centuries the Pats are home dogs! Sound the alarms!
I don't care about Tom Brady and Bill Belichick's November record. I don't even care that Wes Welker might be out. New England has a slightly above average (11th, 8.7 percent) offense, and an average defense (14th, -2.1 percent), and they're getting less than a field goal against the best team in the NFL.
Denver is No. 1 in overall DVOA (36.8 percent) and No. 1 in offense DVOA (35.1 percent). Their defense, like New England's, is mediocre, ranking 17th (1.8 percent).
To replicate our Luck example, if we substituted the Bears, who rank one spot ahead of the Patriots in DVOA, what would this line be? I'd wager it would be close to a touchdown and certainly more than a field goal.
Fantasy: If Welker can't play, Eric Decker and Julius Thomas definitely receive a boost. I'd also be willing to gamble with Andre Caldwell in super-deep leagues.
San Francisco @ Washington (+6)
It's a battle of the underperforming young quarterbacks who shocked the league with the read option before their respective coaches opted to stop using it. I don't understand why, but they have. Did Jim Harbaugh even coach the Niners/Packers playoff game last year? Did he see Colin Kaepernick scamper for 181 yards and two touchdowns?
This line's a bit too high for my taste, and San Francisco's road covers this year have come against the Jaguars, Rams, and Titans. They pushed last week against the Saints and failed to cover against the Seahawks.
However, if you plan on betting the Niners do it now. I suspect that the Sunday losers will try to recoup their funds with San Fran on Monday night rather than Washington. Conversely, if you are going to bet on the Skins, wait and see if you get a half or full-point bump.
Fantasy: The Redskins give up the tenth-most points per game to opposing tight ends. Yum, yum getcha some, Vernon Davis.
Last Week: 4-10-1
Season: 70-86-6
Bye: Buffalo, Cincinnati, Philadelphia, Seattle