Pigskin Diaries Presented by DraftKings Week 11: Not Falling for Nick Foles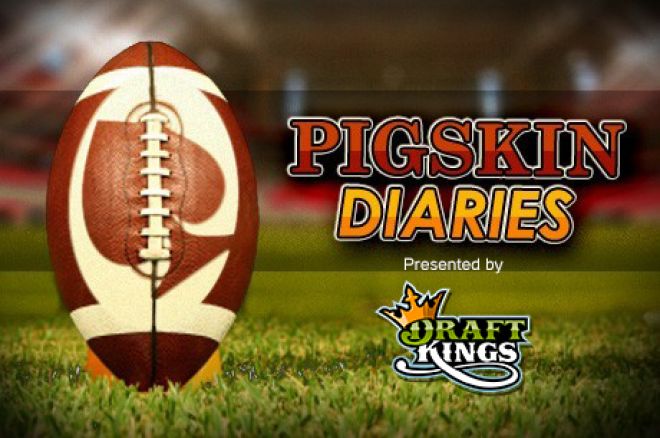 Despite losing their first four games at home in the 2013-14 campaign, the 5-5 Philadelphia Eagles are tied with the Dallas Cowboys atop the NFC (L)East. Over the past two weeks, Nick Foles has strung together back-to-back victories on the road, throwing for seven touchdowns and no interceptions against the Oakland Raiders (27th in pass defense DVOA, 20.2 percent) and three touchdowns and no picks against the Aaron Rodger-less Green Bay Packers (29th in pass defense DVOA, 24.7 percent).
The national NFL media are ready to accept Foles as a starting quarterback in the league, but while I believe he is competent enough to navigate Philadelphia to a playoff berth in this awful division, I don't think he should be the long-term solution in the City of Brotherly Love or for any of the other 31 NFL franchises.
On Foles' first touchdown pass against Green Bay, watch as he dances erratically in the pocket then heaves the ball downfield into double coverage. The pass is well underthrown, but luckily for Foles and DeSean Jackson, the two defenders run into one another and the ball deflects to Jackson for a miraculous 55-yard touchdown.
Later on in the game, after crossing midfield and hurrying to the line, the Eagles were faced with a 1st and 10 from the Green Bay 45-yard line. Foles takes a snap from the pistol, fakes to LeSean McCoy, then looks downfield. With all the time in the world to throw the ball, Foles slides forward and launches an errant pass into double coverage once again. The pass is so bad that neither defender can even make a play on it, but Riley Cooper sees the ball and breaks off of his route. Reaching down, Cooper makes a spectacular catch, and the Eagles take a 17-3 lead.
An accurate pass may have been intercepted, or perhaps the two defenders would've just tipped it to Cooper anyway.
On paper, Foles' stat line of 16 touchdowns and 0 interceptions is very impressive, but the second-year man out of Arizona isn't really passing the eye test. Likewise, Chip Kelly refuses to name him the "starting quarterback," which has sites like Rant Sports questioning Kelly's strategy.
"Chip Kelly can't play this game all season long," Ryan Wenzell writes. "It is of utmost importance that the Eagles see how Foles responds to pressure like this."
Kelly isn't playing a game; rather he sees the bigger picture.
Kelly is approaching his first NFL coaching gig like the prototypical President of the United States approaches his first term in office. The number one goal is to be re-elected, or in Kelly's case, to receive an extension from the Eagles or a better offer from another team. The last thing Kelly wants to do is hitch his wagon, and possibly his NFL future, to Nick Foles, an average quarterback who he didn't even draft.
The former Oregon head coach will not make long-term decisions based upon one or two games because he understands the concepts of sample sizes and predictive outcomes. This is why I am all in on him and think he is a genius – he refuses to submit to the results-oriented culture of the NFL.
Kelly inherited a 4-12 team that ranked 28th in total DVOA (-22.4 percent) and 25th in offense DVOA (-10.8 percent). Philadelphia already has five wins this season, and ranks 15th in total DVOA (3.6 percent) and fifth in offense DVOA (16.7 percent). All without naming Foles the "starting quarterback."
I think this Chip guy knows what he's doing.
DraftKings partnered with the World Poker Tour last week, and will serve as the WPT's exclusive daily fantasy sports site, running live promotions and contests at WPT stops in the U.S. for the remainder of Season XII. The company will also host parties for all WPT players at the WPT bestbet Jacksonville Fall Poker Scramble and WPT Five Diamond World Poker Classic in Las Vegas. DraftKings players can also qualify for the $10,000 buy-in WPT Five Diamond in a $55 buy-in NFL satellite that will run on Nov. 24 (Week 12). You can qualify for the satellite for as little as $2 right now by playing in either NBA or NFL games. The winner of the satellite will not only earn a seat into one of the most prestigious events on the WPT, but also airfare and hotel accommodations in Las Vegas as well.
As always, my picks include the number and all advanced statistics are courtesy of Football Outsiders.
Washington (+3.5) @ Philadelphia
The Eagles have been favored by a field goal or more in all four of their home losses. Despite Washington's poor rush defense (25th in DVOA), I like that they've had a few extra days to prepare for this game and already have some tape against Chip Kelly's offense. I also believe that Nick Foles will regress back to being Nick Foles.
Fantasy: The first player to suffer when Foles falls back to earth will be Cooper. Jackson and McCoy are very special players that will be able to create in space regardless of who's feeding them the rock, but Cooper's productivity as of late is directly correlated with Foles' random success. I would only be starting Cooper as a WR3 in a 12-team league or bigger.
Indianapolis @ Tennessee (+2.5)
After Indy's putrid performance on Sunday against St. Louis, Andrew Luck drove to Reggie Wayne's house, got out of the car, lifted a boom box over his head, and blasted "In Your Eyes" by Peter Gabriel.
OK, maybe he didn't, but he should put his giant Stanford brain to work and find a way to fix Wayne's knee as fast as possible. In seven of the last eight quarters without the future Hall of Fame wide receiver, the Colts have only scored 20 points. With Wayne, Indy was scoring 26.7 points per game, and that includes two games against Seattle (third in defense DVOA and first in passing defense DVOA) and San Francisco (11th in both defense and pass defense DVOA).
Luck is a very good quarterback who will surely develop into a great quarterback, and T.Y. Hilton is an explosive, play-making receiver, but without 87 putting in work over the middle, the Colts offense is a mess. Trent Richardson is running like an undrafted free agent – cut to Mike Lombardi and the Browns front office scurrying away from Indianapolis with black ski masks on – the defense remains suspect, ranking 21st in DVOA (three percent).
I would be a lot more comfortable with this game if Jake Locker was the starting quarterback of the Titans and the line was 3 rather than 2.5, but even with Ryan Fitzpatrick, Tennessee is too frisky to be getting this many points at home.
Fantasy: Kendall Wright is slowly becoming the next Antonio Brown. The second-year receiver out of Baylor is on pace for 88 catches for 1,031 yards, but only has one touchdown thus far. If Wright can start finding the end zone, he could be a very solid WR2.
Cleveland (+5.5) @ Cincinnati
Oakland (+7) @ Houston
This is only the second time this season the Bengals have been favored by 5.5 points or more at home. In Week 2 they were 6.5-point favorites over the Pittsburgh Steelers, and covered with a 20-10 win. In Week 6, Cincy was a six-point favorite on the road against Buffalo, and snuck out of Orchard Park with a three-point victory in overtime.
Cleveland is a sneaky team, winning four out of their last seven games, including a Week 4 matchup at home against Cincinnati. The Browns have had two weeks to prepare for this game, and with a with a win they would only be a half game behind the Bengals for first place in the NFC North. They would also hold the tiebreaker over Cincy with the sweep.
Andy Dalton is a big problem for the Bengals. On non-Hail Mary plays on Sunday he was just 23/50 for 223 yards, one touchdown and three interceptions. I don't trust the Red Rocket enough to be laying this many points against a division team competing for the playoffs.
In the second of these two matchups, do we believe that the Texans are as good as the Giants? Last week at MetLife Stadium, Big Blue defeated the Raiders but couldn't cover the touchdown spread, and now we are to believe that a Houston team on a seven-game losing streak is supposed to beat Oakland by more than a touchdown. Football Outsiders has Houston (29th, -21.1 percent) ranked right below New York (28th, -19.9 percent) in total DVOA. This line doesn't make much sense to me.
Editor's Note: Terrelle Pryor has been ruled out for this game.
Fantasy: With Arian Foster out for the season, Ben Tate becomes a steady RB2, while Dennis Johnson is a must-add in all formats.
Baltimore @ Chicago (-3)
The Ravens are 3-1 ATS at home, outscoring their opponents 81-51. On the road, they are 1-4 ATS and they've been outscored 138-107. If the books don't adjust for these home/road splits, then we'll just keep making money on the defending world champs.
Fantasy: It doesn't matter if Jay Cutler or Josh McCown is at quarterback for Chicago, Alshon Jeffrey and Brandon Marshall are both going to get theirs.
Arizona (-7) @ Jacksonville
Ready for a bad beat story?
My hometown survivor pool is a bit more difficult than your run-of-the-mill pool. Like most pools, you can only pick a team to win once in the season, but as an added twisted you can only pick a team to lose once in a season as well. This bars participants from picking against a team like Jacksonville every week, and makes the endgame very difficult and intriguing.
Last week, with a dozen or so players remaining, I was the only person who could still pick against the Jaguars. Suffice to say I am no longer alive in the survivor pool.
THANKS, RYAN FITZPATRICK!
Fantasy: The entire fantasy world is begging Bruce Arians to stop giving Rashard Mendenhall the ball, and while I agree Andre Ellington is a much better player, I'm not sure his 5'9", 199-pound frame can handle a full workload. As an Ellington owner, I'm very comfortable with him getting 13-17 touches when I know he can break off a long play.
DraftKings Value Plays
Each week in the Pigskin Diaries, I bring you 10 players who I think are undervalued in DraftKings. These players may not be the best at their position on a week-to-week basis, but because of their match up and their price this week, I think they're solid selections. Picking these value plays will save you money for other positions if you wish to purchase a few stud players.
As always, these players are ranked by price.
| Position | Player | Opponent | Salary |
| --- | --- | --- | --- |
| QB | Matthew Stafford | Pittsburgh | $8,700 |
| RB | Adrian Peterson | Seattle | $7,900 |
| QB | Colin Kaepernick | New Orleans | $7,300 |
| WR | Vincent Jackson | Atlanta | $7,100 |
| RB | Frank Gore | New Orleans | $6,800 |
| TE | Tim Wright | Atlanta | $4,400 |
| RB | Jonathan Stewart | New England | $3,500 |
| WR | Jarrett Boykin | New York Giants | $3,400 |
| TE | Levine Toilolo | Tampa Bay | $3,000 |
| DST | Buffalo | New York Jets | $3,000 |
Matthew Stafford: No one throws the ball more frequently than Stafford, and the Steelers have already given up 95 combined points to the Bears and Patriots.
Adrian Peterson: Any time AD is the fourth most expensive running back you have to take him, right?
Colin Kaepernick: Do the right thing, Harbaugh. Let Kap run. New Orleans ranks 30th in run defense DVOA, and if Kap gets things going on the ground, he'll really pay off at this price.
Vincent Jackson: Atlanta ranks 30th in pass defense DVOA, and Glennon has no qualms with throwing the ball deep to VJax.
Frank Gore: If Kap doesn't torch the Saints on the ground, then Gore will.
Tim Wright: Before Monday night, Wright had scored touchdowns in consecutive games for the Bucs, and the Falcons have given up six touchdowns this season to opposing tight ends.
Jonathan Stewart: This is definitely a Hail Mary, but Stewart has hit the ground running for Carolina and New England has a lot of holes in the middle of their defense.
Jarrett Boykin: I think Boykin and Tolzien have pretty good chemistry, and the Giants secondary is average at best.
Levine Toilolo: If Gonzalez doesn't suit up on Sunday, Toilolo could be a very nice play at the minimum price. He already has a touchdown as the backup tight end on the Falcons.
Buffalo: I picked the Jets to win this game, but that doesn't mean Geno and Gang Green are going to score in bunches. The Jets have given up the fourth-most points per game to opposing defenses in ESPN standard scoring leagues.
New York Jets (+1) @ Buffalo
Atlanta @ Tampa Bay (+1.5)
San Diego (-1) @ Miami
If Stevie Johnson doesn't suit up for the Bills, I'm not sure how they plan to move the ball against the Jets. Gang Green leads the NFL in rush defense DVOA (-33.4 percent), and Mo Wilkerson and Sheldon Richardson are looking better and better each week. In his first start against the Jets, EJ Manuel struggled mightily, only completing 19 of 42 passes for 243 yards and a touchdown.
Barring a Geno Smith disaster, which is quite possible, the Jets should find a way to win this game.
Down in Florida, the Bucs are coming off of their first win of the season against the Dolphins on Monday Night Football. They lost Mike James for the season in that game to a broken ankle, but I still feel like they have enough offensive firepower to put up points against Atlanta's 30th-ranked defense DVOA (13.4 percent). The Falcons will likely be without tight end Tony Gonzalez, and Roddy White will be on Revis Island, leaving Matt Ryan with only Harry Douglas to attack Tampa Bay's secondary.
Despite only having one win, Tampa Bay (20th) ranks two spots higher in DVOA than Atlanta (22nd).
Miami was absolutely smoked on Monday, and to make matters worse, tackle Will Yeatman tore his ACL during Wednesday's practice. This team is a complete mess and should be getting at least a field goal against the Chargers, who just played four competitive quarters with the Denver Broncos.
Fantasy: If the Vincent Jackson owner in your league is freaking out about his last three weeks of mediocre productivity, then maybe you should shoot them a message. Mike Glennon isn't a gunslinger by any means, but Jackson is by far his favorite target, and he's not afraid to chuck the ball downfield once or twice to game and let VJax try and make a play.
Detroit (-2.5) @ Pittsburgh
The Chicago Bears and New England Patriots scored a combined 95 points against the Pittsburgh Steelers by putting the ball in the air. The Detroit Lions rank fifth in pass offense DVOA (29.3 percent), and no player has more pass attempts per game (41.4) than Matthew Stafford. The Steelers defense (27th in DVOA) isn't what it used to be, and Ben Roethlisberger's offense is scoring less than 20 points per game.
Fantasy: The Lions have given up the third-most points per game to opposing receivers in ESPN standard scoring. Maybe this is the week that Antonio Brown finally finds the end zone.
Green Bay (+5) @ New York Giants
I don't know who Scott Tolzien is, but if Ryan Leaf was playing quarterback for the Packers in this game, I still would lay five points with the Giants. Maybe Eli Manning is going to work his late-season magic and navigate New York into the playoffs, but I refuse to lay this many points with the 28th-ranked team in total DVOA (-19.9 percent).
If Rodgers were healthy, what would the line in this game be? Green Bay (-10)? As great as he is, is he really worth 15 points? I don't think so.
Fantasy: Jordy Nelson and Jarrett Boykin are still fantasy relevant with Tolzien at quarterback. In fact, Tolzien may even prefer Boykin to Nelson. Tolzien targeted Boykin 13 times last week and connected with him for a touchdown.
Minnesota (+12.5) @ Seattle
Adrian Peterson is the Seahawks kryptonite. I expect Seattle to win this game, but don't expect AD to be held under 100 yards. The Seahawks are small up front, and no one runs harder and more ferocious than Peterson. This game will look more like the Tampa Bay game than your typical Seahawks blowout win at home, unless Christian Ponder goes out and turns the ball over multiple times.
It will be very interesting to see what Pete Carroll does with Percy Harvin. Carroll is definitely a "player's coach," and it wouldn't surprise me if he allowed Harvin to play more snaps than expected because this game is against his former team. Likewise, Russell Wilson must be chomping at the bit to connect with someone as explosive as Harvin, who was a legitimate MVP candidate last year before suffering a season-ending injury.
Fantasy: The return of Harvin may scare some people away from Golden Tate, but I think Tate is still a very solid WR3 with WR2 upside if the Hawks increase their passing game. His one-handed catch last week against Atlanta was a thing of beauty: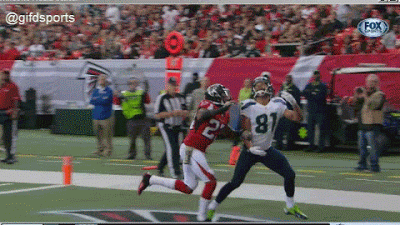 San Francisco (+3) @ New Orleans
New England @ Carolina (-2.5)
If Jim Harbaugh commits to running the ball with Colin Kaepernick on Sunday, I think the Niners can win this game handily. The Saints rank 30th in rush defense DVOA (7.5 percent), and I was at their second loss of the season to my beloved Jets. They couldn't stop the run to save their lives. Chris Ivory had a little extra pep in his step because he was playing his former team, but there were some wide open holes for him to take advantage of.
The read-option isn't failing in San Fran, Harbaugh just refuses to run it. Against a team like Carolina I can understand why – they didn't want Kap getting killed by the Panthers front seven – but the Niners are starting to play must-win games, and they are at their best when Kap, Frank Gore, and Kendall Hunter are gashing opposing defenses.
Down in Carolina, Cam Newton is preparing for his biggest game since the 2010 BCS National Championship Game, but the focus should be on the Panthers defense (first in DVOA, -19.8 percent). Tom Brady is starting to "come around" in the eyes of many, but his last two games were against the 16th-ranked defense DVOA and the 27th-ranked defense DVOA.
In the three games the Pats played against the Bengals (fourth in DVOA) and Jets (fifth in DVOA), they only scored 46 points (roughly 15 per game). I expect more of the same of that on Monday night.
Kansas City (+8.5) @ Denver
Since the merger, the Chiefs are the first 9-0 underdogs ever. However, if Peyton Manning was fully healthy, there is no chance I would pick them.
Here is at the quarterbacks they faced and the margin of victory in their last three games:
| Week | Opposing QB | Margin of Victory |
| --- | --- | --- |
| 7* | Case Keenum | 1 |
| 8* | Jason Campbell | 6 |
| 9 | Jeff Tuel | 10 |
| Average | | 5.67 |
*Denotes a home game
These performances are very underwhelming, and I have little doubt that the Chiefs will win under two games once we reach the playoffs.
That being said, the Manning injury scares the hell out of me. He and the Broncos are playing it down, and it's not like he's a mobile quarterback, but Manning is a fragile specimen.
Moreover, the Denver offensive line struggled against San Diego and Indianapolis, who rank 20th and 17th respectively in adjusted sack rate. Kansas City ranks third and has leads the NFL in sacks with 36.
Fantasy: The Chiefs aren't allowed to bench Dwayne Bowe because of his arrest on Sunday, but they can certainly limit his play count. If for some reason you're still holding on to Bowe, I suggest you throw him on your bench, or even drop him. Regardless of his off-the-field issues, he's still been terrible on the field.
All spreads are courtesy of Covers.com, and are accurate as of 12:00 p.m. EDT on Thursday Nov. 14.
Last Week: 8-5-1
Season: 66-76-5
Bye Week: Dallas and St. Louis
Get all the latest PokerNews updates on your social media outlets. Follow us on Twitter and find us on both Facebook and Google+!