Pigskin Diaries Presented by DraftKings Week 13: The 5th Annual Cranberry Sauce Classic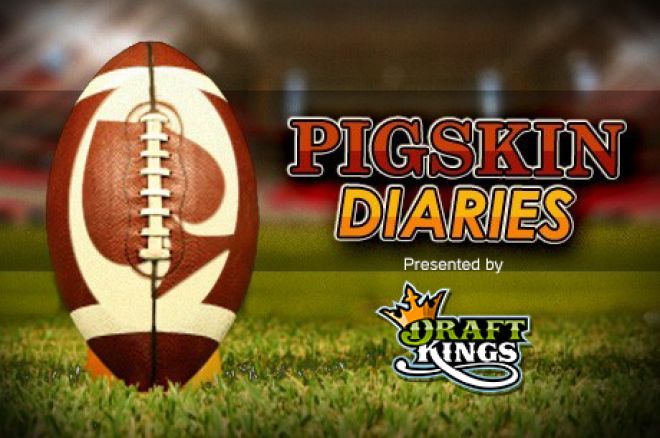 On Friday, the day after Thanksgiving in the United States, the Fifth Annual Cranberry Sauce Classic will take place in Hopewell, New Jersey. The Classic, a pickup tackle football game between my high school friends and I, is a tradition unlike any other and a constant reminder that getting old sucks.
The first Classic took place when we were all in college and all still fairly active. Obviously none of us owned flag belts – and touch football didn't seem appropriate – so we opted to go all out. There were bumps and there were bruises, but no one was seriously hurt. We had a blast, and the Cranberry Sauce Classic was born.
Over the past four years we've played in the snow (twice) and in a muddy slop. Last year we moved the game to our high school's new turf field, where other former Hopewell Bulldogs were also playing football games of their own. I think one of them even had flags. That was smart.
Side note: My beloved Bulldogs (9-1) play against Lawrence (10-0) on Dec. 7 for the Central Jersey Group III State Sectional title and the NJSIAA Central Jersey title. This is not only our first trip to the state playoffs, but we've only been playing varsity football for 10 years. Congratulations to head coach Dave Caldwell, and good luck next Saturday!
I enter each Classic with one goal in mind – don't get hurt. That's it. Think of Marvin Harrison.
My defense is a nightmare, and I try to sub out when I can because I don't think I've recorded a single tackle in four years, but on offense I'm effective. Just don't expect me to get many yards after the catch unless I beat my defender on a nine route or a deep slant. No, if I catch the ball in traffic and I'm about to get hit, you better believe I'm hitting the turf.
Despite this cautionary approach, there are still plays where you get punished. After the Fourth Annual Classic, I was so sore that getting up from the couch to make a cold turkey sandwich the next day was nearly impossible. One day we will wise up and snag some flags, but until then it's full speed ahead.
I don't have to worry about getting injured this Friday, because I will be missing the Classic for the first time this year. I am in Trinidad this Thanksgiving with my fiancé, and while I'll miss tossing the pigskin around with my buddies and laughing when somebody gets clobbered, I am very blessed to be able to spend this holiday with the one I love.
There are three games on tap this Thanksgiving, and DraftKings is offering special games where contestants can only select players from the six teams in action. I have a team ready to go in the $10K Guaranteed Hail Mary, a $11 buy-in contest, and there are several other games to chose from. This week's DraftKings Value Plays segment will include my team from that contest, and why I chose certain players.
As always, my picks include the number and all advanced statistics are courtesy of Football Outsiders.
Green Bay (+6.5) @ Detroit
Oakland (+8.5) @ Dallas
Pittsburgh @ Baltimore (-2.5)
The Detroit Lions are the most disappointing team in the NFL. Beyond their star-studded offense, featuring Matthew Stafford, Calvin Johnson, and Reggie Bush, their defense is playing above expectation. The Lions rank second in defense DVOA (-23.1 percent), and DeAndre Levy should be in contention for Defensive Player of the Year. Levy has 90 tackles and five interceptions, including one pick-six. The fifth-year player out of Wisconsin should have two touchdowns, but Ndamukong Suh committed this chop block against the Vikings to nullify Levy's interception return.
Detroit struggles in pass defense (27th in DVOA, 19.7 percent), and Matt Flynn looking very competent in the Packers offense last week. If the Lions were more consistent and this line was closer to a field goal, then Detroit would be an easy selection, but neither is the case.
Taking 8.5 points with Matt McGloin and Rashad Jennings is probably crazy, so let's do it. The Raiders didn't look great last week against the Titans, but McGloin put in another solid effort, completing 19 of 32 attempts for 260 yards. Jennings is a bruiser at running back, and at the Cowboys rank 31st in rush defense DVOA (4.7 percent). They also rank 25th in total defense DVOA, two spots lower than Oakland (23rd).
It's funny to see the general public finally acknowledge that Tony Romo isn't the problem in Big D. Sports Illustrated even ran this cover: "Why America's Whipping Boy Deserves Your Unconditional Love."
Cool story, bros, too bad it's three or four years too late.
In the last decade, at home, the Cowboys are 6-7 ATS when favored by 7-9 points. In 2011, the last time Dallas was favored by 7-8 points on Thanksgiving, they beat the Miami Dolphins 20-19 thanks to a last-second field goal by Dan Bailey.
In the night game, I love the Ravens giving less than a field goal. These teams are fairly even in my opinion, but Baltimore tends to play really well at home. If the bettors value Pittsburgh by half of a point, then we are going to snag some value and take the Ravens at this number.
DraftKings Value Plays
As stated above, this is my team in Thursday's $10K Guaranteed Hail Mary
| Position | Player | Opponent | Salary |
| --- | --- | --- | --- |
| QB | Tony Romo | Oakland | $7,700 |
| RB | Rashad Jennings | Dallas | $5,900 |
| RB | Eddie Lacy | Detroit | $6,900 |
| WR | Nate Burleson | Green Bay | $5,100 |
| WR | Dez Bryant | Oakland | $7,700 |
| TE | Jason Witten | Oakland | $5,700 |
| FLEX | James Jones | Detroit | $4,100 |
| Kicker | David Akers | Green Bay | $3,000 |
| DST | Baltimore | Pittsburgh | $3,900 |
With very few games on the slate, I prefer a stars and scrubs strategy in this contest. You might be wondering why Stafford and Megatron are missing, and it's because their prices are just too high. If you substitute those two for Romo and Bryant, who are just as capable of putting up monster numbers, then you have to spend an additional $4,600 of your $50,000 salary. That's an increase of nearly 10 percent.
Jason Witten is a prime example of our stars and scrubs strategy. He is worth $1,400 more than Brandon Pettigrew, but he is by far the most talented tight end available.
Jennings, Eddie Lacy, Nate Burleson, and James Jones are all value plays. We previously mentioned that Jennings is going up against a very bad rush defense, while Lacy faces the second-best rush defense DVOA. This is a bit worrisome, but the Packers will have to run the ball more frequently with Flynn at quarterback, and Lacy is a very special, tough back.
Burleson returned last week from his pizza accident with seven catches on 10 targets for 77 yards and a touchdown, and Jones has averaged eight targets over the last three weeks, catching a combined 13 passes for 179 yards. In the Packers first game against the Lions this season, Jones had four catches for 127 yards and a touchdown.
My kicker and defense are fairly insignificant. Again, the Ravens are the most expensive team available, because they're the best defense in what should be the lowest scoring game.
Arizona (+3) @ Philadelphia
Chicago @ Minnesota (+1)
Miami @ New York Jets (-2)
Over his last four games (Atlanta, Houston, Jacksonville, and Indianapolis aren't world-beaters), Carson Palmer is 89 of 129 (69 percent) for 1,146 yards, eight touchdowns, and two interceptions. The Philadelphia Eagles aren't as bad as the aforementioned quartet, but their defense ranks 27th in DVOA (8.6 percent).
The key matchup will be the Eagles offense (fourth in DVOA, 18.9 percent) and the Cardinals defense (second in DVOA, -18.1 percent). If you're a frequent reader of the Pigskin Diaries, you know I love Chip Kelly, but I still have my doubts about Nick Foles. Like Palmer, his three great performances have come against bad teams – Oakland (23rd in defensive DVOA), Green Bay (29th), and Washington (24th).
In Week 2, at home, with Jay Cutler, the Bears defeated the Vikings by one point. Now, Chicago is on the road without Cutler, and their rush defense has been exposed. This line stinks. The bookmakers are begging you to lay a point with Chicago, so let's take the home team.
On the ESPN Behind the Bets Podcast, Vegas bookmaker Bob Scucci said that, if he had a gun to his head, the one play he would make this week is the Jets laying one or two points. That's good enough for me.
Fantasy: Other than Mike Wallace, I don't think there is any player I trust in the Jets/Dolphins game, especially if you're fantasy playoffs are on the line. Stay away.
New England @ Houston (+7.5)
Tampa Bay (+8) @ Carolina
Jacksonville (+7) @ Cleveland
St. Louis (+8) @ San Francisco
Too. Many. Points.
Scucci also said on the podcast that Thanksgiving weekend is big in Las Vegas (where else would you want to spend quality time with your family?) and the spreads tend to be inflated. All of these lines are too high for my taste, but don't wait until Sunday for the public bettors to push them even higher. At some point this week the sharp bettors will drop some big bets on these underdogs – Scucci said that several $10,000 bets have already been made on the Texans.
Fantasy: Josh Gordon, I am sorry that I every doubted you. Did he have the quietest 200-yard receiving week of all time? Unless you were in a fantasy matchup with Gordon involved, did you even know he had 200 yards of receiving? Gordon is a top 10 play and one of the most valuable players in keeper formats.
Tennessee (+4) @ Indianapolis
The Colts have been outscored 93-12 in the first half of their past four games. One of those games was a Thursday Night Football tilt in Tennessee, where Andrew Luck and company stormed back to win 30-27.
The Titans are among the 50 teams vying for the last wildcard spot in the AFC, and don't look now but they are only two games out of first place in the AFC South. Here are their remaining opponents: Colts (17th in total DVOA), Broncos (2nd), Cardinals (11th), Jaguars (32nd), and Texans (30th). If Tennessee can find a way to win two of their first three games, they will likely lock up the sixth wildcard spot. They could even win the division.
Indianapolis and Tennessee are very similar games, so this line should be exactly three points. We'll take the extra point and try to fade the public, who will likely hammer Luck and the Colts.
Fantasy: Since Week 6, only six players have more receptions than Kendall Wright. During that time span, those six players have scored an average of four touchdowns, while Wright only has one. The two players behind Wright, Andre Johnson and Jordy Nelson, have scored five and four respectively. Wright is the new Antonio Brown – an ultra productive player that is a top 15 play if he finds the end zone.
Atlanta @ Buffalo in Toronto (-3)
It snowed in Buffalo this week, but Matt Ryan will be warm and protected in a dome up in Toronto. What a shame. If the Bills were playing in Orchard Park this line would only be a point or two higher, but Buffalo would have a lot more value.
I still favor the Bills, who have the seventh-best defense DVOA (-9 percent) and the fourth-best pass defense DVOA (-12.8 percent), but I don't think I'm going to wager a penny on this game unless the line dips below a field goal. That's not going to happen, unfortunately.
Fantasy: C.J. Spiller says he's "getting back to his old self," and the Falcons rank 24th in rush defense DVOA (-1.1 percent), but are you going to risk your fantasy playoffs with him? I wouldn't. Among the players I would start ahead of him are Rashad Jennings, Donald Brown, Danny Woodhead, and (gulp) Ray Rice.
Denver @ Kansas City (+5.5)
The Patriots outscored the Broncos 31-7 in the second half of Sunday night's game, and kicked the game-winning field goal in over time. New England ranks 13th in defense DVOA (-4.2 percent), and Kansas City ranks 11th (-5.6 percent).
Justin Houston will likely miss this Sunday's game for the Chiefs, while fellow defensive lineman Tamba Hali says he'll be "ready to go."
I don't know what to think about Peyton Manning. He looked extremely pedestrian for the majority of last week's game, then orchestrated a beautiful drive to tie the game. His below average first-quarter stats were lowered because of the absurd amount of turnovers his defense conjured, and Knowshon Moreno's ability to run the ball effectively, but Manning really struggled at the start of the second half.
In the first matchup between these two teams, Kansas City barely even sniffed Manning. I think Andy Reid will realize that this game is a bit of a freeroll – if you win you can contend for a division title and possibly the number-one seed, but if they lose their still guaranteed a playoff birth – and take some chances on offense and defense. Blitzing Manning might not be the best strategy because he gets rid of the ball so quickly and is able to recognize extra pressure, but KC has to do something to get to Manning.
This line seems fair, but I'm not sure any team other than the Chiefs should be favored by more than five points in Arrowhead Stadium this season.
Fantasy: Dwayne Bowe has averaged 11 targets a game over the last three weeks, and scored a touchdown in each of his last two games. I've been very anti-Bowe this season, but against Denver's pass defense (22nd in DVOA, 14 percent) I think he's a nice WR2.
Cincinnati @ San Diego (-1)
New York Giants @ Washington (+1)
After losing three games in a row, the Chargers put up 41 points against the Chiefs last week. Yes, Houston and Hali missed most of the game, but Philip Rivers played very well and Keenan Allen balled out.
As I said last week, the Chargers are the most consistent team in football, ranking No. 1 in variance (4.3 percent) from week-to-week. The offense (2nd in DVOA, 23.8 percent) is great, the defense (32nd in DVOA, 25.1 percent) is not.
The Bengals are one of the most random teams in the league, ranking 22nd in variance (13 percent). They destroyed the Jets in Week 8 by 40 points, but also lost to the Browns and Dolphins. The inconsistencies start with quarterback Andy Dalton. When Dalton's on, the offense (ranked 21st in DVOA, -5.2 percent) is capable of anything. When he's off, the offense is unwatchable.
Cincinnati is 1-4-1 ATS on the road, and San Diego is 3-1 ATS at home. I think these trends will continue.
The Giants and Redskins are two very bad, very irrelevant teams in the NFL. I think that the general public will overreact to Robert Griffin III's poor performance on Monday night and all of the negative stories in the press, and this line will increase. When it does, pounce on it, especially if it starts to flirt with 2.5 or 3 points.
Fantasy: Keenan Allen is legit. Last week was his fourth 100-yard game of his rookie campaign, and he's on pace to have 96 catches for just under 1,000 yards and four touchdowns. Like Wright and Brown, if he starts to find the end zone more regularly, he will be one of the most valuable receivers in fantasy.
New Orleans @ Seattle (-4.5)
After Week 12, a bye week for Russell Wilson and company, the Seattle Seahawks are the top ranked team in total DVOA (37.9 percent). It's the first time this season that Denver isn't No. 1.
The New Orleans Saints rank fourth (24.2 percent), and with a win against Seattle they would top the NFC at 10-2 with a tiebreaker over the Seahawks.
Seattle is undefeated at home (13-0) over the past two seasons, and 10-3 ATS. In those 13 games they are a perfect 4-0 ATS against teams who went on to make the playoffs.
Excluding the 2012 season, which was an absolute mess, the Saints are 8-8-1 ATS outdoors with Drew Brees at quarterback.
I would be a lot happier if this line was closer to a field goal, and I think it might fall before Monday night, but I can't pick against the 12th Man. I just can't do it.
Fantasy: My DraftKings Value Plays only focused on Thanksgiving this week, so here's a bit of advice for the weekend: play Marshawn Lynch. His $8,100 price tag hefty, but the Saints rank 30th in rush defense DVOA and we all know what happened the last time Beast Mode played against New Orleans at home:
Last Week: 8-6
Season: 78-92-6
Get all the latest PokerNews updates on your social media outlets. Follow us on Twitter and find us on both Facebook and Google+!