RotoGrinders.com Daily Fantasy Sports Player of the Year Race Coming Down to the Wire!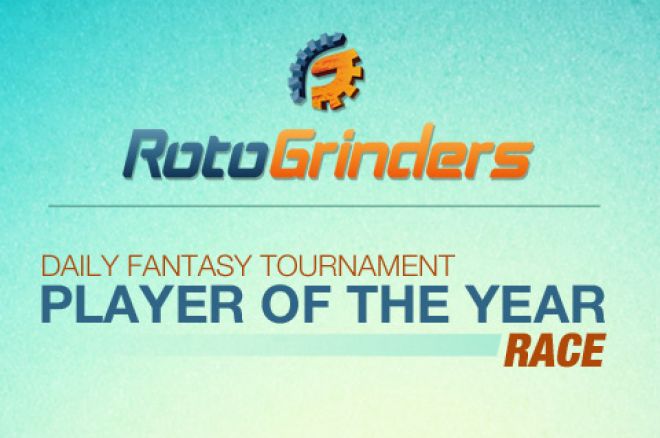 The fantasy football industry has exploded over the past two years with the immense growth of daily fantasy sports. And it's about to get much, much bigger. RotoGrinders.com, the major Daily Fantasy content and community site, has been right in the middle of this growth since they launched in 2010. With this year's meteoric rise in the size of prize pools in daily fantasy tournaments, the 2013 RotoGrinders Tournament Player of the Year Race is attracting a lot of attention.
Next month, three companies will make daily fantasy sports history by awarding the biggest prize in the history of the business. DraftKings.com, DraftStreet.com and FanDuel.com will each award one player with a $1 million payday as part of their respective championship events. Nearly $8 million in prizes will be up for grabs across the three contests in December.
Thousands of players, including yours truly, have been participating in weekly satellite tournaments with the dream of winning a million bucks. Here's a look at each of the contests:
DraftStreet — 40 qualifiers will travel to Las Vegas to compete in the DFFC, which boasts $1.75 million in prizes. All qualifiers will receive a free flight to Vegas and accommodations at The Palazzo.
FanDuel — 50 finalists will compete for $2 million at the FanDuel Fantasy Football Championship in Las Vegas next month. First Place will receive $1 million and get a private jet flight home, and each of the finalists will get the opportunity to meet NFL legend Jerry Rice.
DraftKings — The Fantasy Football Millionaire contest has a $3.1 million prize pool and is the only site to offer a direct buyin ($1,600) to the final. With qualifiers running for as little as $2, the ROI% potential in this event is colossal.
While these massive payouts will be at the top of every grinder's mind, there will also be major bragging rights on the line. RotoGrinders.com will honor the "best of the best" in daily fantasy sports with the Tournament Player of the Year (TPOY) award, which measures a player's performance based on results in leagues with guaranteed prize pools of $10,000 or more. TPOY points are calculated separately for each event and then each player's top 30 scores are aggregated - think GPI or PocketFives.com rankings for comparable systems in the poker world. As it stands right now, the 2013 TPOY race is inevitably going to be determined by the performances in the three major football contests in December. In addition to bragging rights, the eventual winner will be rewarded with an all-expenses paid trip to Las Vegas for the RotoGrinders Opening NFL Weekend Party in 2014.
The Contenders
Naapstermaan
Currently sitting at No. 1 in the RotoGrinders TPOY rankings is 25-year-old naapstermaan from California. Naapsterman won the biggest daily fantasy baseball contest ever back in July, taking down the DraftKings $500,000 Midsummer Classic for $125,000. He also won the DraftKings NBA $150,000 Bankshot in March for $50,000 and 1,350 TPOY points. Naapsterman is best known for his multi-entry prowess, particularly in qualifiers — he's won two tickets to the Fantasy Millionare at DraftKings so far. However, he jokingly told PokerNews that he's "drawing dead" in the TPOY race unless he won a seat to the other two major football contests next month. You'll see why below.
Woopdeedoo
Also known as "DirtyGirl15" on DraftKings, woopdeedoo ranks second in the TPOY race — less than 500 points behind naapstermaan. Woopdeedoo won $150,000 for his first-place finish in the DraftKings NFL Kickoff Million this fall, good for 3,302 TPOY points.
PrimeTime420
If you play daily fantasy sports, you've probably seen this name in one of your leagues. PrimeTime420 ranks third in the TPOY and is a top grinder across the board, picking up big scores in basketball, football and baseball this year. He has qualified for the FFFC on Fan Duel and still has a couple more weeks to win seats on DraftStreet and DraftKings.
HeadChopper
If there is a "legend" in the world of daily fantasy sports, this is the guy. Earlier this month, headChopper won two dozen seats to the Fantasy Football Millionaire contest, as well as multiple seats to the FFFC and DFFC, in a single weekend. The performance was considered by many of his peers to be the greatest in the history of the industry. How did he do it? By going against the grain and picking under-the-radar players like Nick Foles, Case Keenum, Chris Johnson, and T.Y. Hilton. All of his sleeper picks panned out, and he won nearly every major qualifier across the three sites. November 4 is now officially known as HeadChopper Day in the daily fantasy sports industry.
It's also worth noting that headChopper won the Fanduel Daily Fantasy Basketball Championship this year for $50,000 (1,143 TPOY points). He ranks fifth in the TPOY race but might be the favorite to finish on top when it is all said and done.
"To win TPOY would be huge," he told PokerNews this week. "I think things are growing so much right now that this is a big accomplishment. I was in the running last year and got edged out. It wasn't even about the monetary prizes that make you feel disappointed, it's the pride. Everyone deep down really wants to win this title to be able to make that claim that at least for that one year, you were the best at large field tournaments in this industry."
Other contenders rounding out the top of the TPOY leaderboard: McJester (#4), stlcardinals84 (#6), former poker pro Al "alsmizzle" Zeindenfeld (#7), and 2011 FFFC Champion Peter "CSURam88" Jennings (#8)
Victories in the three major football contests will be worth 5,000-7,000 TPOY points, meaning the race is still wide open for any top grinder to sneak into the lead. The race ends on Dec. 31, so be sure to keep an eye on the results at RotoGrinders.com next month!