Sergio Aìdo Discusses His Successful 2013 and His Plans for 2014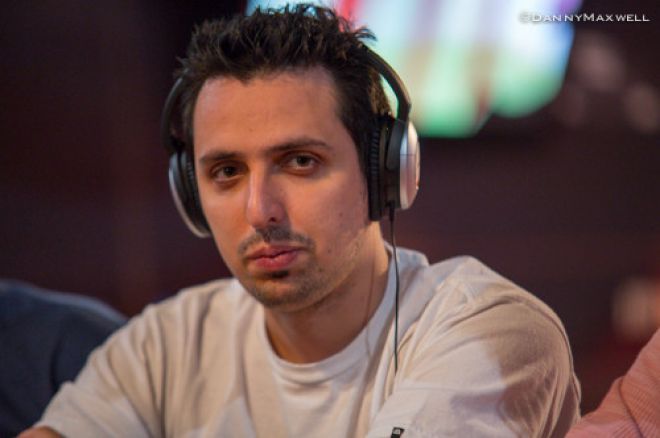 After leaving his home country and joining the Spanish poker community in London, Sergio "Petgaming" Aìdo spent most of 2013 playing his way to the top and solidifying himself as one of Spain's best tournament players.
Second in the Spanish Player of the Year race right behind World Series of Poker Europe Main Event winner Adrian Mateos, Aìdo has made a great run over the past 12 months. He has two UKIPT event wins, a 12th-place finish in the WSOPE Main Event, and a final table in the PokerStars Spring Championship Of Online Poker Main Event worth $313,200.
PokerNews Spain's Antonio Martín chatted with Aìdo at the end of his fabulous year about some of 2013's most memorable moments and discover more about Aìdo's ambitious plans for 2014.
Considering your live and online results, 2013 has been a great year for you. How do you feel about that?
2013 has been a spectacular year for me. It went incredibly well both online and live, and I think I finally proved that I deserved the Newcomer Award I won in 2012. So far I must say luck has been on my side, and this means that now I need to stay focused and keep trying to improve my game to make sure this hasn't been simply an illusion.
Looking back, what do you think were your best and worst moments of 2013?
I think everything has been fairly positive for me. I reached the financial goals I set, I graduated from college, and I also moved to "GloryHouse", my new grindouse in London. On the downside, my regrets are probably not having spent much time on cash games and taking care of my body. This is something that concerns me and that I am going to work on during the next season.
During the past 12 months you became one of the UKIPT's top players, winning the High Roller in Galway, the Main Event in London, and reaching the final table in Nottingham. How do you feel about those accomplishments?
The truth is that my entire career in live poker has been a success since I started in mid-2012 by winning the World Poker Tour National Series in Barcelona and getting close to the final table at the European Poker Tour Prague. Seen from the outside, this might all seem easy, but truth is that when things like these happen, you always need to keep your feet on the ground and understand how important variance is in live tournaments.
From all the poker you played 2013, which table impressed you the most?
There is one from few weeks ago, from EPT Prague Day 2. I had Anaras Alekberovas, Matt Frankland, Gaelle Baumann, and Paul Volpe [at the table]. If you think about it, on paper it was supposed to be a nightmare, but I managed to do good anyways. You see, Volpe is a perfect example of how deceptive variance can be in this game. He has great results in his career, but to me he looks like a pretty weak player.
How about players, then? Who impressed you the most?
I really liked Adrian Mateos and Shannon Shorr, especially for how fast they play at live events. It is true that if you are used to the online action you are able to make decisions in seconds, yet I prefer to take all the time I need when I get the chance of doing so. Amongst the good players I have been playing with, I would also mention David Peters and Mike Watson.
Besides your great results in live tournaments, 2013 has been a very profitable year online as well, as you managed to move over $1,000,000 in winnings.
I started the year down for $35,000 on PokerStars, but then in May I closed the SCOOP Main Event in fifth place, winning $313,000. This turned my year from mediocre to very good. On the positive side, I think my game improved a lot during the last months, and I think sharing an apartment with some other great poker players helped me a lot.
Let's talk a little about that SCOOP final table. When you found yourself playing against Adrian Mateos and Viktor Blom, how was that?
I can tell you that the emotions you feel while playing against the best players in the world for so much money are both great and very hard to explain. Looking back at that final table, I can tell you that I don't have many regrets. In the end, I just lost two coin flips and finished in fifth position.
For how the numbers in the online world can impress many, what some people don't see is how a Sunday session for players like you can translate in over $10,000 in buy-ins. This brings up the question: How can a player at your level keep going without any significant victory for weeks?
Big swings are very hard to deal with, especially on an emotional level. It is very hard to leave the financial dimension of the game aside, but the only thing one should do is to keep working hard without losing too much confidence, especially when results don't come even though you think you've been playing well.
How about 2014? Did you already choose what tournaments you will be playing?
I have the feeling this is going to be a very intense year with a lot of traveling. As for now, the idea is to play all European Poker Tour stops starting with the PokerStars Caribbean Adventure. Then, I am planning to play some events at the WSOP, the UKIPT and the Estrellas Poker Tour.
I am planning to to spend a month and a half in Vegas for the WOSP and play most of the hold'em events, which means that I will spend somewhere around $55,000-$80,000 in buy-ins. Last year, I played six tournaments, but I did not finish in the money once. This year I will work to change this.
How about when you are not playing poker, what keeps you busy?
As most players, I have a slightly obsessive personality. Before playing I was completely absorbed by music, and now I'm into poker. To tell you the truth, I also miss doing other things. I am planning to get back into sports.
Can you tell us about your move to London? Why did you decide to leave Spain and move there?
It happened after I won the UKIPT London. I realized the only way to turn pro was to relocate, because being a professional poker player in Spain is impossible.
What's your life in London like? Do you spend a lot of time with the other Spanish players living there?
I guess people at the "Gloryhouse" may be a little addicted to the game, as when we are in London our priority is always to grind as much as we can. I must say, I am a little lazy to go out and meet the other Spanish people living there.
Do you have any goals for 2014? If so, what are they and what is your main one?
I know it might sound obvious, but I think to be happy. Then, I also wish everyone at the "GloryHouse" a successful year.
Get all the latest PokerNews updates on your social media outlets. Follow us on Twitter and like us on Facebook now!