My First EPT: Joe Stapleton on his Vienna Hangover, Daniel Negreanu & More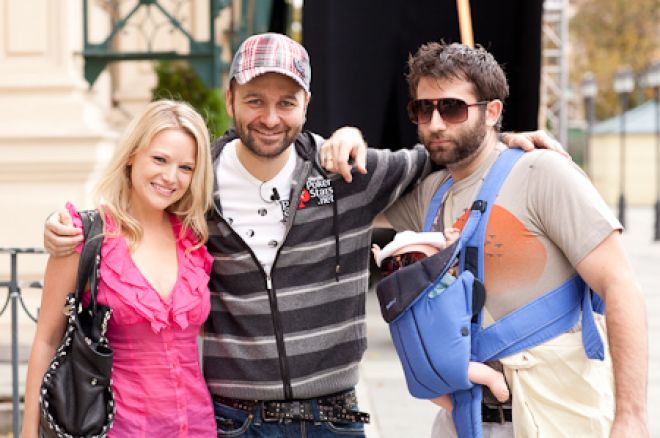 The European Poker Tour (EPT) is in its 10th season, and since its inception it has inspired several careers. From players who made their name on the tour like Jason Mercier and Mike McDonald, to on-air personalities like James Hartigan and Nick Wealthall, to the countless members of the production crew who help bring the EPT to life — each and everyone of them have had a first EPT experience.
In a new series, PokerNews will seek out the most interesting EPT origin stories, beginning with EPTLive cohost Joe "Stapes" Stapleton. The funnyman is the perfect selection for the inaugural My First EPT piece considering his was the EPT7 Vienna, which is the last time the tour visited the Austrian capital.
That will change from March 19-29, 2014, as the EPT will return to the stunning Hofburg Palace — Vienna's architectural masterpiece and Austria's most popular tourist attraction — for a 40-event tournament schedule that will include more innovative and fun game variants than any other festival so far in Season 10.
PokerNews recently spoke with Stapleton about his first EPT, which wasn't a work experience. Instead, it came courtesy of Team PokerStars Pro Daniel Negreanu before Stapes became one of the voices of the EPT.
PokerNews: Your first EPT experience was back in Season 7 in Vienna. How did you end up visiting Austria? Rumor has it Daniel Negreanu flew you and Amanda Leatherman out?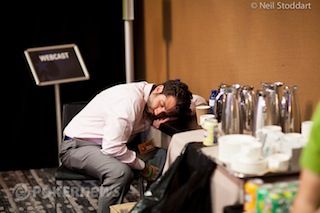 Stapleton: Yes, that's true. At the start of the penultimate day, Daniel was pretty much a lock to make the final table, so that was lucky, and it was also lucky that Daniel was really attracted to a girl (Amanda Leatherman) who happened to be a good friend of mine. I'm pretty sure he mostly just wanted to fly her out, but Daniel's a super generous guy, so I don't want to take away from that, but I think he wisely came to the conclusion that his chances would be better if he told her she could bring a friend.
You wore a unique costume to the final table to rail Negreanu, namely Alan from The Hangover. What inspired you to wear that costume?
I had just started on The Big Game at that time and I had been working something like 13 or 14 straight days. My last day of voiceover for a while was due to be just before Halloween weekend, so I had spent a couple weeks trying to put together this costume. I take Halloween pretty seriously. If I can't do a costume right, I don't do it at all. My costumes are generally inspired by my love of movies, and my body's love of growing hair. I had recently done Don Juan DeMarco, Magnum PI, Wolverine, and The Most Interesting Man in the World. I was like "Who's topical, bearded, and tubby?" Alan from The Hangover.
Did you haul it all the way to Vienna just to wear it?
This trip to Europe came together at the last minute. Not knowing I'd be out of town for Halloween, in the weeks prior, I had run all over L.A. and the Internet to find the stuff to exactly replicate it. There were a lot of parts: the shirt, the khakis, the "satchel," the Blu-Blockers (two pairs), the BabyBjorn, and the prop-baby itself. All in all, I had spent a couple hundred bucks. Then all of a sudden, Daniel makes this what I thought was a once-in-a-lifetime offer to go to Europe for a few days. I was actually kind of bummed to be missing Halloween, so I was just like "Why can't I do both?" This attitude has gotten me into mucho trouble in the dating department.
You also wore it to the after party? Was it a hit?
I think the effects of the costume had long worn off by the time I reached the nightclub. It also didn't help that I was an unattractive guy dressed up like an unattractive guy. So it depends on your definition of the word "hit." I spent an inordinate amount of time chatting up two girls who shall remain nameless — just kidding Sophie and Dana. As usual though, I left the club alone.
Were Negreanu and Leatherman embarrassed to be with you?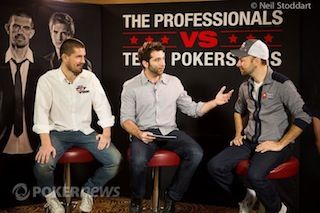 Absolutely not. Amanda and I always got along really well, which explains why two heterosexual people were able to spend so much time together without a single iota of sexual tension. It always used to make me mad how there were always these Daniel/Amanda rumors flying around, and no one ever suspected that Amanda and I could be hooking up. We weren't, but what the f***? As far as Daniel goes, he wasn't embarrassed either. Daniel, and Amanda too, like being the center of attention, and luckily he just "gets" me.
Aside from sweating the final table, what else did you do while in Vienna?
There really wasn't time for much. Our flight was delayed out of Los Angeles, which caused us to miss our connection in London, which gave us less than 24 hours in Vienna. After leaving the club without even so much as a phone number, I did make myself feel better by having a date with an amazing Vienna street sausage. I know what you're thinking. No, that's not a euphemism, and I didn't do anything other than eat it.
Did you have the chance to meet EPT folk that trip? Perhaps it was your first interaction with James Hartigan? If not, then was the first time you met him?
I think I met plenty of EPT folk on that trip, but I was new and I was scared and I was jetlagged and let's be honest I was drunk, so I can really only remember one interaction, specifically. I remember meeting Nick Wealthall. He was doing EPTLive at the time and came down on a break to say hello to me. I really had no clue whatsoever that I would one day work on EPTLive myself. For some reason, the only other people I remember meeting for the first time were the massage girls. I wonder why that is.
I met James for the first time when I was asked to do a guest commentary at NAPT Venetian. I can't remember if it was before this or after it. I think after. I really can't remember. I drink.
Are you excited the EPT is returning to Vienna for Season 10?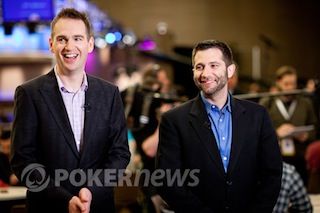 I'm excited, yes, but also not at the same time. I thought Vienna was an absolute blast, and the availability of alcohol, cheap street food, and females makes me excited to return. Unfortunately, my job these days is slightly more involved than "Daniel Negreanu Hanger-On." And while I do still serve that role to a certain extent, doing seven days of live commentary forces me to most often abstain from the hunt for female companionship at the club and after party, and instead skip straight to admitting defeat and the in-room "entertainment."
This season will be my first time there. Have any recommendations?
Find the richest, most successful poker player who will give you the time of day. Charm him with your wit and one-liners. Ingratiate yourself to him (or her). Become really good friends with someone he (or she) desperately wants to sleep with. Follow him (or her) around like a puppy. Pretend to take your wallet out when it's time to pay. Keep everyone entertained with jokes. If this fails, attempt physical comedy by making a fool of yourself, intentionally. Go home alone. Get a street sausage.
Thanks, Joe. I'll keep that in mind.
EPT Vienna satellites are running daily from as little as €1.10 or 50 FPPs. To view details on qualifier tournaments, click here. The PokerNews Live Reporting team will be on hand to bring you updates from the €5,300 Main Event and the €10,300 High Roller.
*Lead photo courtesy of the EPT.
Get all the latest PokerNews updates on your social media outlets. Follow us on Twitter and find us on both Facebook and Google+!
Executive Editor US, PokerNews Podcast co-host & 2013 WSOP Bracelet Winner.