EPT Grand Final Champ Antonio Buonanno: "I Dream Of Jack Salter Every Single Night"
Andrea Borea

Giovanni Angioni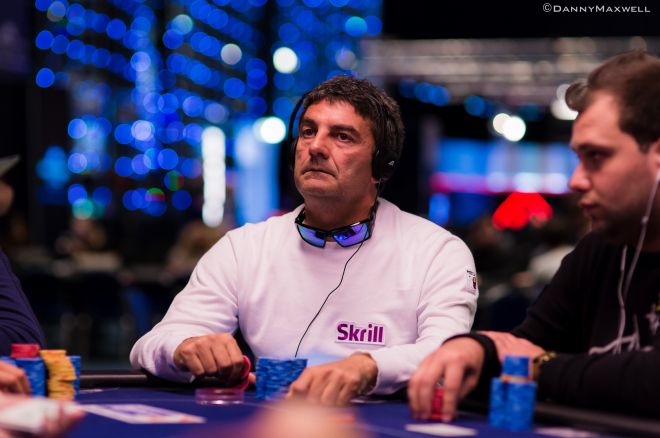 On May 02, 2014, Italy's Antonio Buonanno captured the 2014 PokerStars and Monte-Carlo® Casino EPT Grand Final €10,600 Main Event title at the end of an exhausting 18-hour of play.
In order to bring home Italy's first EPT title after former PokerStars.it Salvatore Bonavena's victory in Prague back in December 2008, Buonanno had to play his way through a field of 650 players and win a challenging nine-hour long heads-up battle against Britain's Jack Salter.
"I am very tired, it has been a very long day for me," Buonanno told PokerNews' own Jennifer Robles in a quick video interview recorded at 7 a.m. before he left the casino with the EPT Grand Final title and a superb top prize of €1.24 million.
To know more about him and to discover what he now thinks about his memorable victory, PokerNews Italy's Andrea Borea reached out and asked Buonanno to comment on the amazing day that crowned him as winner of the most important European poker event of the season.
Borea: It has been a bit more than a week now since that incredible day in Monaco. How does it feel to be the new EPT Grand Final champion?
Buonanno: To win an EPT is something so important that a week is not enough to get over it. I think the feeling of this victory is something that is going to stay inside me for months. You know, I still dream about Jack Salter every single night.
How did your life change after the victory?
My life did not change much since then. What changed is probably the confidence I now have about myself and about my [poker] skills. Now I am sure I can do even more.
Was there any specific moment during the Main Event that made you think it was going to be "your" tournament?
I was always thinking that I was doing well throughout the whole tournament. I also obliged my family to join me there, as I wanted them to be with me. Keeping them close helps me to feel more comfortable at the table. I remember how during other tournaments I was not able to concentrate on the game as I should have because they were not there. I only regret that my kids had to skip school for four days to be with me in Monte Carlo.
What did you like the most about the way you played?
I tried to change my strategy many times during the tournament, and I think I succeeded in that. This is indeed what I liked the most of my Main Event.
Many admired the way you stayed focused on the action at the table during the 18-hour long final table, especially hearing the noise coming from Salter's rail. How did you manage?
I think Jack Salter's rail did not do anything wrong there, they simply cheered for their friend as they were supposed to do. As for myself, I was too much into the game to be influenced by what was happening around me. After 38 years playing poker, I think that's something quite normal. I would say that my experience helped me a lot at the final table.
I heard that once you went back home, you watched the final table with Italian commentary all over again. How did that make you feel?
I haven't finished watching it yet, but I have to say I can't really describe the emotions that it made me feel. The commentators did an amazing job keeping poker fans glued to the screen. I want to congratulate with you and with Ugo [Ambrosio] for the job you guys have done.
You kept your wife Carmen around during the whole final table. How did that help you?
Having her there with me was incredibly important. I just needed her to be in Monte Carlo with me.
During the final table, we had the feeling that people in Italy followed the live stream with an excitement we'd expect from a World Cup final. Do you believe that poker can have that kind of power to aggregate and bring people together?
I think that it happened because of the commentators, because of the great heads-up play, and because of this beautiful game that has nothing to do with gambling, even if some like to think so. I think [poker] should be taught in school and included in the list of Olympic sports.
How about if you were asked to analyze the way you have played? Do you think you have played "perfect poker," or do you have some remarks about your game?
I don't consider myself to be a perfect player. I believe my success is due to the way I criticize my game and analyze every tournament I play. Also this time, despite the result, I will do the same with those players I have been sharing my love for poker for years.
What are you going to do with the money you won in Monte Carlo?
I don't think this win is going to change much. It won't push me to play more live events than usual; I think I will still keep playing some 10 to 12 tournaments a year.
Get all the latest PokerNews updates on your social media outlets. Follow us on Twitter and find us on both Facebook and Google+!