Scott Vener: The Man Behind The Music of Entourage Talks Poker and the Entourage Movie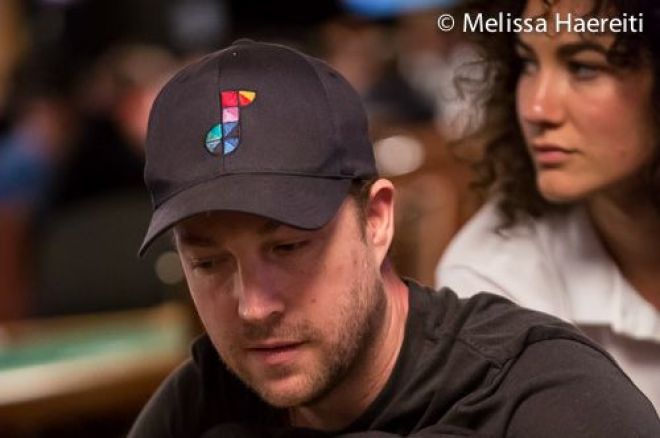 A self-proclaimed music curator, Scott Vener is the man behind the music of the hit shows Entourage, How To Make It In America and 90210, to name a few.
He is also an avid poker player, securing his first cash of the summer by winning his first table in Event #6: $1,500 No-Limit Hold'em Shootout. We caught up with Vener just prior to the restart of Day 2 to talk poker and music.
We know you as the man behind the music on Entourage. Are you involved in the movie that is due out next summer?
Yes. Actually we have three pick-up days that are shooting and the movie will be wrapped but I have already started working on it.
Poker players love the poker scene from series. Is there more poker in the movie?
Not this time. I wish. I was actually in that scene. It was Nick's [Cassavetes] idea to do that scene.
Did you play poker on the set? Were you even on the set?
I'm not normally on the set. I'm a post-production person, so once they shoot everything I go to work and get involved.
I haven't actually played as much poker over the last year and a half as I normally do.
Why? Just too busy?
Yeah. I am trying to launch my music app, Musaic. I have been working really hard on it and it's really exciting. We will be doing an official launch soon.
How did you get involved playing poker?
The truth is I was at a party with a friend of mine and we were drinking. After 2 a.m. you can't drink anywhere in L.A. and he suggested we go play poker. I didn't even know there were casinos in L.A. So we went, I bought in for $100 and was hooked ever since. It was soon after that when I started learning the game.
Do you play in any of the infamous Hollywood cash games?
I don't really play too many big cash games. I just play kind of small. I really like tournament poker more than cash games. So I mostly stick with that.
Do you have friends that are poker players?
Yes. I would say the person I talk poker with most right now is Jason Koon.
You cashed in this event last year, right?
I did. I really like the shootouts. I think I am more goal-oriented. I like having to just win my table instead of playing against the abstract. It's tough to think about making it through so many days. That helps me out a lot.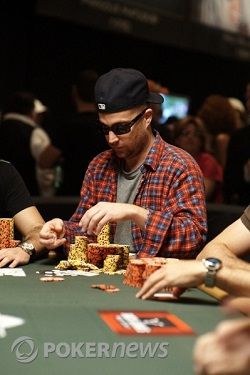 How's your summer poker schedule looking?
I will be here most of the summer. I have to go back and forth for meetings and stuff. I'll probably play 10-15 events.
In your opinion, who are the top three tournament poker players right now?
Jason Koon is definitely up there. Scott Siever is really good. And Vanessa Selbst — Vanessa is just a beast.
You have a pretty active Tumblr blog and Twitter feed where you share tons of music with people. What top three artists would you recommend people check out?
These are some new artists but I like Parque Courts, Zhu and my friend, Pharell [Williams] — he's actually killing it right now so I want to give him a shout out.
The "Happy" song?
Yeah, the "Happy" song but everything that is going on with him right now and everything he touches is like gold. He's a great person. He's real.
It was reported that you tend not to use music that is pitched to you. Is that true?
No. That's not true. The way they worded that was taken sort of out of context. I normally like to find music that I feel people are talking about and not that labels are pushing.
All of the artists that have people spending all day pushing it onto music supervisors like myself or radio people, I think that there is kind of a slanted view … or I should say, the good music that is out there isn't fairly represented by people like that and there is only certain artists that actually get someone pushing it hard on people like myself.
So I personally like to go and see what is being talked about by kids, what's happening on Twitter and all of that kind of stuff.
I get paid to listen to music. That's my job. If you got to go home and listen to music all day long you would find the new stuff too. I just think that as we get older more people love music but have other responsibilities and I am in a position where that is my responsibility.
Can you influence things a lot more through social media, where you didn't have those options before?
Exactly. It really puts it into the artist's hands. If you can build a small base, the people that have a lot of money will find you.
Obviously music is your day job, but it also seems to be a true passion for you. How did you get started?
I had no ambition to do this. I didn't look up music supervisor as a kid. I was sitting in my friend's [Doug Ellin, creator of Entourage] living room and he was playing the music from the show and he wanted me to watch to give him feedback. I watched the show and he asked why I wasn't laughing. I said the music is so bad I can't pay attention to the jokes.
He said if you can do better than do it. So I started sending him stuff and then it just evolved. I had no idea what I was doing; I just loved music and I was giving him different suggestions and then it turned into a career.
Talk about being in the right place at the right time.
Yeah. It was just one of those things where when you aren't chasing it, it ends up right in front of you.
On your Twitter profile it says "Ballers [coming soon]." Can you tell us anything about that?
Yes. It's a new HBO show that Pete Berg is directing and starring The Rock [Dwayne Johnson]. Steve Levinson, who is a producer on Entourage, How to Make it In America and Boardwalk Empire, wrote and created the show; and Mark Wahlberg is also a producer on it.
So it's a lot of the same crew?
Almost. Everybody but Doug. It's about an agent so to speak. He's not an agent but he is like one for football players. He is helping manage players who have chaotic lives.
Sounds like another hit show in the making with a great soundtrack to be sure. You can download Vener's music app Musaic from iTunes and keep your eyes open for The Entourage movie to hit theaters next summer.