Matt Stout Goes for World Series of Poker Gold While Giving Back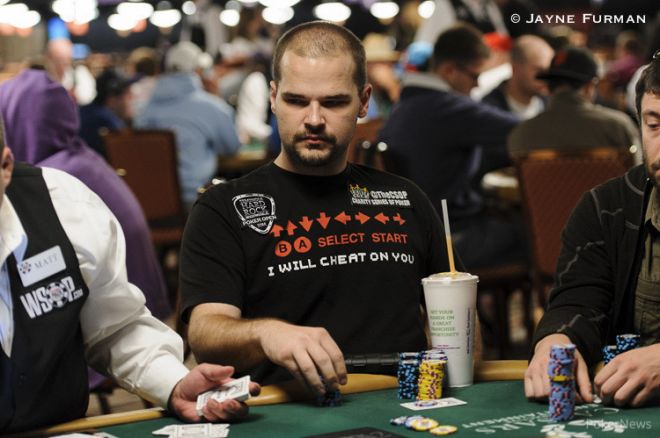 After striking out through his first 14 events at the 2014 World Series of Poker - a fact he unabashedly trumpeted via his Twitter feed - Matt Stout is closing in on his first gold bracelet in Event #31: $1,500 No-Limit Hold'em. A total of 1,631 players took their shot in the event on Saturday, but by the time chips were bagged and tagged on Sunday night, Stout led the way with 15 players left in contention.
While the good natured and perpetually smiling Stout has his fair share of fans in the poker world, hundreds of hungry people living across the Las Vegas valley are also glad to see him enjoy success on the 2014 WSOP stage. Stout has long been a supporter of charitable causes, contributing his time, money and energy to assist those in need. But this year, he has decided to combine his passion with his profession. With the launch of his non-profit charity - suitably named Charity Series of Poker (CSOP) - scheduled for the first week of July, Stout is hoping to make this a summer to remember as he attempts to win his first WSOP bracelet just three weeks before the CSOP's debut event.
Stout took the time to fill PokerNews in on his inspiration for the CSOP, his plans to make charity poker tournaments a legitimate option for players to contribute, and his own efforts to give back to the Las Vegas community.
PokerNews: Matt, with the first Charity Series of Poker event scheduled to kick off in July, give our readers a little insight into the idea and your motivation for starting this project.
Matt Stout: I've always done a lot of charity work. My brother was with Habitat for Humanity at Johns Hopkins [University], and kind of got me started doing it when I was fairly young. I ended up becoming the vice president for Habitat for Humanity at the College of New Jersey… I ran a potentially illegal $10 rebuy charity tournament to raise funds for Habitat, because we had no real money to work with as a campus chapter to make T-shirts and do other things. So I've always done a lot of work with Habitat for Humanity, and food charities are always some of the other ones that are really close to me. I'm into some animal charities and things as well; I've always distributed some annual donations to different charities, but those are the ones that are closest to my heart.
I've actually planned on starting a series of charity poker tournaments for about seven or eight years now, and I finally was in a place financially and personally where I was going to be able to devote more time to it right before Black Friday. And, as it turned out, that wasn't really in the cards. I had just bought a house and finally settled down in Vegas- that was my plan. I'm here, this is my home base, and that's actually one of the reasons I moved here. I thought it would just be easier to get things started here than anything else. That was kind of part of my plan, I was like, 'Alright, get settled in, set up my house, play the World Series, and once the Series is over, I'll get the ball rolling on the Charity Series of Poker.' Matt Savage, who is a board member, had some say on the name.
PokerNews: Your passion for charitable contribution is pretty evident, so how are you able to devote the time and energy you'd like to these causes while also traveling the circuit as a professional poker player? Is your involvement more financial or hands-on in terms of giving?
Now that I've ended up making a smooth transition through Black Friday… Well, I won't call it fully smooth, but I've made the transition through Black Friday. Now, I'm engaged, my fiancé is living here in Vegas, [is] in her second-year at UNLV Law, so I'm finally in a position where I'm really kind of settling down. Trying to spend more time at home - at least not spending eight or ten months a year on the road like I used to. I'm finally home a little more, and have every opportunity to get the ball rolling. I've been doing a bunch of work with Three Square, which is [one of] Las Vegas' food banks. They partner with a lot of other food-related charities and organizations around Vegas. I've worked with them, helped clean their gigantic show kitchen. They have an amazing kitchen with some - Le Cordon Bleu chefs because they actually have to do 200 hours of community service to pass. - Ninety-three cents of every dollar goes to food, and only seven percent is [administrative], so it's an extremely effective charity. So because of that, every dollar that gets donated results in about three meals being provided to hungry Las Vegans.
I actually did one of the most amazing and humbling things I've done in charity work about two months ago. I went and served lunch to some homeless youth, people who are underage and homeless, which is something that didn't even really occur to me that that's a real thing. A lot of them are like runaways that have been kicked out of their homes, and it was crazy to see. Like I expected these kids to be really sad, and they weren't. I mean, these kids seemed happier than most people I know who are playing poker for a living, which was mind boggling and definitely extremely humbling. I was here for a couple weeks visiting my fiancé just kind of hanging out, just playing some Venetian small events, just killing time. So I spend like a day or two a week volunteering when I have time like that.
PokerNews: What motivated you to become so participative with these charities, especially nowadays when most people simply pay lip service to the idea of charity, sending out an annual check without bothering to really get their hands dirty?
Yeah, for sure, and I mean I definitely didn't get my hands dirty for a while when I first started playing poker for a living. I mean, I wasn't dating, I was just so addicted to poker for a long time that everything else kind of took a back seat. I wasn't paying attention to the [New York] Rangers, I wasn't seeing family enough, I wasn't doing charity work. But overall, it's definitely been something that I feel I get a lot out of personally, and I think it's really important to give back. It kind of helps center me and reminds me why I'm so lucky to do what I do for a living. Aside from helping them, I think it's been really good for me personally. You meet a lot of really cool people along the way.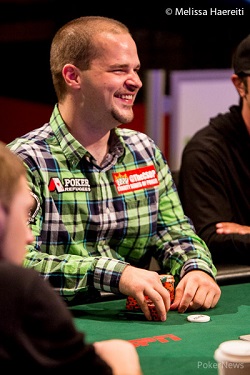 PokerNews: "Balance" has become the buzzword in poker circles as of late, as more players begin to realize the connection between performance on the felt and their lives away from the game. Do you see any correlation between your increased involvement with charities and volunteerism, and your own game?
Oh, for sure, it's definitely a part of that. Having a balanced life is really important in poker, and it's been something that the majority of poker players don't do, at least early in their career. Like I said, I did it too, I was playing 80 hours a week, 90 hours a week. All I wanted to do was print money, get better at the game, and keep playing as many hours as I could to keep getting it while the getting was good. A lot of people didn't realize that people were going to get better at the game and that it was going to get tougher. But I thought it was an inevitable part of this; there's so many people putting in so many hours that I assumed it would get tougher. I didn't think it would happen as quickly as it did, and I didn't think that the average game was going to get as tough as it is now, but it's definitely something where you need to not only stay ahead of the game and keep studying, but have a balanced life so that poker's not everything to you.
When poker is the only thing you're doing and the only thing you're focused on, when you're putting in 80 and 90 hour weeks and you lose, you failed at the only thing you're doing. That is so much more emotionally devastating to any normal human being than it would be if you're leading a balanced life. When you're eating right, you're exercising, you have relationships with friends and girlfriends, when you're doing other things outside of poker that make you feel good, that make you enjoy life, and that remind you why you're lucky to have everything you have and get to do whatever you get to do.
PokerNews: Getting back to the Charity Series of Poker, fill our readers in on the details. When and where will your efforts finally come to fruition?
So the first event is going to July 6 at Planet Hollywood, which is Day 1B of the Main Event, so anyone who's playing the WSOP Main Event can play the CSOP and either choose to start their flight on Day 1A or Day 1C. There's probably going to be a lot of drinking at the event, so I would suggest Day 1A (laughs). I'm going to play 1A, get it over with, and hopefully bag some chips and then use my karma boost for Day 2 and beyond.
PokerNews: What should players and fans expect from the CSOP's debut tournament?
It's going to be a $300 buy-in with $100 rebuys and add-ons for the first hour. Half the prize pool goes to payouts, half the prize pool goes to Three Square food bank. So, the CSOP is not handling any funds for the first event, they're just going to cut a check from Planet Hollywood directly to Three Square. But in the future the CSOP is going to be a 501(c)(3), and it's going to be an officially IRS-recognized charity, so we'll be able to have our own bank accounts, handle funds, and distribute funds to different charities. I'm pretty much willing to keep our books open to anyone on the board of directors and open to the public if anyone ever has any questions. We're doing this because there's been a lot of sketchy things that have gone on in quote-unquote charitable poker in the past, both people and organizations that have intentionally taken in money and misappropriated funds. We intend to make sure that all the money is going where it's supposed to go. I think Matt Savage and I will be pretty good at making sure everything goes the way it's supposed to go.
PokerNews: Where can people learn more about the CSOP and its ongoing charitable efforts?
Our website charityseriesofpoker.org has been launched and visitors can find out anything they need to know there.
PokerNews: What about plans for the future? Is there a second event on the schedule at this point?
There's not a second event scheduled, but we're in talks with the Seminole Hard Rock, the Borgata, and hopefully I'll be able to get Matt Savage to an event at the LAPC at the Commerce. We're definitely going to be devoting different percentages of the CSOP's annual gains to various organizations, including Three Square, Habitat for Humanity Las Vegas, as well as Habitat for Humanity International and Feeding America. Feeding America is the main national food bank and food-related charitable organization in America. And we're always open to discuss things with different charities that want to run events at different places, and we can make them a part of the CSOP, or at least help them with our connections and our expertise in running events.
PokerNews: Who can we expect to see at Planet Hollywood for the CSOP's debut event?
The list of featured pros includes Will Failla, Michael Mizrachi, Tony Dunst, Mike Matusow, Matt Salsberg, Gavin Smith, Matt Glantz, Loni Harwood, Mukul Pahuja, Tom Marchese, and actress Sasha Barisse, who played Doug's wife in The Hangover and has been playing a lot of tournaments lately.
PokerNews: Sounds like a pretty lively bunch of pros playing for a great cause. What can fans expect to experience if they choose to pony up a buy-in and play with their favorite players?
We're doing a media/cocktail hour at 4:00 p.m., the tournament starts at 5 o'clock, and we're trying to get as many people as we can for the event. A turnout of 150 to 200, I'll consider it moderately successful, but I'm hoping to get 300 or 400, though. Can you imagine getting a table of me, Matusow, Smith, and Failla drinking together? That'll be a fun drinking table. I might have to rig some table draws (laughs)… just kidding guys, I wouldn't actually rig table draws.
PokerNews: How about the structure?
It's going to be a turbo event basically, with 15-minute levels, and the tournament should be over at 11:00 p.m. or so. We want to be able to make sure people can get enough sleep to play Day 1C of the Main Event if they choose to do it that way.
PokerNews: What else would you like the world to know about the CSOP?
The reason I started this is because there are so people out there who just need a little push and they'll bend over backwards for charity. We'd love to see everyone show up, come out, have fun, have a few drinks, raise money for the food bank. Especially because every player, with rebuys, it's probably going to be almost 1,000 meals for every player that shows up and plays. And those players will still have an opportunity to win a pretty sizable amount of money. It's going to be a big prize pool and we're still paying out half the money under a normal payout structure.
***
Be sure to track Stout's progress as he continues to lead the way in Event #31: $1,500 No-Limit Hold'em, as the sprint to the final table - and perhaps his first WSOP bracelet win - continues throughout the day.
You can also check out his interview with PokerNews' Caitlyn Howe below:
You can view all of our great interviews in the video section. And be sure to follow us on Twitter and find us on Facebook and Google+!