Nearly 8,000 Players Do the Monster Stack Mash at the WSOP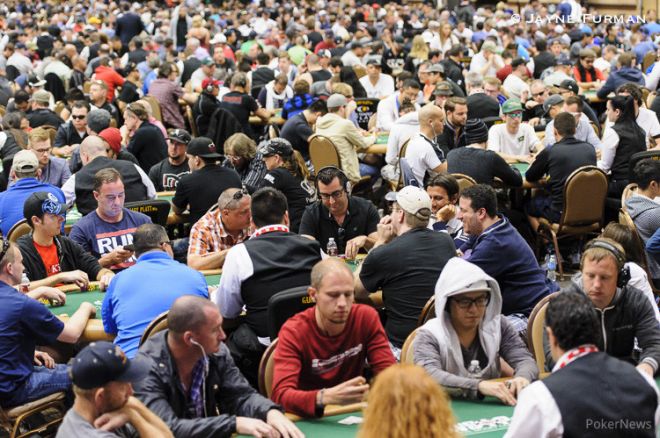 Every so often an idea manages to capture the collective attention of the poker playing public, from the original World Series of Poker in 1970 to the inaugural Millionaire Maker event in 2013.
After thousands upon thousands of amateurs joined the usual suspects in search of life-changing payday — one that many predicted to reach seven-figures when the tournament's addition to the schedule was announced — 2014 will forever be known as the Year of the Monster Stack.
The WSOP initially planned for what would've still been a huge field of 4,000, but soon enough in early afternoon hours on Thursday, the teeming masses winding through the Rio's notoriously long hallway told the tale. Recreational players enticed by the allure of a 15,000-chip starting stack for the standard buy-in, knowing full well that the lower entry fees usually produce only 3,000 or 4,500 worth of ammunition, had descended on Las Vegas with one tournament in mind: Event #51: $1,500 Monster Stack.
The arrival of so many players seeking to secure a seat in a tournament that just may change their life forever compelled WSOP staff to adjust on the fly, and a second starting flight was added to the schedule to accommodate the incredible amount of overflow. Eventually, the enormity of the event caused the cancellation of cash games throughout the Pavilion, and even the Rio Poker Room located far from the Amazon Room's familiar environs. What appeared to be every available poker table in the casino and convention center was occupied at one point, and yet they still came. Clogging the aisles and lining up at what felt like a limitless pace, 7,862 individual players were finally seated through the tireless work of Jack Effel and his tournament directing staff, a final tally which managed to make history.
The 2014 $1,500 Monster Stack event ranks as the second-largest live non-reentry tournament ever, trailing only the 2006 WSOP Main Event, which attracted a staggering 8,773 runners to the Rio. Earlier this summer a similar scene to Thursday's chaos took place, as Event #8: $1,500 Millionaire Maker No-Limit Hold'em created a field of 7,977, but that tournament allowed for reentries. The turnout generated a total prize pool of
$10,613,700 and the winner will take home the princely sum of $1,327,083 for their $1,500 investment, while all nine members of the official final table will earn a six-figure score to boost their bankroll.
During the onslaught of registration which took place Thursday, as well as on breaks throughout Friday's second day of play, PokerNews took some time to gauge player response to the Monster Stack event's debut. Amateurs aiming for their first significant cash, semi-pros and serious grinders looking to make a splash, and even a former WSOP Main Event champion were asked about their first Monster Stack experience.
****
Clyde Gaskins, Tournament Director at Sam's Town, Las Vegas, Nevada:
Every year I live for the World Series. I moved out here from Ohio to win the big one, and I haven't done it yet, but I'm not stopping until I do. This could be it, and I hope it is. I've played seven or eight WSOP events before, but they can't compare to the Monster Stack. If it wasn't for the deep stack I already woulda been out, to be honest with ya. I've had pocket queens twice and ran into aces, but because I started with 15,000 I didn't get into trouble. I was able to lose the minimum to stay in the tournament, or I'd be out, so I love it. I wish all of 'em were 15,000 chips.
There's $1.25 million up top, I already heard. If I won that, I would break down for sure, because I felt like I've been in college the last six years studying poker. Watching poker, be it playing on YouTube or watching on TV to get reads from everyone, and I think it's helped me out a lot. I just haven't had the luck I've been waiting for, or the big hit.
John Holley, Professional Poker Player, Destin, Florida:
Everybody wants to play this, and all the grinders that I know that travel the circuit, we're used to playing with more chips. That part of it is pretty cool, I mean, we all like it. I think the coolest part about it, and I didn't know this was gonna happen, is I see a lot of people here that, I think they saved up to play this one tournament. This is like the Main Event for them. I didn't even realize that it'd be that way, but it's easy to see it now… I can see it.
I'd like to say it's a little something special because it's so big, but the reality is when you play like 300 tournaments a year, it's kind of just another tournament. But that doesn't mean that I'm not excited about it, when I saw it on the schedule I said 'cool man!' But I'd say the most excited I've been about it just today, just kind of feeling the vibe. It reminded me of my first Main here in 2008.
I think it's great, and I know there's been a lot of people saying there's pros and cons, but I actually like it. I see guys, you know, they got a dream. I came out here in 2008 and I had a dream, you know what I'm saying? I can relate.
Mark Miller, Businessman, Ft. Lauderdale, Florida:
I came out just to play this event, and if I got knocked out, another one. But it looks like just this one now, I bagged up 17,000. I come out to the series every year, for the last five years, play two events during the week. You come out here, it's a subculture, and I enjoy it. One of the reasons I played this tournament was the size of the starting stack, it's better for me because I can splash around a little. And I didn't notice a lot of pros in this either, not like I normally see. Winning this would mean I could a little nest egg going, but I'd still work for another five years or so, depending. Definitely play more tournaments, probably hit the circuit for a little while.
Matthew Emmel, Online Player and Aspiring Circuit Grinder, Charlotte, North Carolina:
It's been great. I was really fortunate to be in the first flight yesterday, so I avoided a lot of the chaos. But our table was right near where everybody was waiting to get in the second flight, and I heard a lot of dissatisfied people who were pretty upset and everything like that. Overall though, I think they handled a unique situation really well.
It was incredible. On Twitter I posted a comment about just standing in the middle of the Pavilion and kind of doing a three-sixty look. When you realize that every single player in there is in this one tournament, and every room is holding this tournament, the idea of winning that is an incredible feeling.
Standing at the center of pavilion room looking at every table packed rly puts in perspective how sick it really is 2 win this thing #wsop51

— Matthew E (@Mattraq1)
As far as the stack size goes, I figured it would depend a lot on my starting table. I heard stories of some people that their standard raise was to like 500 at 25/25, and they'd get two callers. My table was the complete opposite; you'd raise to 75 and take it, then three hands in a row someone would get a walk. So it was the tightest table ever, and I made adjustments to that and started peeling in position to try and hit big hands against people's strong preflop ranges. It worked out alright, I chipped up pretty well, then had aces cracked by queens and was down to 4,000 pretty early, but I ended up bagging like 27,000. I have eighty thousand now [on the first break of Day 2], so I'm doing pretty well right now.
I'm still waiting on a six-figure score, I've got a couple five-figure scores, but nothing like that $100,000. A deep run in this, a final table, it would change a lot. I've got a decent piece of myself, I mean, I sell action and stuff like that, but this would change a million things. I don't really travel to play live a lot, I come out here during the summer to play, and if there's a World Series circuit event near where I live, but I mainly play online. So a big cash in this, maybe I could travel a little bit more, move up stakes, things like that. It's not just the money you make, it's also the earning potential you get when you're able to be a little more aggressive with your bankroll management.
Jamie Gold, 2006 WSOP Main Event Champion, Palm Beach, Florida:
I just got here last night, and I'm very excited to play. I didn't realize it was going to be so overcrowded (laughs), but I think they're actually doing a phenomenal job. People are giving them a pretty hard time, but it could've been a disaster. They have no idea how hard it is to coordinate, especially when you plan on having 4,000 max and you basically have 8,000 players, it's amazing how good of a job they're doing. So I give it up to all the executives at the World Series, I think they're doing a phenomenal job.
To me it's the mini Main Event, and it's a great warmup for the Main Event. It doesn't play exactly the same because the blind levels are half as long, and we have half as many chips, so it's basically a quarter of the Main Event, a quarter of the energy. I still get a tinge of nostalgic coming back here, I do. I still feel it. I feel honored and it's really cool to come in here, you know? This is where it all happened.
I'm doing really well [in the Monster Stack]… I've been steadily moving forward, slow and steady, and I haven't gone down. I don't think I've lost a hand, and I haven't always had the best of it, so… (laughs). Here we go again!
****
A number of accomplished pros also took to Twitter and joined the endless stream of comments from amateurs voicing appreciation for the Monster Stack's wildly successful debut. Below you can find what six-time bracelet winner Layne Flack, online monster in his own right Marvin Rettenmaier, and Swedish pro Sofia Lövgren had to say during their first encounter with this innovative addition to the WSOP schedule:
I have really enjoyed the monster stack event. It has a similar feel as pre cursor to the main event. Great work @WSOP and @WSOPTD

— layne flack (@back2backflack)
Having way too much fun in this @WSOP monster stack tourney... You can get caught bluffing and keep parts of your chips!?! Hell yeah!!! 135k

— Marvin Rettenmaier (@MadMarvin)
Couldn't play WSOP ladies today but having fun with 105k (100bbs) at the first break in #WSOP #monsterstack!

— Sofia Lövgren (@Sofia_Lovgren)
There are still thousands of players still in contention on Friday evening, so check in with Event #51 live updates throughout the night to see what the Monster Stack madness is all about.