Online Poker Traffic Surges at WSOP.com in Nevada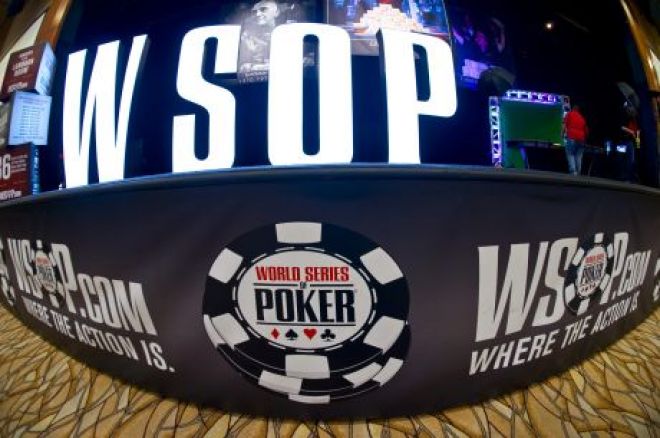 By most accounts legalized online poker in Nevada has come out of the gate relatively slowly since players were welcomed back to the virtual felt in 2013.
A market that is confined to players currently inside the state's borders certainly dictates that. But with thousands of poker players descending on Las Vegas for the 2014 World Series of Poker, WSOP.com began an aggressive campaign to get players back online just as things kicked off at the Rio All-Suite Las Vegas Hotel and Casino late last month.
And according to the site's head of online poker, it appears to be working.
"The traffic increase has been fantastic," Bill Rini, Head of Online Poker for Caesars Interactive Entertainment told PokerNews.
"Our seven-day moving average numbers moved from about 110 pre-WSOP to 150 at one point. When you consider this is a 24-hour average rather than peak, that's a pretty big jump. In fact, WSOP.com Nevada has become the largest regulated online poker site (in the country).
"Our numbers have exceeded the largest sites in New Jersey which has three times the population of Nevada. So for us, that's very exciting."
Rini also said those numbers don't count tournament players and WSOP.com has run a number of tournaments the size of which haven't been seen since regulation began.
Before the 2014 WSOP started, WSOP.com was running a $15K Sunday tournament, but Rini said over the course of the first three weeks of the WSOP, the site has run over $760,000 in guaranteed tournaments in addition to its regular daily schedule.
"There's been a ton of value out there for players and we've seen a big jump in action in our tournaments," he said.
Because WSOP.com did not go live until after the 2013 WSOP, Rini said it was hard to set expectations for the kind of traffic they would experience this year. But the site is doing as well if not better than expected.
"Our expectations were more of a range of possible outcomes and we've been performing at the higher end of that range," he said.
"In terms of why, well, I think WSOP is a fantastic brand and at WSOP.com we were able to put together a package of promotions that touched all the different types of players that the WSOP attracts. Whether you're a cash game player, tourney grinder, or you like sit-and-gos we have something there that we feel is compelling."
A little more than halfway through the 2014 WSOP schedule, Rini said they expect things to get even better.
"We do expect an uptick as the Main Event approaches," he added.
"The Main Event seems to draw the most overall traffic during the WSOP series, so it just seems to follow that more people would jump on WSOP.com while they're here in Las Vegas.
"We also have some exciting promotions like a 25-seat guarantee going on Day 1A of the WSOP. So in addition to there being more people, we have some great value propositions to offer."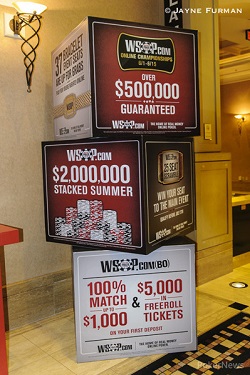 Throughout the series, the hallways outside the live tournament areas in the Rio's convention center have been filled with WSOP.com staffers offering players the opportunity to sign up for the site.
Rini said the campaign has been moderately successful, although it is apparent a lot of players would rather be sitting down in front of their computer when they sign up.
While the site still hadn't launched, Rini said the sign-up campaign was running during the WSOP last year and they are now seeing a lot of accounts created on-site in 2013 making their first deposit this year.
On the stage inside the Conventions Center's Pavilion Room the WSOP has set up what it calls a Grind Station where players are welcome to sit, charge their phones or computers, relax, and of course, jump on WSOP.com and play poker online.
But Rini said the thinking behind the idea was more about giving players a place to decompress than getting them on the virtual felt.
"I'm not sure if everyone knows they're free to use it though, so we're working on getting the word out a little more," he explained. "It's there for the players so the more the better."
As the Main Event draws near, Rini said a lot of players have been asking about WSOP.com's 25-seat guarantee tournament on Day 1A, making it the site's most popular promotion thus far.
But as the 2014 WSOP continues, WSOP.com has even more in store for online players.
"We also have one of our Mini-Fests which kicks off on the 22nd of June and runs through July 7," he said. "These have been very popular in both Nevada and New Jersey since it gives people a chance to compete for some decent sized prize pools for buy-ins starting as low as $5.50.
"And for players who miss a spot at the Main Event final table in November, we're throwing a Last Chance series starting on July 10th with $100K in guarantees."
Finally, Rini said the numbers WSOP.com has seen so far have been very encouraging.
"Not just for WSOP.com, but for poker in general," he said. "The Millionaire Maker had record attendance this year with lines going down the hallway. On WSOP.com we've had an impressive surge in cash game and tournament action as well.
"The demand for online poker and for poker in general is strong and we're just excited to be able to be in the position to provide players with a place to play."
Get all the latest PokerNews updates on your social media outlets. Follow us on Twitter and find us on both Facebook and Google+!