PokerStars Bans Display of Political Statements at European Poker Tour Events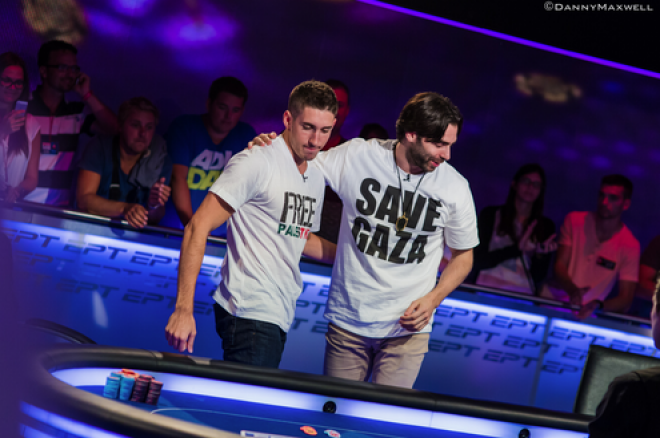 After criticism circled through the poker community about the t-shirts worn by Olivier Busquet and Daniel Colman at the European Poker Tour €50,000 Super High Roller final table on Wednesday, PokerStars has decided to change the rules regarding the display of political statements at their live events.
"Our tournaments are designed to promote poker and poker competition and not as a platform for political statements," PokerStars' Head of Corporate Communications Eric Hollreiser wrote in a statement sent toCardPlayer Lifestyle's Robbie Strazynski.
"Players have many channels to express their views on world politics, but our tournaments are not an appropriate place," Hollreiser continued. "We will refuse entry to any player displaying political statements of any kind."
The poker room decided to issue that statement after Busquet and Colman arrived at Casino Barcelona to play the EPT Super High Roller final table wearing t-shirts with the "Save Gaza" and "Free Palestine" slogans written on them.
The two players' choice to use their popularity and the visibility of the event to make the poker community talk about the conflict between Israel and Palestine was not welcomed by everyone. Criticism toward their initiative started as soon as the live stream of the final table began.
"[It] doesn't matter what "side" you are on. [The] EPTLive is embarrassing itself by allowing Daniel Colman and Olivier Busquet to wear those t-shirts," Strazynski wrote on Twitter before publishing an article on CardPlayer Lifestyle titled "There's no room for politics in poker."
According to Strazynski, who strongly believes that topics as politics and religion are to be avoided at all costs at the poker table, "should any poker player wish to use the prestige of their notoriety to advocate a particular political issue, it's their prerogative. However, PokerStars and other governing and sanctioning bodies in poker ought to have a rule against politics at the table itself."
Nolan Dalla opposes censorship: "It's a terrible decision"
Shortly after Strazynski published his opinionated piece, poker historian Nolan Dalla decide to reply and express his views on the episode on a post titled Political censorship has no place in poker.
Contrary to Strazynski's opinion, Dalla believes that the initiative of the two players did not deserve all the criticism it raised, nor it should have led PokerStars to rule in favor of a ban against the display of political statements.
"There was nothing profane nor vulgar about either item of clothing, Dalla wrote. "Frankly, the t-shirts would hardly even be noticed on the streets of any cosmopolitan city."
According to the media director for the World Series of Poker and famed poker writer, "PokerStars' ruling on this matter and their newly-concocted position blockading what for many poker players is an important individual right of free expression, is perhaps well-intended."
However, as good intentions traditionally make a very good pavement for the road to hell, "it's also terribly misguided and very likely to be fraught with future complications. In fact, it's a terrible decision which merits the strongest possible protest."
Dalla is convinced that politics should not be kept away from the table but it should instead be considered as an acceptable topic for an open discussion.
"Frankly, we need more politics — just about everywhere. We need more discussion about problems and possible solutions. Not during poker hands, mind you," Dalla explained.
"Politics is every bit as appropriate as table chatter about a sporting event or a bad date that went wrong. And there's no way any misguided ruling is going to stop open dialogue between players."
"Free Palestine, or End Apartheid, or Obama 2012, or Tea Party 2014, or I love Israel, or any other political expression is entirely appropriate in a free democratic society," Dalla concluded.
"I've seen all of these shirts in poker rooms over the years. Here's some advice — if you don't like what you see, then turn away. If you don't like the message or the person, then don't talk to them."
Get all the latest PokerNews updates on your social media outlets. Follow us on Twitter and like us on Facebook now!