Ana Marquez Talks Women in Poker and a Major Decline in Spain's Market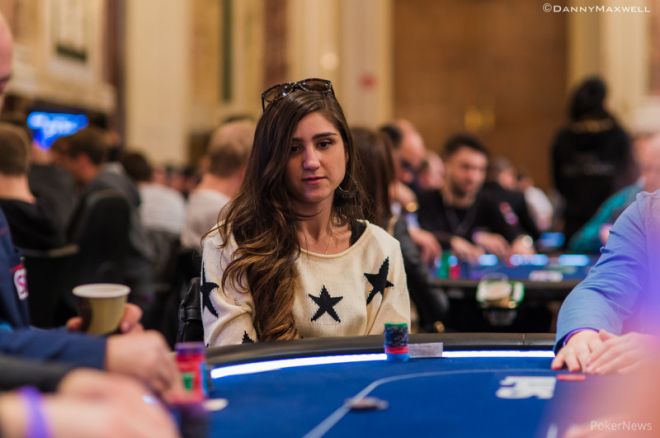 After arriving Barcelona following a relaxing trip to Portugal, Spanish poker pro Ana Marquez joined the first flight of the European Poker Tour Main Event on Thursday and earned herself a prime spot for Day 2 as she closed the day with the largest stack amongst all Spaniards.
Winner of Europe's Leading Lady honor at the 2013 European Poker Awards, Marquez is currently fourth in Spain's all-time money list with live earnings of $1,025,714 according to the Hendon Mob. She also ranks second in Spain's national rankings on the Global Poker Index, right behind World Series of Poker Europe champion Adrian Mateos.
Passionate about history and the social side of poker, Marquez sat down with PokerNews to express her views on women in poker and on what she believes to be the right approach to life at the poker table.
PokerNews: Let's start from the "Leading Lady" award you won in January. In the past there has been a lot of talk about the role of women in poker and the way the industry should change to become more "women friendly." Do you feel we made any significant progress in this?
Marquez: Well, I have been playing poker for seven years, and I can tell you that when I started there were barely any women involved in the game.
Luckily, this has changed now and I see a lot of women everywhere. And, which is even better, I also see more and more women having successful results in poker.
So yes, I think we have improved a lot compared to how things used to be. Let's say that we are getting better, even if we are still behind on some things.
What are we behind in? Do you think there is there anything we could do to include women in the game and make them feel "more welcome?"
I guess a lot has to do with the way women approach the game. It may be because women are usually more careful than men, or because many see it still as a male-dominated world, but the game of poker is often not very appealing to women.
Yet, once women get into it and start to play, that's when everything changes and everyone becomes the same. That's the moment when there is no distinction based on sex anymore because everyone thinks "OK, now I am going to play poker," and nothing else.
I wonder if the fact that the game, you say, "does not appeal to women," has something to do with the way part of the industry evolved. Because when I think about women and poker, on one side I see people like you and like Kara Scott, highly committed to get women more heard in the poker world, and on the other one I see something different as the Royal Flush Girls, who give a totally different interpretation of the same subject. What do you think about that?
If you ask me, I think that has nothing to do with women in poker. To me, the Royal Flush Girls are nothing more than some advertising realized to attract more men.
I may be wrong here, but I don't think that they particularly attract women or that they have much to do with women and poker.
After all they are not players, they are not really part of the industry; they are advertising for men.
Let's imagine you were to give some pieces of advice to a woman at her debut in the poker world here at the EPT 100 in Barcelona. What would you tell her? How would you advise her to approach the event?
I feel like any poker player who is new to the game is going to feel a little intimidated by an event like an EPT or any other big tournament, it's not just about women.
So many good players, so many people, such big buy-ins. If I were to give a piece of advice, I would probably tell her "don't be scared. You have the same mind as everybody else."
What about your EPT? What's on your schedule?
This year my plan is to take it very slow. I have been taking a small break from poker since the beginning of the summer and I have to say that, except for a satellite I played two Sundays ago, I haven't played online since the Spring Championship of Online Poker.
I also want to enjoy Barcelona a little bit more than usual, so my plan is to play only three tournaments this time. But then, you know, things can change. We will see if I will stick to it or I will end up playing more.
A few months ago, Phil Galfond wrote an interesting post about the way "old school" players and "new school" players approach the life at the table highlighting some of the main differences between those who have been around for years, and those who come mainly from the online world.
I wonder: what kind of player are you? Do you prefer to keep the table talk going, or do you hide your feelings behind enormous headphones?
I like to be sociable in general, and that does not only relate to poker. Every time I sit at the table, I like to talk to other players.
As a matter of fact, I am always talking, maybe even a little too much. You know, sometimes I should probably try to be a little more serious when I am the table. This said, I think it's good to talk between players and to keep the conversation going at the table.
I understand that once you sit at the table, especially if you are a professional poker player, you are "doing business," and so you want to be serious. But that doesn't mean that when you are not in a hand or you are on a break and people approach you, you have to act in the same way; you can perfectly be nice and funny, you can talk to people and give advices to those who ask you.
I have the feeling that the poker community is a very nice one: it's a small community and everyone's in for the love of the game, so I don't see why everybody has to be too serious.
How about the table talk in general? Is there any topic that you should be avoided at all costs?
Let's put it this way: you can be nice at the table, but I also think you should never overdo it and pretend you are at a party.
After all, we are there to play and we are opponents. It's like in everything else, there has to be a smart balance.
Talking about the poor results of poker in Spain, do you think a big festival as the one organized by PokerStars can help the industry to grow?
I think the Spanish poker industry has grown well in the past, but unfortunately things went bad when the "dot es" regulated market came into place. The legislation has destroyed all the progresses that poker has made in Spain over the years.
As a social phenomenon, this festival in Barcelona obviously helps; it's a big event and everyone in Spain is excited about it. Everyone who deals with poker really wants to be here.
However, since the market got regulated, all the pros have left the country and people lost interest in the Spanish market.
Back in the day, a lot of players were moving to Spain to play poker and live in a nice place with good weather, good food and so on. Now, none of them live in Spain anymore.
We have got to the point where the ones who were here have left the country, and the ones who wanted to come have changed their minds.
What about you, then? Where will we see you after Barcelona?
As I told you, I am planning to get a break from poker and play a little less than usual – so, let's say that right now, my plan is not to make plans.
I will definitely play in London and I really want to go to Australia next year, but in between these events, it will mostly be up to how I will feel about traveling. You know, I have been traveling for so long that I need a break.
I am going to be around for sure because it is tough to stay away from the game, but I will also try to take everything at a much slower pace. After all, I don't need to grind every side event and every tournament.
Get all the latest PokerNews updates on your social media outlets. Follow us on Twitter and like us on Facebook now!