Russia's Vitaly Lunkin Says He Has "Had Enough of Las Vegas"
Ilja Kuteinikov

Giovanni Angioni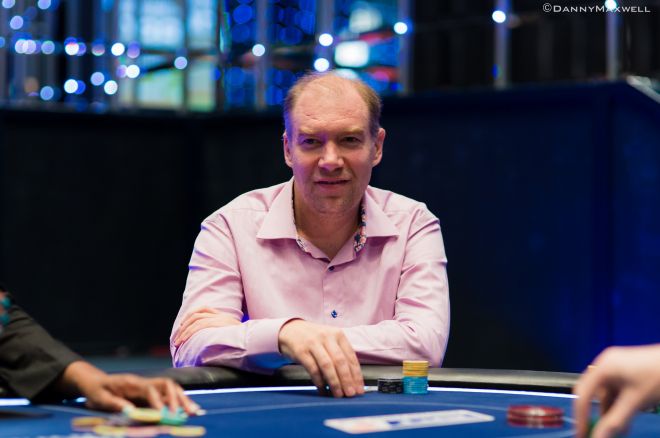 If it would not have been for his victory at the €10,000 Turbo Six-Max event during PokerStars European Poker Tour Grand Final in Monte Carlo, Russia's Vitaly Lunkin's last trip to Europe's sunniest shores would have been a disaster.
"I spent about €65,000 in buy-ins and I was in the money only three times," Lunkin told PokerNews. "Had I not won the €10,000 turbo event, my tour would have ended with a loss."
During the month in which he spent time around Italy and France, things did not go too well for Lunkin. Russia's third all-time biggest winner in tournaments with earnings of nearly $6 million did not manage to cash anything more than €1,500 at Sanremo's Italian Poker Tour €700 main event, and €8,200 at Monte Carlo's French Poker Series €2,000 High Roller event. Yet, as history shows, bad streaks do not last forever, and Lunkin finally managed to end his negative one on May 2, when he took down the EPT Grand Final €10,000 Turbo Six-Max event and its remarkable €180,400 top prize.
PokerNews Russia's Ilja Kuteinikov reached out to Lunkin to discuss his adventure at the EPT Grand Final and the thrilling final table he won after a heads-up battle played against Sweden's Viktor "Isildur1" Blom.
First of all, let me congratulate you for your latest result during the European Poker Tour Grand Final. Are you satisfied about how things went during your trip?
Thank you, but let me tell you that this was not an easy trip. I went to Sanremo first, and then I moved to Monte Carlo for the Grand Final — and, for the most part, things did not work for me as I expected. I lost several key hands that I didn't think I would. You know, both during the Main Event and during the €25,000 High Roller event, I busted in a set-versus-draw situation.
All in all, I have spent about €65,000 in buy-ins and I have reached the prize zone three times. Sure, one of these three finishes was a first prize, but that happened on the very last day of this tour around Italy and France. In other words, if I hadn't won this event, my tour would have ended with a loss. [In poker] you never know when you are going win — you just have to rely on your EV, which always takes time before turning into something good at the table. And, unfortunately, no one knows how long this can take.
Can we say that your victory at the €10,000 event in Monte Carlo ended a bad streak?
Thanks to this victory, I have closed my trip with a profit. Yet, everyone would prefer to get a result like mine at the very beginning of a series of events, rather then at the end. It would make you play in a better mood, with a different mindset. Yet, I always tried to remain positive throughout the whole journey.
The event I won had 63 players, which is quite an impressive number for a turbo tournament. This helped in making the first prize a pretty good one.
Tell us more about the tournament. How did you build your success there?
The starting 100,000-chip stack guarantees about four hours of normal play, but then the turbo structure takes its toll. If you manage to build up your stack within these four hours, then you can play feeling very comfortable.
I got my share of luck at the beginning. I doubled up quite quickly and things went fine for the most part after that. Things changed when we got down to 10 players with only nine places paid. Up until the bubble, everything worked just fine for me. I was controlling the stack size, making timely reraises, and switching gears when needed.
After, I played one hand quite poorly because I have miscalculated the chips in my own stack, and that cost me 45,000 chips. Then, while I had been card dead for a whole round, the short stack at the table managed to double up.
The most critical moment came when I went all in from the button with
suited and got a call from
. Luckily, I hit a straight on the turn and doubled up.
I got very lucky for the second time when we were only four players still in play. A short stack pushed all in for 300,000, a player who had more chips than me called, and I went all in with
. The short stack had pocket kings. Luckily for me, the dealer tabled an ace. I won a massive triple all in and became the second [biggest] stack in the event.
Let's get to the heads-up match then. How was to play it against Viktor Blom?
Blom started with a 3-1 advantage, but I reversed the tide, caught up with him and even took the lead. Then I have lost a huge pot flush versus flush, but I successfully managed to win all my chips back soon after.
What can you tell us about the way he played against you?
I like his game very much. Viktor has a very good sense of when to re-steal; he varies his game very well depending on the stack size. At first, he had some problems picking the right spots to build up his stack, but soon after as he amassed enough chips and he played almost impeccably. Summing up, "Isildur" with a large stack is an extremely dangerous player.
Our heads-up [match] lasted 75 minutes, and it is hard to say anything meaningful about it. Blom loves pot control. With this in mind, I attacked on the turn more often than usual, and I also used two-street bets — either flop-turn or turn-river.
Many believe that turbo-tournaments are tough for old-school players, as math plays a critical role in such events. However, your result in a tournament with a strong field and a quick structures put this stereotype in doubt. What's your opinion on that?
I think I have an extensive knowledge of this area of the game. Back in 2007, I taught a class on limit lold'em, and there we have analyzed various situations from a mathematical standpoint.
You might know that there is more math involved in limit hold'em than in no-limit. Plus, in Moscow I have played many tournaments with short stacks back in the early 2000s. Konstantin Puchkov and I won many of those events.
On the other hand, I have slightly distanced myself from this math aspect lately. I don't calculate every situation precisely every time.
I think I am still somehow an old-school player though, as I don't three-bet my opponents too often. On the other hand, I like to use some alternative tactics on post-flop action, especially when I have a comfortable stack. I believe such unorthodox decisions have a better EV and work better for me.
Actually, I feel comfortable with both deep and short stacks. I fully realize that when it comes to play with short stacks, the luckiest wins. With this in mind, my primary goal is to reach this push-fold stage with a bigger stack.
As for my game in general, I think I haven't reached my level of 2009 yet. I played slightly better back then because right now I sometimes make some small mistakes that only few years ago were just unthinkable.
I did not play much for about a year and I can feel it, as I am lacking in some aspects of the game. Yet, I started to adjust my style and revise my tactics by watching some young Russian players such as Anatoly Filatov and Dmitry Yurasov. These "young guns" help me to improve and to get insights on some key elements of the modern game.
The World Series of Poker is around the corner. Are you flying to Las Vegas this year?
My initial plan was to fly there around to the end of the WSOP, but the tickets on the dates I wanted are very expensive now. So, I am at a crossroads. Frankly speaking, I have had enough of Las Vegas and the desert. The first couple of years, it was quite interesting, but after I have visited all the shows, I have realized that there is not much left to do.
Also, the local cuisine became less interesting to me, so I guess I am losing motivation. I will probably go there sometime by the end of the Series to play a few inexpensive tournaments and the Main Event.
Of course, there is always a different option available. I could go to Las Vegas by June 10, stop whining and try to get some proper results there, too. We will see!
Get all the latest PokerNews updates on your social media outlets. Follow us on Twitter and find us both Facebook and Google+!