Estonian Pop Star Teele Viira Talks Ladies Events and Slowrolling Russian "Mafiosos"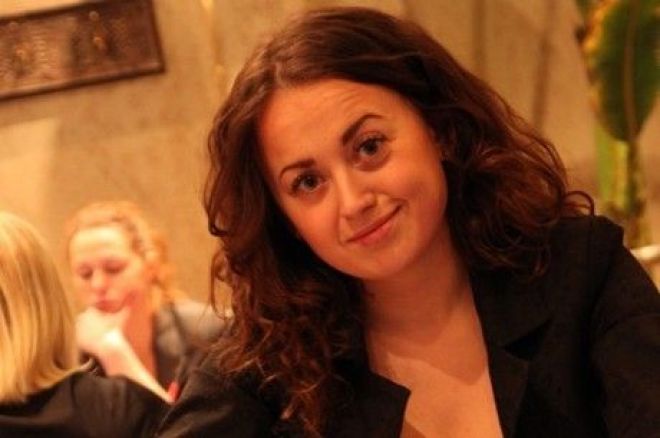 "Playing in Vegas sounds like a dream to me, but now I still have to learn and get better at the game. Then, who knows what will happen."
The very moment Estonian pop singer and TV presenter Teele Viira joined the first-ever Unibet Open in Tallinn, it immediately felt as if a tornado of pure energy had entered the tournament room.
In a country where people are known for being quiet and not talkative, Viira is a clear exception. "I need to talk, to move, to laugh. I need to give my energy a way out all the time," she explains.
Back in 2011, Viira became famous as one of the finalists at Eesti Otsib Superstaari, Estonia's version of the international TV format Idol. Since then, she has managed to channel her energy in a large number of projects that have included several TV shows, the leading role in the Estonian version of the High School Musical and, of course, a lot of singing.
And then comes poker. Viira is a well-known face in the local live poker scene and her passion for the game even helped her win her a ring from the Estonian Poker Championship in 2012.
As players left the table for the first break of the Unibet Open ladies event, we sat with Viira to discover more about her views on poker, how industry could involve women more, and about the time she was afraid to leave a tournament alone after a slowroll.
What's your story with poker — how did you start playing the game?
It all started because one of my previous relationships. My partner used to play poker. I started to watch him play and I immediately found the game very interesting.
I remember that he has also tried to teach me how to play, how to read other players and how to be aggressive. As I am a natural-born tight player, it was very good for me to have someone teaching me how to play loose so that I could learn how to combine these two different styles of play.
Since then I have been playing mostly live tournaments, although last January I also started to play more consistently online.
How has it gone with live poker so far?
What is funny is that I have actually started with a victory. My first tournament ever was the 2012 Estonian Championship. I started with a team event where one girl and one guy play half an hour each. I was playing with Raigo Vakra and ... we won it!
After that victory, with the Estonian champion ring on my finger, I started to feel like I could actually play poker. Yet, I have to admit at that time I wasn't a very good player. I could basically only play the flop, and I didn't really know how to deal with bets the next streets.
How about now then? Since you started with a victory in 2012 and in 2014 you still seem to enjoy the game, does this mean that you are starting to feel like a "real poker player"?
I don't think so. Right now I am still trying to learn how to play like a pro. I don't want to play only the flop or only the beginner's hands, I want to play more - and better.
So, how are you dealing with it? Have you considered coaching?
To be honest, I have had only one coaching lesson – and that was two days ago. As I have told to my coach, I wanted to see things from a different perspective, and I can tell you that he really helped me.
He suggested for me to try some tricks to use at the table when I play online. I have tried to use them and they have really worked for me. Suddenly, I have managed to last a lot longer in the tournaments, and I have also won a decent amount of cash – for standards, at least. So, yes, I can say that coaching has kind of opened my eyes.
Besides being a poker fan, you are also a well-known singer and TV presenter in Estonia. From what I could see from your work, it seems to me that you make a great use of your facial expressions to communicate feelings and emotions to the public. So, I wonder, do you do the same at the poker table?
When I sat down at my first poker tournament, I remember that everyone around me had very sad and serious poker faces. And, yes, that's not who I am. I need to talk, to move, to laugh. I need to give my energy a way out all the time.
So I thought that, perhaps, I didn't have to lie and I didn't need to get on me one of those poker faces. I thought that I could just be myself even at the poker table – and, well, it turned out that was a very smart move.
Almost every time I was sitting and smiling, the other players started thinking I probably had good cards. That turned out to work very well for me.
When I came into the tournament room for the beginning of the Day1A of Tallinn Unibet Open Main Event, I have been quite impressed by the small number of women at the tables. For a good part of the day, I think I have been able to count the number of female players with the fingers of one hand. So, I wonder: what do you think is keeping women away from the game?
I think that when you sit at the tournament table for the first time and you get your first impression of the game while you are surrounded mostly by men – well, as a woman you can find that intimidating.
My impression is that the guys can "welcome" you in a way that could even scare you. But you need to keep in mind that if you learn how to play, and you start to understand some tricks, then you can easily see how poker is not a game only for men.
It may be kind of dirty to say this but, if you have the balls, you can play. Even if you are a woman.
So, does this mean that you are in favor of ladies events?
I think ladies event are a very good initiative to bring people in. Ladies events are more quiet, more relaxed. People actually joke and talk at the table.
Those are perfect tournaments if you want to introduce a friend to the game. This time, for example, I brought Liis (Lemsalu, the Estonian singer who won Estonia's Idol competition in 2012). During the break she told me, "Oh my…I like this game! I feel like I am escaping from the world while I concentrate on the hand … that's great!"
You see, I think ladies events are perfect to bring people in. Then, sure, this is only the first step. You start with that and then join the rest of the players in more competitive mixed events.
If I may, which is the weirdest moment you have ever had at the table?
I don't have one, I have two. The first is from the second live tournament I have played, right the day after I have won the [Estonian] championship.
I was feeling pretty confident that day. I went to the table, the tournament started and all of a sudden I think my first eight or nine hands have all been AK, AQ, AT and so on.
Every time I looked at my cards, I just knew there was going to be an ace. It was amazing – too bad I didn't really know how to play very well many of them yet.
The other moment I remember is probably my very big pot at the table. The whole hand went just great. I had queen-jack suited and the flop gave me a straight flush.
I started smiling as if I didn't know what to do; I even checked my cards a few times. A big guy sitting next to me and looking like a "Russian mafioso" started to look at me in a way that was saying, "Oh, I can deal with this girl and steal her all the chips anytime I want."
So I checked the flop and he checked as well. I checked the turn and he thought I probably had nothing, so he went all in – just like that.
Once he did that, I acted like I didn't know what to do for a bit and then…well, you should have seen his eyes when I called the all in and I turned my cards.
Well, it sounds more like you slowrolled him, which is something not many players like to see at the table.
I know, and that's why after that I was afraid he would come after me once the tournament was over. I remember I was even afraid to go home alone that day.
Tallinn is lovely like Estonia is. But, I also wonder: will we ever see you playing poker in some other places like, let's say, Vegas?
That would be my dream. I could try to sing and play in Vegas at the same time. Maybe I could even get a job in Vegas doing something like that. Let's see how it goes!
Get all the latest PokerNews updates on your social media outlets. Follow us on Twitter and find us on both Facebook and Google+!