Colman Clarifies Hellmuth "Cancer" Comments; Admits to Multi-Accounting as Teenager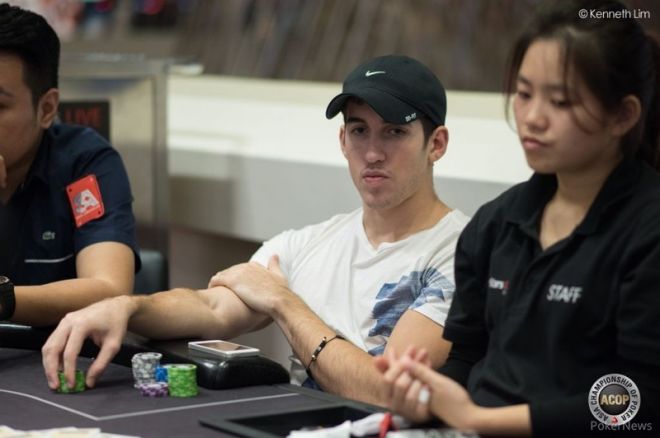 Late last week, we reported on Dan Colman's critical comments toward Phil Hellmuth, which included calling him a "cancer to the world" and "spineless." Colman, who posted in a thread on Two Plus Two under the name "mrgr33n13,", recently clarified those comments in series of new posts.
"Maybe a bit too harsh, not exactly a cancer to society but it definitely doesn't do us any good when people like him shamelessly self-promote and try and sell themselves to you," Colman explained in the first new post. "Listened to five minutes of that podcast and it got me upset listening to him prop himself up, and the interviewer was definitely feeding the ball to him. It brought back the bitter taste I had in my mouth when he came up on the stage after the One Drop win and actually said, 'Congratulations, welcome to the poker world kid.' Never met him apart from that, but I am sure he's an overall nice guy, just really not a fan of how he conducts himself."
In the next post, Colman went on to say, "I understand I come off poorly attacking Phil in the way I did, let's agree that I was harsh and over the top and didn't do myself any favors. I'm happy to have a dive taken in my almighty Two Plus Two street cred as long as we can focus some parts of the discussion on [Hellmuth's] overall behavior and his representing of [Ultimate Bet].
"The media has rewarded him for his antics where he is always belittling the other players and constant talking about how he is the greatest. I am sure this has had a positive effect on his bank account, but I am not willing to go cheer him on as a savvy businessman for it. If you are going to profit off being a classless, whiny brat there should be some repercussions such as people calling a spade a spade and telling it like it is, with hopes of putting enough pressure on the person to change their ways without isolating them further (which I may have done).
"As for his time at UB, if I was him, I don't know how I could live with myself being the face of a company whose owners were super-using and stole millions from players, and then shutting down and not paying out its users. I would love to have him come on Two Plus Two and answer questions about everything."
The thread also inspired Colman to make a surprising admission after "jojoh07" suggested someone look into Colman's past.
"I multi-accounted tournaments online when I was 17-18 with a 'me against the world' mentality," Colman responded. "I have made plenty of mistakes, but I know I am far from that person I once was."
Colman, whose admitted indiscretions would have occurred sometime around 2007-08, posted one more time in the thread — which he claimed would be his last — where he turned his attention back to Hellmuth. He said, in part:
"Look to the new Main Event champ, Martin Jacobson. Unlike the last champ, he doesn't have to go around saying he's the best in the world after winning. He plays phenomenal poker and carries himself exceptionally well, so his peers are happy to do the talking for him. I think I can speak for any legitimate pro when I say that I want someone like Martin representing the game of poker to the casual fan over an obnoxious brat like Phil Hellmuth who I think makes a complete mockery out of the game with his antics."
Colman is having the best year of any poker player having won four major titles in 2014 and racking up nearly $22.4 million in winnings. He won over $15 million in the World Series of Poker $1 million buy-in Big One for One Drop, which came two months after he won the European Poker Tour Grand Final Super High Roller for over €1.5 million. Since then, he has won the 2014 Seminole Hard Poker Poker Open $10 Million Guarantee for more than $1.4 million, took down the WPT Alpha8 London for $957,396; and finished runner-up in the EPT Barcelona Super High Roller for more than $1.1 million.
Get all the latest PokerNews updates on your social media outlets. Follow us on Twitter and find us on both Facebook and Google+!
Executive Editor US, PokerNews Podcast co-host & 2013 WSOP Bracelet Winner.