Let the Celebration Begin: Tony G Gets Married In Vilnius!
If a few years ago someone would have said that Tony G's most intense and significant year would have seen him spending most of his time far from the poker tables, many of us would have probably reacted with a good laugh.
Tony is far more than a poker player, though. He is an entrepreneur with interests all around the globe, a committed philanthropist, and a busy politician. Nevertheless, for most of us in the poker community, he will always be one of the game's most prominent characters that contributed heavily to make poker what it is today; something that is far more than a simple card game.
Whether it be because of his results at the game, for his very distinctive "old school" ability to use the fine art of table talk to his advantage, or for the intuitions he had when he changed the poker industry forever launching products such as PokerNews or TonyBet, there are very few people that can claim to have done for poker what Tony G has.
Yet, again, his most remarkable year came right when he decided to take a long break from the game and focus on some new, great challenges such as the one he embraced today when he married his long-time companion Aistė Šlapokaitė during a delightful ceremony held in his beloved Vilnius, Lithuania.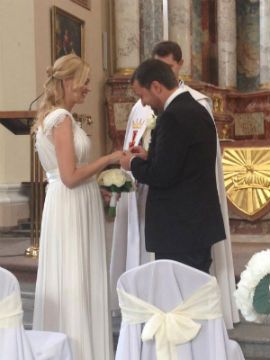 "Today we have sworn to each other in front of God and our guests," Tony G said right after the proverbial "yes" was said and the registers were signed to confirm the union. "I have searched for my other better half for a long time and finally found her in my home country. We have tested each other during our two-year relationship, and I can easily tell that my wife is a wonderful person — wise, understanding, supportive, warm, sensitive, accepting me with all my weaknesses."
"I wish all of you to not get tired looking for the right person," he added. "Because it is so good to find somebody to be with in your life."
Only a few months after he went well beyond all the most optimistic forecasts becoming the most voted Lithuanian candidate at the European Parliament, Tony G is again in need of celebration for this moment of genuine happiness. PokerNews is truly happy to celebrate with him and share with all of our readers.
"The entire iBus Media team wishes Tony the best on his wedding day," said iBus Media CEO Jon Squires. "He's a great founder and boss, and someone who has built PokerNews in to a successful, fun, and progressive company. That said, we are all pretty sure that he's somehow bluffed Aistė into this!"
Among the friends who flew to Vilnius to participate to the wedding (and then join the celebrations held at the picturesque Tony Resort near Lithuania's old capital Trakai) were many top personalities of the poker world such as his long-time friend Warren Lush. Others as Phil Hellmuth and Dave "Devilfish" Ulliott joined the couple's very special day with some warm congratulation messages.
"Congratulations to Tony and Aiste," Hellmuth commented. "The poker world misses him, but the world is a better place with a strong Tony G working to improve it."
True, he may have now chosen to step out from the poker world and focus on other great challenges, but thinking about what he has done for this game, we can't imagine a better time than today to wish him the very best of luck for his future with Aistė and admit that if there's ever been a moment for him to raise his hands to the sky and shout "I am the champ," that moment is now.
Congratulations, Tony! Now, get on your bike and enjoy your future with Aiste — Nuoširdžiausi Sveikinimai!
Do you want to send your message to Tony G? Join his official Facebook page and leave him a note!
Get all the latest PokerNews updates on your social media outlets. Follow us on Twitter and find us on both Facebook and Google+!